Forgotten Truths About Camp X



On the shores of Lake Ontario, a Second World War spy school flourished.
IN THE FLAT, grey netherworld spanning the outer limits of Whitby and Oshawa sit seven hectares of scraggly brush and marshland. Someone has plunked a lone wooden picnic table down in the middle of the field that slopes towards the waters of Lake Ontario. Beside it is a billboard announcing Intrepid Park. Visitors to the "park" encounter two small signs, telling of an earlier, authentic netherworld. This is what's left of Camp X, a top-secret Second World War spy-training and radio communications site operated by British Security Coordination. Here, scores of men and women came through its gates to learn the art of silent murder and other tricks of war. Its architect was none other than Sir William Stephenson, the Winnipeg-born industrialist perhaps better known as the Man Called Intrepid.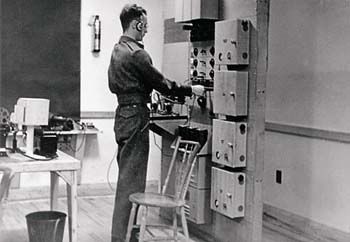 Les Davis (above) taught others how to intercept radio signals behind enemy lines

The marshland is just one link to this clandestine past. Agent radios, commando knives, teletype machines, Morse code hand keys, uniforms, training manuals and even one of the three original barracks are among the artifacts that the Camp X Historical Society has assembled over the years. The society, founded in 1999 by a handful of the camp's veterans, hopes one day to build a museum on the site, to pay tribute to those who played a secret but vital role in winning the Second World War.

Also reaching out from the past are countless stories flavoured with the names Ian Fleming, Igor Gouzenko, Wild Bill Donovan, Roald Dahl. But sorting fact from fiction is a monumental task, as most of the camp's records were destroyed, censored or labelled "classified" after it closed in 1946. The veterans can rely only on their memories -- memories which, allows 80-year-old Evelyn Davis, a Camp X communications operator from 1944 to 1946 (known then by her maiden name 'Jimmy' Jamieson), may be a bit rusty. "For 50 years," adds Davis, who now lives in Tottenham, Ont., 50 km north of Toronto, "it was gone out of our minds. There's so many things you wonder, can it be true or not?"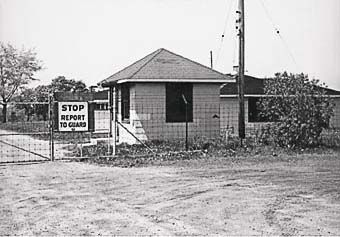 Photo: Courtesy of Camp X Historical Society


But Davis's husband, Les, 84, whom she met at the camp, still vividly recalls his initiation to this world of espionage. Having trained as an amateur radio operator, Les was about to take his exams when Canada entered the war and shut down all non-military communications. The Hamilton native, who lost his left arm at 13 in a bicycle accident, went to work in a tank factory. Early in 1942, a British security operative named Bill Curwain phoned Les and suggested he could make "a more important contribution to the war effort." With little else to go on, Les and several other recruits showed up at Toronto's Royal York Hotel. There, Curwain instructed them to tear up the invitations that had arrived following their initial contact and flush them down the toilet. "We did so, which seemed unusual," says Les, adding that he soon began to wonder, "what the hell am I into here?" He found out later that day at Camp X. The first lesson of his two-month training session was "rather educational," he recalls. "We learned how to kill a person smartly -- in a short time."

William Stephenson, the Man Called Intrepid, established Camp X that few knew existed Commando-style killing, parachute drops, withstanding torture, plastic explosives. The spy school drilled its recruits in all these skills. Joseph Gelleny, a Hungarian-born Canadian now living in Aurora, Ont., entered Camp X in 1943. "We were trained to live by our wits, in any circumstance," he recalls in his memoirs Almost. "On one occasion, I was dropped off in Toronto, dressed in the uniform of a German soldier. My assignment was to take photographs of war materiel production factories. If picked up by the Toronto police, I was expected to be able to talk my way out." The following year, that training served him well, helping him survive capture and torture behind enemy lines in occupied Hungary.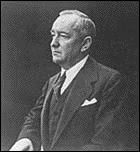 William Stephenson, the Man Called Intrepid,
established Camp X that few knew existed

In a rare 1973 interview, Stephenson -- who died in 1989 -- estimates that up to 2,000 men and women graduated from the Ontario spy school he conceived and worked with from his New York City headquarters. Most were Europeans returning to their homelands to join the resistance against occupying Nazis. Of the Americans at Camp X, Maj.-Gen. William J. (Wild Bill) Donovan, is of particular interest. As head of the U.S. Office of Strategic Services, he dispatched operatives who would form the core of the post-war Central Intelligence Agency to train on the shores of Lake Ontario. And, according to Camp X Historical Society president Matthew Batten, the nickname for the agency's headquarters in Langley, Va., "the Farm," is a nod to the former farm on which the camp was built. James Bond creator Ian Fleming who, as a commander in the British intelligence office, advised Donovan on setting up the CIA, also visited Camp X.

But espionage is only half the story. Camp X, says Les Davis, "grew into a prime -- and I mean prime -- communications centre." Davis's job: teaching others how to transmit and intercept radio frequencies when behind enemy lines. Also, to ensure an easy -- and secure -- flow of information between Stephenson's New York office and British intelligence at Bletchley Park, 70 km outside London. "We didn't have any plain language," says Evelyn, who typed out the incoming messages. "It was all in five-letter code groups." While the staff couldn't read the cryptic messages, increases in traffic would cue them to major developments. When the Allies landed in mainland Italy in September 1943, says Les, "we achieved a million groups per day. That's a million five-letter codes," up from a daily average of 50,000.

Whether it was spy training or communications, secrecy was paramount. Because Camp X was hidden from view from the main highway, few knew it existed. The curious were told that its most prominent feature, the antennas, belonged to the CBC -- a ruse that involved the co-operation of the broadcaster's general manager. Other Canadians in the know included Defence Minister James Ralston, RCMP Commissioner Stuart Wood, and the top staff of the Greater Toronto Military District. But Prime Minister Mackenzie King was apparently kept in the dark. Only at the end of the war, when the government was looking for a safe house in which to debrief Russian spy-turned-defector Igor Gouzenko, was the camp brought to King's attention.

While the camp's stories are, according to Batten,"too good to keep hidden," it's also true that they are next to impossible to corroborate. "This is the wonderful thing about espionage," he adds. "Nothing exists any more." Or so governments would have us believe. And here we come to one final story, the one about children's author

Roald Dahl

(James and the Giant Peach, Charlie and the Chocolate Factory).

A British operative wounded during the war, Dahl was sent to New York to convalesce. From there, he made his way to Camp X, where he was one of several writers charged with documenting its activities. Dahl's observations were included in a manuscript that was intended, according to Batten, as a "blueprint of British intelligence operations in North America." Twenty copies were printed and bound in leather (by an Oshawa press, which is now in the possession of the historical society). Stephenson stowed 10 in a safe somewhere in Montreal, but later ordered them destroyed. The remaining 10 manuscripts he sent to leaders of the free world and intelligence organizations. When and where they will surface -- if ever they do -- is as much a mystery as their content.



(DITHOT note: In 1944, Camp-X ceased operations as a training facility for secret agents. The camp survived the transition to the Cold War by becoming a top-secret communications facility codenamed Hydra. All that remains of Camp-X today is a monument on top of a hill overlooking 'Intrepid Park'.)




Sue Ferguson with Hazel Willis
Rogers Media Inc.

Source: http://www.tpn7055.ca/CampX.html




On a side note: Dahl's presence in Washington came to the attention of Eleanor Roosevelt, who had been reading The Gremlins to her grandchildren. Through this, he gained close contact with FDR, and was in his confidence on many war issues. It is claimed that he also became an informal, but very important go-between for Roosevelt and Churchill. (The Gremlins is one of Dahl's children's books about pilots.)