A break from the chocolate today… on to Willy Wonka's least favorite confection… ewwww!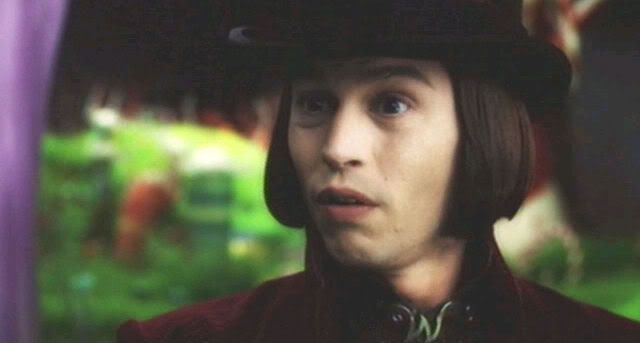 People have enjoyed chewing gum-like substances in many lands and from very early times. Some of these materials were thickened resin and latex from certain kinds of trees. Others were various sweet grasses, leaves, grains and waxes.

For centuries the ancient Greeks chewed mastic gum (or mastiche pronounced "mas-tee-ka"). This is the resin obtained from the bark of the mastic tree, a shrub-like tree found on the island of Chios, Greece. Grecian women especially favored chewing mastic gum to clean their teeth and sweeten their breath. The ancient Mayans chewed chicle which is the sap from the sapodilla tree. From the Indians of New England, the American colonists learned to chew the gum-like resin that formed on spruce trees when the bark was cut and gum was also made from beeswax. Lumps of spruce gum were sold in the eastern United States during the early 1800s, making it the first commercial chewing gum in this country. In 1848, John B. Curtis made and sold the first commercial chewing gum called the State of Maine Pure Spruce Gum. In 1850, Curtis started selling flavored paraffin gums becoming more popular than spruce gums.

Thomas Adams tried numerous trades before becoming a photographer during the 1860's. During that time, General Antonio de Santa Anna went into exile from Mexico and boarded with Thomas Adams in his Staten Island home. It was Santa Anna who suggested that the unsuccessful but inventive photographer experiment with chicle from Mexico. Santa Anna felt that chicle could be used to make a synthetic rubber tire; and he had friends in Mexico who would be able to supply the product cheaply to Adams.

Thomas Adams first tried to change chicle into synthetic rubber products, before making a chewing gum. Thomas Adams attempted to make toys, masks, rain boots, and bicycle tires out of the chicle from Mexican sapodilla trees, but every experiment failed. One day in 1869, he popped a piece of surplus stock into his mouth and liked the taste. Chewing away, he had the idea to add flavoring to the chicle. Shortly after, he opened the world's first chewing gum factory.


In February 1871, Adams New York Gum went on sale in drug stores for a penny apiece. They decided on the name of Adams New York No. 1. It was made of pure chicle gum without any flavor. It was made in little penny sticks and wrapped in various colored tissue papers. On the cover of the box was a picture of City Hall, New York, in color."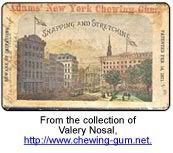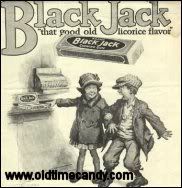 In 1880, John Colgan invented a way to make chewing gum taste better for a longer period of time while being chewed. In 1888, an Thomas Adams' chewing gum called Tutti-Frutti became the first gum to be sold in a vending machine. The machines were located in a New York City subway station.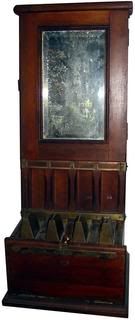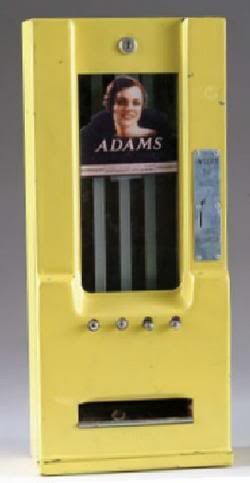 In 1899, Dentyne gum was created by New York druggist Franklin V. Canning. In 1914, Wrigley Doublemint brand was created. William Wrigley, Jr. and Henry Fleer were responsible for adding the popular mint and fruit extracts to a chicle chewing gum.

In 1906 Frank Henry Fleer created a gum that could do the bubble trick. He called it Blibber-Blubber—and it was a flop. It seemed that when the bubble exploded across one's face, it took turpentine to remove the substance. It was not until an August day in 1928 that a Fleer employee named Walter Diemer solved the problem. After mixing and matching ingredients for more than a year, Diemer struck pay dirt with a mixture that produced huge bubbles that were easily peeled from his face after they burst. After sitting overnight, however, the batch failed to work the following day, and Diemer had not carefully recorded his measurements and ingredients. After another four months' experimentation, he found success again and whipped up a 300-pound batch of the goo. As he later recalled, "Well, the machines started groaning, and the mix started popping and then . . . I realized I'd forgotten to put any coloring in the gum!" The resulting gum made bubbles but was ugly. The next day Diemer generated another batch after getting hold of the nearest bottle of pink food coloring. His invention was christened Dubble Bubble and permanently linked the color pink with bubble gum.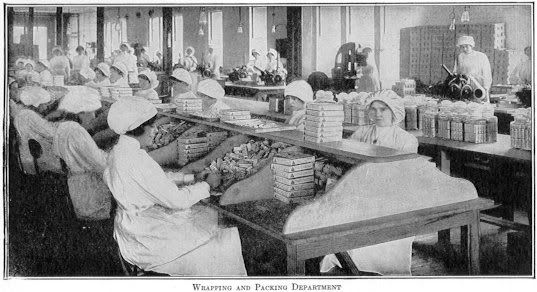 Circa 1920


America's addiction to gum by the end of the 1930s was amply demonstrated during the shortages of the World War II years. Sugar, as well as peppermint and spearmint flavorings, was being rationed, and the supply of natural chewing gum latexes from the Far East had virtually dried up. A lively "pink market" developed in hoarded prewar bubble gum, with samples going for as much as a dollar. Chewers resorted to putting their gum in a glass of water overnight in an attempt to preserve freshness. The Wrigley company, now headed by William's son, Philip, refused to cut corners on its best-known products and took Spearmint, Doublemint, and Juicy Fruit off the market, replacing them with a substitute called Orbit. Wrigley's, however, did not lose its advertising touch and put up posters showing an empty Spearmint gum wrapper bearing the slogan "Remember This Wrapper."


When the war ended, the demand for gum was intense. One Brooklyn, New York, resident remembered that when word got around that a local candy store was getting a shipment of Dubble Bubble, ". . . the line stretched almost a block and a half. Adults were there along with the kids. The price was at least ten times what it had been before the war. Still, people were jumping the line . . . . I guess it made us feel things were getting back to the way they used to be."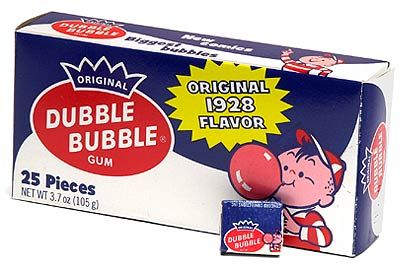 Another concept that helped gum sales was the addition of cards or comics. Trading cards date to the 1880s, when they were packaged not with gum but with cigarettes. The first bubble-gum cards date from the 1930s, when several companies issued them. After World War II, the business sharpened to a duel between the Topps company and a firm headed by the flamboyant J. Warren Bowman, purveyor of a gum called Blony ("the biggest piece of gum available for a penny"). Topps became tops indeed in 1955 when it succeeded in signing most major league baseball stars for its line of cards; it bought out the Bowman company a year later. The original Mickey Mantle card is today valued as high as $18,000.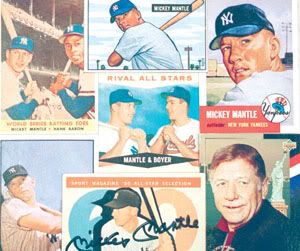 It was the Fleer company that first wrapped a comic strip around a pink chunk of gum—it featured the adventures of a plucky lad named Pud and his pal, Rocky Roller. Pud, however, was overshadowed in 1953 when Topps published the first comic insert featuring Bazooka Joe. The term "bazooka," incidentally, was taken not from the weapon, but from a farcical musical instrument made from pipes and a funnel invented by comedian Bob Burns in the 1930s. Joe, who wore an eye patch simply for effect (his vision was reportedly fine), hung around with a colorful group of cronies named Pesty, Wilbur, and Herman.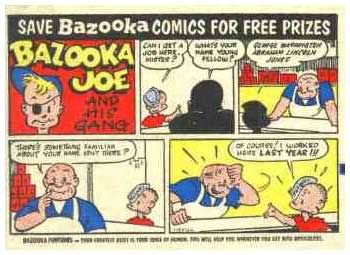 The gum trade has been and remains highly competitive and creative. Gums have been used to administer aspirin, nicotine, laxatives, and airsickness medicine. They have been produced in flavors ranging from cinnamon and watermelon to clove and ginseng. Gimmicks have included a gum in the shape of huge, white eyeballs, gum that doubles in size in your mouth, and a type with the ominous name of "Blow and Throw." A shredded gum that imitates chewing tobacco has also proved popular, though it horrified public health officials who feared it was putting kids on the road to the real thing. Gum has been made sugarless and stickless (so it won't pull out dental fillings), spicy and icy, and fruity and minty. While chewing gum never won a war or altered the course of history, the sticky substance's development remains a clever example of American ingenuity and innovation.

Did you know??? A little gum trivia: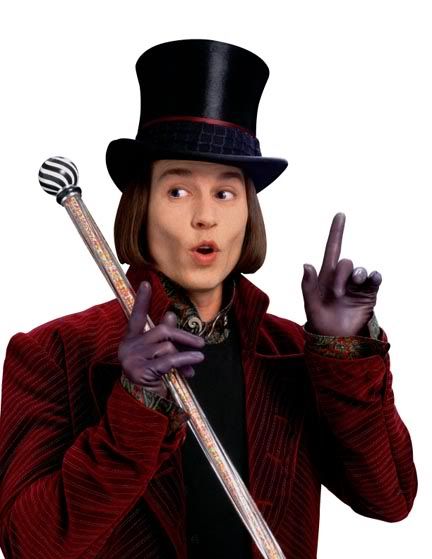 o Chew gum until the sugar is gone to blow a bigger bubble. Sugar does not stretch and can cause the bubble to collapse early

o Ice cubes help remove gum from clothing

o In 1994, Susan Montgomery Williams of Fresno, Calif. set the record for largest bubble blown at 23 inches in diameter

o The majority of gum is purchased during the Halloween and Christmas seasons

o Gary Duschle of Virginia Beach, Va. holds the Worlds Record for the longest gum wrapper chain at 8.13 miles long. It almost stretches a quarter of Virginia Beach's 38-mile shoreline

o Steve Fletcher holds the world record for largest gum wrapper collection with 5,300 packets from all over the globe. He stores his sweet stash in an old-fashioned shop display cupboard at his home in London. Steve has examples of Wrigley's Spearmint Gum from 25 different countries.

o Despite rumors, it does not take accidentally swallowed chewing gum seven years to pass through the human digestive system. Gum passes through the body in the same amount of time as other foods. However, a large portion of the physical makeup of gum is indigestible and meant to be chewed and discarded, not swallowed.

o They can't make chocolate-flavored chewing gum. Unfortunately, the cocoa butter in chocolate acts as an emulsifier on chewing gum base, making it extremely soft, negatively affecting the chewing quality of the product.