So where does all this lovely chocolate come from? I was able to pick up a few secrets while doing research at the factory...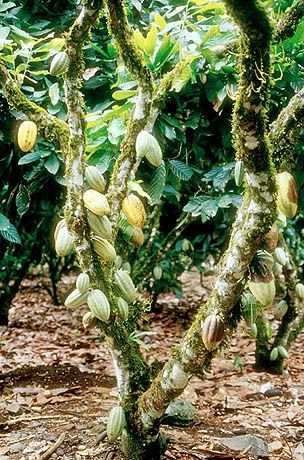 All the chocolate we eat comes from one rather special plant—the cacao tree.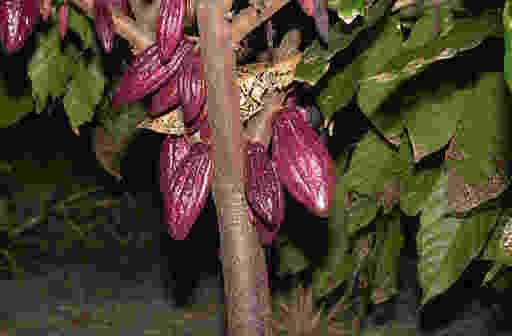 Cacao pods

Cacao trees supply the seeds that will be processed into the delicious sweet loved 'round the world. Cacao trees flourished in Central and South America long before people knew what luscious possibilities they held. The cacao tree grows in the shade of tropical rainforests near the equator. Its particular adaptations and interdependence with other rainforest dwellers have been a subject of study for many years. To increase the size of their farms, some cacao farmers must clear out sections of rainforest. This not only destroys the homes of rainforest creatures, it also damages the conditions cacao needs to grow. Now, as rainforests dwindle and the demand for chocolate increases, scientists and researchers are looking into new ways to better manage cacao farms and preserve the environment.

The first stage in turning cacao into chocolate candy requires humans, not machines. Most cacao is grown on small family farms. These farmers often struggle with crop failure, pests, and diseases. As a result, researchers worry about a possible chocolate shortage in the future. A farmer must spend three to five years caring for young cacao trees before they'll produce their first yield. Farmers must harvest pods and prepare seeds for shipment by hand. Because it takes so many people to raise and harvest cacao, labor issues have historically been a serious concern for cacao growers. At one time, European countries even resorted to slavery as a way of supplying cheap labor for crops like cacao.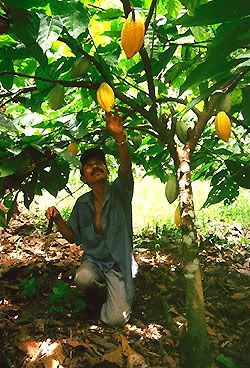 Scientists, ecologists, grassroots organizations, cacao farmers, and chocolate industry representatives are seeking new solutions to the problems that cacao farmers face. The plan is to develop agricultural systems that may better sustain the livelihoods of cacao farmers, improve the long-term viability of cacao trees, and safeguard the environment. Some recommendations emphasize a more naturalistic cultivation of cacao on small-scale farms that border threatened rainforests (rather than penetrate virgin rainforests). This practice is called "sustainable farming." Rainforest plants and animals may benefit from the protective buffer zones that these farms create against human encroachment.

The second stage in turning cacao into chocolate takes place when farmers sell their crops through the Coffee, Sugar, and Cocoa Exchange.

Like many agricultural products, cacao is traded on the futures market. People—candy manufacturers, cocoa importers, exporters, and representatives of trade houses—buy and sell contracts for cacao crops before they are even harvested. Approximately twice a year, farmers sell their cacao harvests so that they can be made into chocolate. The actual sale of cacao from the farmer to the buyer is basically a two-part process: First, early in the year buyers negotiate a sale with farmers based on a prediction of what the cacao market will be doing by the time of harvest. Second, once the harvest rolls in, buyers come to inspect the crop. They slice open several seeds to make sure that they've properly fermented. (Purple centers indicate a poor fermentation process.) If the seeds are satisfactory, the farmers will be given the current full market value or price of cacao. The market price of cacao depends not only upon the abundance of the crop or the quality of the harvest—it also depends upon economic conditions around the world. Political situations, recessions, inflation, and many other circumstances can affect how much farmers will be paid for their crops.

The third stage in turning cacao into chocolate takes place on the factory floor. Once the manufacturers receive a shipment of seeds, they quickly begin the lengthy task of processing the cacao into chocolate. Converting cacao seeds into chocolate is a complex and time-consuming process. An individual chocolate bar can take anywhere from two to four days, or more, to make.

Manufacturers guard treasured recipes almost as tightly as the Spanish, who tried to keep chocolate a secret from the rest of Europe for nearly 100 years. Details of cacao blends, conching times, temperatures, and proportions of ingredients are protected to keep key facts from leaking to competitors. Manufacturing processes differ slightly from plant to plant, but most factories use similar machines to break down the cacao seeds into cocoa powder, cocoa butter, and chocolate. Chocolate manufacturers keep careful track of each cacao shipment they receive. They sort the seeds according to type and country of origin.

Next, the seeds pass through a cleaning machine that removes bits of remaining pulp and debris. Then the seeds are carefully weighed so they can eventually be blended according to special formulas created by each manufacturer. Some candy bars contain up to 12 different types of seeds.


The key to excellent chocolate flavor is roasting.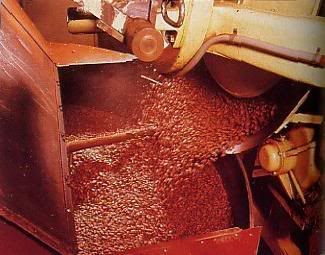 Large, rotating ovens roast the seeds at temperatures of 250°F or more to release the rich aromas and delicious taste. Roasting can last anywhere from 30 minutes to two hours, depending upon the variety of seed. As the seeds toss about in the oven, they lose much of their moisture. Eventually, they turn a deep brown color, similar to coffee beans. The roasting process makes the shells of the cacao rather brittle. Once the seeds have cooled, the giant winnowing machine can begin its job. Inside this machine, cones that are serrated like the edges of a knife crack open (rather than crush) the thin shells to get at the seeds. Giant fans then blow away these empty husks. Next, the remaining broken seed bits, called nibs, pass through a series of sieves, which strain and sort the nibs according to sizing a process called "winnowing."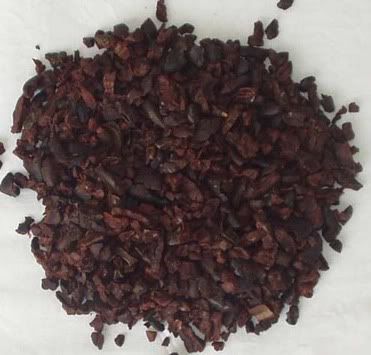 The nibs themselves are made up of 53% cocoa butter and 47% pure cocoa solids. Separating these two substances takes work. In this step, the nibs are milled—crushed by heavy steel discs. This process generates enough friction and heat to liquefy the nibs into a thick paste, called chocolate liquor.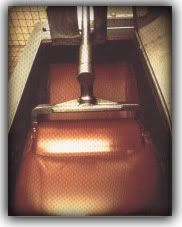 Some of the chocolate liquor is placed in a huge, 25-ton hydraulic press, which squeezes out the cocoa butter. This fatty, yellow substance drains away through metallic screens. Then, it can be added to dark or milk chocolates, used as the basis for white chocolate, or used in cosmetics and medicine. Once cocoa butter is extracted, the remaining solid cocoa is pulverized into cocoa powder—the product used in beverages, cooking, and baking.

Manufacturers blend unpressed liquor with condensed milk, sugar, and extra cocoa butter to form chocolate. The extra cocoa butter keeps the chocolate solid at room temperature. That explains why chocolate doesn't spoil—and why it melts in the warmth of your mouth. The raw mixture of milk, liquor, sugar, and cocoa butter is churned until it becomes a coarse, brown powder called "crumb."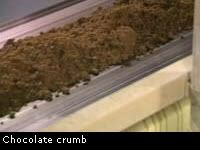 Next, the chocolate crumb mixture goes through a series of steel rollers stacked on top of one another. These break down the tiny particles of milk, cocoa, and sugar within the crumb. Manufacturers must be careful—if they don't crush this mixture enough, the chocolate will be coarse and grainy. But if they blend it too much, the chocolate will be pasty and gummy. In general, Swiss and German chocolates are refined for a longer period. This makes them smoother and finer than American or English candy, which is a matter of national taste preferences.

Next, the refined chocolate paste is poured into a vat in which a large heavy roller kneads, blends, and grinds the mixture. Agitating this paste smoothes out the sugar grains to give the chocolate a silky texture. Aerating the paste allows acids and moisture to evaporate, which creates a mellower, more well-rounded flavor.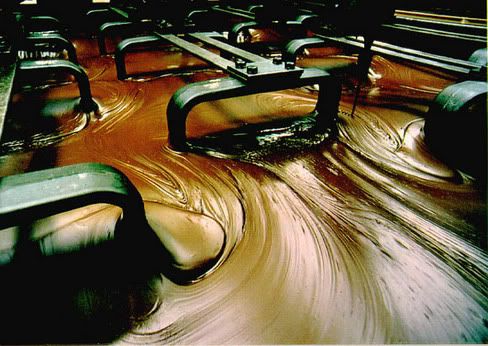 This process, called "conching," can take up to six days to complete. Finally, the refined chocolate is cooled and warmed repeatedly in a process called "tempering." Repeatedly cooling and reheating refined chocolate tempers it into the smooth consistency preferred by most manufacturers.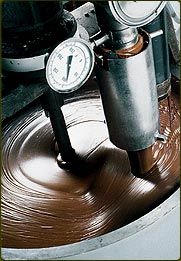 This gives chocolate its glossy sheen, and ensures that it will melt properly. For convenience, tempered chocolate is shipped in a liquid state to other food manufacturers that use the flavoring in candy, cookies, and ice cream.

Finally, in classic assembly-line fashion, machines squirt tempered chocolate into several hundred molds per minute.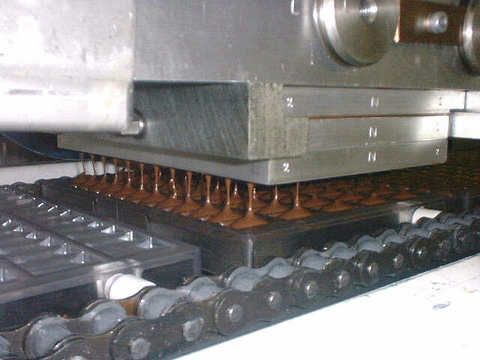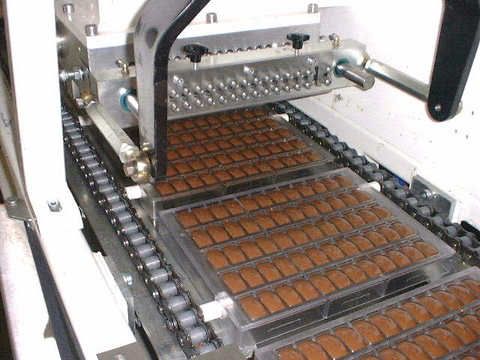 Some devices pour chocolate over flavored centers (a process called "enrobing"). Others create chocolate shapes that will be filled with liquid before their bottoms are sealed. Eventually, wrapping-and-packaging machines box the chocolates at speeds unmatched by human hands. Well… almost J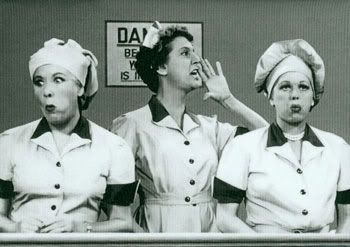 (This information was provided by the Field Museum in Chicago. The museum is currently hosting a traveling exhibit called Chocolate. The tour started in 2002 and will continue this year in the following cities:


February 5 – May 1, 2005 San Diego Natural History Museum San Diego, CA
June 11 – September 5, 2005 California Academy of Sciences, San Francisco, CA
October 8, 2005 – January 1,2006 Milwaukee Public Museum, Milwaukee, WI
February 4 – April 30, 2006 Fernbank Museum of Natural History, Atlanta, GA

Source: http://www.fieldmuseum.org