From http://www.ngs.org.uk/ngs-bin/gardenq4. ... enID=11240
Gypsy House is the former residence of Roald Dahl. The gardens on the property were frequented by Dahl. He spent many hours in his writing hut in the gardens. The gardens are open to the public on certain days. The Open Garden days for 2005 are: Thurs 14 Apr; 12 May; 9 June; 14 July (2-5). You can get more information at the National Garden Scheme website http://www.ngs.org.uk/ngs-bin/gardenq2. ... enID=11240.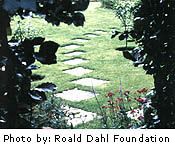 Gipsy House was the home of Roald Dahl. In this garden he built a hut on the edge of the orchard where he wrote his entire collection of children's stories, so not surprisingly this garden has enormous appeal to children as well as adults.

It is a small garden full of surprises. You can start with the Witches Tree, the home of Fantastic Mr Fox and his family. You then walk back down the lane into the top of the garden where there is a walled terraced vegetable garden with a greenhouse containing James' giant peaches, nectarines, three varieties of desert grapes, a collection of pelargoniums and a small goldfish tank. Amongst a wide variety of vegetables are his prize Robinsons' mammoth onions. On the walls are trained fruit trees.

Following on from the walled garden you enter a small children's yew and boxwood maze. The paths are carved with quotations from his books. On exiting the maze you enter the lime tree tunnel leading to his writing hut. The rest of the front garden contains a potage, herbaceous borders and a small sunken garden and paved terrace. From here you walk through into the orchard to the front of the house. There is a small wild garden in the Danny Champion of the World's caravan nestles under a tree house. You enter the front garden with two herbaceous borders, two small formal herb beds and grass path leading to the front door bordered by lavender beds and standard fairy rose trees.
How to get there?

From London you need to get to Marylebone Station, which is located on the Bakerloo line one stop west of Baker Street in Zone 1. At Marylebone you need to catch the train to Aylesbury, which leaves about every half hour. (There are two different routes, though, so make sure it's the one that stops in Great Missenden!)

Keep in mind that Liccy Dahl (his widow) still lives at Gypsy House. So please don't knock on the door.