Today our tidbits will end where The Libertine begins, Will's Coffehouse…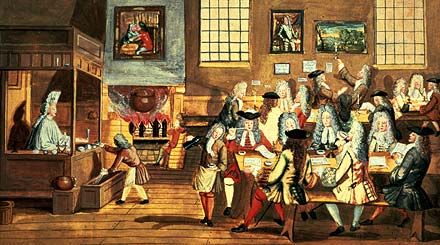 From about the mid-1600s through the mid-1700s, men (and just about all pictures from the period show only men in coffeehouses) drank their coffee in London's coffeehouses while they transacted business, discussed politics, and shared literary works in progress. By 1700, there were probably over 2000 coffeehouses in London, or one for every 300 inhabitants. Even though London's first coffeehouse did not open until 1652, less than 10 years later, coffeehouses had become the favored social venue for members of the Restoration elite. Coffee houses, along with the theater, became an integral part of Restoration London's social scene. When in 1667 King Charles II's celebrated mistress, Nell Gwyn, appeared in a comedy entitled The Coffee-house, the performance sold out.

A 1673 pamphlet entitled The Character of a Coffee-House compared the appearance and flavor of coffee to "Pluto's diet-drink, that witches tipple out of dead men's skulls." The typical coffeehouse, the author alleged, "stinks of tobacco worse than hell of brimstone. The beverage itself was served in filthy pots and dishes, the landlord only occasionally "scraping off the contracted soot", which he then simply substituted for ground coffee, "their taste and virtue being so near of kin, he dares defy the veriest coffee-critic to distinguish them."

From John Chamberlayne, The Manner of Making Coffee, Tea, and Chocolate... with their Vertues, 1685:

"a Drink termed Coffee, which was heretofore in use amongst Arabians, and Egyptians, and which is now a dayes in very great request among the English... it shall be rosted; after which having beaten it unto very fine powder, you may make use thereof, in an equal proportion according to the number of the people that will drink it: Viz. the third part of a spoonful for each person, and putting a little Sugar thereto: and after having it boil a small time, you must pour it into little dishes of porcelain or any other sort, and so let it be drunk by little and little, as hot as it can possibly be endured..."


Above all, the author condemned coffee houses as dens of subversion, where the social classes promiscuously mingled and spread rumors published in gazettes and pamphlets." In 1675, Charles II issued an order for the suppression of the coffee-houses, but it was never enforced. Instead the government directed its energies to keeping newspapers out of the coffee houses. In September 1677, twenty coffee-house keepers were summoned before the Council for having admitted newspapers into their premises; their licenses were not renewed. Of course coffeehouses had their defenders as well. One pamphlet of the times says coffee serves as an "incomparable remedy to dissolve crudités, comfort he brain, and dry up ill humors in the stomach". Coffeehouses were also praised as places to do business. As Wolfgang Schivelbush has noted, for people to gather over a stimulating rather than intoxicating beverage marked nothing less than a revolution in European foodways. In 1674, an anonymous poet favorably compared coffee with the more traditional English beverage of choice:

When foggy Ale, leavying up might trains
Of muddy vapours, had beseig'd our Brains,
Then Heaven in Pity…
First sent amongst us this All-healing Berry (Schivelbush)

Coffehouses were usually associated with a particular interest such as science, politics, business or literature. Men of similar interest gathered at particular spots to discuss the latest news and exchange ideas. The most famous was Will's, at the northern corner of Russell Street and Bow Street. It became known as a meeting place of wits and poets; while most of the customers were seated in groups at small tables, John Dryden had a special place of honour, next to the fire in winter and on the balcony overlooking the street in summer. Everyone wanted to sit as close to Dryden as possible - to speak to him was considered a privilege.




Picture the Earl of Rochester and the Wits, pouring over the latest literary offering at Will's coffeehouse, looking for the "good bits and bad bits" and lampooning the latest work from Dryden. Pour a cup (or a dish) of coffee and enjoy!