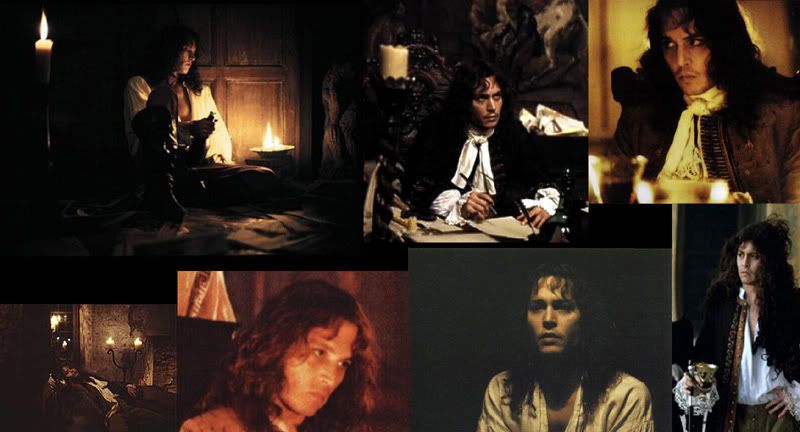 During last year's discussion of The Libertine I posted comparisons between the play and the Toronto (work-in-progress) version of The Libertine. Liz and DITHOT asked me to update that, including a comparison to the final cut of the film. To give you some background, I've read the play many times, saw the work-in-progress version twice and the final cut 5 times. I think you can tell how special this has become to me. With that intro, here goes. I'm breaking this up into several posts.
SPOILERS!!!
Dont read further if you want some surprises left when seeing the film.
Before we start let me say a few words:
I loved loved loved the film. At first viewing I thought the final version was better, tighter, more focused than the work in progress version. I especially liked that the long drawn out death scene was significantly trimmed. It held far too much importance in the WiP and is much better balanced without losing impact in the final cut. If you didn't know that certain things had been cut, you wouldn't miss them – so read this forewarned. While some of the more endearing things were cut, so were some of the less so. There are a few popular photos that are from scenes that are cut. For example, the picture of Wilmot slumped on the floor by the bed, his wife looking long-suffering, is from a cut scene.
http://img.photobucket.com/albums/v299/maginct/Movies/The%20Libertine/Libertinepic1.jpg
I must add that subsequent viewings made me like and understand a few things better and become more upset with others.
Consider my summary below just one person's opinion and not in any way expressing major disappointment in the final product. I might have done some things differently and I pray that a bunch of things are included on the DVD but the pros did a good job. I hope others who have seen either or both versions will add their thoughts.
http://wmg.photobucket.com/widgets/dynamicflash.php?featuretype=bucketstamp&featurename=Libertine1&pa=/v299/maginct/Stamps/