As Inconspicuous as a Tarantula....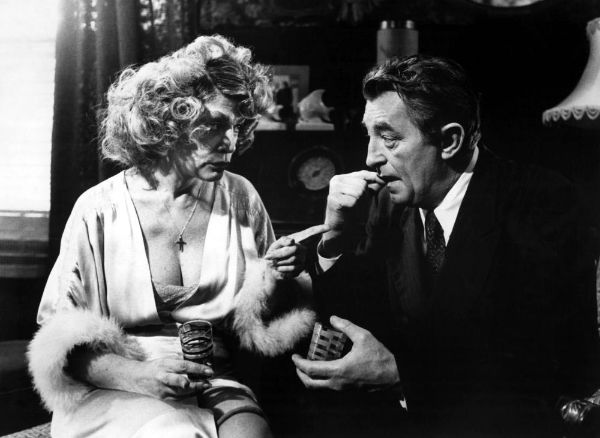 Robert Mitchum and Sylvia Miles, Farewell My Lovely (1975)
"The result of stewing together P.G. Wodehouse and Raymond Chandler, lightly seasoned with Ian Fleming and Damon Runyon, then adding a jigger of Groucho Marx and a dash of the Marquis de Sade."
Mail On Sunday
The quote above is off the back flap of the 2014 US edition of the
Great Mortdecai Moustache Mystery
. Our previous tidbit looked at comedy writing –almost completely English—and included a small section on PG Wodehouse. This tidbit will look briefly at the lives of each of the other individuals referenced, focusing for the most part on style.
First, a nice paragraph on the mystery story to set our brains clicking:
"Mysteries constitute one of the world's most enduring forms of popular literature. You might get an argument from those who support novels about spaceships and alien life forms, sorcerers and flying dragons, or steroidal men with bare chests and buxom women clothed in tatters. But it is mystery fiction, from the best to the most formulaic, which represents some attempt to deal with the world as it really is and with people as they really are." (Armitage)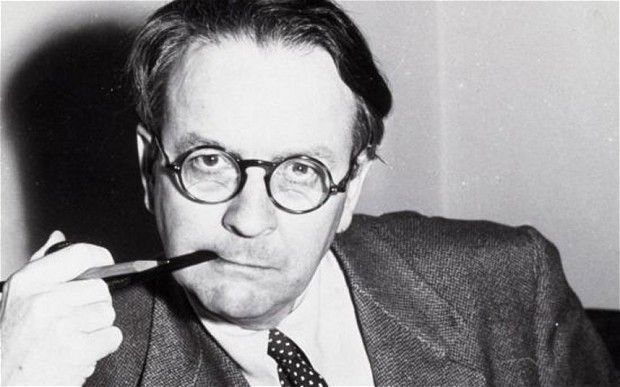 Raymond Chandler
(1888 – 1959) Progenitor of key elements of what we today call the 'detective story.' I didn't realize this but Chandler, although born in Chicago, left the US with his mother at about age 7, following the dissolution of her marriage with Chandler's father. The family settled first in Ireland, then moving on to England. A wealthy uncle underwrote Chandler's attendance at Dulwich College in London (the very same institution attended by PG Wodehouse who drew upon his years at Dulwich to create his Valley Fields. An interesting coincidence.) Upon graduation, instead of going on to university, Chandler traveled in Europe briefly and took a job in the British Admiralty on his return. A first poem was published around this time. He disliked civil service, resigned and took a series of jobs in newspapers (Daily Express, Bristol Western Gazette). He was unsuccessful as a reporter; he continued to write romantic poetry.
Chandler had developed a fondness for Americans during his trip to Paris –"most of them seemed to have a lot of bounce and liveliness" (Schillinger) and, with funds borrowed from his uncle, he moved back to the US at 24 (1912). He took a correspondence course in bookkeeping, and got a job at the Los Angeles Creamery. His mother joined him in LA at this time. When the US entered WWI, Chandler enlisted in the Canadian Expeditionary Force. He served in France and was undergoing flight training in the Royal Air Force (RAF) when the war ended.
He returned to Los Angeles and promptly fell in love with a married woman – Cissy Pascal—who was 18 years his senior. His mother was totally against the relationship. Chandler was steadfast, and supported both Cissy and his mother until his mother's death in 1923. At which point Chandler married his Cissy. They remained together until Cissy's death in 1954. Chandler died five years later in La Jolla, California where he and Cissy had lived.
Chandler began writing stories after losing a high level job as vice president at Dabney Oil Syndicate because of alcoholism, womanizing and a tendency towards depression. Here Chandler is explaining how he got started in a 1950 letter to his English publisher, Hamish Hamilton:
Wandering up and down the Pacific Coast in an automobile I began to read pulp magazines, because they were cheap enough to throw away and because I never had at any time any taste for the kind of thing which is known as women's magazines. This was in the great days of the [i]Black Mask
(if I may call them great days) and it struck me that some of the writing was pretty forceful and honest, even though it had its crude aspect. I decided that this might be a good way to try to learn to write fiction and get paid a small amount of money at the same time. I spent five months over an 18,000 word novelette and sold it for $180. After that I never looked back, although I had a good many uneasy periods looking forward. [/i] (Wiki) Editor's note: $180 in 2014 dollars would be roughly $2,800.
Chandler read other writers voraciously, particularly those working in the same genre -- Dashiell Hammett, Earl Gardner, James M. Cain, and many others whose names have long been forgotten. He studied methods, plots, dialogue – anything that might help him improve his own technique. "Chandler found Hammett too good to copy, but admired him for "giving the detective story back to people who commit murder for a purpose and not just to provide a plot." (Day) Chandler's goal, to "carry an audience over into a genuine dramatic, even melodramatic novel, written in a very vivid and pungent style, but not slangy or overly vernacular." (Day)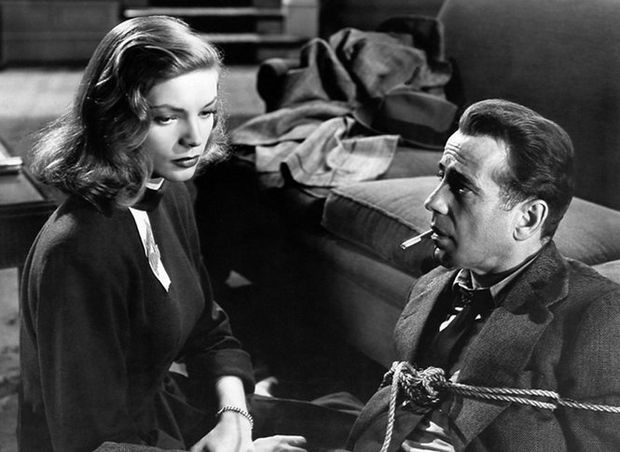 Bogart and Bacall in The Big Sleep (1946)
Chandler's first short story was published in a magazine in 1933, when he was 45 years old. Five years later came
The Big Sleep
, Chandler's first Marlowe novel, written in only three months.
Farewell My Lovely
followed in 1940,
The Long Goodbye
in 1953 and
Playback
(1958). Between the Marlowe novels, Chandler wrote the screenplay for
Double Indemnity
, based on James Cain's novel, with Billy Wilder (1944), and an original screenplay,
The Blue Dahlia
(1946).
But let's hear Chandler talking about how he went about the process of writing:
His gift was style, as in words. "I had to learn American just like a foreign language. To learn it I had to study and analyze it. As a result, when I use slang . . . I do it deliberately.'
Chandler designed his Marlowe to be a man of honor. "Down these mean streets a man must go who is not himself mean…….He is a hero, he is everything. He must be a complete man and a common man and an unusual man. He must be, to use a rather weathered phrase, a man of honor... He talks as the man of his age talks - that is, with rude wit, a lively sense of the grotesque, a disgust for sham, and a contempt for pettiness."
A couple of examples, to get a feel for Chandler's sentences.
He was worth looking at. He wore a shaggy borsolino hat, a rough gray sports coat with white golf balls on it for buttons, a brown shirt, a yellow tie, pleated gray flannel slacks and alligator shoes with white explosions on the toes. From his outer breast pocket cascaded a show handkerchief of the same brilliant yellow as his tie. There were a couple of colored feathers tucked into the band of his hat. But he didn't really need them. Even on Central Avenue, not the quietest dressed street in the world, he looked about as inconspicuous as a tarantula on a slice of angel food.
Farewell, My Lovely
The first time I laid eyes on Terry Lennox he was drunk in a Rolls-Royce Silver Wraith outside the terrace of The Dancers. The parking lot attendant had brought the car out and he was still holding the door open because Terry Lennox's left foot was still dangling outside, as if he had forgotten he had one. He had a young-looking face but his hair was bone white. You could tell by his eyes that he was plastered to the hairline, but otherwise he looked like any other nice young guy in a dinner jacket who had been spending too much money in a joint that exists for that purpose and for no other.

There was a girl beside him. Her hair was a lovely shade of dark red and she had a distant smile on her lips and over her shoulders she had a blue mink that almost made the Rolls-Royce look like just another automobile. It didn't quite. Nothing can.
The Long Goodbye
[youtube]I-09BqziHB8[/youtube]
Marlowe first appeared on film in 1944, in
Murder My Sweet
(adapted from
Farewell My Lovely
), starring Dick Powell.
The Big Sleep
(1946) starring Humphrey Bogart as Marlowe and Lauren Bacall as Vivian Rutledge. Film critic Roger Ebert, who included the film in his list of "Great Movies," praises the film's writing: "Working from Chandler's original words and adding spins of their own, the writers (William Faulkner, Jules Furthman and Leigh Brackett) wrote one of the most quotable of screenplays: it's unusual to find yourself laughing in a movie not because something is funny but because it's so wickedly clever." (Wiki)
Ian Fleming
(1908 – 1964) The creator of James Bond and also, believe it or not, also the writer who gave us the lovely story of a flying car --
Chitty Chitty Bang Bang
. Fleming grew up in wealth and attended Eton and Sandhurst. His father was a member of Parliament and lost his life during World War I. His mother—Evelyn St. Croix Rose—was a powerful force in his younger years. Although Fleming excelled in athletics at Eton, and wrote for the school magazine, his academics were undistinguished and his sense of entitlement irritated his housemaster. His mother packed him off to the Royal Military College at Sandhurst. He stayed less than half a year and had only a case of gonorrhea to show for his time at the school. At which point his despairing mother, determined to prepare her son for a possible career in the foreign service, sent him off to a small private language school in Switzerland run by Adlerian disciple and former British spy Ernan Forbes Dennis and his novelist wife, Phyllis Bottome. (Editor's note: the psychotherapist Alfred Adler was the founder of a school of psychology that placed a great deal of emphasis on the self-created personality.) Fleming remained close to the couple his entire life.
He went on to Munich University and the University of Geneva, fell in love and got engaged. His mother disapproved. She pulled some strings and got her son assigned to the position of sub-editor and journalist at the Reuters News Agency. In connect with his Reuters assignment, Fleming spent some time in Russia during the early 1930s, and even lobbied for an interview with Stalin, who declined but sent him a note of apology.
Fleming next spent several years in banking – a calling he never warmed to—and in May 1939 he was recruited by Rear Admiral John Godfrey, Director of Naval Intelligence of the Royal Navy, to become his personal assistant. Finally something he was decent at! He was excelled at administration; he served as a polished liaison between the gruff Godfrey and he was genius at suggesting creative ways to outwit the enemy and gain advantage.
During the years 1941 – 1942 Fleming ran Operation Goldeneye, a plan to maintain an intelligence network in Spain in the event of a German take-over. In 1942, Fleming set up a commando unit composed of specialist intelligence troops skilled at a variety of non combat tasks including safe cracking and lock picking. The unit led to the establishment of T-Force whose mission was "to guard and secure documents, persons, equipment, with combat and Intelligence personnel, after capture of large towns and ports in liberated and enemy territory. It would not surprise anyone to note that Fleming drew on the activities of this unit in his writing, particularly the James Bond story
Moonraker
.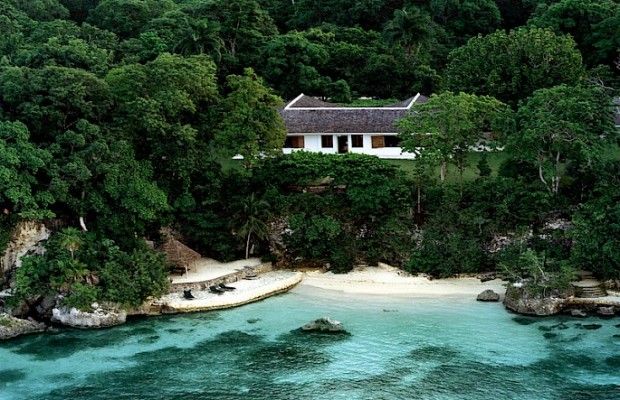 Goldeneye
Fleming's introduction to Jamaica, where he would do the majority of his writing after the war, occurred during an Anglo-American intelligence summit. He fell in love with the island, and asked a colleague to find him a plot of land. Fleming built his house and named it Glodeneye. It became his place to retreat and write. In fact his son Casper wasn't allowed at Goldeneye. Casper was the product of Fleming's affair and eventual marriage to the socialist Anne Charteris.
Fleming interest in writing a novel about spies blossomed during his war years. It took exactly two months for him to get Casino Real out on paper – his only complaint being that the story didn't have a sufficient element of suspense. The writing began as a way to distract himself from his upcoming marriage to Anne, who was already pregnant with Casper. (An earlier offspring of the couple who'd been intimate for some time was still borne.)
Fleming modeled the exterior of his Bond on the commandos and secret agents he'd worked with during the war. In a 1962 New Yorker magazine interview, Fleming explained, "When I wrote the first one in 1953, I wanted Bond to be an extremely dull, uninteresting man to whom things happened; I wanted him to be a blunt instrument." He pictured Bond as looking somewhat like the singer/actor Hoagy Carmichael (Editor's note: You know Carmichael if you've ever seen the Bogart/Bacall movie
To Have and Have Not.
Carmichael is playing the piano and singing with Bacall. I love the guy's songs.
The Nearness of You, Georgia On My Mind,
and
Stardust
to name a few.) He gave Bond certain of his own attributes: his golf handicap, his taste for scrambled eggs, his love of gambling, and use of the same brand of toiletries.
Fleming's Sketch Of His Bond
The books flowed out:
Live and Let Die
(1954),
Moonraker
(1955),
Diamonds Are Forever
(1956),
From Russia with Love
(1957),
Dr. No
(1958),
Goldfinger
(1959),
For Your Eyes Only
(short stories, 1960),
Thunderball
(1961),
The Spy Who Loved Me
(1962),
On Her Majesty's Secret Service
(1963),
You Only Live Twice
(1964),
The Man With the Golden Gun
(1965)
For the first five books (
Casino Royale
,
Live and Let Die
,
Moonraker, Diamonds Are Forever
and
From Russia, with Love
) Fleming received broadly positive reviews. That began to change in March 1958 when Bernard Bergonzi, in the journal Twentieth Century, attacked Fleming's work as containing "a strongly marked streak of voyeurism and sado-masochism" and wrote that the books showed "the total lack of any ethical frame of reference". The article compared Fleming unfavorably with John Buchan and Raymond Chandler on both moral and literary criteria. A month later,
Dr. No
was published, and Fleming received harsh criticism from a number of reviewers who, in the words of Ben Macintyre, "rounded on Fleming, almost as a pack." Paul Johnson from The New Statesman called it "without a doubt, the nastiest book I've ever read." Fleming entered a period of creative decline. He continued working on short stories.
Thunderball
was the novelization of a script he'd worked on with two other writers, which led to a lawsuit. In 1961 then President John F. Kennedy remarked that From Russia With Love was one of his top ten favorite novels. That same year Fleming entered into an agreement with Harry Saltzman concerning the film rights to existing and future Bond novels, and led to the hiring of Sean Connery as the first James Bond. 1961 was also the year that Fleming experienced his first heart attack , which led to his recuperation and his bedtime story for young Caspar. Fleming would have another heart attack three years later, which would result in his death in August 1964.
The Man With A Golden Gun
was published posthumously.
Some say that Fleming's novels fall into two categories. Books written between 1953 and 1960 concentrate on "mood, character development, and plot advancement." Those written after 1961 include more detail, more imagery. Raymond Benson, writer of a series of Bond novels, believes that Fleming had become "a master storyteller" by the time he wrote
Thunderball
. When asked which writers most influenced him, Fleming included Raymond Chandler, along with Dashiell Hammett, Eric Ambler, and Graham Greene.
Cartoon by Nicolas Bentley
Damon Runyon
(1880 -1946) A journalist and short story writer, Runyon wrote for the Hearst press for more than thirty years, mostly about sports. Everything about him was an inspiration for several Capra movies. By far the most notable attribute of Runyon was his versatility with the English language. He was slang linguist extraordinaire whose words sang with color. Runyon's fame today probably lies on his role in the creation of the Broadway musical, Guys and Dolls. Runyon wrote two short stories –The Idyll of Miss Jane Brown and Blood Pressure—which fueled the interest of producers Cy Feur and Ernest Martin. Runyon was a well-connected kind of guy -- his best friend was Otto Berman, a mob accountant –and his stories run to type. Here are a few examples of his wordmanship:
"
One evening along about seven o'clock I am sitting in Mindy's restaurant putting on the gefilte fish, which is a dish I am very fond of, when in come three parties from Brooklyn wearing caps as follows: Harry the Horse, Little Isadore and Spanish John.
"
"
Miss Missouri Martin makes the following crack one night to her: 'Well, I do not see any Simple Simon on your lean and linger.' This is Miss Missouri Martin's way of saying she sees no diamond on Miss Billy Perry's finger.
" (from Romance in the Roaring Forties)
Runyonesque vocabulary, which obviously has seeped into our daily conversations without us noticing, includes a number of recurring composite phrases: ever-loving wife, more than somewhat, loathe and despise, one and all. And, of course: dolls, Judies, pancakes, tomatoes, and broads, all members of the female nature.
Donatien Alphonse François, Marquis de Sade
(1740 – 1814) French aristocrat, revolutionary politician, philosopher and writer, famous for his libertine sexuality. His works include novels, short stories, plays, dialogues and political tracts; in his lifetime some were published under his own name, while others appeared anonymously and Sade denied being their author. He is best known for his erotic works, which combined philosophical discourse with pornography with an emphasis on violence, criminality and blasphemy against the Catholic Church. He was a proponent of extreme freedom, unrestrained by morality, religion or law. The words sadism and sadist are derived from his name. (Wiki)
Sources
:
Armitage, Richard. Biblio File: Raymond Chandler as Literature? New York Public Library. October 14, 2010.
Day, Barry (editor) Down Mean Streets A Writer Went to Create a Hard-Boiled Character, The World of Raymond Chandler. New York Times. December 21, 2014.
Edwards, Martin. The Chandler Style
The section on Ian Fleming was largely drawn from Wiki's entry of the same name
Gopnik, Adam. Talk It Up: Damon Runyon's Guys and Dolls. A Critic At Large: March 2, 2009. New Yorker Magazine.