Blini and Caviar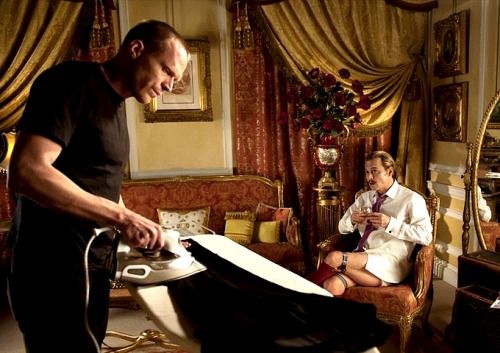 Page 15
"I do not doubt that you could, but all of these kickshaws sound more like a like luncheon than a nourishing dinner for a convalescent. Moreover, I am, as you know, eating for two: the moustache will soon contract beri-beri if it does not get its vitamins. Is there nothing to precede this niggardly repast?"

"Yet what?"

"Sorry, Jock. I mean, is there anything for starters?"

"Oh, Ah. Well, I do happen to have a basin of me French pancake batter standing in the frig but….." I looked at him levelly. He looked back as levelly as a one-eyed chap can look.

"Oh very well," I said and tossed him the key to the cupboard where I keep the caviar. Jock may not be the tastiest evidence of Divine Creation but he yields to none in the matter of making caviar blinis.

I have a thing about books and food. More accurately I love reading books that feature food. The menu is usually quite incidental to the story, but the inclusion of tasty things creates another layer, another sensation almost. We can imagine the protagonist speaking, and the clothes they wear, and the car they are in, and now, that plate of shrimp they've just tucked into. Some descriptions literally make my mouth water and send me looking for a companionable snack, or even a recipe. From the first pages of our current selection, it is clear that Charlie Mortdecai is a gourmand of the highest –and most flagrant – order. He is thinking about the next meal or morsel, or criticizing what he has just finished eating, or mourning what's not on the menu.
Here's a list of what our dear Charlie consumed in the course of the story: cinnamon toast, anchovy toast, kippers, deviled kidneys, shirred eggs, cheddar cheese, frizzled ham, richly buttered muffins, cold blackberry and apple pie, spider crabs, oysters, prairies, ormers, vanilla milk shakes, several kinds of tea --orange pekoe, india and earl grey tea -- game pie, cucumber sandwiches, limburger cheese, Dover Sole, pommes frites, cherry pie, steak and kidney pie with mashed potatoes, Beluga caviar, Strasbourg Pate de Foie Graves Truffle, sorbet, tossed endive salad, cold roast sirloin, richly buttered toast and, not to be forgotten 'alf a dozen gull's eggs, 'arf a chicken, 'arf a pound of Mr. B's special shooting cake."
I couldn't help but look up the shooting cake, as I figured it had something to do with shooting parties.
"Shooting Cake……… was part of the spread produced by the Edwardian country house kitchen either to greet the hungry back from a day's shoot on the moors, hills, great estate or as part of a heaving picnic luncheon to fortify the hunters."
It looks rather like a fruit cake to me. See the article and two different recipes at the link below:
And another full stop to introduce the ormer – also known as the sea-ear -- a European abalone that is chiefly found around Guernsey Island where they are found hiding under rocks. Here is a recipe. It seems as if you have to beat the things pretty soundly as they are rather tough otherwise. But I'd definitely give them a try:
Ormer Casserole
As many ormers as possible
a strip or two of belly pork
2-3 carrots
2-3 shallots
Guernsey butter
1. Soak ormers in cold fresh water for 30 minutes.
2. Shell the ormers.
3. Scrub off the black parts.
4. Beat the centre of the ormer with a mallet.
5. Flour the ormers and brown in a frying pan with the Guernsey butter and a little oil.
6. Place the ormers in a casserole dish with the cubes of belly pork, sliced carrots, bay leaf and season with salt and pepper.
7. Place in pre-heated oven at 160/170 °c for two hours.
8. Turn down the oven and allow the casserole to simmer until cooked.
Link to recipe website:
And then there's the gull's eggs.
Ridiculously expensive black headed gull's eggs, actually. A rarity, the eggs can only be collected by a rather secretive group of licensed eggers between April 1st and May 15th To those who seek them out, and they are quite popular, they are considered an exquisite delicacy of epic proportions. Imagine an egg yolk that is a shocking red-orange, and the taste, rich and creamy and a bit more wild than your average egg.
"They are so beautiful with their speckledy shells and that steely-blue tint to the white," says Henry Harris of Racine in Knightsbridge. He boils his eggs for four and a half minutes, then cools them quickly, keeping the yolk just off runny in the middle, and serves them in their shells with celery salt – the classic way. "The joy of peeling in anticipation is far more exciting than preparing, say, a salad of poached gulls' eggs with asparagus," he says. "You should have to take care eating one. Without wanting to sound pretentious, it's quite a sensual experience."
Cost? The five-year-old articles I looked at quoted a price of approximately $10 an egg – and they are small things—and thus an omelet running $180. Definitely Charlie territory!
But now, in keeping with the sybaritic spirit of Charlie and also because we are officially on the edge of late winter, we are going to take a more extensive look at blinis and caviar.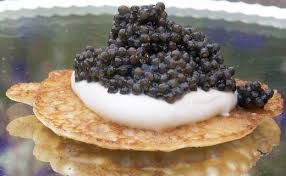 We begin with the lacy circle of the sun that is the blin. Winter, the season of darkness and cold, of comforters and chilly mornings walking the dog or stirring the boiling oatmeal on the stove. When will it end we ask, our teeth chattering as we stand by the bus stop or scrape the ice from our window shields. For millennium, inhabitants of the Northern Hemisphere have asked this question of their fellow human beings. Where is the sun? Where is that globe of light?
At this time of year, as the sun begins to rise earlier each morning, countless generations across the world have also celebrated the return of light with food. In Russia the celebration is called Maslenitsa or Butter week. Held the week before Lent, Maslenitsa is a time to share good food, and traditionally, to offer thanksgiving and to purify the body. "Blini were eaten as symbols of the sun, personified by the ancient and powerful god Volos. This was done not only in thanksgiving, but also as a method of purification as it was coupled with an abstention from meat, which Russians have long regarded as a source of lust and aggression. …At Maslenitsa's peak of elaborateness, there was a day for sharing blini with your sweetheart, a day to give blini to the poor, and a day when mother's-in-law cooked blini for their son's wives. Maslenitsa was also known as a "threshold time" in folklore jargon. It was a time when rules (both societal and natural) could be broken; in addition to gorging themselves on blini, people often wore masks and clothing of the opposite gender, role-played, consumed large amounts of alcohol, and generally made merry." (Wilson) By the way, Lent begins February 18th – so whisking up a platter of blinis this week would be quite apropos.
Otsu Noodles - Soba Sesame
Traditionally, blini are made with buckwheat flour although many people use wheat flour. In researching this article, I learned that buckwheat is actually not a form of wheat, not a grain at all, but a fruit closely related to the wild rhubarb plant, sorrel and dock. We are more familiar with the buckwheat than we realize. If you've ever had Japanese soba noodles or Jewish kasha varnishkes or perhaps just a knish filled with kasha, you've had buckwheat.
The lowly buckwheat is a powerhouse of nutrition -- containing all 8 amino acids, 2 flavonoids, and ample quantities of manganese, magnesium, phosphorous and copper. Buckwheat is also low in calories (155 per cup) and high in protein and fiber. For those not in the know (me, included!) flavonoids "protect against disease by extending the action of vitamin C and acting as antioxidants." So adding buckwheat to the diet is excellent for cardiovascular health and may possibly be helpful in controlling diabetes. Good stuff.
But, of course, as some alert reader is bound to note, Jock was planning to use his French pancake batter(!!) So, I am offering two choices.
Making Buckwheat Blini: Making French Crepes
: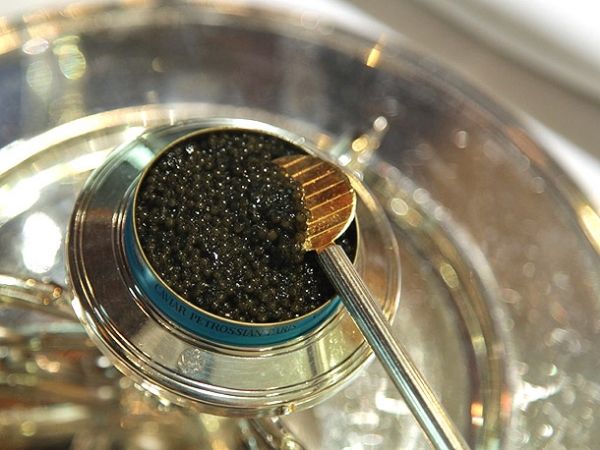 On to caviar. First off, I have to admit that if I was locked in a room with two dozen tins of caviar, I'd eat every one. Addictive stuff. Those luscious pearls of buttery salt, tasting exactly like the sea distilled I've always thought. Years ago, before it became so expensive, we would splurge for a tin at New Years. Gone are those days!
But price aside – I refuse to deal with it at all --let us all imagine ourselves Charlie Mortdecai and we are getting ready to put in our latest order, and we need determine exactly which caviar we wish to purchase.
Caviar is a fish egg or roe. Traditionally this roe comes from the wild sturgeon that swim the Caspian and Black Sea. But there are sturgeon that swim other waters. Some history. "Caviar was not always as rare or expensive as it is now. In the United States at the turn of the century, caviar was offered at taverns and saloons for the same reason that peanuts are offered today: the saltiness encourages more drinking. According to Stein, until 1900 the United States produced about 150,000 pounds of caviar per year. Most of this domestic caviar came from the Delaware River at Penns Grove, New Jersey.
At one time, Hudson River sturgeon were so plentiful that the flesh was referred to as "Albany beef" A nickel could get you a serving of the best caviar available in New York, and many of the most lavish establishments, including the Waldorf Astoria, offered free-flowing caviar as an amuse-bouche opening to an elegant meal. Caviar was also produced in impressive quantities in the Gironde estuary region, the North Sea, the Baltic and the Sea of Azov…. in 1899 a kilogram (2.2 pounds) of French caviar cost a mere 20 centimes. Just before World War 1, 40 centimes bought the same kilogram, putting the price of caviar just slightly higher than that of bread." (TED Case Studies)
There are different types of sturgeon. Beluga Sturgeon was the largest freshwater fish in Europe, running as long as 16 feet and 2,000 pounds. Strictly speaking the fish is actually part sea, part fresh water, spending a good portion of its life in the sea, returning to rivers to breed. A male sturgeon will first breed at 10-15 years-of-age, females at 15-18 years. The fish seemingly lived forever – over 100 years wasn't rare. Sister fish include the Ossetra Sturgeon and Sevruga Sturgeon, both caviar producers. There are others. Paddlefish caviar, Hackleback caviar, Bowfin caviar and White Sturgeon all have good reputations.
But fame drove the poor Beluga to the edge of extinction. Overfishing, including illegal poaching, pollution and the construction of giant dams on the Volga River, all led to the collapse of the species early in the 21st century with a 93% fall in catches from 1992 to 2007. "Sturgeon fishing fell under a series of strict international quotas and in 2008 was subjected to a global ban by the Convention on International Trade in Endangered Species. The only caviar on the market since then comes from tame varieties farmed in concrete basins and cages." (Sciolino)
"Once upon a time, great caviar meant the Caspian," says Armen Petrossian, owner of the Petrossian restaurant and boutique in the Seventh Arrondissement in Paris. Now, he says, "geography and nationality do not count." Yet business is so good that sturgeon are raised on about 90 farms in more than 20 countries, in places as varied as Israel, the United States, China, Uruguay and just about every country in Europe." (Sciolino) Today, there are caviar merchants like Petrossian who specialize in knowing the competition and judging the quality of caviar each produces. "The only guide we use to judge quality is our senses," Petrossian says. "Only taste, smell, color, brilliance and texture of each species count." (Sciolino)
So we go back to our process of selection. Caviar is rated according to the size and color of the roe, and the method of processing. Basically, the lighter the better. Indeed, the lightest or golden caviar was often reserved for royalty. Although the guide I referenced indicated that this perspective is changing, "as more people discover the delicious and less expensive alternatives to wild sturgeon that are available." (Guide)
Obviously when a perishable item such as fish eggs are harvested it needs to be consumed quickly or somehow preserved. This is where salt enters the picture. There are four processing methods. Malossol or "little salt" is another name for fresh caviar with less than 5% salt, and is the most desirable state. Salted caviar or semi-preserved caviar follows. Made from overly ripe or damaged eggs, this caviar is highly salted and pressed into a jam-like state. Pasteurized caviar is fresh but heat-treated and vacuum packed. Such processing can affect both taste and texture.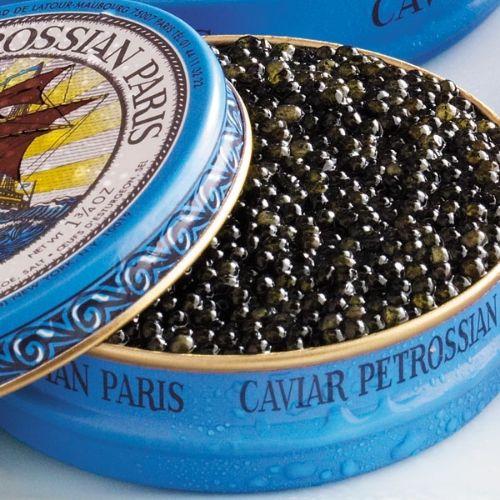 Hackleback Caviar
Here then, several choices for your consideration
Beluga
: exceedingly rare and expensive, from black to light gray, buttery and smooth flavor
Osetra
: medium sized eggs, a nutty slightly fruity flavor, dark brown, gray and golden brown
Sevruga
: smallest roe, more plentiful and less expensive, roe are black to very light grey. Flavor similar to Beluga.
Paddlefish
: buttery flavor, steel gray to golden grey, good substitute for Beluga
Hackleback
: sweet, nutty and buttery, roe is black and medium sized
Bowfin
: known by its Cajun name (Choupique), another good substitute for Beluga, mild flavored, black beads, somewhat small.
For your buying pleasure, two places to explore to your heart's content. Experts say start at the lower price end. Always taste before you buy.
Brown Trading Company: located in Maine, around for generations, high quality caviar that is preferred by the best chefs.
Seattle Caviar Co: opened in 1990, favorite of Northwest chefs.
____________________________________________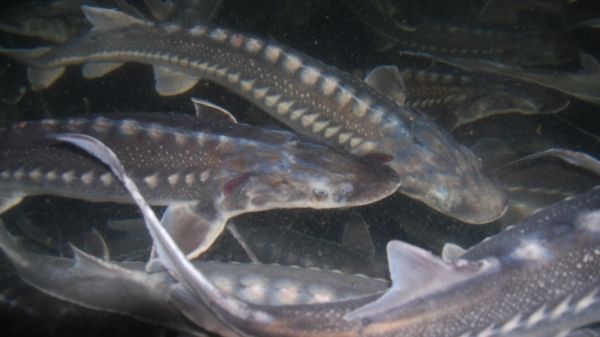 White Sturgeon farmed in Sacramento County, CA Photo by Jenny Oh
Sources
:
Baking for Britain blog.
The Beluga Sturgeon: Caviar in danger? TED Case Studies. American University (website gone)
Buckwheat. The World's Healthiest Foods.org
Caviar Types and Varieties: A Concise Caviar Guide. Great Party Recipes.com
Dening, Sophie. Best Laid Plans. Putting Flavor First -- Celebrating Great British Produce.
The Great Guernsey Dish. BBC website.
Huso huso. The IUCN Red List of Endangered Species. March 2014.
Sciolino, Elaine. The Globalization of Caviar. NYTimes Magazine. October 28, 2014.
Wilson, Josh. Maslenitsa, Blin! The School of Russian and Asian Studies. September 3, 2005