Come and listen:
.
.
.
OUR PATTI SMITH PLAYLIST
credit: Redfern



November 7, 1975

Patti Smith's first album "Horses," should be in the stores about now. It's an extraordinary disk, and every minute of it is worth repeated rehearings, but you can learn about all you need to know of the essential Patti Smith by listening to the first 80 secords of a 'song' on the second side called "Land."

"Land" begins with unadorned words, declaiming rhythmically with Miss Smiths' intensely personal sort of urgency. The words are about typical events – a boy, a school hallway, lockers, another boy. As she describes the other boy, her own voice, overdubbed, creeps up toward her first voice, locking into phrase with it.

Miss Smith's vision arise out of normalcy but then transcend it almost instantly. Very soon the boy in the hallway is being assaulted, homosexually or murderously or both, by the other boy. Miss Smith never stops at violence and sex, either, and within another few seconds she as shifted into cosmic apocalypse, with other plans of reality breaking through into ours.
The boy finds himself surrounded by horses, proud and circling, their noses in flame. And then the music, which has been rising in tension and volume all this time behind her, releases into basic infectious rock 'n roll, and Miss Smith is into a chanted litany of pop dances, starting with "Do You Know How to Pony?"
John Rockwell, NY Times
Mr. Rockwell didn't know quite how to deal with Patti Smith. He goes on to call her music 'eccentric' and "any AM, top-40 success she might win would surely be of the novelty sort, or at best no more lasting than that of David Bowie. She is just too weird. But she's a lot more than just weird, so that maybe enough people will respond to the shamanistic compulsion of her art to make her a commercial success."
Another early look at Patti, this one from Dave Marsh, Rolling Stone, January 1, 1976….
She'd been dancing awhile when I first saw her. She walked into that Upper West Side party like a Jersey urchin who'd just inherited Manhattan. All in black -- turtleneck and tight black slacks. She seemed more frail than she really was, but not fragile, though you would have counted her ribs, and her jet black hair straggled like waterlogged yarn. Her skin so pale it was nearly translucent, cheeks drawn so tight and thin I was tempted to pull her aside and offer her a decent meal. If only her teeth had been half rotted, she would have passed for Keith Richards' waif sister.
Taking your eyes off her wasn't impossible. But it was pretty goddamned unlikely.
She glided across the room easy as any rock & roll queen in her beat-up Mary Janes, full of sex and innocence; every eye was pulled her way, every blabbing mouth set off in unison. All the women hated her then -- the solidarity of sisterhood was not so firm in 1971 -- but the men were awed.
Even before the party, I had known who she was. Steve Paul, the blue velvet Winter brothers impresario, had stopped by my home in Detroit a few months earlier with a tape of a poetry reading. I didn't care much about poems, but Lenny Kaye, a fellow critic, was her backup guitar. Mostly I was intrigued by the idea of a girl Steve who was a ringer for Keith.
have you seen
dylans dog
it got wings
it can fly
I don't remember what else she read, but she took me right over. In her voice were not simply references but the very rhythms of rock & roll. I wanted to know more, maybe publish a few of her poems in the magazine I was editing. Steve thought bigger -- he was gonna make her a rock & roll star."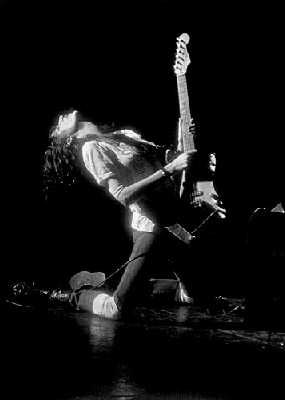 Patti Smith, 1976 - Central Park, NYC
credit: dustyhat
This is our last tidbit of the cycle. We figured that since we were spending time reading about Patti's transformation from poet to rock legend, we should also supply a playlist so that readers could put sound to words.
Track #1
: We start off with the B-side of Patti's first single:
After the end of recording "Hey Joe," we had fifteen minutes left. I decided to attempt "Piss Factory." I still had the original typescripts of the poem that Robert had rescued from Twenty-Third Street. It was at the time a personal anthem for extricating myself from the tedium of being a factory girl, escaping into New York City. Lenny improvised over Richard's sound track, and I riffed off the poem. We got our take at exactly midnight.

[…]

Jane Friedman could be found at the entrance to our shows, selling them from a shopping bag. Of all the places, our greatest source of pride was to hear it on Max's jukebox. We were surprised to discover that our B-side, "Piss Factory," was more popular than "Hey Joe" inspiring us to focus more on our own work.
Just Kids, pg. 242
Horses

Track #2
: Birdland
The next track comes from the Patty Smith Group first album,
Horses
. We read two reviews of this album at the start of this tidbit. I've chosen to use "Birdland, which may not have the name-recognition of "Land" but easily equals "Land" in intensity -- and intense is definitely the operating principle at work in this album. "Birdland" begins slow, almost soulful, but picks up like a whirlwind, mesmerizing in the power of both word and music. It's for lack of a better word incantory, like a spell.
Radio Ethiopia

Track #3
: Ain't It Strange
We then move to the album
Radio Ethiopia
, which didn't have the same critical success as
Horses
in part because Patti's singing played a less dominant role, although that definitely isn't the case on the song I've chosen -- "Ain't It Strange" -- I guess it has a nice sort-of Doors like feel to it but more than that, maybe it's a sense of possession. Whirling Dervishes, glossalalia, trance states.
I spin, I spiral, and I splatter
Hand of god, I feel the finger,
Hand of god, and I start to whirl
And I whirl, and I whirl,
Don't get dizzy, do not fall now,
Turn, god, God (strange)
Go, go on, go like a dervish,
Turn, god, (strange) make a move
Turn, lord, (strange)
I don't get nervous
Oh I just move in another dimension
Come move in another dimension
Come move in another dimension
Come move in another dimension oh oh oh
Strange strange
A Review of Patti Smith Group's third album Easter
The hero represents the gift of love, or again, grace--the latter epitomized, for example, in Arthur's effortless raising of the sword from the rock--or in Hindu mythology, Rama's similar lifting of the bow. Both deeds indicate how heroic feats of critical importance are enacted at moments when there no longer exists a clear dividing line between will and act, or rather when, beyond all necessity to proceed according to any attitude of "intentional" motivation whatever, performer and performance are one. This occurs when the performer himself is not even conscious that what he has done is heroic. Yet it is, perhaps, just because he is not, that he alone can have achieved his task.

--Dorothy Norman
The Hero: Myth/Image/Symbol


the face of alexander remains not solely due to sculpture but through the power and magnetism and foresight of alexander.

--Patti Smith
"High on Rebellion"


Easter makes good on Patti Smith's biggest boast--that she is one of the great figures of Seventies rock & roll. More importantly perhaps, it focuses her mystical and musical visions in a way that makes her the most profoundly religious American popular performer since Jim Morrison. Clearly, there are bothersome contradictions between Smith's arrogance and her preachings, between her utter belief in the power of her own will and her absolute certainty that society's only salvation lies in a return to ecstatic ritual surrender. But Easter, like the rite on which it is based, can't be apprehended rationally: you either take it on faith or not at all.
Dave Marsh, Rolling Stone, April 20, 1978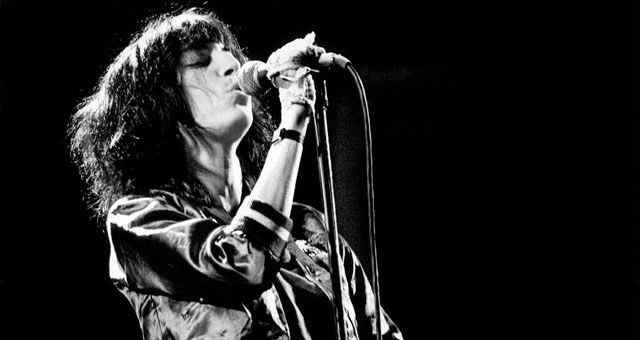 Patti Smith, London 1970 credit: Dick Barnatt
We'll hear two songs from "Easter"
Track #4
: Because The Night
This is the song Bruce Springsteen gave to Patti. The feel is very different and not typical of anything done previously by the group. Patti considers it a love song to Frederick.
Track #5
: Twenty-Fifth Floor
Up until the other day I didn't realize that this song was written with Fred Sonic Smith in mind -- first night they met --although there's a lot of other things going on.
We do not eat
Flower of creation.
We do not eat,
Eat anything at all.
Love is, love was, love is a manifestation.
I'm waiting for a contact to call.
Love's war. love's cruel.
Love's pretty, love's pretty cruel tonight.
I'm waiting here to refuel.
I'm gonna make contact tonight.
Love in my heart.
The night to exploit.
Twenty-five stories over detroit,
And there's more
Up there, up there, up there.
We move next to
Wave
, the last album by the Patti Smith Group before Patti married Fred Sonic Smith. This is a softer sound, round and lush.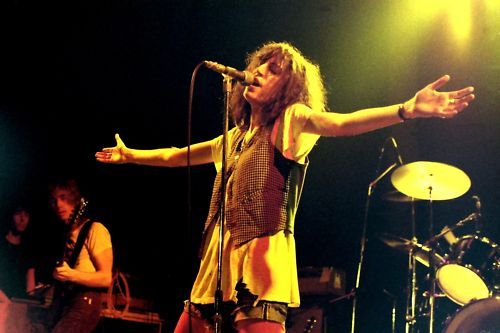 Patti Smith, Rosengarten, Germany 1978
Track #6
: Dancing Barefoot
One of my all time favorite song by Patti. She dedicated this one to specific women, but I've always felt it speaks to all women. A portion of the lyrics:
She is benediction
She is addicted to thee
She is the root connection
She is connecting with he
Here I go and I don't know why
I fell so ceaselessly
Could it be he's taking over me
I'm dancing barefoot
Heading for a spin
Some strange music draws me in
Makes me come on like some heroine
She is sublimation
She is the essence of thee
She is concentrating on he
Chosen by she
Here I go and I don't know why
I spin so ceaselessly
Could it be he's taking over me
Our remaining tracks are a capture of songs off several of Patti's albums after the death of her husband Fred.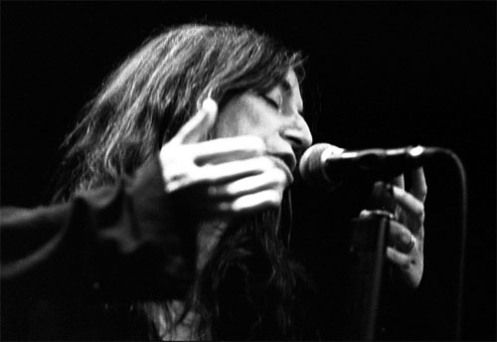 Patti Smith, credit: Valerio Berdini
Track #7
: Beneath the Southern Cross
From the album Gone Again (1996) -- "Oh to be not anyone, gone, this maze of being, skin. Oh to cry not any cry, so mournful that the dove just laughs...."
Track #8
: Glitter in Their Eyes
From the album
Gung Ho
. The song "Glitter in Their Eyes" was nominated for a Grammy - Best Female Rock Vocal in 2001. It's an interesting album that came out around the time the US went into Iraq -- listed on the Rolling Stone Top 50 Albums for 2000.
Track #9: Peaceable Kingdom
From the 2004 album
Trampin
' You see the influence of William Blake here. For me it also has a anti-war sensibility to it.
Track #10: Nine
From
Banga
. I thought it fitting, here, on ONBC, to choose the song Patti wrote about her friend Johnny Depp.
Well that's it. I encourage you to explore Patti's albums. If I had one word to describe Patti's song-making it would be 'healing' -- Early song, late song, intense or sweet, ultimately Patti's songs are meditative. They release, they unbend a person. They open the heart and gentle the spirit.