The Ramones At CBGB
NEW YORK PUNK ROCK - EARLY YEARS
Because Patti Smith is regarded as the 'godmother of punk' we thought we should have a tidbit that looked at the phenomenon of punk rock.
When I started thinking about doing the piece, my goal was education – myself and other readers. By the time 1980s punk truly hit New York I was married and no longer focused on what was occurring outside my own little case of domestic bliss. It happens. So, I gathered a bunch of books around me as spring turned into summer and read my eyes out trying to put the puzzle of roots and off shoots together. What exactly was meant by punk? How was New York punk different from British punk? Who were the prime actors on the scene? How were they the same and different?
I was soon immersed in a strange compilation of the new and the old. I got the landscape – I'd walked those streets myself many times. Bands I knew well were described as progenitors – I'd just never made the connection before. I also discovered bands I had by-passed years ago, too content to burrow myself into the familiar world of tried and true sounds. Again, it happens. We humans are creatures of habit, not inclined to track off the path unless given a firm shove.
I am glad I made the trip. I found new favorites and climbed higher along the walls of the mountain that is rock – now I see a wider landscape before me, and my ears have tuned in ways of making music that, in my languor, I had allowed to slide past me into the mist. Hindsight is always 20/20.
So why should the reader be educated? Context. We always gain understanding when we are able to view our subject matter in the context of time and place. Our subject matter – Patti Smith's tale of the early days, when she discovered herself and also a new way of making rock. I wanted to know not just the names of the bands jostling for attention during her time at CBGB, but what they sounded like and how they differed. A door to the past that could open, with image and sound, another window in the wall back.
What I've giving you is not comprehensive. The books I read were wide and deep. But the process of tidbitting – these nifty little trays of goodies we set out each day for a month or so before our book discussions—is never comprehensive. We offer tastes, just that. Highly idiosyncratic platters that represent what we have taken in, digested and plucked out as worth sharing. My vision will never be your vision.
I've decided to concentrate on only that portion of New York punk that was in place when Ms. Smith took a leave to have her family. I remain strong on roots and a new-eared virgin on everything else. Now, what I would like to happen is that I lay down my take on NY punk and anyone out there with their own best group, best song, swing in with their own contributions – feel free to contact me or another staffer if you need help posting a video. This builds our picture further, one more tile in the surround that is context. Anyone out there with a British take on the subject is more than welcome to give us more information – lay out your treats for our edification.
Lenny Kaye, The Patti Smith Group
First Off – What is New York Punk?
Clinton Heylin's book
From Velvets to the Voidoids - The Birth of American Punk Rock
is enormously helpful here:
"The first problem to confront is one of terminology. Applying the words 'punk' and 'New Wave' (or indeed rock & roll) indiscriminately only compounds that general lack of awareness of the chronology for this third generation rock & roll revolution. So the first demarcation is the most important – punk and New Wave are two separate, distinct movements. Punk predates the New Wave and American punk predates British punk."
My next question was – what's the difference? Punk is punk, right?
The Sex Pistols, British Punk
Nope. Quoting again from Mr. Heylin:
"An essential difference between British and American punk bands can be found in their respective views of rock & roll history. The British bands took a deliberately anti-intellectual stance, refusing any awareness of, or influence from, previous exponents of the form. The New York and Cleveland bands saw themselves as self-consciously drawing on and extending an existing tradition in American rock & roll."
Lenny Kaye chimes in here, "There was a direct line from the 'Nuggets' groups to the Stooges, the Dolls and the glitter bands, there was an alternative recognized music scene…(but) the Velvet Underground were certainly the most important band. They were the one group that proved you could scissor together the perverse side of art and the pop side of rock & roll. After them. The Stooges and MC5." (Heylin)
Another major difference according to Heylin is the differing gestational periods. New York punk was aborning for at least two years before the American music industry caught on whereas it took less than three months for British music press to start reviewing the Sex Pistols.
Mr. Heylin concludes, "Ironically, the octane-charged British scene quickly began to have a notable- and detrimental—effect upon the American scene. With the emergence of the Pistols, Clash and Damned, American bands began copying their sound, often without consciously realizing that they were drawing aspects of this music second-hand from the American bands like the Stooges, the Modern Lovers and the Dolls."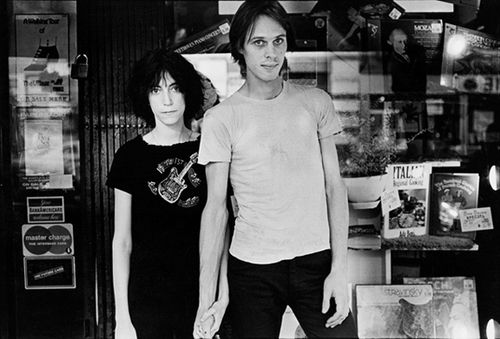 Patti Smith and Tom Verlaine of Television
The American punk scene fell somehow by the wayside. States Heylin, "Their commercial failure—Patti Smith excepted—suggested the need for a new approach. Yet the conclusion that their successors seemed to reach was that rock & roll and commercial pop had become incompatible bedfellows and so, rather than see a reconciliation, New York became a centre for 'no wave' and Los Angeles for thrash-metal in the decade following the CBGBs scene. These musical movements have been essentially peripheral to 'pop' music, hidden from the mainstream."
On to the bands….
Oh, playlists. In the interests of finishing this tidbit before September I've constructed very lean lists. I'd like folks to at least stop and tune in on each group outlined here – so we've got that flavor thing going on, and we can apply what we hear to what we read in Just Kids.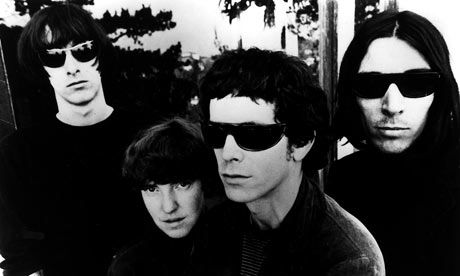 The Velvet Underground
"Modern music begins with the Velvets, and the implications and influence of what they did seem to go on forever…The only thing I think would be a mistake ….would be romanticizing them too much."
Lester Bangs
The Velvet Underground
The Velvets were an anomaly during their active years. Completely underground, never rising into Billboard's Hot Hundred, and not attached to either of the sounds that "dominated the period" – Folk Rock -- the Byrds, Bob Dylan, Cat Stevens --and the San Francisco sound – Jefferson Airplane, Grateful Dead, Quicksilver Messenger Service, Big Brother and the Holding Company. But revolutionary just the same, in the effect they had on those who came after them.
But this was a band formed to shake people up. John Cale of Velvets, "I had no intention of letting the music be anything other than troublesome to people. It was a revolutionary, radical situation. We really wanted to go out there and annoy people."
The individuals that were the Velvet Underground brought unique gifts to the table. Lou Reed came with a strong footing in the poetry of Delmore Schwartz, his mentor at Syracuse, and black rhythm and blues; John Cale came out of avant guard classical music; Sterling Morrison had a been a buddy of Reed's at Syracuse University with influences "considerably more mainstream than Cale's " and guitar work with "a requisite hardness" (Heylin); and Maureen Tucker on drums brought a love of the Who and the Stones, and a "desire for experimentation" ---- "I started playing drums because I liked Olatunji….what I I'd always wanted to do was get an African drum sound, so I'd sit on the floor and play that….and when I started enjoying rock & roll with more than just a listening enjoyment, I wanted to play something – something to smack on."
The Velvets delighted in distortion, in the drone of 'eternal music' – eastern and mesmerizing, created by Cale's electric viola, and lyrics designed to tease into taboo topics, like junk and violent sex. It makes for an intoxicating brew. Ear exposing, mind blowing and out there on the edge.
One track then, dive in head first and let the music drown you: European Son
[youtube]igWyYA_r06Y[/youtube]
The Stooges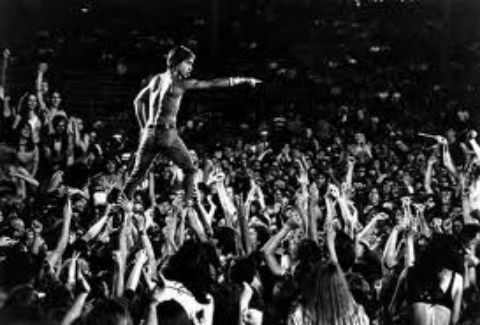 Iggy walking on audience hands
"If the Velvets can be considered to have fathered art-rock, then Detroit's two rock exponents, the MC5 and the Stooges, represented a more primitive tradition – rock & roll as the people's music requiring nothing more than commitment from its participants…" (Heylin)
An assist from Lester Bangs, "For performing rock & roll, or punk rock, or call it any d*mn thing you please, there's only one thing you need: NERVE. Rock is an attitude, and if you've got the attitude you can do it, no matter what anybody says. Believing that is one of the things punk rock is about….Rock and roll is not an 'artform;' rock & roll is a raw wail from the bottom of the guts. And I like to say, whatever anybody ever called it, punk rock has been around from the beginning---rock honed down its rawest elements, simply playing with a lot of power and vocalists who may not have much range but have so much conviction and passion it makes up for it ten times over. Because PASSION IS WHAT IT'S ALL ABOUT – what all music is about."
We are going to have a separate tidbit on Fred "Sonic" Smith, which will cover MC5, so this micro-bite will focus on the contribution of Iggy Pop and The Stooges.
Iggy speaks: "We weren't interested in anything like writing a song or making a chord change…..Our early music was flowing and very conceptual. We'd have just one given song, called 'Wind Up' or I'd change the title to 'Asthma Attack' or 'Goodbye Bozos.' So, la de da, that's how we started."
I'd agree with Bangs that the Stooges are all about that tight ball of energy that sits in the center of your stomach, sending out flashes of primitive joy – I still get in the car sometimes and turn on Iggy, open the windows and run the road. I like the bite of the guys, the nasty edge, like a shot of scotch.
The Stooges "Down On The Street" from the
Funhouse
album.
[youtube]qannFs974gg[/youtube]
New York Dolls
1973. "By midnight, a thousand-some freaks of various stripes were packed into the [Waldorf-Astoria Grand] ballroom entryway, pressing against doors that were supposed to have opened at 11:00. Tempers flared, doors were smashed, and someone lit a stink bomb in the hotel lobby in protest. Security guards admitted a portion of the mob, but hundreds were turned away. Arthur Bell described the scene as "Malcolm McDowell in A Clockwork Orange and Joel Gray in Cabaret by the dozens, chains and hoods, silver buttocks, scarlet breasts, dildoed noses" with old-school trannies washing down Demerol capsules with swigs of whiskey." It even occasioned a lock-up-your-daughters (and sons) TV news report by Tony Hernandez of WNBC. Walking through the crowd, he described the Dolls as "a rock group with an aura of bisexuality" and "a group of five tough Brooklyn street kids." (Hermes)
So we've got a glam rock veneer with a light twist of drag, a hard rocking, and an ear smashing rant. Lead singer David Johansen and guitarist Johnny Thunders. But for me at least the energy isn't totally there. Yes, the attitude, conveyed as much by costume as lyric, comes through loud and hard, giving this group an early claim on punk. But, at least for me, the music is old school rock, nothing special.
But, as you will see as we proceed, the group had an extremely large impact on New York musicians.
One song. "Looking For a Kiss" (1973)
[youtube]daHjx76do8U[/youtube]
Television
Richard Hell, talking about himself and Tom Verlaine: "[We] were both influenced mainly by the Velvet Underground and the sort of American punk of the late Sixties that was made by the groups on Lenny Kaye's Nuggets album, like the Standells, the Shadows of Knight, the Seeds, etc. and the Stooges. The other main line, at least for me, (I got most of my musical education from Verlaine), was the mid-Sixties English invasion of the Beatles, Them, the Who, the Kinks, the Rolling Stones and the Yardbirds." (Heylin)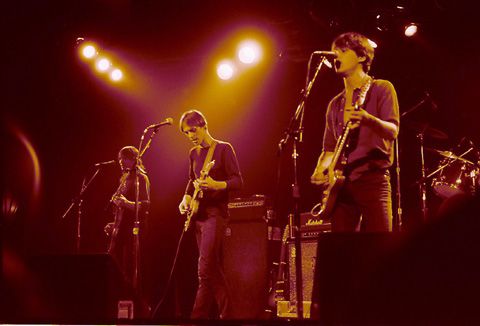 The two were long time friends, school haters attending the same prep school in Delaware. Hell, then Meyers, beat it first to New York. Tom Miller, aka Verlaine, soon joined him. At the start, their common interest was writing and not music. Hell and Verlaine were "in the thrall to the French Decadents, Baudelaire and Lautréamont, Rimbaud and Verlaine, Breton and the Surrealists. [Hell] was already self-publishing a tiny poetry magazine." (Hermes) Together they came out with a chapbook named Wanna Go Out under the alias of Theresa Stern.
They decided to explore music. Their first group was the Neon Boys, Verlaine on guitar, Hell on bass and a drummer. Roughly six months later the Neon Boys were kaput. The guys decided they needed another guitar player. It took a year to find the correct musician -- Richard Lloyd.
Lloyd was another committed school leaver having decided in junior year of high school that he was going to be a world class guitarist and thus he needed to study the instrument and not books. In his mid-teens he was regularly attending Hendrix shows as well as Led Zeppelin, The Who, the Jeff Beck Group and the Allman Brothers – even at this age he could be frequently back stage and conversing with band members. After quitting his second high school, Lloyd moved to Boston and came under the tutelage of John Lee Hooker.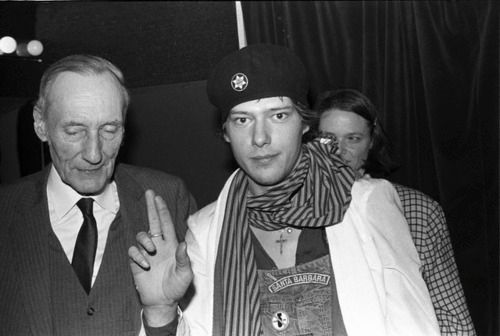 Richard Lloyd with William Burroughs
Lloyd arrived in New York from Los Angeles in 1973, having heard about the New York Dolls and the rise of a new scene. Lloyd checked out the Dolls at the Diplomat Hotel. Let Lloyd tell the story: "I was living in Chinatown in a loft, a huge loft, that this guy named Terry Ork had." (Heylin) Ork worked with Andy Warhol, but wanted more than anything to sponsor a band. One day, knowing that Verlaine was also looking for an additional guitar, he convinced Lloyd to come listen to Verlaine audition at Reno Sweeney, a supper club.
At the time, Hell was acting as Verlaine's manager. "…they both came in tattered, ripped t-shirts…We walked in and sat down at a table with a few other people there waiting. [….] Tom came in plopped his amp on stage and turned it on and it went POP and the (club) manager immediately runs up to him and goes, "You gotta turn that down, that's too loud."…..He plays three songs…I thought "My God, put us together Terry, then there'll be a band because I know I can flesh out what he's doing. I can augment it perfectly." (Heylin)
By the summer of 1974 they were appearing on a double bill with the Patti Smith Band at Max's Kansas City. Patti also did a two page spread on Television in the October 1974 issue of Rock Scene. I excerpt part, found in Heylin's
Velvets to Voidoids
:
……
.lead singer Tom Verlaine (initials TV) has the most beautiful neck in rock & roll. Real swan like—fragile yet strong. He's a creature of opposites. The way he comes on like a dirt farmer and a prince. A languid boy with the confused grace of a child in paradise. A guy worth losing your virginity to. He plays lead guitar with angular inverted passion like a thousand bluebirds screaming. You know like high treble. And like Todd Rundgren he is blessed with long veined hands reminiscent of the great poet strangler jack the ripper.
Hell, Lloyd and Verlaine credit: Getty
Richard Hell on bass is another cool picture. Real highway 61. Perfect shades, tufted hair and a suit Philip Marlowe might (have) left behind in a blonde luggage circa 1946. His bass is pure trash – metallic gold fleck. His movements are maniac chuck berry. It's amazingly disorienting to watch a guy straight outta desolation row doing splits. Richard Lloyd plays emotional and highly sexually aware guitar. He's the pouty boyish one. The one most likely to get beat up in the parking lot. I love to watch him and Tom and Hell pumping on the guitar. The three of them playing with such urgency as if each time is the last time or the first woman.
Patti Smith
Woof. How's that for writing?
Although Television's debut at CBGB was in March 1974 but it wasn't until 1977 that the band finally got a chance to put out its first album, Marquee Moon. The album was received positively by critics, but failed to break Billboard's 200 Chart. It did much better in Europe however – reaching the Top 30 in a number of countries.
Hell was forced out over a creative dispute with Verlaine – basically Verlaine didn't want to play Hell's songs and he didn't particularly care for Hell's frenetic stage presence. Hell moved on to the Heartbreakers, following an invitation from Johnny Thunders. We'll learn a little more about Hell later.
Television itself broke up in 1978 due to lack of commercial success. Verlaine moved to England where he for a while where he had a successful career in the 1980s. Through the nineties and up to the present day, Verlaine has collaborated with a number of artists, including Patti Smith in 1996, on the album Gone Again and also touring with her.
Our playlist is one long and exquisite 'Little Johnny Jewel '(1978). The song was released as a single on the independent Ork label in 1975. Part 1 on the front, part 2 on the back. This is a live version from a club out on Long Island called My Father's Place. I prefer it to the one downloaded on YouTube from the album Marquee Moon.
[youtube]r9BkYIlgMSA[/youtube]
The Ramones
They started out four guys dissatisfied with the current music scene. "Joey Ramone: (It) was a hodge podge of Pink Floyd and ELP (Emerson Lake Palmer) and all this crap, so basically what we did was we stripped it right down to the bone and we disassembled it and reassembled it and put all the excitement and fun and spirit, raw energy and raw emotion and guts and attitude back into it." (Heylin)
The band came out of Forest Hills, Queens. Out of Forest Hills High School to be specific —two of them actually graduated. They were friends, not brothers; they picked up the last name from Paul McCartney who had briefly referred to himself as 'Paul Ramone' during the Silver Beatles days.
"Tommy Erdelyi (Tommy Ramone) was driven. He dug experimental art and had a career epiphany after seeing Phil Spector on a talk show. He landed a gig as an intern at the Record Plant, where he helped out during the production of Jimi Hendrix's Band of Gypsies, and after seeing the New York Dolls at the Mercer, started his own leather-glam band called Butch. " (Hermes)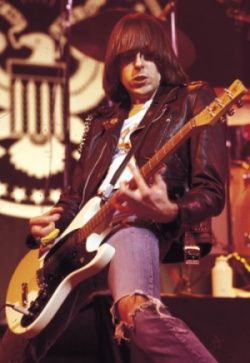 Johnny Ramone
John Cummings (aka Johnny Ramone) was a buddy of Tommy's – not at all driven, more content to hang around and smoke dope. Doug Colvin (aka Dee Dee Ramone) remembers Johnny as the person who introduced him to pot. Dee Dee and Johnny bonded over their love of the Stooges. They bought guitars and started practicing – Dee Dee was terrible.
Another Forest Hills graduate, Jeff Hyman (aka Joey Ramone), was a decent drummer, but also a good singer. In 1974 Hyman was working as lead singer in the glam-band Sniper. He'd played the Mercer Arts Center and Max's Kansas City alongside the New York Dolls and Suicide. Hyman and Cummings met at a New York Dolls concert and became close friends. "And when Sniper imploded after a loft gig with Suicide, the trio of Dee Dee, Joey and Johnny came together. Hoping to get some input, Cummings called Erdelyi and the schlepped over to his Manhattan studio, Cummings carrying his guitar on the subway in a shopping bag because he didn't have a case for it. 'It was the worst thing I ever heard,' Erdelyi recalled of the rehearsal. 'But I thought it was great." (Hermes)
Erdelyi started out as the band's manager, but soon took over as drummer, a position he had set aside for Hyman. Because Hyman proved was such a good front – you couldn't take your eyes off him. Of incidental importance -- Erdelyi had never played drums before.
And so the rag tag band was born. They practiced for several months and by August 1974 they had a two night gig to play CBGBs. A month later they were back. Here's a clip from the September 15th show.
[youtube]vP_O9F-u7Gk[/youtube]
It's fast and raw. The heavy steady beat and the simplistic downright nihilistic lyrics, hit you like a two by four. The band stood out, technically a mess, but from a marketing standpoint they knew what they were doing. Here's Lenny Kaye remembering the Ramones in the 2004
Rolling Stone
"One Hundred Best Artists"
The Ramones had their act so together that they would change it only in increments for two decades after they took it out of the CBGB nest in 1975. They were easily understood, translatable. When the band got to England on Independence Day 1976, returning the favor of the English Invasion in a fun-house mirror, it was a frontal assault on here-we-go-again pop subculture.

The Ramones always believed in their music's message of self-deliverance. They affirmed that if they could do it, you could do it; just be resolute. Count to four
. (Kaye)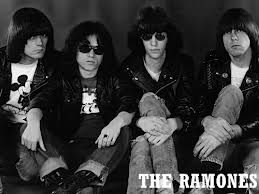 The Ramones were part of a 1975 summer festival put on by CBGBs to celebrate unsigned bands. The press coverage coming out the show was great. But signing a contract continued to be a problem. They negotiated back and forth with several companies until a deal was cut with Sire Records and work on producing the album began in February 1976. The album was a critical if not a commercial success – it reached #111 on the American Hot 200 list.
The Ramones' art and visual imagery complemented the themes of their music and performance. The band members adopted a uniform look of long hair, leather jackets, T-shirts, torn jeans, and sneakers. This fashion emphasized minimalism, which was a powerful influence on the New York punk scene of the 1970s and reflected the band's short, simple songs. Tommy Ramone recalled that, both musically and visually, "we were influenced by comic books, movies, the Andy Warhol scene, and avant-garde films. I was a big Mad Magazine fan myself. (Wiki)
One more Ramones clip -- a somewhat more together band in 1977, also at CBGBs
[youtube]hPp0-3Vo2uM[/youtube]
Richard Hell and the Voidoids
In 1975, after Hell came out of Television, he began working with Johnny Thunders and the Heartbreakers. The band had two members out of the old New York Dolls: Thunders, lead guitar, and drummer Jerry Nolan. But basically Hell was after his own group, not a share in someone else's. By 1976 Hell formed his own band, The Voidoids. The band first played CBGBs in November 1976. The band produced two albums – Blank Generation and Destiny Street.
"Blank Generation featured weird time signatures and playing that was almost jazzily complex – the Voidoids' lead guitarist Robert Quine studied compositional theory at music college – but the songs were short and sharp, and they rocked. Hell was no less lauded than his peers for that debut album and its title track, which worked as both a nihilist statement and a paean to self-reinvention, and was every bit as powerful as Pretty Vacant (Sex Pistols). Nevertheless, Hell's music career stalled after Blank Generation. It was a miracle that he survived the early 80s at all, let alone finished a second album, albeit five years after the first." (Lester)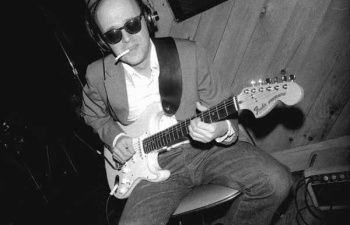 Robert Quine
By the early 1980s Hell was dealing with a serious drug addiction. "was a rodent at the time, dying to be human," he says. "I was insane and desperate and riddled with drugs and didn't know how to make a record sound good." (Off the liner notes for Destiny Street Revisited) Twenty seven years after the first release of Destiny Street, Hell re-recorded certain old tracks and add more material to mixed reviews.
Richard Hell at his East Village home, 2008 credit: David Shankbone
Hell is one of those central figures in the evolution of punk as art on both sides of the Atlantic. He was the one who got Television to show up in raggedy t-shirts and jeans – the concept being a combination of anti-glam and dead poet. "There were some artists that I admired who looked like that. Rimbaud looked like that. Artaud looked like that. And it also looked like the kid in 400 Blows, the Truffaut movie. I remember I had a picture of those three guys. I really thought all this stuff out in '73 and '74." (Richard Hell, Heylin) Hell was also one of the first performers to spike his hair and wear torn and drawn-on shirts held together with safety pins. Malcolm McLaren, manager of the Sex Pistols, credits Hell as a source of inspiration for the band's look and attitude. In 1975 McLaren asked Hell to join the Sex Pistols. Hell turned him down, again in preference for control of his own creative arch.
But central figure or not, Hell is more than the sum of his parts. From the start he brought a focus to the medium that was as much informed by French poets like Rimbaud as it was by music. Hell lives in East Village, New York City with his wife. In addition to his music, Hell has also wrote two books of poetry, two novels, and numerous essays on music, books. Just this March 2013, Hell published his autobiography --I Dreamed I Was a Very Clean Tramp to great reviews. Amazon website:
Here's "Blank Generation" from Richard Hell and the Voidoids:
[youtube]TP3x-VdOb44[/youtube]
I've stopped at the juncture of New York and London, and have undoubtedly left out many significant players in the punk universe. My goal was to provide a musical environment in which Patti Smith worked. I am aware of two major groups I slighted – Talking Heads and Blondie. I chose to capture the hard sounds, the descent from the Velvets through to the Voidoids.
After all, it's only a tidbit.
Sources
:
Richard Hell Official Site (through 2008)
Heylin, Clinton. From the Velvets to the Voidoids – The Birth of American Punk Rock. A Cappella Books. 1993.
Hermes, Will. Love Goes to Buildings on Fire – Five Years that Changed Music Forever. Farber & Farber. 2011.
Kaye, Lenny. The Ramones. Rolling Stone magazine. 2004
Lester, Paul. "The original junkie-punk Richard Hell revisits Destiny Street" November 26, 2009. The Guardian.