ANDREW WARHOLA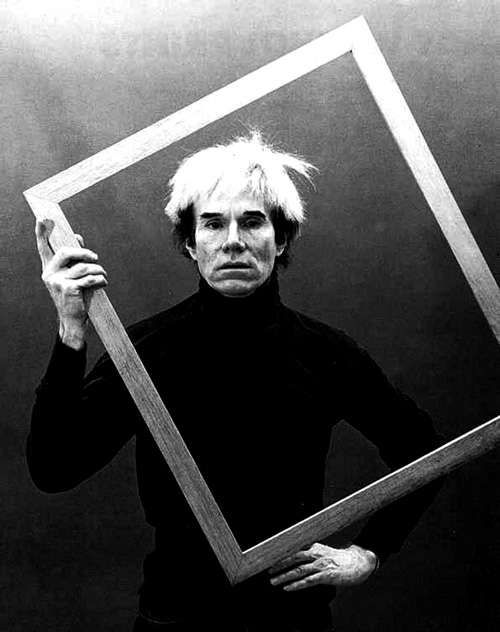 Pg. 138:
In February he took me to the Factory to see rushes of Trash. It was the first time we had been invited, and Robert was filled with anticipation. I was not moved by the movie; perhaps it wasn't French enough for me. Robert circulated easily in the Warhol circle, though taken aback by the clinical atmosphere of the new Factory, and disappointed that Andy himself did not make an appearance.
Andrew Warhola is known to most of us as Andy Warhol. More on how the name changed later in this article.

Andy Warhol seemed to love to keep his life a mystery. "I never give my background, and anyway, I make it all up differently every time I'm asked," he once said. But most biographers can agree on his being born on August 6, 1928, although some sources say '27, '30 or '31. And he appears to be of Carpatho-Rusyn decent. So what's that, you may ask. According to the Catholic Encyclopedia the term was used predominantly to refer to East Slavs of the Austro-Hungarian Empire or to Ukrainians or Little Russians of the Russian Empire as opposed to Great Russians centered on Moscow. It's hard to pinpoint where Andy's parents lived exactly – but it appears to be what is now Slovakia, near the Polish border. Andy, however, by most accounts, appears to have been born in Pittsburg, Pennsylvania in the US.

In Authors and Artists for Young Adults it was said that Andy spent most of his time from ages 4-6 drawing pictures with his mother. They were apparently very close and continued to be so throughout Andy's life (she actually lived with him in New York City). Authors and Artists also claims that once he started school he went home every day at lunchtime for a bowl of Campbell's Soup. In 1936 (around age 8?) he came down with rheumatic fever, which then developed into St. Vitus's Dance, an affliction of the central nervous system. As a result, Warhol slurred his words, his hands shook, and he was often disoriented. Warhol was bedridden at this time, but his mother kept him occupied with coloring books and movie magazines. Andy said in his book, The Philosphy of Andy Warhol, that he spent his time while sick "listening to the radio and lying in bed with my Charlie McCarthy doll and my un-cut-out cut-out paper dolls all over the spread and under the pillow." This illness left him with a blotchy red skin condition that lasted throughout his life. And when he was 14 his father died.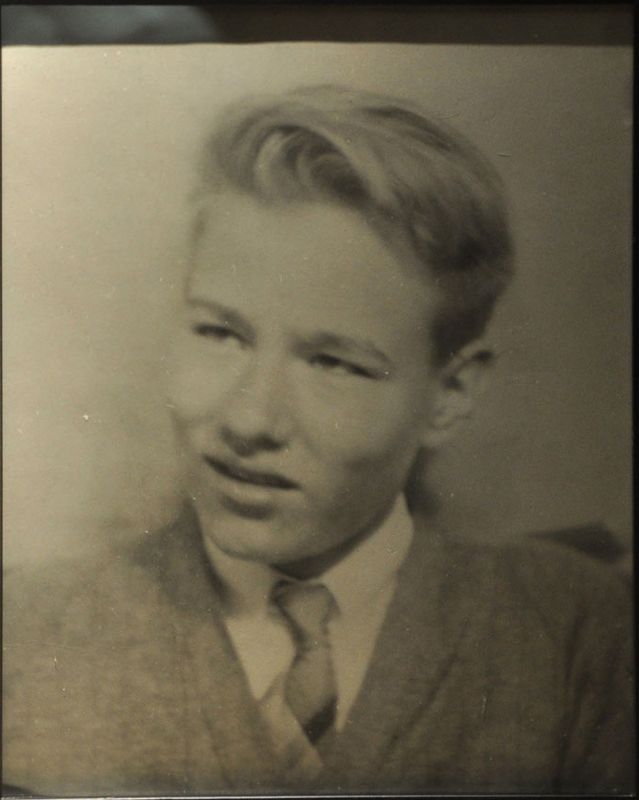 Age 14-16



Fast forward to college. He was able to come up with the money to attend Carnegie Institute of Technology (now Carnegie-Mellon University), which he chose over the University of Pittsburgh because he preferred its art department. College was not easy for him due to his accent and his difficulty writing proper English. In addition, his untraditional art made many of the faculty question his artistic ability, and he was constantly threatened with expulsion. Luckily for him, other teachers recognized his talent, and he was able to continue his studies. He was, however, temporarily suspended and had to make up the work over the summer--a rejection that so affected Warhol that he later would deny he had ever gone to college. But by the end of his four years at Carnegie, he had become something of an art hero.

While still in school, Warhol discovered a method of drawing that would help him get his first job. It was called the "blotted line." He would draw on one piece of paper and, before the ink could dry, blot it onto another sheet, producing a smudged line--or "blotted line." It is of significance that Warhol particularly liked this process because it distanced him from the final product. Having not actually made the lines on the final drawing, he was personally removed from the drawing itself. It was this idea that inspired the factory-production method Warhol later used to create his paintings.





Andy Warhol, The French Look, 1950s



Warhol also learned something in his senior year that would influence the way he sought publicity throughout his life. A regional institution held an exhibition of local work each year, and in 1949 Warhol submitted a painting depicting a young boy with one of his fingers up his nose, called The Broad Gave Me My Face, but I Can Pick My Own Nose (also known as Nosepicker). The resulting stir or controversy, where some felt the painting inappropriate and wanted to have it removed while others championed its importance. The controversy made the painting more notable. This lesson in how bad publicity is still publicity was not lost on Warhol, and influence his future work.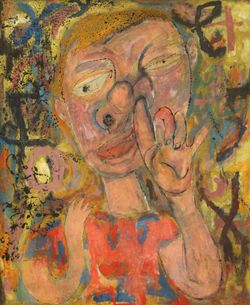 Nosepicker I: Why Pick on Me (originally
titled The Lord Gave Me My Face but I
Can Pick My Own Nose), 1948
Tempera on board

Following his graduation from college in 1949, Warhol moved to New York City to pursue a career in commercial art. He had only been creating advertising displays for three months when he decided to take some of his drawings to Glamour magazine. Impressed with his work, Tina Fredericks at Glamour commissioned him to make some drawings of shoes for an article entitled "Success Is a Job in New York." As the story goes, Warhol drew the shoes, but surprised Fredericks with shoes that had a worn in, sexual look. She then asked him to draw shoes that looked new – those that would be able to serve as advertisements. The new drawings were obviously winners.



He continued to do work for Glamour, and began to establish himself as a commercial artist.

As I said earlier, Warhol liked to create a mystery around himself. And how he went from Andrew Warhola to Andy Warhol is just one of those mysteries.

One theory (which I found from a number of sources) is that one of Andy's early illustrations published by Glamour was improperly credited by Glamour as Andy Warhol (dropping the "a"), and he then claimed the name as his forever after. Another theory is that Andy changed his name to avoid having to pay an enormous outstanding telephone bill under his given name [Scribner Encyclopedia of American Lives, 1999].

Professionally, Warhol grew comfortable in New York. He became the highest-paid fashion illustrator working in the city and was also the best known. In 1957 a shoe advertisement brought him the Art Directors' Club Medal. His work appeared in Vogue and Harper's Bazaar magazines, and in 1959 he exhibited his gold shoe drawings in a New York City gallery.




Pop Art



In 1960 Warhol began painting pictures with no commercial market in mind. According to Victor Bockris (author of Warhol), a friend of Andy's, Leonard Kessler, asked Warhol what he was doing. Warhol's response was: "I'm starting pop art," Warhol replied. Kessler asked him why. "Because I hate abstract expressionism. I hate it!"

Along with trying to initiate a movement that would change the art scene, Warhol altered his own image, wearing white and blond wigs that he would arrange wildly and speaking in a way that was intentionally difficult to understand. His artistic vision was one that was devoid of emotion. This demanded that he make his mind as vacant as possible while he painted. To do this, he surrounded himself with loud music, sometimes from a radio and a phonograph at the same time. He left the television on, too.

His oddball appearance and behavior worked negatively for him in the art world, as did his homosexuality. Although the new art movement was taking hold, Warhol was having problems finding a gallery that would show his work. Desperate to have a new idea, knowing that the new pop-movement that was developing in the US would pass him by if he didn't paint something that would jolt the art world, he paid gallery owner Muriel Latow fifty dollars for an idea. As Bockris related the story, once Latow had the check in her hand, she asked Warhol, "'What do you like most in the whole world?'" Warhol didn't know. "'Money,' she replied. 'You should paint pictures of money.'" Latow also told Warhol that he should paint things that everyone would recognize--like soup cans. For Warhol, this was a perfect way to counter abstract expressionism, which tried not to veer away from anything recognizable. Thus how the Campbell's Soup Can pictures were born.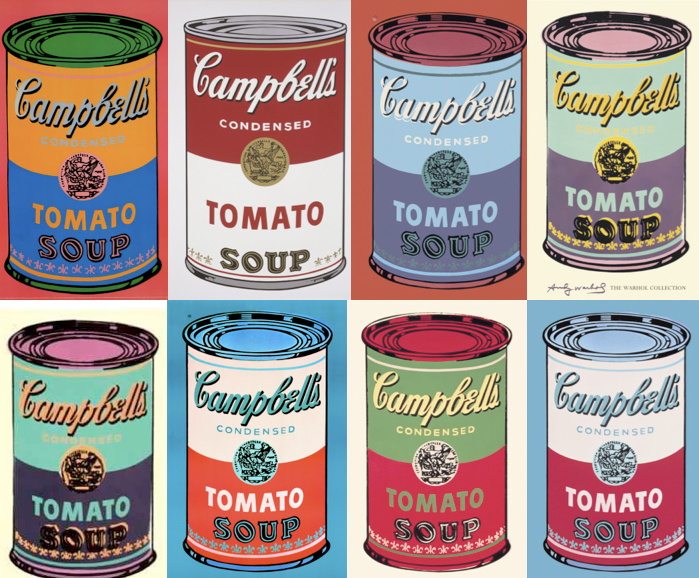 He did a series on comic strips such as Dick Tracy, Popeye, Superman and the Little King. His paintings of Coca Cola bottles and Campbell soup cans, arranged in seemingly endless rows, were ridiculed when they were first shown. He created paintings of money and silk-screen portraits of Marilyn Monroe. But his second New York show in 1962 was a critical success and perfectly timed, as pop art was just becoming an acceptable art form.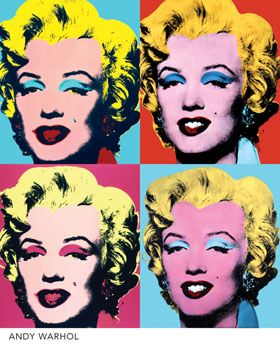 The Factory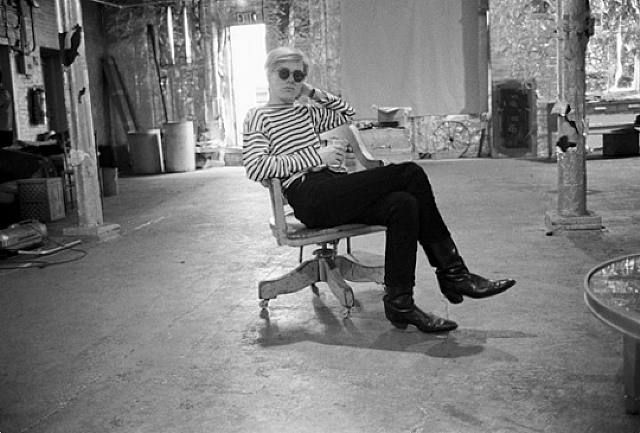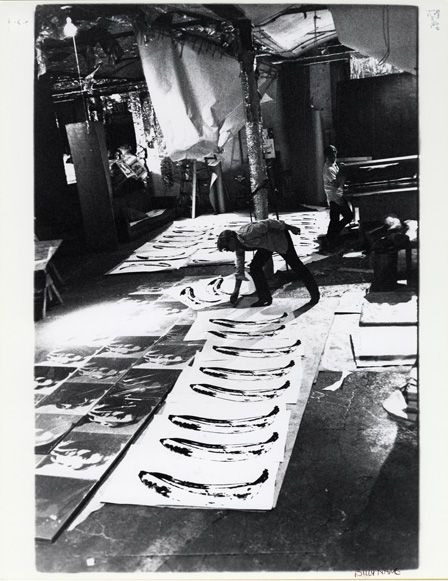 Warhol's fascination with silk screen as an instrument for mass production led him to open a studio, which he dubbed The Factory. The Factory became a center for pop and would-be pop stars. It attracted an assortment of characters - friends, artists, junkies, transvestites, rock singers, hustlers, fugitives, and hangers-on.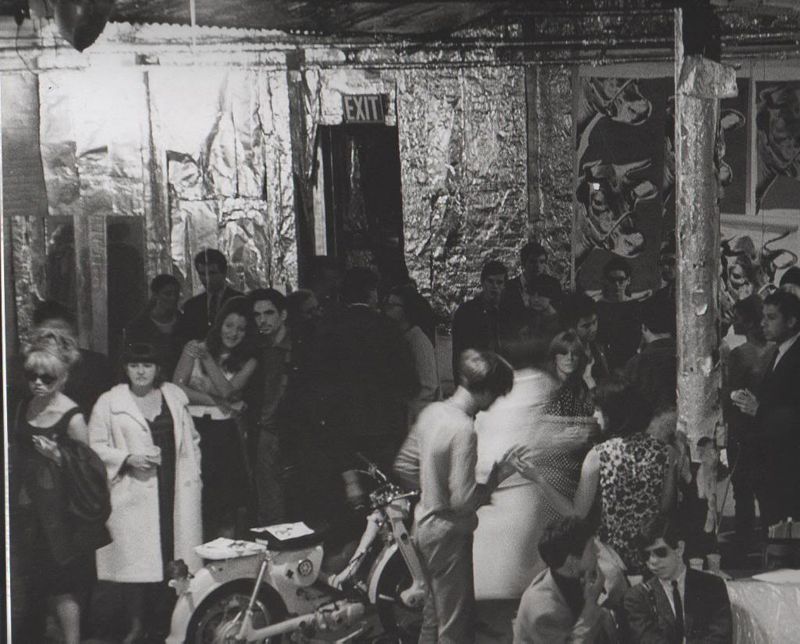 During this period Warhol changed his image. He now wore silver wigs, dark glasses, tight black jeans and a black leather jacket. He became rougher and ruder in public and at parties and had an entourage of openly gay men. His celebrity was huge but his paintings and sculptures were not selling. It was at this time that he turned to creating film and The Factory became a film studio.




During the period 1963 to 1967, Warhol made some 55 films, ranging in length from four minutes (Mario Banana, 1964) to 24 hours (* * * *, 1967). All were informed by the passive, mechanical aesthetic of simply turning on the camera to record what was in front of it. Generally, what was recorded were the antics of Warhol's E. 47th Street "Factory" coterie. Ad-libbing, "camping," being themselves (and often more than themselves) before the unblinking eye of Warhol's camera, they became "superstars"--underground celebrities epitomizing Warhol's consumer-democratic ideal of fifteen minutes of fame for everyone.

Many of Warhol's films, such as Sleep (1963), Eat (1963), and Empire (1965), were lengthy depictions of the most mundane activity or object. Chelsea Girls (1966) resulted in Warhol's breakthrough to national and international exposure. A three-hour film in black-and-white and color, shown on two screens at once, it featured almost all the resident "superstars" in scenes supposedly taking place in various rooms of the Chelsea Hotel.

https://www.youtube.com/watch?v=QwwNntW3RBg

Lonesome Cowboys (1968) treated homosexuality when it was taboo as a subject for commercial films and, at the same time, challenged the cowboy myth of courageous, macho riders of the range.

https://www.youtube.com/watch?v=KfIXftFPSzs

Warhol focused on sexual themes in Flesh (1968) and Trash (1970). By the mid-1970s his Andy Warhol's Dracula (1974) and Andy Warhol's Frankenstein (1974) enjoyed commercial success as satirical yet serious works.

https://www.youtube.com/watch?v=m1zMOqyHNxQ

It must be noted here that Paul Morrissey directed many of Warhol's films, although all the attention tended to go to Warhol.




Gerard Malanga and Edie Sedgwick



There were a couple of people mentioned in the book – Gerard Malanga and Edie Sedgwick who were part of The Factory.

Pg. 149:
Robert was blossoming socially. He was meeting people who crisscrossed the Factory lines, and he befriended the poet Gerard Malanga. Gerard had wielded a whip, dancing with the Velvet Underground, and exposed Robert to such places as the Pleasure Chest, a store that sold sex accessories.
Malanga, painter, poet, actor and photographer, was considered to be by some, Warhol's right hand man. A February 17, 1992 article in The New York Times referred to him as "Andy Warhol's most important associate." He was there when the factory started and remained for seven years. He was brought on because of his silk screening capabilities. Malanga was involved in all phases of Warhol's creative output in silkscreen painting and filmmaking. He acted in many of the early Warhol films, including Vinyl, Chelsea Girls, and Kiss; and he co-produced Bufferin (1967) in which he reads his poetry. In 1966, he choreographed the music of the Velvet Underground for Warhol's multimedia presentation, The Exploding Plastic Inevitable. In 1969, Malanga was one of the founding editors, along with Warhol and John Wilcock, of Interview magazine. In December 1970, Malanga left Warhol's studio to pursue his work in photography.

This is an interesting video of Gerard Malanga:

https://www.youtube.com/watch?v=8XYjOzCEGWk

Pg. 117:
Andy Warhol passively reigned over the round table with his charismatic ermine queen, Edie Sedgwick.
Edie Sedgwick was an American actress, socialite, fashion model and heiress. She is best known for being one of Andy Warhol's superstars, starring in several of his short films in the 60s. For this she became known as "The Girl of the Year" in 1965 and was dubbed an "It Girl." She became estranged from the Warhol circle in 1965 and asked to be removed from all of his films. She asked that the footage she filmed for Chelsea Girls be removed and it was replaced with footage of Nico, with colored lights projected on her face and The Velvet Underground music playing in the background. In 1966 she became involved with Bob Dylan, and then Bobby Neuwirth, Her death in 1971 was classified as undetermined/accident/suicide.

Here is a cool interview with Andy and Edie on the Merv Griffin Show:

https://www.youtube.com/watch?v=Z8sptsjCk18




A close scrape with Death



If you will remember, Robert Mapplethorpe was quite disturbed by the attempted murder of Andy Warhol by Valerie Solanas. I found out some interesting information regarding her attempt at murder.

Valerie was one of "The Factory" workers. She acted in one of Warhol's films – I, a Man. Valerie was a lesbian and leader of the Society for Cutting Up Men (SCUM) and she had submitted a script to Warhol, hoping he'd film it. When he didn't she asked for money. He gave her $25, which wasn't nearly enough, and began calling Warhol a thief. This was not enough. She shot Warhol 3 times and also a visitor (Mario Amaya, an art critic and curator) to The Factory. She tried to shoot one other in the head, but her gun misfired.

Warhol was actually pronounced clinically dead that afternoon. He lived because Amaya pleaded with the doctors to operate. After a nearly six-hour surgery, Warhol's chances of surviving were only fifty-fifty; his lung, esophagus, gall bladder, liver, spleen, and intestines had all been damaged.

In the meantime, Solanas had walked up to a policeman and handed him the guns (she had two), telling him that she had shot Warhol because he had too much control over her. The police and newspapers tried to find a motive in Solanas's actions. She continued to tell them he had control of her life and to cite her SCUM activities.

Warhol's struggle for life was big news, and was only bumped from the headlines because presidential candidate Robert Kennedy was assassinated a few days later.




Last Years



During the 1970s, Warhol gave creative control of his films to Paul Morrissey. Most of the art Warhol produced was commissioned, silk-screened portraits of celebrities. He gave less and less of his time to Interview. He didn't entirely give up his art, still producing collages, art for children, and experimental silk screens, but the volume of work he produced was much less than in his earlier days.

Polaroid pictures became his art form of choice, and he carried the camera with him to celebrity parties. By the end of the 1970s, he was using more complicated camera equipment to make his portraits. Two volumes of these pictures, Andy Warhol's Exposures and Andy Warhol: Portraits of the '70s, were published.

Aside from his portraits, Warhol also produced writings during the 1970s. He filled his 1975 book The Philosophy of Andy Warhol (From A to B and Back Again) with pages of short takes from his thought process.

Warhol also kept a verbal diary from 1976 to 1987. Each morning he would call Pat Hackett, his secretary, and tell her what he had done the previous day. Hackett taped the "diary entries"--which in the end totaled over 10,000 pages. They were originally intended as a way for Warhol to keep track of business expenditures. The transcriptions were published as The Andy Warhol Diaries. The book's rambling, unedited pages chronicle his successively graver and more desperate hypochondria, his thoughts on celebrities, and pure gossip. The book shows that Warhol's public persona did not give a full picture of the man. The book uncovers that there was a generous side of Warhol (he volunteered at soup kitchens on holidays), and a spiritual side, as he faithfully attended Sunday Mass.

Warhol's gallstones had been causing him a lot of pain in 1986 & 87, and he decided to have surgery. He had put it off due to his fear of hospitals. He had the surgery on February 20, 1987. The following day he was recovering and the doctors noticed nothing unusual. On Saturday, the gallbladder surgery over, Warhol was recovering in his hospital room. He watched a bit of television, and doctors noted that nothing was unusual. But in the middle of the night (Sunday, 2/22) he died of a heart attack.




Some interesting quotes by Andy Warhol:



In 1967 Warhol published Andy Warhol's Index (Book), which included pull-outs, pop-ups, and a record. His exhibition catalog for the Moderna Museet in Stockholm included Warhol's most often-quoted quip: "In the future everyone will become world famous for fifteen minutes."

As told to Bert Greene and published in bio by Bockris "I wanted to paint nothing. I was looking for something that was the essence of nothing, and [the soup can] was it."

"During the 60s, I think, people forgot what emotions were supposed to be. And I don't think they've ever remembered. I think that once you see emotions from a certain angle you can never think of them as real again. That's what more or less happened to me." (The Philosophy of Andy Warhol)

"What's great about this country is that America started the tradition where the richest consumers buy essentially the same things as the poorest. You can be watching TV and see Coca-Cola, and you can know that the President drinks Coke, Liz Taylor drinks Coke, and just think, you can drink Coke, too. A Coke is a Coke and no amount of money can get you a better Coke.... All the Cokes are the same and all the Cokes are good.... The idea of America is so wonderful because the more equal it is, the more American it is." (The Philosophy of Andy Warhol)





Sources:



Bockris, Victor. Warhol: The Biography. Da Capo Press, 2009.

"Andy Warhol." Authors and Artists for Young Adults. Vol. 12. Detroit: Gale, 1994.Biography In Context. Web. 13 July 2013.

"Andy Warhol." Business Leader Profiles for Students. Ed. Sheila Dow and Jaime E. Noce. Vol. 1. Detroit: Gale, 1999. Biography In Context. Web. 13 July 2013.

"Andy Warhol." Encyclopedia of World Biography. Detroit: Gale, 1998. Biography In Context. Web. 13 July 2013.

"Andy Warhol." International Dictionary of Films and Filmmakers. Vol. 2. Gale, 2000.Biography In Context. Web. 13 July 2013.

"Warhol, Andy." The Scribner Encyclopedia of American Lives. Ed. Kenneth T. Jackson, Karen Markoe, and Arnold Markoe. Vol. 2: 1986-1990. New York: Charles Scribner's Sons, 1999. 873-876. Biography In Context. Web. 13 July 2013.

Warholstars.org

Wikipedia