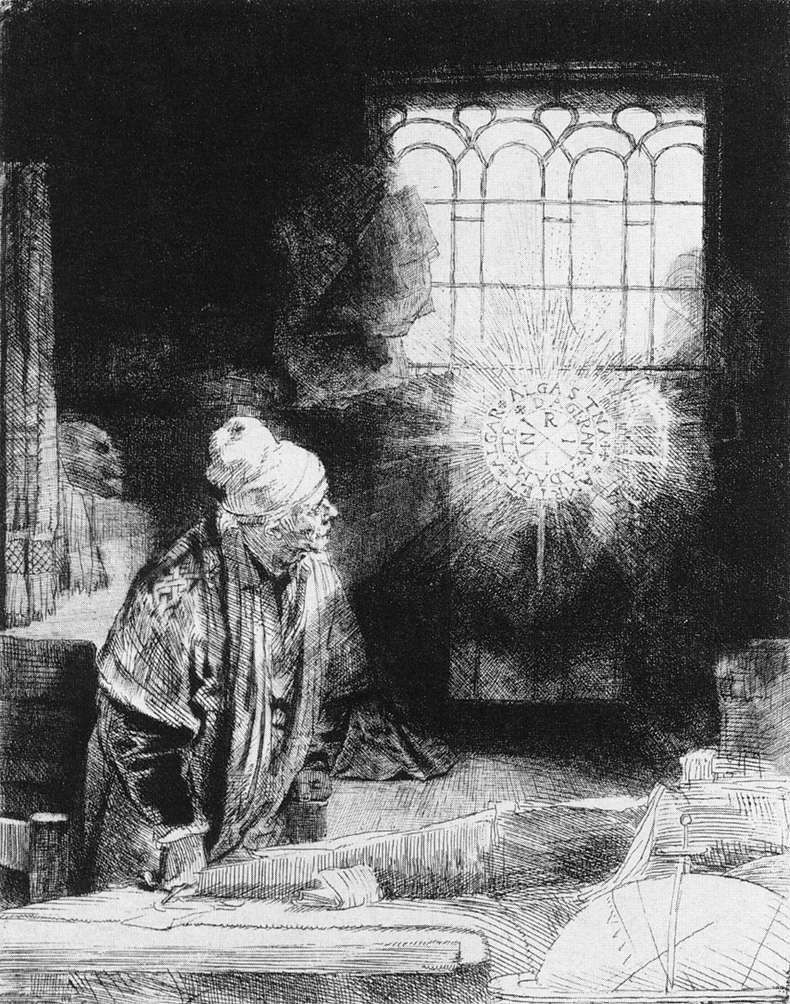 Faust, etching by Rembrandt, c. 1652
From the Epigraph of Part 1:
…and so who are you, after all?

--I am part of the power which forever wills evil and forever works good.

Goeth's Faust
Chapter 13, Pg. 113: The Master is conversing with Ivan in the mental institution.
"As soon as you began describing him," the guest continued, "I guessed who it was you had the pleasure of conversing with yesterday. And I'm really surprised at Berlioz! You, of course, are still an innocent," here the guest again apologized, "but he, at least, from what I've heard, had read a thing or two! The very first words the professor spoke confirmed all my suspicions. It's impossible not to recognize him, my friend! And besides, you're…..forgive me for saying so, you're, if I'm not mistaken, an ignorant man, are you not?"

"Absolutely," agreed the now unrecognizable Ivan.

"So there you see….why even the face you described…the dissimilar eyes, the eyebrows! By the way, forgive me, but you probably haven't even heard the opera Faust, have you?"
Faust (pronounced 'fowst' and also known as Faustus) is a fictional scholar who sells his soul to the Devil. However, the Faust legend is based on an actual person who lived in the area of northern Germany in the 15th Century. The legend of Faust has inspired a plethora of artists….writers, playwrights, musicians & other artists. The two most famous works on the Faust theme are Christopher Marlowe's The Tragical History of Doctor Faustus, and Johann Wolfgang Von Goethe's Faust, although Bulgakov also makes reference to the opera by Gounod (1859). Also of interest is the precursor to Gounod's opera….by none other than Hector BERLIOZ.




Marlowe's Faust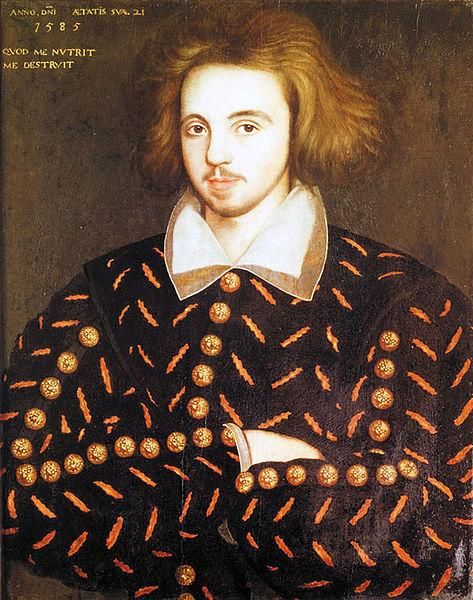 Christopher Marlowe

We know that Bulgakov has referenced Goethe's Faust, but Marlowe's play hit the scene before Goethe's. The Tragicall History of the Life and Death of Doctor Faustus, commonly referred to simply as Doctor Faustus, is a play by Christopher Marlowe, based on the Faust story. Doctor Faustus was first published in 1604, 11 years after Marlowe's death and at least twelve years after the first performance of the play.

Doctor Faustus is based on an older tale, but it is believed to be the first dramatization of the Faust legend. Some scholars believe that Marlowe developed the story from a popular 1592 translation, commonly called The English Faust Book. There is thought to have been an earlier, lost, German edition from 1587, which itself may have been influenced by even earlier, equally unpreserved pamphlets in Latin, such as those that likely inspired Jacob Bidermann's treatment of the damnation of the doctor of Paris, Cenodoxus (1602). Several soothsayers or necromancers of the late 15th Century adopted the name Faustus, a reference to the Latin for "favoured" or "auspicious." One was Georgius Faustus Helmstetensis, calling himself astrologer and chiromancer, who was expelled from the town of Ingolstadt for such practices. Subsequent commentators have identified this individual as the prototypical Faustus of the legend.

The Admiral's Men (a troupe of actors in the Elizabethan and Stuart eras. It is generally considered the second most important acting troupe of English Renaissance theatre, after the company of Shakespeare, the Lord Chamberlain's or King's Men) performed Doctor Faustus 25 times in the 3 years between October 1594 and October 1597. On November 22, 1602, the Diary of Philip Henslowe recorded a £4 payment to Samuel Rowley and William Bird for additions to the play, which suggests a revival soon after that date.

The powerful effect of the early productions is indicated by the legends that quickly accrued around them. In Histriomastix, his 1632 polemic against the drama, William Prynne records the tale that actual devils once appeared on the stage during a performance of Faustus, "to the great amazement of both the actors and spectators". Some people were allegedly driven mad, "distracted with that fearful sight". John Aubrey recorded a related legend, that in response Edward Alleyn, lead actor of The Admiral's Men, devoted his later years to charitable endeavors, like the founding of Dulwich College, in direct response to this incident.

Marlowe's story is basically the same as the others. However, in this one, Faust makes a pact with Mephsitophilis (a devil) for 24 years – that Mephistophilis will be Faust's servant for that amount of time. And then Faust would give his soul up to the Lucifer for eternity. There apparently is no mention of an innocent woman that Faust seduces, as in later works.

Two versions of the Marlowe play exist:

1. The 1604 quarto, printed by Valentine Simmes for Thomas Law; sometimes termed the A text. The title page attributes the play to "Ch. Marl.". A second edition (A2) in 1609, printed by George Eld for John Wright, is merely a reprint of the 1604 text. The text is short for an English Renaissance play, only 1485 lines long.

2. The 1616 quarto, published by John Wright, the enlarged and altered text; sometimes called the B text. This second text was reprinted in 1619, 1620, 1624, 1631, and as late as 1663.





Goethe's Faust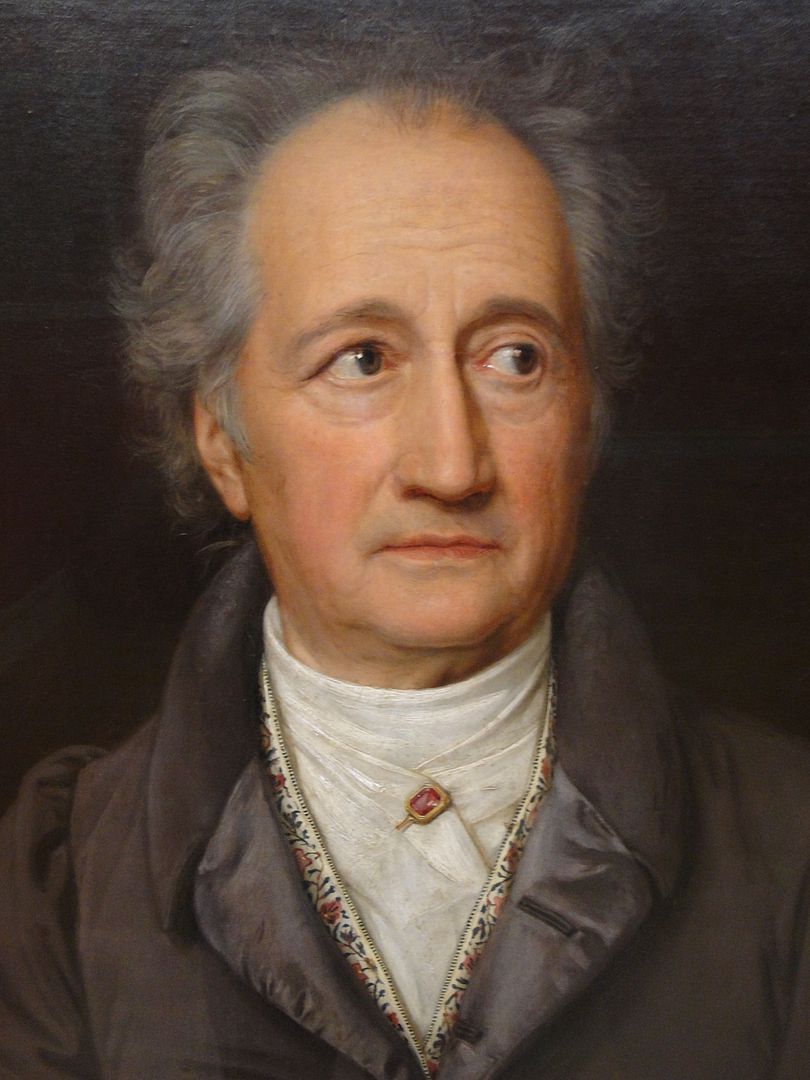 Johann Wolfgang von Goethe

Johann Wolfgang von Goethe's Faust is a tragic play in two parts: Faust. Der Tragödie erster Teil (translated as: Faust: The First Part of the Tragedy) and Faust. Der Tragödie zweiter Teil(Faust: The Second Part of the Tragedy). Although rarely staged in its entirety, it is the play with the largest audience numbers on German-language stages. Faust is Goethe's most famous work and considered by many to be one of the greatest works of German literature. Interestingly, it came up in a novel I read recently……John Irving's latest novel, which was published May 8 – In One Person. Goethe's Faust is mentioned several times. The protagonist, Billy, helps a schoolmate understand it – the German text, no less. The mention in that book now makes sense to me. I thought it was just a random mention when I read the book.

Goethe completed a preliminary version of Part One in 1806. The 1808 publication was followed by the revised 1828–29 edition, which was the last to be edited by Goethe himself. Prior to these appeared a partial printing in 1790 of Faust, a Fragment.

Goethe finished writing Faust Part Two in 1831. In contrast to Faust Part One, the focus here is no longer on the soul of Faust, which has been sold to the devil, but rather on social phenomena such as psychology, history and politics, in addition to mystical and philosophical topics. The second part formed the principal occupation of Goethe's final years. It appeared only posthumously in 1832.



The First Part of the Tragedy



The principal characters of Faust Part One include:
__Heinrich Faust, a scholar, sometimes said to be based on the real life of Johann Georg Faust, or onJacob Bidermann's dramatized account of the Legend of the Doctor of Paris, Cenodoxus
__Mephistopheles, a Devil
__Gretchen, Faust's love (NOTE: Gretchen is a German pet name for Margaret(h)e created from 'Gret' plus the diminutive suffix '-chen'. The German Gretchen is thus roughly equivalent to the English Maggie, but has some popularity in English speaking countries as a stand alone name – I know a stand alone Gretchen, so had no idea it was a form of Margaret. Goethe uses both forms)
__Marthe, Gretchen's neighbor
__Valentin, Gretchen's brother
__Wagner, Faust's attendant

Faust Part One takes place in multiple settings, the first of which is heaven. Mephistopheles makes a bet with God: he says that he can lure God's favorite human being (Faust), who is striving to learn everything that can be known, away from righteous pursuits. The next scene takes place in Faust's study where Faust, despairing at the vanity of scientific, humanitarian and religious learning, turns to magic for the showering of infinite knowledge. He suspects, however, that his attempts are failing. Frustrated, he ponders suicide, but rejects it as he hears the echo of nearby Easter celebrations. He goes for a walk with his assistant Wagner and is followed home by a stray poodle (the term then meant a medium-to-big-size dog, similar to a sheep dog).

In Faust's study, the poodle transforms into the devil (Mephistopheles). Faust makes an arrangement with the devil: the devil will serve Faust in every way he wants while he is here on Earth, and in exchange Faust will serve the devil in Hell. Faust's arrangement is that if during the time while Mephistopheles is serving Faust, Faust is so pleased with anything the devil gives him that he wants to stay in that moment forever, he will die in that instant.

When the devil tells Faust to sign the pact with blood, Faust complains that the devil does not trust Faust's word of honor. In the end, Mephistopheles wins the argument and Faust signs the contract with a drop of his own blood. Faust has a few excursions and then meets Margaret (also known as Gretchen). He is attracted to her and with jewelry and help from her neighbor, Martha, the devil draws Gretchen into Faust's arms. With major influence by Mephistopheles, Faust is able to seduce Gretchen. Gretchen's mother dies from a sleeping potion, administered by Gretchen to obtain privacy so that Faust could visit her. (Note that Gretchen did not mean for her to die). Gretchen discovers she is pregnant. Gretchen's brother condemns Faust, challenges him and falls dead at the hands of Faust and Mephistopheles. Gretchen drowns her illegitimate child and is convicted of the murder. Faust tries to save Gretchen from death by attempting to free her from prison. Finding that she refuses to escape, Faust and the devil flee the dungeon, while voices from Heaven announce that Gretchen shall be saved - "Sie ist gerettet" - this differs from the harsher ending of Urfaust (an earlier Goethe version) - "Sie ist gerichtet!" - "she is condemned." It was reported that members of the first-night audience familiar with the original Urfaust version cheered on hearing the amendment.



The Second Part of the Tragedy



Rich in classical allusion, in Part Two the romantic story of the first Faust is forgotten, and Faust wakes in a field of fairies to initiate a new cycle of adventures and purpose. The piece consists of five acts (relatively isolated episodes) each representing a different theme. Ultimately, Faust goes to heaven, for he loses only half of the bet. Angels, who arrive as messengers of divine mercy, declare at the end of Act V: "He who strives on and lives to strive/ Can earn redemption still" (V, 11936–7).

Throughout Part One, Faust remains unsatisfied; the ultimate conclusion of the tragedy and the outcome of the wagers are only revealed in Faust Part Two. The first part represents the "small world" and takes place in Faust's own little world. In contrast, Part Two takes on the world view - in a macrocosm.



Historic Productions



Part One

__May 24, 1819: Premiere of selected scenes. Castle Monbijou, Berlin
__January 29, 1829: Premiere of the complete Part One. Braunschweig
__1960: Deutsches Schauspielhaus, Hamburg: Directed by Peter Gorski, and produced by Gustaf Gründgens (who also played Mephistopheles), with Will Quadflieg (Faust), Ella Büchi (Gretchen), Elisabeth Flickenschildt (Martha), Max Eckard (Valentin), Eduard Marks (Wagner), Uwe Friedrichsen (Student). The film of this performance was very successful.
__October 26, 2006: Teatro Comunale Modena, Italy: Directed by Eimuntas Nekrošius; complete playing length (with intervals): 4½ hours
__1989: fragments from 1st part. Piccolo Teatro di Milano: Director Giorgio Strehler, scenographer Josef Svoboda

Part Two

__2003 of Ingmar Thilo; with Antonios Safralis (Faust), Raphaela Zick (Mephisto), Ulrike Dostal (Helena), Max Friedmann (Lynceus), and others
__2005 Michael Thalheimer at Deutsches Theater, Berlin, with a.o. Ingo Hülsmann, Sven Lehmann, Nina Hoss and Inge Keller
__1990: fragments from 2nd part. Piccolo Teatro di Milano: Director Giorgio Strehler, scenographer Josef Svoboda

Entire Piece

__1938: World premiere of both parts, unabridged, at the Goetheanum in Dornach, Switzerland
__July 22–23, 2000: The Expo 2000 Hanover performance: Directed by Peter Stein; both parts in their complete version, with Bruno Ganz and Christian Nickel (the young and the old Faust), Johann Adam Oest (Mephistopheles), Dorothée Hartinger, Corinna Kirchhoff and Elke Petri. Complete playing length (with intervals): 21 hours



Later Derivative Works



__Franz Schubert's first successful song Gretchen am Spinnrade is a setting of lines spoken by Gretchen in Faust Part I.
__Robert Schumann's secular oratorio Scenes from Goethe's Faust (1844 - 1853)
__The second section of Mahler's Symphony No. 8 is a cantata for the last scene in part II of Goethe's Faust.
__Hector Berlioz's "legende dramatique" La damnation de Faust (1846)
__Randy Newman's musical Faust (1993)
__Jan Švankmajer's film Faust (1994)
__American band Kamelot's concept albums Epica and The Black Halo are loosely based around the play.
__Alexander Sokurov's film Faust (2011)
__Charles Gounod's opera Faust
__Arrigo Boito's opera Mefistofele
__The animated TV show Puella Magi Madoka Magica by Shaft is loosely based off the events of part I of the play.
__The film The Imaginarium of Doctor Parnassus (1989), directed by Terry Gilliam is loosely based on the story.





OPERAS



The operas do not stray much from the Goethe storyline, but Berlioz's version doesn't appear to include Gretchen's pregnancy.





Berlioz's Version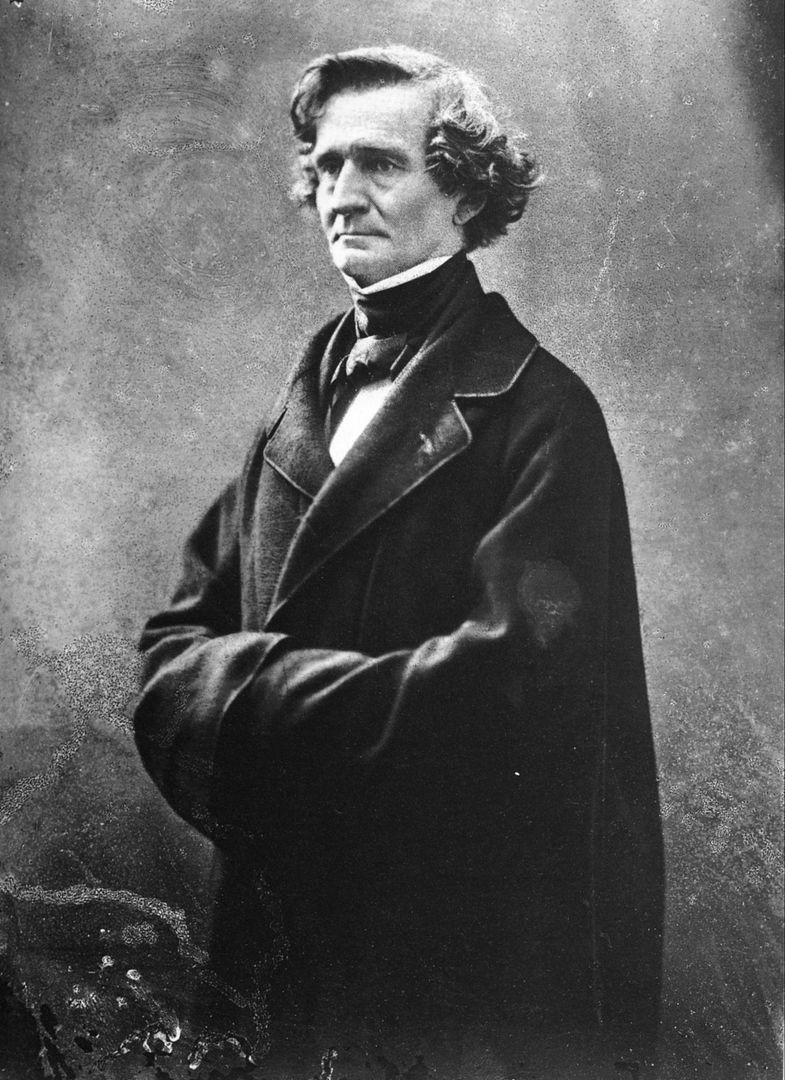 Hector Berlioz

La damnation de Faust, Op. 24 is a work for four solo voices, full seven-part chorus, large children's chorus and orchestra by the French composer Hector Berlioz.

The French composer was inspired by a translation of Goethe's Faust and produced a musical work that, like the masterpiece it's based on, defies easy categorization. Conceived at various times as a free-form oratorio and as an opera (Berlioz ultimately called it a "légende dramatique") its setting made it very difficult to stage as an opera. Berlioz conceded that the production techniques of his time were not up to the task of bringing the work to dramatic life. Most of the work's fame has come through concert performances.

Berlioz read Goethe's Faust Part One in 1828, in Gérard de Nerval's translation: "this marvelous book fascinated me from the first", he recalled in his Memoirs. "I could not put it down. I read it incessantly, at meals, in the theatre, in the street." He was so impressed that a suite entitled "Eight Scenes from Faust" became his Opus 1 (1829), though he later recalled all the copies of it he could find. He returned to the material in 1845, to make a larger work, with some additional text by Almire Gandonnière to Berlioz's specifications, that he first called a "concert opera", and as it expanded, finally a "dramatic legend".

Its first performance at the Opéra-Comique, Paris, on December 6, 1846, did not meet with critical acclaim, perhaps due to its halfway status between opera and cantata. The public was apathetic, and two performances (and a cancelled third) rendered a financial setback for Berlioz: "Nothing in my career as an artist wounded me more deeply than this unexpected indifference," he remembered.

La Damnation de Faust is performed regularly in concert halls, since its first successful complete performance in concert in Paris, in 1877. It is occasionally staged as an opera, for the first time in Opéra de Monte-Carlo on February 18, 1893, where it was produced by its director Raoul Gunsbourg, Jean de Reszke singing the role of Faust. The Metropolitan Opera premiered it first in concert (February 2, 1896) and then on stage (the United States stage premiere on December 7, 1906). The Met revived it first in concert at Carnegie Hall on November 10, 1996, (repeated on tour in Tokyo the next year), then on the stage production on November 7, 2008, produced and directed by Robert Lepage, with innovative techniques of computer-generated stage imagery that respond to the performers' voices. Filmmaker Terry Gilliam made his opera debut at London's English National Opera in May 2011, directing The Damnation of Faust. The production received positive reviews in the British press.
I'm beginning to wonder how many other times Terry Gilliam will come up during this discussion.
Gilliam Trailer:

[youtube]MtDPewNrQ7c[/youtube]

Three instrumental passages - the Marche Hongroise (Hungarian March), Ballet des sylphes, and Menuet des follets - are sometimes extracted and performed as "Three Orchestral Pieces from La Damnation de Faust."




Gounod's Opera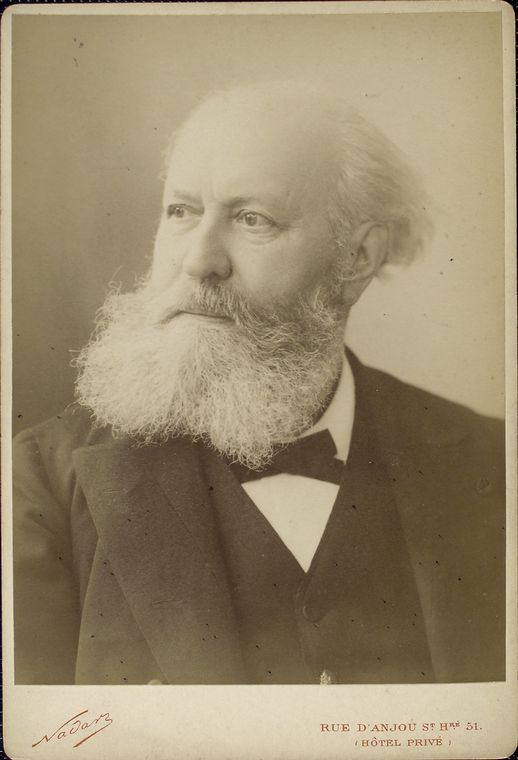 Charles Gounod

Faust is a grand opera in five acts by composer Charles Gounod to a French libretto by Jules Barbier and Michel Carré from Carré's play Faust et Marguerite. This grand opera is based on Goethe's Faust, Part 1. As in Berlioz's version, Gretchen/Margaret is referred to as Marguerite. Faust debuted at the Théâtre Lyrique on the Boulevard du Temple in Paris on March 19, 1859.

Faust was rejected by the Paris Opera, on the grounds that it was not sufficiently "showy", and its appearance at the Théatre-Lyrique was delayed for a year because Adolphe d'Ennery's drama Faust was playing at the Porte St. Martin. The manager Léon Carvalho (who cast his wife Marie Miolan-Carvalho as Marguerite) insisted on various changes during production, including cutting several numbers.

Faust was not initially well-received. The publisher Antoine Choudens, who purchased the copyright for 10,000 francs, took the work (with added recitatives replacing the original spoken dialogue) on tour through Germany, Belgium, Italy and England, with Marie Miolan-Carvalho repeating her role.

It was revived in Paris in 1862, and was finally a hit. A ballet had to be inserted before the work could be played at the Opéra in 1869. It became the most frequently performed opera at that house and a staple of the international repertory, which it remained for decades, being translated into at least 25 languages.

Its popularity and critical reputation have declined somewhat since around 1950. A full production, with its large chorus and elaborate sets and costumes, is an expensive undertaking, particularly if the act 5 ballet is included. However, it appears as number 35 on the Operabase list of the most-performed operas worldwide.

It was Faust with which the Metropolitan Opera in New York City opened for the first time on October 22, 1883. It is the eighth most frequently performed opera there, with 747 performances through the 2011-2012 season. It was not until the period between 1965 and 1977 that the full version was performed (and then with some minor cuts).




In Other Art Forms



Parts of the opera have seeped into popular culture in Europe over more than a century. It was so popular in the United States that in New York the opera season began with a performance of it every year for several decades in the late 19th Century, a fact to which Edith Wharton makes great reference in her novel The Age of Innocence. The Argentinian author Estanislao del Campo wrote a satirical poem, Fausto (1866), which describes a gaucho's impressions during the performance of Gounod's opera.

A performance of the opera is part of the story of Gaston Leroux's The Phantom of the Opera and features in some film adaptations including the 1925 version. Irene Dunne performs the "Jewel Song" (a song unique to Gounod's opera) in the film Stingaree (1934) and Jeanette MacDonald performs several scenes from the opera in San Francisco (1936), complete with costumes, sets and orchestra.

There are very short extracts from the words to the "Jewel Song" in several stories in The Adventures of Tintin. In this series of comic strips, Tintin and his sidekick, Captain Haddock, often encounter a bombastic opera singer called Bianca Castafiore, of a more than passing resemblance to a later (1882) eminent Marguerite, Emma Calvé. Her trademark is the jewel song, which she always sings at high volume, never saying more than Ah! je ris de me voir si belle en ce miroir or a few words more from other lines. The entire Tintin story The Castafiore Emerald (original title: La Castafiore's Jewels) derives from this running gag.

Although the Walpurgisnacht ballet sequence from act 5 is often omitted from staged opera performances, it is frequently performed separately as part of a ballet program, e.g. George Balanchine's Walpurgisnacht Ballet.

Siébel's aria, "Faites-lui mes aveux" from act 3 of the opera is quoted twice ("Tell her, oh flower") by Dorn in act 2 of Chekhov's play, The Seagull. The same song is used as the basis for Ravel's piano piece À la manière de Chabrier, in which the song by Gounod is rendered in the style of a composer much admired by Ravel.




Murnau's Faust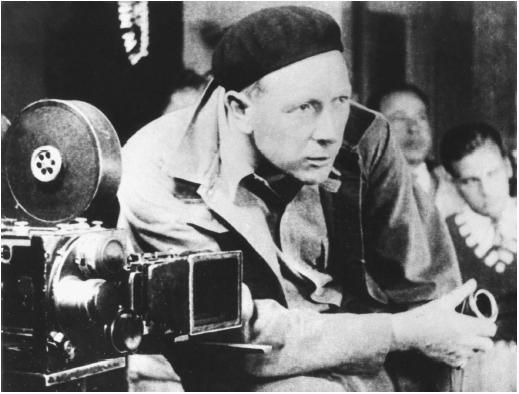 Murnau

F.W. Murnau, director of the classic Nosferatu (German horror film), directed a silent version of Faust that premiered in 1926. Murnau's film featured special effects that were remarkable for the time and many of these shots are still impressive today. In one, Mephisto towers over a town, dark wings spread wide, as a fog rolls in bringing the plague. In another, Faust rides with Mephisto through the sky, as the camera seems to swoop across a landscape that includes snowy mountains, cliffs and waterfalls.

In this version of the story, Faust is an elderly scholar and alchemist who is frustrated at his inability to help the plague-stricken population. He summons Mephisto, who overcomes Faust's reluctance to sign a pact by telling him he can try it for one day with no obligation. At the end of that day, having been restored to youth and helped by Mephisto to steal a beautiful woman from her wedding feast, Faust agrees to extend the pact for eternity. Eventually he becomes bored with the pursuit of pleasure and returns home, where he falls in love with the beautiful and innocent Gretchen. His corruption (in the form of Mephisto) ultimately ruins both their lives, though there is still a chance for redemption in the end.



[youtube]1FL4tVslquo[/youtube]

The entire movie:

[youtube]BXvwmKq_ndI[/youtube]





Sources:



Faust.com
Wikipedia