In "The Master and Margarita" we encounter not just complex Russian names but, as if thrown in for good measure, names of individuals and places that seem similar to what we find in the New Testament, but not exactly. It makes for exciting reading, and occasionally forgetful reading. It's actually harder to remember things you don't understand completely.
A short course is warranted then in Russian naming customs, to be followed by a slightly longer course on Bulgakov's re-visioning of personalities in Jerusalem.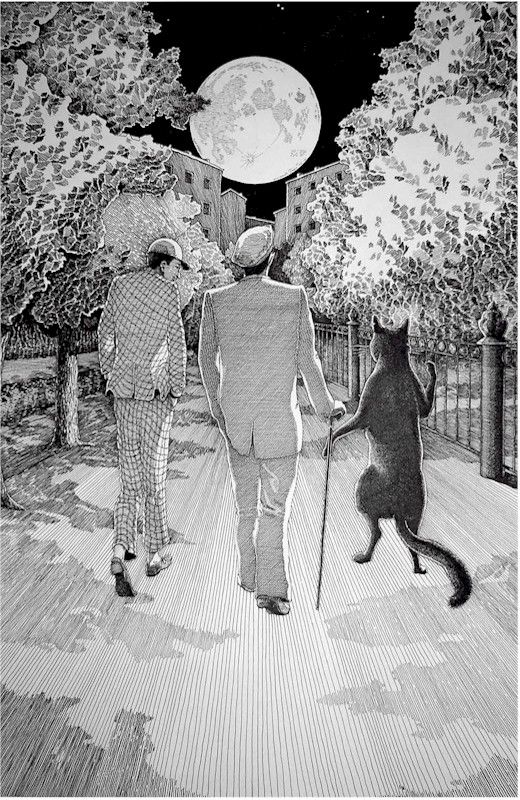 Illustration by Andrei Nabokov
Russian Names
Every Russian carries three names through life: their forename or
given name
(imya), their
patronymic
(otchestvo) and their
family name
(familya). Russian given or first names work very much like English given names. These are the names chosen specifically by parents at birth or soon after birth to uniquely identify this new child: Mikhail, Ivan, Alexander, and Margarita are all given names. The second, patronymic, comes from the father's forename:
Mikhail Alexandrovich
,
Ivan Nikolayevich
and
Margarita Nikolayenvna
.
This might initially strike us as odd. But actually the patronym pre-dates the use of the family name as a mode of recognizing paternity and inheritance throughout the world. This was the case in Western Europe. For example, in England names ending with "son" are often patronymic – such as Wilson (son of William) or Robertson (son of Robert). In Ireland and Scotland, Mac, Mc, Mag often mean "son of" and then there's the "s" in Welsh, as in Jones meaning 'son of John". The patronymic was also common in the Netherlands, Sweden, Denmark, France, Spain, Greece, and throughout Eastern Europe. In Arabic, "ibn" (and also bin, ben, ibni, ibnu) means son; this naming pattern is also used by a number of other African nations.
There are also variations. Among pre-colonial Zulu, the prefix "ka" was attached to the father's name, for example Shaka kaSensangakhona means Shaka son of SenzangakhonaIn. In Romania, the endings -escu and -eanu were used, as in Petrescu, 'son of Petre (Peter)'; many modern Romanian family names were formed from such patronymics. There are also matronymics or personal names based on the name of one's mother, grandmother, or any female ancestor. It is the female equivalent of a patronymic. In patriarchal societies, matronymic surnames are far less common than patronyms. In the past, matronymic last names were often given to children of unwed mothers. Other times when a woman was especially well known or powerful, her descendants would adopt a matronym based on her name.
Now we need to add another wrinkle. Look at the patronymics for Margarita and Ivan in the first paragraph. Both are based on Nikolay (this can also be spelled Nikolai – both are Russian for Nicholas). So the patronymics are also gender-dimorphic; there are different endings for male and females. A man's patronymic ends in either -ovich or –evich; a woman's, in –ovna or –evna. Therefore we have his Nikolayevich and her Nikolayenvna.
Using both the first and patronymic names is the most polite way of addressing a person. It is normally used as a sign of respect and commonly used in business situations, or when a younger person addresses an older person or when neither party knows the other well. It is also commonly used by narrators in Russian literature to refer to a character.
But it is also unusual for friends or family to call someone simply by their forename. Instead there are a lovely range of nicknames or casual diminutive forms of the first name. To begin with then Mikhail is also Misha, and Ivan becomes Vanya and Margarita, Rita. But more is possible. There is something called the 'diminutive of intimacy" or the affectionate diminutive used between family members, very close friends or lovers. This replaces the final 'a' or 'ya' with –ushka, -inka or –ochka. There is another, rather rude diminutive referred to as the "diminutive of derogation" which is often an insult but also a rough almost slangy way of referring to a friend. This one replaces the final 'a' or 'ya' with 'ka.' So we see here the possibilities for Mikhail and Ivan. (Watch out for Ivan, by the way, because Bulgakov does indeed play with his name quite a bit.):
Mikhail → Misha, Mishka, Mishen'ka, Mishechka
Ivan → Vanya, Van'ka, Vanechka, Vaniusha, Vaniushka, Ivanushka (keep an eye peeled)
Of course diminutives for given names are also fairly common in the States, and around the world. Take Michael for example: Mick, Mike, Mikey, Mickey and then we have other things such as Little Mike, Big Mike, Mike-Mike, Mo-Mo etc. I am sure between all of us we could come up with tons of additional variants on common first names, pet names, peculiar family names. I think that's what makes the whole process so much fun, so endearing, so downright musical. Little poems.
A side note concerning a small dog whose name is Banga. Bulgakov's second wife was Liubov' Evgen'evna Belozerskaia – and her nickname was Lubanga. Animals are said to have entered Bulgakov's life with Lubanga.
So we come to family names. Russian family names are also occasionally gender dimorphic. Names that end with –ov, -in, and –sky, the feminine version will add 'a' on the end, producing 'ova' and 'ina' and –skya.' For example, Bulgakov's third wife is known as Elena Sergeevna Bulgakova. And some of you might remember Larissa Feodorovna Antipova from another Russian novel. Which one? You guess.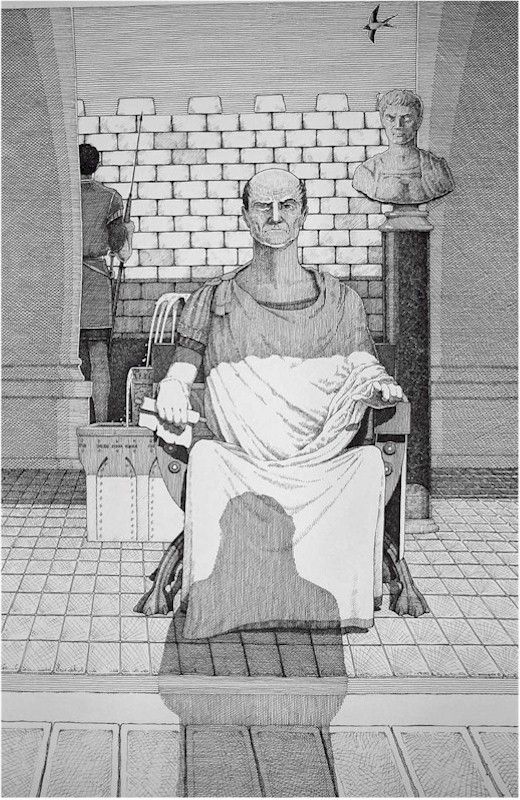 Illustration by Andrei Nabokov
Yerushalaim
There are four distinct Yerushalaim chapters in The Master and Margarita devoted to a re-telling of the story of Jesus and Pontius Pilate. In writing these chapters Bulgakov makes use of several different languages in naming characters and places, and also radically changes common understanding regarding the identity of the main characters. This portion of our tidbit explores those names most likely to create confusion in readers.
"For the most part, the names Bulgakov uses in these chapters, Yerushalaim instead of Jerusalem [Ierusalim], Yeshua instead of Jesus [Iisus] are meant to be more historically accurate or appropriate to the time and language. Bulgakov did a lot of research and took notes from various sources such as the works of Farrar, Strauss, and Renan, as well as historians and the Brokgauz-Efron encyclopedia." (Moss)
Bald Mountain
: (in Russian: Lysa Hora) Bulgakov uses Bald Mountain in place of Golgotha, the traditional name for the site of Jesus' crucifixion in both Western and Russian Orthodox Christianity. The name Golgotha is a Greek transcription of Aramaic title referencing the site outside Jerusalem's early-first-century walls, where the crucifixion of Jesus occurred.
Russian legend tells of a witches' sabbath taking place on St. John's Night (June 23–24) on the Lysa Hora (Bald Mountain), near Kiev. Inspired by literature and legend, the Russian composer Mussorgsky wrote a tone poem titled St. John's Night on Bald Mountain. It was never performed in any form during Mussorgsky's lifetime. The work was re-interpreted by another Russian composer, Rimsky-Korsakov, and premiered in 1886 in Saint Petersburg, and has become a concert favorite. Many listeners became acquainted with Night on Bald Mountain through the Disney animated film Fantasia (1940), which used an arrangement of Rimsky-Korsakov's edition made by Leopold Stokowski. (Note: The Russian word "лысая" (lïsaya) literally means "bald", but is used in this case figuratively for a mountain supposedly barren of trees. In the United Kingdom the title is rendered Night on the Bare Mountain.)
Barr-rabban
(Aramaic) "Bulgakov again chooses an unfamiliar version of the name that appears in the Russian Bible as Varavva [Barabbas]. Varavva is interpreted in the Russian encyclopedia Brokgauz-Efron as "son of Avva," "son of the father." (Moss) "Bar-Rabban comes from the Aramaic Bar-abbâ... If he existed historically he would have been probably a member of thesicarii, a militant Jewish liberation movement which wanted to drive away the Roman oppressors from Judea by force." (Vanhellemont)
Dismas and Gestas
: (Greek & Medieval Latin) "In the gospels of the New Testament (Matthew, Mark, Luke and John) the names of the thieves who were crucified together with Jesus, are not mentioned. So how could Bulgakov know them? That's because there exist much more gospels than the four we know from the New Testament. In 367 AD, the archbishop of Alexandria distinguished Gospels "inspired by God" and the so-called apocryphal gospels. His list of by God inspired books corresponds to the New Testament as it is known today. And most of the apocryphal texts were forbidden." (Vanhellemont)
Dismas and Gestas appear in the Acts of Pilate (Gospel of Nicodemas) "The Acts of Pilate does not purport to have been written by Pilate, but does claim to have been derived from the official acts preserved in the praetorium in Jerusalem."(Wiki) Dismas and Gestas "are not unknown in the Orthodox tradition, where larger icons of the Crucifixion can show two crosses flanking Christ's. According to tradition, Dismas, on Christ's right, repents and eventually joins Christ in Heaven, while Gestas blasphemes and ends up in Hell. At the moment of Christ's passing, he writhes in agony and his feet jerk, pulling the lowest crossbar askew. On the traditional Russian Orthodox cross, the lowest crossbar is at an angle, with the right side up (Dismas went to Heaven) and the left side down (Gestas went to Hell). (Moss)
Judas of Kerioth [in Russian: Iuda iz Kiriafa] Following the French writer Renan (La Vie de Jesus), Bulgakov is at pains to use an explanatory name, Judas from Kiriath, instead of the usual Judas Iscariot. (Moss & Vanhellemont)
Levii Matvei
(Russian) is a pure Russian variant on Matthew the Levite. "According to Brokgauz-Efron (Russian encyclopedia used by Bulgakov), the Evangelist Matthew originally had the name Levii. A tax collector who gives up his trade to follow Christ / Yeshua. We don't know much about him from the Bible or other sources, and his role was substantially expanded by Bulgakov. Why?" (Moss) "Bulgakov's Matthew Levi has characteristics from both the apostle as the evangelist. He's a tax collector, like the apostle Matthew Levi, and wrote down the acts of Jesus, like the evangelist Matthew." (Vanhellemont)
Sinedrion
(Greek) Sanhedrin, the high court of ancient Judea; it was under Roman rule. "Bulgakov uses an unusual Greek form instead of what would have been familiar to Russian readers." (Burgin)
Yeshua Ha-Notsri
(Hebrew) The Russian bible refers to Jesus as Iisus. "Proponents of the mythological school were interested in proving that the name of Jesus "Nazarenus" [Ha-Notsri] was not geographical and not connected with the Biblical Nazareth. Bulgakov was unclear about the birthplace of his Yeshua. In Chapter 2 he names Gamala, but in Chapter 26 it is En-Sarid, which we would identify with Nazareth." (Moss)
Mark Ratkiller
(in Russian: Krysoboi): Bulgakov's witty and ironic Russian translation of the Latin term of abuse for a cowardly solder (muricidus, literally, mousekiller.) (Vanhellemont)
A Note on Illustrations
We thought it might be a nice idea to showcase the wonderful art that has grown up around The Master and Margarita. Much of the art has been compiled on Jan Vanhellemont's wonderful site. Here is our first artist.
Andrei Nabokov was born in 1966 in the Soviet Union. He lives in Kiev now, and he makes drawings only for his own pleasure, He never had an exhibition and he never sold one of his works. In 2006 he made a series of ink drawings to illustrate chapters of Bulgakov's The Master and Margarita, which he published on the internet.
http://graphic.org.ru/nabokov.html
Sources
:
"The Master and Margarita" (translated by Diana Burgin and Katherine O'Connor, First Vintage International (1996)
The Master and Margarita website created by Kevin Moss, Jean Thompson Fulton Professor of Modern Lang. & Lit., Middlebury College, Vermont (1998)
cr.middlebury.edu/bulgakov/public_html/Yeshua.html
The Master and Margarita website created by Jan Vanhellemont, B-3000 Leuven - RU-115008 Moscow, Russia (2007-2012)
masterandmargarita.eu/en/index.html
Russian Names, RusslandJournal.de website (2012)
russlandjournal.de/en/traditional/russian-names