Noodlemantras, this will be our final tidbit. Discussion begins tomorrow.....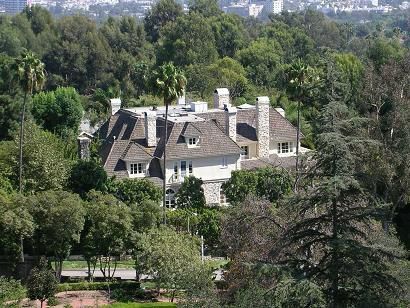 On page 113, Jim Pierson talks of the use of the Greystone mansion for the primetime series.

And what better location to shoot a TV show such as Dark Shadows as one in which an actual murder/suicide took place….and one that still has rumors surrounding it.


So let's learn a little bit more about Greystone.

The grounds (12.58 acres) were adjacent to the 429 acre Doheny ranch and were gifted in 1926 by millionaire oilman, Edward Doheny Sr. to his son, Edward Jr. (Ned). If you've been to West Hollywood, I'm sure you've noticed Doheny Road, which crosses Sunset before it takes you to the mansion, a few blocks up the hill.






The 46,054 square foot mansion was completed in 1928, and Ned and his family moved in September of that year. What's interesting is that he lived there only 4 months before he became a victim of murder/suicide. He was shot (so they say) by his personal assistant, Hugh Plunkett.

The official investigation's findings determined that it was a homicide and suicide. Investigators determined that Plunkett had taken a .45 caliber revolver from the Doheny garage and had shot Doheny, then had turned the gun on himself. Testimony about Plunkett's unstable behavior over the previous six months, and family physician E.C. Fishbaugh's testimony about the family's concern for Plunkett's sanity, reinforced this finding. No formal inquest was held.

HOWEVER, over the years, questions have arisen about the events that took place that night. Various rumors surfaced: that Plunkett and Doheny were more than just good friends, and that wife Lucy killed them in a fit of jealousy; that Plunkett shot Doheny in a quarrel over his salary. Questions were raised about the timing of the killings: was there a delay between the time of the deaths and the arrival of the police? Were the bodies moved to better suit the story told to the police? Was there an effort made to make Plunkett look crazy, to make the murder/suicide story more plausible?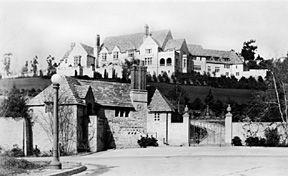 1929

In 1955 Lucy, Ned's widow, sold Greystone for a reported $1,500,000 to Midwest millionaire Industrialist Col. Henry Crown, who at the time owned the Empire State Building. Crown never lived there. He had intended to rent the estate to movie studios. In 1963 he wanted to subdivide the property, which would have resulted in the mansion's demolition. A citizen's committee formed to save the mansion. Ultimately the City of Beverly Hills purchased the grounds and converted it into a park.

In 1969 Greystone was leased to AFI (The American Film Institute) for offices, classrooms and screening rooms. The great living room was transformed into a theater. AFI moved out in 1982.

Today Greystone still serves as the setting for movies, TV shows, commercials and photo shoots. It is also the setting for cultural and educational activities and events, as well as weddings and receptions.

The park is open from 10:00 – 5:00 except Thanksgiving, Christmas and occasionally for filming or special events.

It has been the setting for such films as, most recently, The Muppets. Others include The Social Network, There Will Be Blood, Austin Powers: Goldmember, Spiderman, X-Men, The Body Guard, The Fabulous Baker Boys, Ghostbusters, and The April Fools, just to name a few. For a complete list and much more information, see the official website:






Sources:



Friends of Greystone
USC Library Archives