ELIZABETH COLLINS STODDARD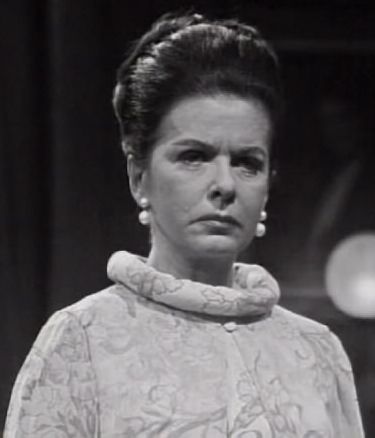 Elizabeth Collins Stoddard was the matriarch of the Collins family, the longtime owners of a cannery and shipping company in a small Maine fishing town. Jean Simmons portrayed the character in the revival series in 1991, and Blair Brown took over the role in the WB pilot. And as we all know, Elizabeth is played by Michelle Pfeiffer in DS 2012.

At the start of the TV series (1966), we learn that Elizabeth's husband Paul Stoddard (Dennis Patrick) disappeared in 1949, some 17 years before the arrival of governess Victoria Winters (Alexandra Moltke). Since her husband went missing, Elizabeth has not left the ancient family mansion, Collinwood, or its grounds.

When their father died, Elizabeth and Roger received an equal share of his inheritance. Roger quickly spent the entirety of his half, having fun with the money, and put his shares in the family business up for public auction. Elizabeth was forced to use some of her remaining inheritance to buy up his shares herself in order to keep the company in the family.

Elizabeth retained ownership of the Collins Fishing Fleet and Cannery until at least 1967. Ned Calder managed the business for fifteen years until 1967 when he decided to resign. His resignation came immediately following Elizabeth's rejection of his offer of marriage. She told him she hoped she would never see him again and he moved away to Portland to work at another job. Elizabeth had hoped that Roger would take over as manager, but instead Bill Malloy, a friend of hers for over twenty-five years, was promoted to fill the position.

When Burke Devlin returned to Collinsport a few months later and started stirring up trouble, Liz feared that he would try to destroy her financially, so she called Ned and asked him to return to work for her. He declined, refusing to return to work unless she changed her mind about marrying him.

Liz made all of the important decisions with the business, speaking with Malloy every morning. He also came up to see her at Collinwood once a week. In 1967, Liz approved a machine which increased canning time but resulted in no layoffs.

The east wing of Collinwood was closed off around 1916 and most of the house fell into disuse. Elizabeth successfully petitioned to have the property tax reduced due to most of the house being closed. The house was more of a liability than an asset and by 1967 it was the only Collins-owned property without a mortgage.

John Harris in Bangor managed all of the family banking. He and Elizabeth knew each other for a long time, though she hadn't met with him at all from 1963 until 1967 when she called him up to Collinwood to set up a trust fund for David. The creation of the trust fund made money very tight as Elizabeth had tied up most of her assets to purchase Roger's side of the company. This was a weakness that Burke Devlin had planned to exploit.

In the 1960s, Elizabeth lived in Collinwood with Carolyn, Roger, and Roger's son David. As of 1967, she hadn't left Widows' Hill for eighteen years.

Many of the 1966-67 storylines centered on Victoria Winters and her relationship with Elizabeth (as well as the larger Collins family). It is implied throughout the series that Vicki is a blood relative of the family, but this plotline is never fully realized.

In 1967, Jason McGuire returned to Collinwood and began blackmailing Elizabeth over the murder of her husband. Eventually he tried to force her to marry him, but she first attempted suicide and then at the wedding, broke down and told the whole story to everyone, including the police. It was then revealed that Elizabeth did not kill Paul Stoddard that night, but only knocked him unconscious. Jason claimed he and Paul split the money Paul was trying to steal from Liz and they told her Jason buried Paul in the basement. Later, when Paul returned to Collinsport, he claimed that Jason blackmailed him about stealing from Liz and took all the money himself. Liz never found out which one was telling the truth.

[youtube]aSN0YaygxQk[/youtube]

On top of everything that Mrs. Stoddard was dealing with, the vengeful witch Angelique Bouchard Collins, who had married Barnabas Collins long ago, was hexing, killing, and terrorizing people and making people see things, the most unforgettable being her spell spoken right into a sherry one day that Mrs. Collins drank which makes Mrs. Collins continually think of and dream of her death for a long period of time.

The curse that Cassandra placed on Elizabeth ends after Carolyn was almost killed by the werewolf, Chris Jennings. The origin of the curse is also explained in that, Barnabas, Julia, and Carolyn finally know the truth.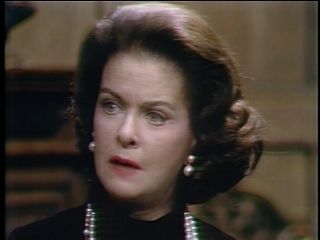 In 1999, writers Stephen Mark Rainey and Elizabeth Massie wrote the Dark Shadows novel Dreams of the Dark. The story concludes with a confirmation that Victoria Winters is in fact the illegitimate daughter of Elizabeth Collins. The identity of Vicki's father, however, is never revealed, though some speculate that he was fisherman Bill Malloy (murdered in an early storyline), or the unseen Ned Calder (whom Elizabeth once mentioned as almost marrying). In 2003, the full-cast audio drama Return to Collinwood, which was approved by Dan Curtis Productions, also confirmed that Vicki was Elizabeth's illegitimate daughter during a reading of Elizabeth's will. Again, the father was left unidentified. This idea had been in the minds of the original series' production team since the casting of Alexandra Moltke, who bore a strong resemblance to Joan Bennett, as Victoria.

The character of Elizabeth Collins Stoddard also appeared in the 1970 MGM film, House of Dark Shadows. There is very little distinction between the film version of Elizabeth and the television version, despite the fact that both productions take place within independent continuities. In the film's sequel, Night of Dark Shadows, Grayson Hall's character, Carlotta Drake, states that Elizabeth died some time after the events of House of Dark Shadows.

Elizabeth also appeared in several of the Marilyn Ross gothic novels by Paperback Library published during the 1960s-70s, as well as the original Dark Shadows comic book series published by Gold Key Comics.

In 1991 Dan Curtis Productions revived the Dark Shadows series as a one-hour night time soap opera for NBC. The role of Elizabeth was played by veteran actress Jean Simmons. Due to the series' early cancellation, very little attention was given to Simmons' character, but she differed from her predecessor in that she was not portrayed as an eccentric recluse, but rather as a high-spirited passionate woman with a strong devotion to her family. This version of Elizabeth also appeared in three separate comic book adaptations by the defunct publishing company Innovation Comics. As with the original series, there were plans to reveal that Elizabeth was, in fact, Victoria's mother if the revival had continued.

Joan Bennett is one of only two actors from the TV series who appeared in both the first and final episodes of Dark Shadows (the other being Louis Edmonds (Roger Collins). Bennett was also one of only three actors who remained on the series during the entire length of its production. As happened with many of the regular cast, Joan Bennett played several other characters during her tenure on Dark Shadows, including Naomi Collins, Judith Collins Trask, Flora Collins, Elizabeth Collins Stoddard (of Parallel Time 1970) and Flora Collins (of Parallel Time 1841).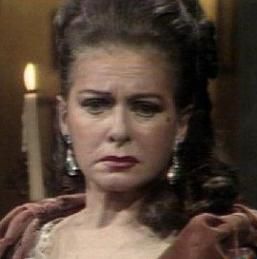 Naomi Collins






JOAN BENNETT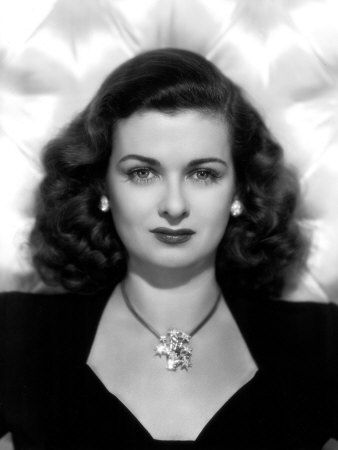 Joan Geraldine Bennett was an American stage, film and television actress. Besides acting on the stage, Bennett appeared in more than 70 motion pictures dating all the way back to the silent film era. She is possibly best-remembered for her film noir femme fatale roles in director Fritz Lang's movies such as The Woman in the Window (1944) and Scarlet Street (1945) or for her role as Elizabeth Collins Stoddard on Dark Shadows, for which she received an Emmy nomination.

Joan Bennett was born on February 27, 1910 in the Palisades section of Fort Lee, New Jersey, the third of three daughters of actor Richard Bennett and actress and literary agent Adrienne Morrison. Adrienne Morrison's father was famous stage actor Lewis Morrison. Lewis Morrison (an Anglo-Scottish surname), whose real name was Morris Morris (an English, Scottish and Welsh surname), was a former mixed English and Spanish (his Spanish mother's maiden name was Carvalho) Confederate and Union lieutenant who served in the Confederate and Union Native Guards in the American Civil War. Her older sisters were actress Constance Bennett and actress and dancer Barbara Bennett, who was the mother of 80's talk show host Morton Downey, Jr.




Career



Bennett first appeared in a silent movie as a child with her parents and sisters in her father's drama The Valley of Decision (1916), which he adapted for the screen. Bennett's stage debut was at age 18, acting with her father in Jarnegan (1928), which ran on Broadway for 136 performances and for which she received good reviews. By age 19, she had become a movie star through such roles as Phyllis Benton in the mystery/thriller talkie Bulldog Drummond starring Ronald Colman, which was her first important role, and Lady Clarissa Pevensey opposite George Arliss in the biopic Disraeli (both 1929).

She moved quickly from movie to movie throughout the 1930s. Bennett appeared as a blonde (her natural hair color) for several years.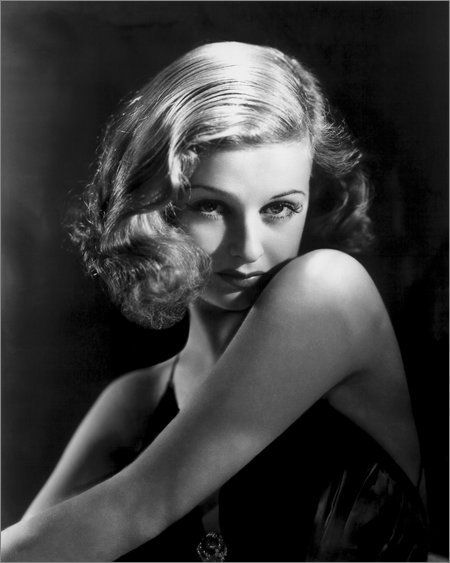 She starred in the role of Dolores Fenton in Puttin' on the Ritz (1930) opposite Harry Richman and as Faith Mapple opposite John Barrymore in an early sound version of Moby Dick (1930).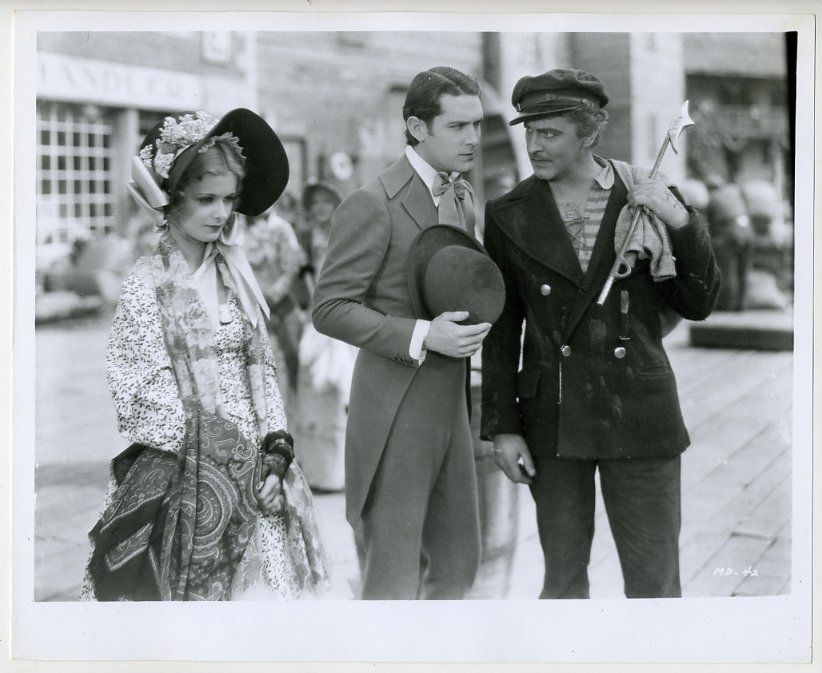 Moby Dick

Under contract to Fox Film Corporation, she appeared in several movies. Receiving top billing, she played the role of Jane Miller opposite Spencer Tracy in She Wanted a Millionaire (1932). She was billed second, after Tracy, for her role as Helen Riley, a personable waitress who trades wisecracks, in Me and My Gal (1932).

Bennett left Fox to play Amy, a pert sister competing with Katharine Hepburn's Jo in Little Women (1933). She played the role of Sally MacGregor, a psychiatrist's young wife slipping into insanity, in Private Worlds (1935) with Claudette Colbert, Charles Boyer, and Joel McCrea. Her husband and agent at the time, Walter Wanger, and director, Tay Garnett, persuaded Bennett to change her hair from blonde to brunette as part of the plot for her role as Kay Kerrigan in the scenic Trade Winds (1938) opposite Fredric March.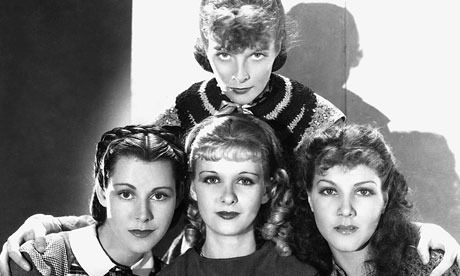 Little Women (Joan Bennett bottom center)

With her change in appearance, Bennett began an entirely new screen career as her persona evolved into that of a glamorous, seductive femme fatale. She played the role of Princess Maria Theresa in The Man in the Iron Mask (1939) opposite Louis Hayward, and the role of the Grand Duchess Zona of Lichtenburg in The Son of Monte Cristo (1940) opposite Hayward.

During the search for an actress to play Scarlett O'Hara in Gone with the Wind, Bennett was given a screen test and impressed producer David O. Selznick to such an extent, she was one of the final four actresses along with Jean Arthur, Vivien Leigh and Paulette Goddard. In the end, Selznick, as we all know, cast Vivien Leigh in the coveted role.

Combined with her sultry eyes and husky voice, Bennett's new brunette look gave her an earthier, more arresting persona. She won praise for her performances as Brenda Bentley in the crime drama The House Across the Bay (1940), also featuring George Raft, and as Carol Hoffman in the anti-Nazi drama The Man I Married.

She then appeared in a sequence of highly regarded film noir thrillers directed by Fritz Lang, with whom she and Wanger formed their own production company. Bennett appeared in four movies under Lang's direction, including: Cockney prostitute Jerry Stokes in Man Hunt (1941) opposite Walter Pidgeon; mysterious model Alice Reed in The Woman in the Window (1944) with Edward G. Robinson; and vulgar blackmailer Katharine "Kitty" March in Scarlet Street (1945), another film with Robinson.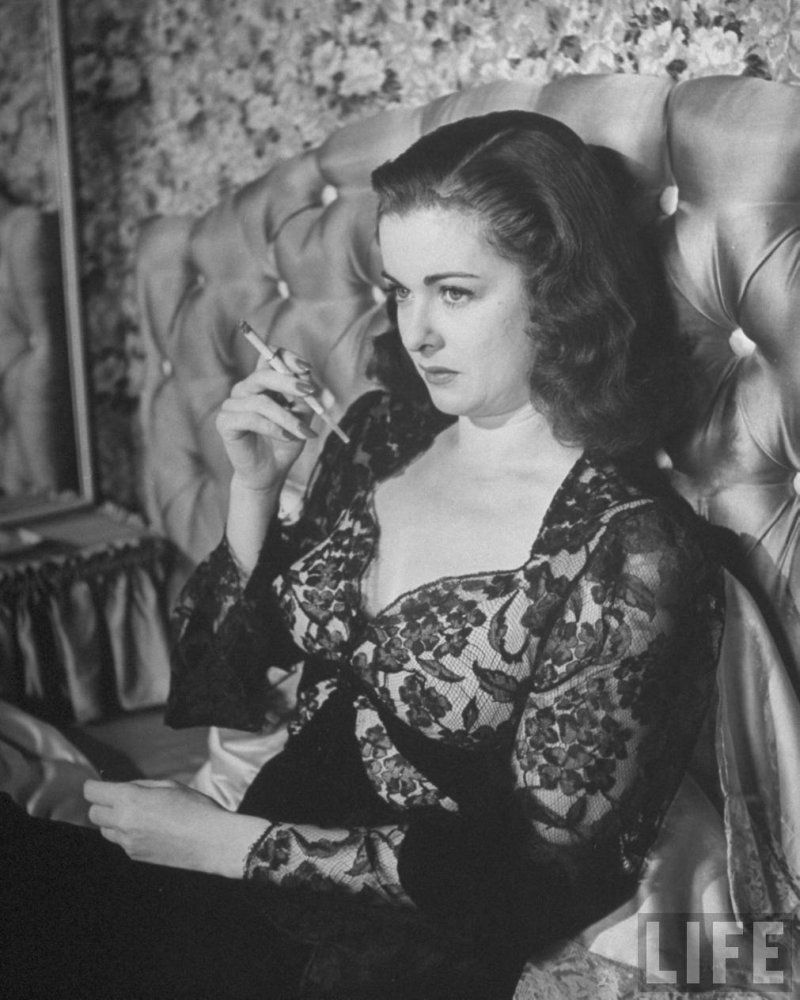 Scarlet Street

Bennett was: the shrewish wife, Margaret Macomber, in Zoltan Korda's The Macomber Affair (1947) opposite Gregory Peck; the deceitful wife, Peggy, in Jean Renoir's The Woman on the Beach (also 1947) opposite Robert Ryan and Charles Bickford; and the tormented blackmail victim Lucia Harper in Max Ophuls' The Reckless Moment (1949) opposite James Mason.

Then, easily shifting images again, she changed her screen persona to that of an elegant, witty and nurturing wife and mother in two classic comedies directed by Vincente Minnelli. Playing the role of Ellie Banks, wife of Spencer Tracy and mother of Elizabeth Taylor, Bennett appeared in both Father of the Bride (1950) and Father's Little Dividend (1951).



Father of the Bride

She made a number of radio appearances from the 1930s to the 1950s, performing on such programs as The Edgar Bergen and Charlie McCarthy Show, Duffy's Tavern, and the anthology series Lux Radio Theater.

With the increasing popularity of television, Bennett made five guest appearances in 1951, including an episode of Sid Caesar and Imogene Coca's Your Show of Shows.

Bennett then went to Chicago to appear on the stage in the role as the young witch Gillian Holroyd in Bell, Book, and Candle, and then went on national tour with the production.

Bennett made only five movies in the decade that followed due to the fact that she was blacklisted due to a scandal which will be explained later in this tidbit. As the movie offers dwindled, Bennett continued touring in stage successes, such as Susan and God, Once More, with Feeling, The Pleasure of His Company and Never Too Late. Her next TV appearance was in the role as Bettina Blane for an episode of General Electric Theater in 1954. Other roles include Honora in Climax! (1955), Vickie Maxwell in Playhouse 90 (1957) and Denise Mitchell in an episode of Burke's Law (1965). In 1958, she appeared as the mother in the short-lived television comedy/drama Too Young to Go Steady. She starred on Broadway in the comedy Love Me Little (1958), which ran for only eight performances. Then in 1966 she was offered the role of Elizabeth Collins Stoddard in Dark Shadows.

Other TV guest appearances include Bennett's roles as Joan Darlene Delaney in an episode of The Governor & J.J. (1970) and as Edith in an episode of Love, American Style (1971). She starred in five made-for-TV movies between 1972 and 1982. Bennett also appeared in one more feature film, as Madame Blanc in Italian director Dario Argento's horror thriller Suspiria (1977), for which she received a 1978 Saturn Award nomination for Best Supporting Actress.

Her autobiography, The Bennett Playbill, written with Lois Kibbee, was published in 1970.

Bennett is a recipient of the George Eastman Award, given by George Eastman House for distinguished contribution to the art of film.

She has a star on the Hollywood Walk of Fame for her work in Motion Pictures, at 6310 Hollywood Boulevard, Hollywood.




Personal Life



On September 15, 1926, she and John M. Fox were married in London. They were divorced on July 30, 1928 in Los Angeles. They had one child, Adrienne.

On March 16, 1932, she married screenwriter and film producer Gene Markey in Los Angeles. They divorced in 1937. They had one child, Melinda.

Little Women brought Bennett to the attention of independent film producer Walter Wanger, who signed her to a contract and began managing her career. On January 12, 1940, they were married in Phoenix. They had two children together, Stephanie (born in 1943) and Shelley (born in 1948). In 1949 she became a grandmother at age 39. This marriage would bring with it a scandal that would negatively affect Bennett's film career.

For twelve years, Bennett had been represented by agent Jennings Lang. She and the onetime vice-president of the Sam Jaffe Agency, who now headed MCA's West Coast television operations, met on the afternoon of December 13, 1951, to talk over an upcoming TV show.

Bennett parked her Cadillac convertible in the lot at the back of the MCA offices, at Santa Monica Boulevard and Rexford Drive, across the street from the Beverly Hills Police Department, and she and Lang drove off in his car. Meanwhile, her husband Walter Wanger drove by at about 2:30 p.m. and noticed his wife's car parked there. A half hour later he again saw her car there and stopped to wait. Bennett and Lang drove into the parking lot a few hours later and he walked her to her convertible. As she started the engine, turned on the headlights and prepared to drive away, Lang leaned on the car, with both hands raised to his shoulders, and talked to her.

In a fit of jealousy, Wanger walked up and twice shot and wounded the unsuspecting agent. One bullet hit Jennings in the right thigh, near the hip, and the other penetrated his groin. Bennett said she did not see Wanger at first. She said she suddenly saw two livid flashes, then Lang slumped to the ground. As soon as she recognized who had fired the shots, she told Wanger, "Get away and leave us alone." He tossed the pistol into his wife's car.

She and the parking lot's service station manager took Lang to the agent's doctor. He was then taken to a hospital, where he recovered. The police, who had heard the shots, came to the scene and found the gun in Bennett's car and then took Wanger into custody. "I shot him because I thought he was breaking up my home," Wanger told the chief of police of Beverly Hills. He was booked on suspicion of assault with intent to commit murder. Bennett denied a romance, however. "But if Walter thinks the relationship between Mr. Lang and myself are romantic or anything but strictly business, he is wrong," she declared. She blamed the trouble on financial setbacks involving film productions Wanger was involved with, and said he was on the verge of a nervous breakdown. The following day Wanger, out on bond, returned to their Holmby Hills home, collected his belongings and moved. Bennett, however, said there would not be a divorce.

On December 14, Bennett issued a statement in which she said she hoped her husband "will not be blamed too much" for wounding her agent. She read the prepared statement in the bedroom of her home to a group of newspapermen while TV cameras recorded the scene.

Wanger's attorney, Jerry Giesler, mounted a "temporary insanity" defense. He then decided to waive his rights to a jury and threw himself on the mercy of the court. Wanger served a four-month sentence in the County Honor Farm at Castaic, 39 miles north of Downtown Los Angeles, quickly returning to his career to make a series of successful films.

Blaming the scandal that occurred for destroying her career in the motion picture industry, she once said, "I might as well have pulled the trigger myself." Humphrey Bogart, a longtime friend of Bennett's, pleaded with the studio on her behalf to keep her role as Amelie Ducotel in We're No Angels (1955). That movie proved to be one of her last.

Despite the shooting scandal and the damage it caused Bennett's career, she and Wanger remained married until 1965.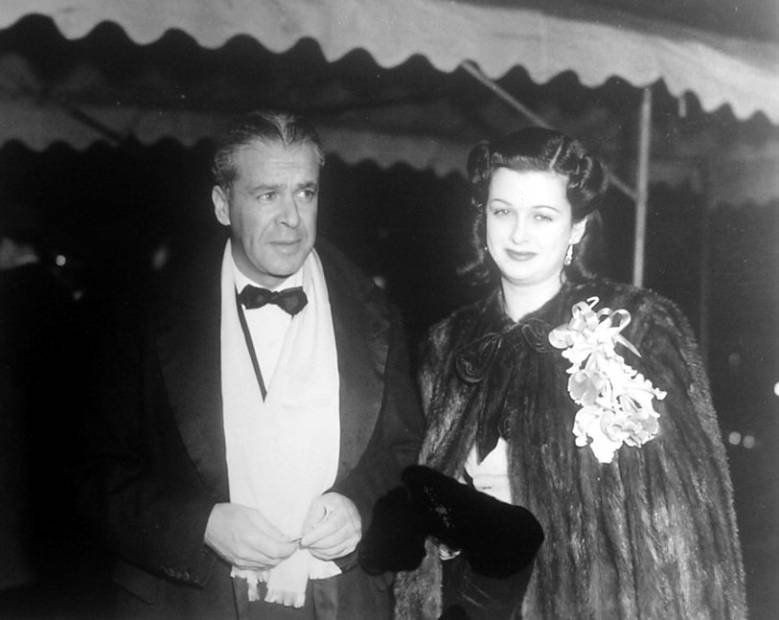 Joan Bennett and Walter Wanger

On February 14, 1978, she and retired publisher and movie critic David Wilde were married in White Plains, New York. Their marriage lasted until her death.

Bennett died at age 80 from a heart attack at her home in Scarsdale, New York.





MICHELLE PFEIFFER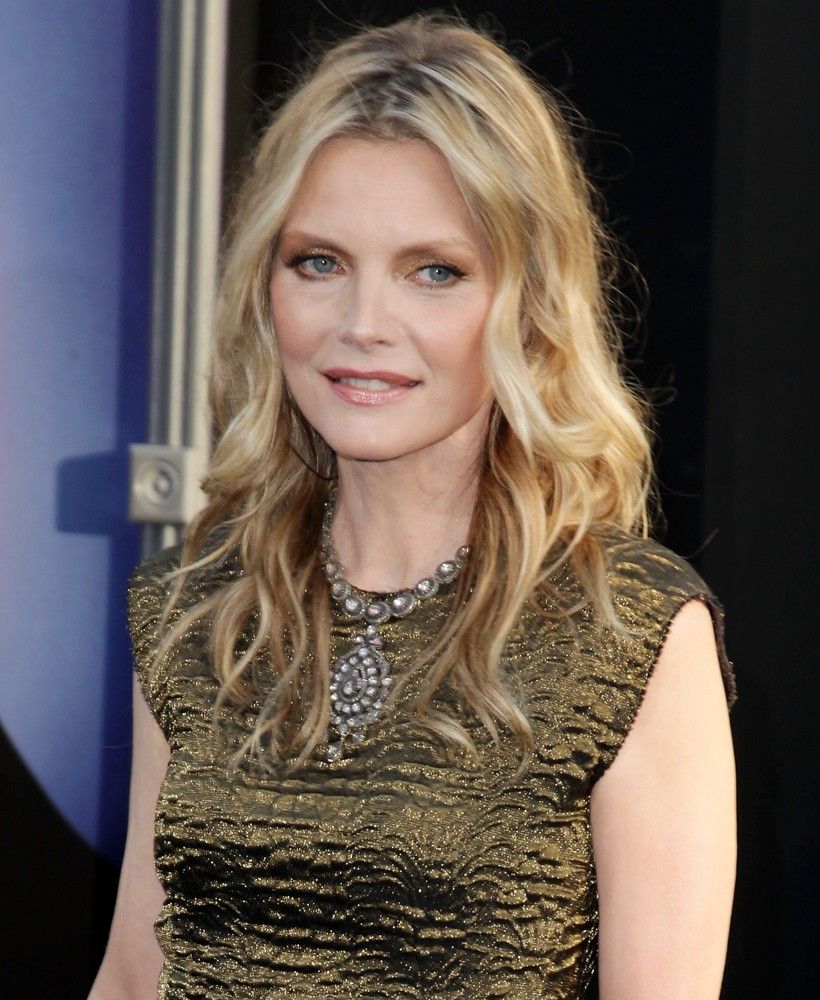 Michelle Marie Pfeiffer made her film debut in 1980 in The Hollywood Knights, but first garnered mainstream attention with her performance in Brian De Palma's Scarface (1983). Pfeiffer has won numerous awards for her work. She received six consecutive Golden Globe Award nominations, winning the Best Actress in a Motion Picture Drama award in 1990 for The Fabulous Baker Boys. She also won the BAFTA Award for Best Actress in a Supporting Role for Dangerous Liaisons, and the Silver Bear for Best Actress for Love Field, and has been nominated for three Academy Awards for the same films.

She received a star on the Hollywood Walk of Fame on August 6, 2007. The star is located at 6801 Hollywood Boulevard and is recognized.

Pfeiffer was born in Santa Ana, California, the second of four children of Richard Pfeiffer, a heating and air-conditioning contractor, and Donna Taverna, a housewife. She has one elder brother, Rick, and two younger sisters, Dedee Pfeiffer, a television and film actress, and Lori Pfeiffer (Born 1965). The family moved to Midway City, where Pfeiffer spent her childhood.[7] She attended Fountain Valley High School, graduating in 1975. She worked as a check-out girl at Vons supermarket, and attended Golden West College and is a member of Alpha Delta Pi Sorority. After a short stint training to be a court stenographer, she decided upon an acting career. She won the Miss Orange County beauty pageant in 1978, and participated in Miss California the same year, finishing in sixth position. Following her participation in these pageants, she acquired an acting agent and began to audition for television and films.

Miss Orange County:






Career



Pfeiffer's early acting appearances included television roles in Fantasy Island, Delta House and BAD Cats, and small film roles in Falling in Love Again (1980) with Susannah York, The Hollywood Knights (1980) opposite Tony Danza, and Charlie Chan and the Curse of the Dragon Queen (1981). She appeared in a television commercial for Lux soap, and took acting lessons at the Beverly Hills Playhouse before appearing in three further television movies – Callie and Son (1981) with Lindsay Wagner, The Children Nobody Wanted (1981), and a remake of Splendor in the Grass.

She then landed her first major film role as Stephanie Zinone in Grease 2 (1982), the sequel to the smash-hit musical Grease (1978). The film was a critical and commercial failure, although Pfeiffer herself received some positive attention, notably from the New York Times, which said "although she is a relative screen newcomer, Miss Pfeiffer manages to look much more insouciant and comfortable than anyone else in the cast."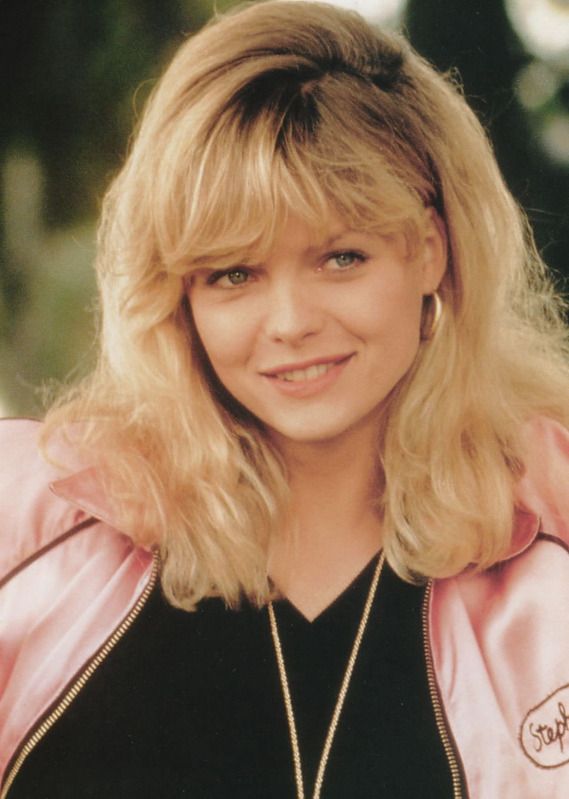 Director Brian De Palma, having seen Grease 2, refused to audition Pfeiffer for Scarface (1983), but relented upon the producer's insistence. She was cast as cocaine-addicted trophy wife Elvira Hancock. The film was considered excessively violent by most critics, but became a commercial hit and gained a large cult following in subsequent years. Pfeiffer received positive reviews for her role. Richard Corliss of Time Magazine wrote, "most of the large cast is fine: Michelle Pfeiffer is better..." while Dominick Dunne, in an article for Vanity Fair titled "Blonde Ambition", wrote, "[s]he is on the verge of stardom. In the parlance of the industry, she is hot."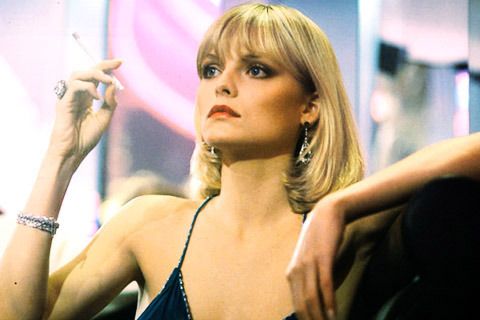 Following Scarface, she accepted the roles of Isabeau d'Anjou in Richard Donner's fantasy film Ladyhawke (1985) opposite Rutger Hauer and Matthew Broderick, Diana in John Landis' comedy Into the Night (1985) opposite Jeff Goldblum, Faith Healy in Alan Alda's Sweet Liberty (1986) opposite Michael Caine, and Brenda Landers in a segment of the 1950s sci-fi parody Amazon Women on the Moon (1987), all of which, despite achieving only modest commercial success, helped to establish her as an actress. She finally scored a major box-office hit as Sukie Ridgemont in the 1987 adaptation of John Updike's novel The Witches of Eastwick, alongside Jack Nicholson, Cher and Susan Sarandon. The film grossed $63,766,510 domestically (equivalent to $130.4 million in 2012 dollars).

Pfeiffer was cast against type, as a murdered gangster's widowed moll on the run, in Jonathan Demme's mafia comedy Married to the Mob (1988), opposite Matthew Modine, Dean Stockwell and Mercedes Ruehl. For the role of Angela de Marco, she donned a curly brunette wig and a Brooklyn accent, and received her first Golden Globe Award nomination as Best Actress in a Motion Picture Musical or Comedy, beginning a six-year streak of consecutive Best Actress nominations at the Golden Globes. Pfeiffer then appeared as chic restauranteuse Jo Ann Vallenari in Tequila Sunrise (1988) opposite Mel Gibson and Kurt Russell, but experienced creative and personal differences with director Robert Towne, who later described her as the "most difficult" actress he has ever worked with.

At Demme's personal recommendation, Pfeiffer joined the cast of Stephen Frears's Dangerous Liaisons (1988) alongside Glenn Close and John Malkovich, playing the virtuous victim of seduction, Madame Marie de Tourvel. Her performance won her widespread acclaim. She won the BAFTA Award for Best Actress in a Supporting Role and received a nomination for the Academy Award for Best Supporting Actress.

Pfeiffer then accepted the role of Susie Diamond, a hard-edged former call girl turned lounge singer, in The Fabulous Baker Boys (1989), which co-starred Jeff Bridges and Beau Bridges as the eponymous Baker Boys. She underwent intensive voice training for the role for four months, and performed all of her character's vocals. Although the film was a modest success, Pfeiffer's portrayal of Susie, however, drew raves from critics. Janet Maslin, from The New York Times, wrote of the performance "she proves to be electrifyingly right. Introducing Ms. Pfeiffer's furiously hard-boiled, devastatingly gorgeous Susie into the Bakers' world affects the film the way a match might affect a fuse," while Roger Ebert compared her to Rita Hayworth in Gilda and Marilyn Monroe in Some Like It Hot, and described the film as "one of the movies they will use as a document, years from now, when they begin to trace the steps by which Pfeiffer became a great star." Variety singled out her performance of 'Makin' Whoopee', writing that Pfeiffer "hits the spot in the film's certain-to-be-remembered highlight... crawling all over a piano in a blazing red dress. She's dynamite." During the 1989–1990 awards season, Pfeiffer dominated the Best Actress category at every major awards ceremony, winning awards at the Golden Globes, the National Board of Review, the National Society of Film Critics, the New York Film Critics Circle, the Los Angeles Film Critics Association Award for Best Actress and the Chicago Film Critics Association. At the Academy Awards, she was favored to win the Best Actress Oscar, but the award went to Jessica Tandy for Driving Miss Daisy in what was considered a surprise upset. The only other major acting award for which she was nominated that she did not take home for The Fabulous Baker Boys was the BAFTA Award for Best Actress in a Leading Role, which also went to Tandy.

[youtube]hwzZ6kb3u9k[/youtube]

Pfeiffer continued to build on her A-list status in Hollywood, accepting and also turning down many high-profile roles, beginning with the title role in Pretty Woman (1990), which earned Julia Roberts a nomination for the Academy Award for Best Actress. She took the part of the Soviet book editor Katya Orlova in the 1990 film adaptation of John le Carré's The Russia House, opposite Sean Connery, a role that required her to adopt a Russian accent. For her efforts, she was rewarded with a Golden Globe nomination for Best Performance by an Actress in a Motion Picture - Drama. Pfeiffer then landed the role of damaged waitress Frankie in Garry Marshall's Frankie and Johnny (1991), a film adaptation of Terrence McNally's Broadway play Frankie and Johnny in the Clair de Lune, which reunited her with her Scarface co-star, Al Pacino. The casting was seen as controversial by many, as Pfeiffer was considered far too beautiful to play an "ordinary" waitress; Kathy Bates, the original Frankie on Broadway, also expressed disappointment over the producers' choice. Pfeiffer herself stated that she took the role because it "wasn't what people would expect of [her]." Pfeiffer was once again nominated for a Golden Globe Award for Best Actress – Motion Picture Drama for her performance. During this period, she turned down the role of Clarice Starling in The Silence of the Lambs (1991), which won Jodie Foster the Academy Award for Best Actress, the role of Catherine Tramell in Basic Instinct (1992), ultimately played by Sharon Stone, and the role of Louise in Ridley Scott's Thelma & Louise, that eventually went to Susan Sarandon. WOW!

Pfeiffer earned an Academy Award nomination for Actress in a Leading Role and a Golden Globe nomination for Best Performance by an Actress in a Motion Picture Drama for her performance as Lurene Hallett in the nostalgic independent drama Love Field (1992). The film that had been temporarily shelved by the financially-troubled Orion Pictures. It was finally released in late 1992, in time for Oscar consideration. The New York Times review wrote of Pfeiffer as "again demonstrating that she is as subtle and surprising as she is beautiful." For her portrayal of the eccentric Dallas housewife, she won the Silver Bear Best Actress award at the Berlin Film Festival.

Pfeiffer took the role of Catwoman (Selina Kyle) in Tim Burton's Batman Returns (1992) opposite Michael Keaton and Danny DeVito. For the role of Catwoman, she trained in martial arts and kickboxing; one co-star stated that "Michelle had four stunt doubles – but she did all her own whippin'." Peter Travers of Rolling Stone praised her for giving the "feminist avenger a tough core of intelligence and wit" and called her a "classic dazzler." Premiere retrospectively lauded her performance: "Arguably the outstanding villain of the Tim Burton era, Michelle Pfeiffer's deadly kitten with a whip brought sex to the normally neutered franchise. Her stitched-together, black patent leather costume, based on a sketch of Burton's, remains the character's most iconic look. And Michelle Pfeiffer overcomes Batman Returns' heavy-handed feminist dialogue to deliver a growling, fierce performance."

The following year, she played Countess Ellen Olenska in Martin Scorsese's film adaptation of Edith Wharton's The Age of Innocence (1993) opposite Daniel Day-Lewis and Winona Ryder, receiving the Elvira Notari Prize at the Venice Film Festival, and a Golden Globe nomination for Best Performance by an Actress in a Motion Picture. That same year she was awarded the Women in Film Los Angeles' Crystal Award for outstanding women who, through their endurance and the excellence of their work, have helped to expand the role of women within the entertainment industry.

Pfeiffer's subsequent career choices have met with varying degrees of success. After The Age of Innocence, she played the role of Laura Alden opposite Jack Nicholson in Wolf (1994), a horror film that garnered a mixed critical reception. Her next role was that of high school teacher and former US Marine LouAnne Johnson in the surprise box office hit Dangerous Minds (1995). She appeared as her character in the music video for the soundtrack's lead single, 'Gangsta's Paradise' by Coolio (featuring L.V.), which was used by the producer Jerry Bruckheimer for television advertising. A 60-second version was aired on music channels, while a 30-second cut was aired in the rest of the networks. The song won the 1996 Grammy Award for Best Rap Solo Performance, and the video won the MTV Video Music Award for Best Rap Video.

[youtube]A9u5JEdAyOU[/youtube]

In 1996, she turned down the Golden Globe Award-winning role of Eva Perón in the biopic Evita, which went to Madonna. Pfeiffer then portrayed Sally Atwater in the romantic drama Up Close & Personal (1996) opposite Robert Redford; the film's screenplay, co-written by husband and wife team John Gregory Dunne and Joan Didion, was intended to be a biographical account of the career of news anchor Jessica Savitch, but the final version had almost nothing to do with Savitch's life, leading Dunne to write an exposé of his eight-year battle with the Hollywood producers, Monster: Living Off the Big Screen.

She took the role of Gillian Lewis in To Gillian on Her 37th Birthday (1996), which was adapted by her husband David Kelley from Michael Brady's play of the same name. She served as an executive producer and starred as the divorced single mother architect Melanie Parke in the romantic comedy One Fine Day (1996) opposite George Clooney. Subsequent performances included Rose Cook Lewis in the film adaptation of Jane Smiley's Pulitzer Prize-winning novel A Thousand Acres (1997) with Jessica Lange and Jennifer Jason Leigh, Beth Cappadora in The Deep End of the Ocean (1998) about a married couple who found their son who was kidnapped nine years ago, Titania, the Queen of the Fairies, in A Midsummer Night's Dream (1999) with Kevin Kline, Rupert Everett and Stanley Tucci, and Katie Jordan in Rob Reiner's comedy-drama The Story of Us (1999) opposite Bruce Willis.

During the 1990s, Pfeiffer attracted comment in the media for her beauty. In 1990, she appeared on the cover of People magazine's first 50 Most Beautiful People In The World issue. She was again featured on the cover of the annual issue in 1999, having made the "Most Beautiful" list a record six times during the decade (1990, 1991, 1992, 1993, 1996, 1999). Pfeiffer is the first celebrity to have appeared on the cover of the annual issue twice, and the only person to be featured on the cover twice during the 1990s.

The Hitchcockian thriller What Lies Beneath (2000) with Harrison Ford, was a commercial success, opening number one at the box office in July 2000. She then accepted the role of highly-strung lawyer Rita Harrison in I Am Sam (2001) opposite Sean Penn. For her performance as murderous artist Ingrid Magnussen in White Oleander (2002), alongside Alison Lohman in her film début, Renée Zellweger and Robin Wright Penn, Pfeiffer garnered a substantial amount of critical praise. For this role, she earned Best Supporting Actress Awards from the San Diego Film Critics Society and the Kansas City Film Critics Circle, as well as a Screen Actors Guild Award nomination. Pfeiffer also did voice work in two animated films during this period, voicing Tzipporah in The Prince of Egypt (1998), in which she introduced the Academy Award–winning song, 'When You Believe', and Eris in Sinbad: Legend of the Seven Seas (2003).



White Oleander

After a four-year hiatus, during which she remained largely out of the public eye to devote time to her husband and children, she turned down the role of the White Witch in the 2005 fantasy film The Chronicles of Narnia: The Lion, The Witch and The Wardrobe, Pfeiffer returned to the screen in 2007 with villainous roles in two major summer blockbusters, as Velma Von Tussle in the film adaptation of the Broadway musical Hairspray (2007) and as ancient witch Lamia in fantasy adventure Stardust (2007). Pfeiffer then accepted the roles of Rosie in Amy Heckerling's I Could Never Be Your Woman (2007) and Linda in Personal Effects (2009). Her next film, an adaptation of Colette's Chéri (2009), reunited her with the director (Stephen Frears) and screenwriter (Christopher Hampton) of Dangerous Liaisons (1988), a film for which all three were nominees for (and, in Hampton's case, recipient of) an Academy Award. Pfeiffer played the role of Léa de Lonval opposite Rupert Friend in the title role, with Kathy Bates as his mother. Chéri premiered at the Berlin Film Festival in February 2009, and received a nomination for the Golden Bear award. Roger Ebert in the Chicago Sun-Times wrote that it was "fascinating to observe how Pfeiffer controls her face and voice during times of painful hurt." Kenneth Turan in the Los Angeles Times praised the "wordless scenes that catch Léa unawares, with the camera alone seeing the despair and regret that she hides from the world. It's the kind of refined, delicate acting Pfeiffer does so well, and it's a further reminder of how much we've missed her since she's been away."

After another short break from film, Pfeiffer appeared in Garry Marshall's 2011 romantic comedy New Year's Eve and will have a role in People Like Us, slated to appear this coming June.

In 1989, Pfeiffer made her stage debut in the role of Olivia in Twelfth Night, a New York Shakespeare Festival production staged in Central Park. Other film actors appearing in the play included Jeff Goldblum as Malvolio and Mary Elizabeth Mastrantonio as Viola.




Personal Life



At the start of her career, Pfeiffer met actor Peter Horton at an acting class taught by Milton Katselas in Los Angeles. They married in Santa Monica when Pfeiffer was 22, and it was on their honeymoon that she discovered she had won the lead role in Grease 2. Horton directed Pfeiffer in a 1985 ABC TV special, One Too Many, in which she played the high school girlfriend of an alcoholic student (Val Kilmer); and in 1987, the real-life couple played an on-screen couple in the 'Hospital' segment of John Landis's comedy skit compilation, Amazon Women on the Moon. However, they decided to separate in 1988, and were divorced two years later; Horton later blamed the split on their devotion to their work rather than their marriage.

After her marriage to Horton, Pfeiffer had a three-year relationship with actor/producer Fisher Stevens. They met when Pfeiffer was starring in the New York Shakespeare Festival production of Twelfth Night, in which Stevens played the part of Sir Andrew Aguecheek.

In January 1993, Pfeiffer was set up on a blind date with television writer and producer David E. Kelley, who took her to the movies to see Bram Stoker's Dracula the following week, and they began dating seriously. They married on November 13, 1993. Since then, she has made an uncredited cameo appearance in one episode of Kelley's television series Picket Fences and played the title character in To Gillian On Her 37th Birthday, for which Kelley wrote the screenplay. Pfeiffer and Kelley have two children, Claudia and John. Pfeiffer had entered into private adoption proceedings before she met Kelley. In March 1993, she adopted a newborn daughter, Claudia Rose, who was christened on Pfeiffer and Kelley's wedding day. In August 1994, Pfeiffer gave birth to a son, John Henry.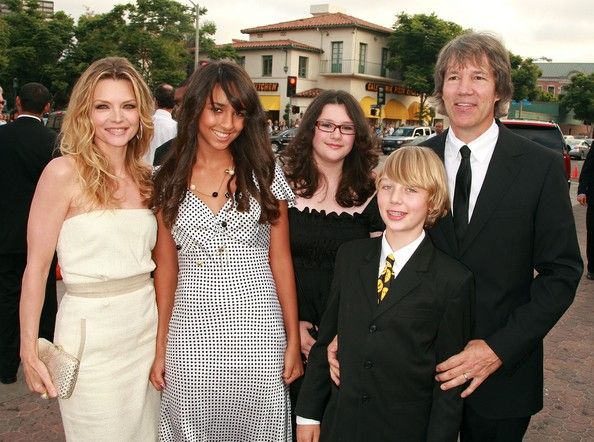 Michelle Pfeiffer, Claudia Rose & guest, John Henry, David E. Kelley at Hairspray Premiere

Having been a smoker for ten years and having a niece who suffered from leukemia for ten years, she decided to support the American Cancer Society. Her charity work also includes her support for the Humane Society.
Sources:



Colllinwood.net
Dark Shadows Wikia
Wikipedia