Etta James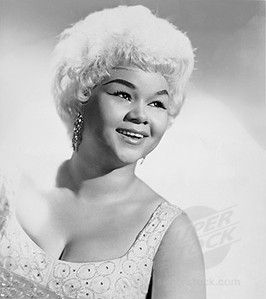 Pg. 520-21
"Another great singer and a girl after my own heart--as well as my bride in a rock-and-roll 'marriage'--is Etta James. She'd been making records from the early '50's, when she was a doo-wop singer. She's expanded into every range since then. She has one of those voices that when you heard it on the radio, or you saw an Etta James record in the store, you bought it. She'd sold you. And on June 14, 1978, we played together. She was on a bill with the Stones at the Capitol Theatre, Passaic, New Jersey. Now, Etta had been a junkie. So we found a certain reciprocation almost immediately. At the time she was clean, I think. But that doesn't really matter. It takes one look in the eye for one to know another. Incredibly strong, Etta, with a voice that could take you to hell or take you to heaven. And we hung in a dressing room, and like all ex-junkies, we talked abut the junk. And why did we do this, the unusual soul-searching. This culminated in a backstage wedding, which in show business terms is like, you get married but you're not really married. You exchange vows and stuff, on the top of the backstage stairs. And she gave me a ring, I gave her a ring and actually that's where I decided her name's Etta Richards. She'll know what I mean."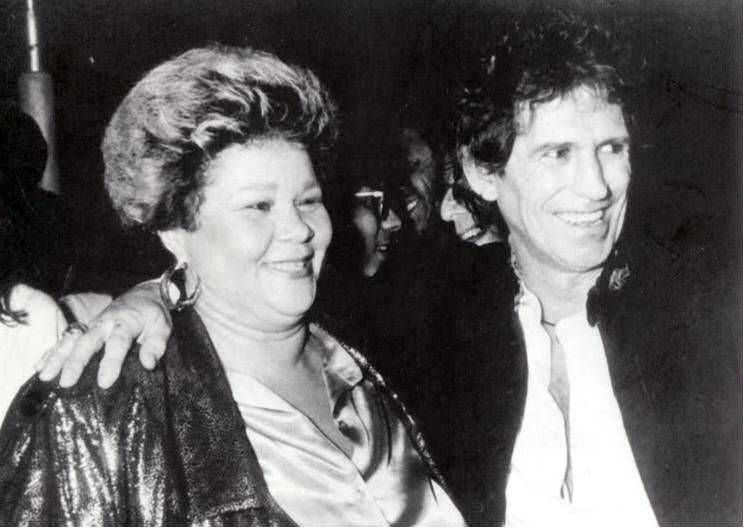 [youtube]RI98xPkLNVU[/youtube]


Etta James (born Jamesetta Hawkins, January 25, 1938) is an American blues, soul, rhythm and blues (R&B), rock and roll, gospel and jazz singer. In the 1950s and 1960s, she had her biggest success as a blues and R&B singer. She is best known for her version of the Mack Gordon and Harry Warren song "At Last", and for "I'd Rather Go Blind",

Jamesetta Hawkins was born January 25, 1938 in Los Angeles, to Dorothy Hawkins, who was 14 years old at the time, and an unknown father, who was possibly white. James speculated that her father was the pool player, Rudolf "Minnesota Fats" Wanderone, and met him briefly in 1987. The young James was brought up by a series of caregivers, initially the owners of the boarding house where she lived, "Sarge" and "Mama" Lu, as her flirtatious mother spent little time at home raising her daughter, and was nicknamed by James, "the Mystery Lady". James received her first professional vocal training at the age of five from James Earle Hines, musical director of the Echoes of Eden choir, at the St. Paul Baptist Church in Los Angeles. She became a popular singing attraction at the church, and Sarge tried to pressure the church into paying him money for her singing, but they refused. During drunken poker games at home, he would wake James up in the early hours of the morning and force her through beatings to sing for his friends. As she was a bed-wetter, and often soaked with her own urine on these occasions, the trauma of being forced to sing meant she had a life-long reluctance to sing on demand.

In 1950 Mama Lu died, and James' real mother took her to San Francisco, where she formed a doo-wop singing group, the Creolettes, with two other girls. When the girls were 14, they met bandleader Johnny Otis. There are at least two versions of how Johnny Otis met Etta James. Otis' version is that she came to his hotel room after one of his performances in San Francisco and persuaded him to audition her. Another frequently told story is that Otis spotted the girls performing in an L.A. nightclub, and, having conceived of an "answer song" to Hank Ballard's "Work With Me, Annie", arranged with the Bihari brothers for Modern Records to record the song with the trio, now called the Peaches. Otis particularly liked the song and, without her mother's permission, the Peaches recorded it in Los Angeles in 1954. The song was released in 1955 on the Modern Records label as "The Wallflower (Dance with Me, Henry)".

[youtube]6H09-oNRGoM[/youtube]

"The Wallflower" reached #1 on the rhythm and blues charts in February 1955. The first time she was recorded in studio, they used the first take she recorded, and it became #1 on the "Top 100" songs in the nation. Royalties from "The Wallflower" were divided among Ballard, James and Otis. Its huge success attracted the attention of the R&B world, resulting in James going on tour with Little Richard in 1956.

Soon after the song's success, James left the Peaches. She continued to record and release albums throughout much of the decade, and enjoyed more success. Her follow-up, "Good Rockin' Daddy", became another hit in the fifties. Other songs however, such as "Tough Lover" and "W-O-M-A-N" failed to gain any significant success. In addition to Little Richard, James toured with Johnny "Guitar" Watson in the fifties and has cited Watson as the most significant influence on her style.

[youtube]DDwKeEzy72Q[/youtube]


In 1960, James signed a recording contract with Chess Records, on their subsidiary label, Argo Records (she later also recorded for their other subsidiary label, Cadet). James began her relationship with the label with five major hits, first with a pair of duets with singer, Harvey Fuqua; "If I Can't Have You" and "Spoonful". She had her first major solo hit with the R&B-styled tune, "All I Could Do is Cry". The song rose in the Billboard R&B Chart, peaking at #2 in 1960. This was followed by the Top 5 R&B hit, "My Dearest Darling" the same year. Around the same time, James also sang background vocals on Chuck Berry's hit, "Back in the USA" That same year, James released her debut album on Chess entitled, At Last!, which featured all of James' hits between 1960 and 1961, and also included a few standards, such as Lena Horne's "Stormy Weather", "I Just Want to Make Love to You", and "A Sunday Kind of Love". The album showed James' varied choice in music.

[youtube]MqqcRu70HiQ [/youtube]


[youtube]0_i-AI61PEo[/youtube]


Chess Records' head producer, Leonard Chess, imagined James as a classic ballad stylist who had potential to cross over onto the pop charts. Chess began backing James on her recording sessions with violins and other string instruments, which was first heard on her 1961 hit, "At Last". The song went to #2 on the Billboard R&B chart in 1961, and also peaked at #47 on the Billboard Pop Chart, ultimately becoming her signature song. Although it wasn't as successful as expected on the pop charts, it did become the most remembered version of the song. In 1961, James had another major hit with "Trust in Me," which also featured string instruments. Also in 1961, James released a second studio album, The Second Time Around. The album took the same direction as her previous album, covering many jazz and pop standards, and using strings on many of the songs. The album spawned a Top 15 hit, "The Fool That I Am" and a minor hit on the pop chart, "Don't Cry Baby."

[youtube]XHegVr-armo[/youtube]


In 1962, James had three major hits, beginning with the gospel-inspired, "Something's Got a Hold on Me," which peaked at #4 on the R&B chart, and also reached the Pop Top 40. Another single, "Stop the Wedding" followed and reached #6. In 1963, James cut and released her first live album, Etta James Rocks the House, recorded at the New Era Club in Nashville, Tennessee. In the same year, James had another Top 10 R&B hit with "Pushover," which also made the Pop Top 25, and was ultimately one of her two biggest Billboard hits on the Hot 100. "Pushover" also hit #11 on influential pop music station WMCA in New York during May 1963. It was followed by two other singles that year that were minor hits on the pop chart, "Pay Back" and "Two Sides (To Every Story)." That year she released her third album, Etta James Top Ten. Within the next year, James scored another Top 10 hit with "Loving You More Each Day" (which also reached #65 on the pop chart) and had a Top 40 hit with "Baby What You Want Me to Do."

[youtube]hmexOmLyuVU[/youtube]



[youtube]Kkn1EefDNvQ[/youtube]


In the mid-1960s, James began to battle a heroin addiction, which would last up until 1974. For years, James would spend much time in and out of Los Angeles' Tarzana Psychiatric Hospital. She began recording again in 1967 with guitarist Paul C. Saenz, and achieved her biggest hit in years, "Tell Mama," which reached the R&B Top 10 and #23 on the Hot 100. An album of the same name, produced by Rick Hall at his then-hot Fame studios in Muscle Shoals, Alabama, also featured a rendition of Otis Redding's song, "Security" which peaked at #11 on the R&B chart. Although she wasn't as successful as she had been, James remained a large concert attraction. She continued to have R&B Top 40 hits up until the mid 1970s, with "Loser Weepers" (an album of the same name was released in 1971) and then with "I Found a Love" in 1972.

[youtube]vA1tztJDVTk [/youtube]


James released an eponymous album in 1973 that spawned two minor hits. Produced by Gabriel Mekler, who had previously worked with Steppenwolf and Janis Joplin, the album musically was an ambitious mix of soul, blues, jazz and rock and it was nominated for a Grammy award the following year. Mekler produced a follow-up album called "Out On The Street Again" in 1974. Again critically acclaimed, this also produced only minor hits.

Despite the death of Leonard Chess, James recorded for the label up until 1978, and began using more rock-based songs in her albums. She released her final two albums for Chess in 1978, Etta Is Betta Than Evah and Deep in the Night. That year, James also opened tour dates in the United States for The Rolling Stones and also played at the Montreal Jazz Festival.


[youtube]N2EyGyIuAE4[/youtube]



For seven years during the 1980s James' career stalled, with the exception of the song, "You Want More", which was featured in an episode of the hit TV series, Miami Vice. However, by 1989 she made her comeback with an album, Seven Year Itch, released by Island Records; her first recording contract in that span of time. James found a way to bring back her older raw sound she had used on previous albums. The album was produced by keyboardist Barry Beckett, and was recorded at Alabama's famous Muscle Shoals Sound Studio, where James had recorded previous major hits, such as "I'd Rather Go Blind". The album also helped James reunite with producer Jerry Wexler, who worked on her 1978 release, Deep in the Night, and also produced many of Aretha Franklin's records. James released a subsequent album in 1989 on Island records entitled, Stickin' to My Guns, where she once again recorded at the Muscle Shoals recording studio. The same year, James also collaborated with Delicious Vinyl rap artist Def Jef for the song and hip hop dance classic "Droppin Rhymes on Drums".

[youtube]asRUxQ7HkGM[/youtube]


[youtube]m_w-tWcCZcc[/youtube]


In 1992, The Right Time was released on Elektra Records, where she again worked with Jerry Wexler. James was inducted into the Rock and Roll Hall of Fame, in 1993. James then released a tribute album in 1993, Mystery Lady: Songs of Billie Holiday dedicated to one of her musical inspirations, Billie Holiday. The album was her first album for the Private Music label, and also set the trend for a few albums James would release within the decade that would go in a jazz direction. The album earned James her first Grammy Award for Best Jazz Vocal Performance in 1994. The following year, James published her autobiography co-written with David Ritz titled, A Rage to Survive. The same year, James released a Soul-inspired studio album, Time After Time also produced with Jerry Wexler. In 1998, she released a holiday album, Etta James Christmas, on Private Music.


[youtube]lMjaVkxnLpg[/youtube]


To a younger generation, James is known for the Muddy Waters song "I Just Wanna Make Love to You", used in television commercials for Coca-Cola and for John Smith's bitter (beer). The Rolling Stones, Chuck Berry and Foghat have also recorded the song. James's version was a Top 10 UK hit in 1996.


[youtube]KUgvVAFFzN8 [/youtube]


James continued to record for Private Music into the new millennium, finding her next release to be Matriarch of the Blues. It was given much praise from music articles and magazines, such as Rolling Stone Magazine, which said, "A solid return to roots, Matriarch of the Blues finds Etta James reclaiming her throne—and defying anyone to knock her off it. In 2001, she was inducted into the Blues Hall of Fame and the Rockabilly Hall of Fame. In 2003, she received a Grammy Lifetime Achievement Award. Her next album the following year, Blue Gardenia was another return to a jazz music style. That same year, she also released her third live album, Burnin' Down the House: Live at the House of Blues, which was recorded at the House of Blues in West Hollywood, California. Two years later, she released her final album for Private Music, Let's Roll, which won James another Grammy in 2005 for Best Contemporary Blues Album.

[youtube]o7vi8WV4u5s[/youtube]

In 2004, Rolling Stone Magazine ranked her #62 on their list of the 100 Greatest Artists of All Time. James has performed at the top world jazz festivals in the world, such as the Montreux Jazz Festival in 1977, 1989, 1990 and 1993, performed nine times at the legendary Monterey Jazz Festival, and the San Francisco Jazz Festival five times. She also performs often at free city outdoor summer arts festivals throughout the US.

James was portrayed by R&B singer and actress Beyoncé Knowles in the 2008 film Cadillac Records. The film is loosely based on the rise and fall of James' record label, Chess Records, and how producer Leonard Chess helped the career of James and her other counterparts at the label, although the film fails to reflect the fact that James was already a successful hit-recording artist before she joined Chess, and was not discovered by Leonard Chess as portrayed. In fact, James's songs performed worse on the charts after she joined Chess. Also, contrary to the impression created in the film, it is doubtful that James and Chess were lovers.

At a Seattle concert on January 28, 2009, James expressed her displeasure with Knowles singing her song "At Last" at the first inaugural ball for Barack Obama on January 20, 2009, exclaiming that she "can't stand Beyoncé" and that Knowles would "get her ass whipped". James later said that her remarks about Knowles were a joke, but was hurt that she was not invited to sing her song and that she could have performed it better.

On April 7, 2009, Etta James appeared on Dancing with the Stars as a guest performer, singing her classic hit from 1961 "At Last" at age 71. In Memphis, Tennessee on May 7, 2009, the Blues Foundation awarded Etta James the 2009 Soul/Blues Female Artist of the Year—making Etta a nine–time winner of this prestigious award.

[youtube]GPBGIBc3YV4[/youtube]


James encountered a string of legal problems during the early 1970s due to her heroin addiction. She was continuously in and out of rehabilitation centers, including the Tarzana Rehabilitation Center, in Los Angeles, California. Her husband Artis Mills, whom she married in 1969, accepted responsibility when they were both arrested for heroin possession and served a 10-year prison sentence. He was released from prison in 1982 and is still married to James. She was also arrested around the same time for her drug addiction, accused of cashing bad checks, forgery and possession of heroin. In 1974, James was sentenced to drug treatment instead of serving time in prison. She was in the Tarzana Psychiatric Hospital for 17 months, at age 35, and went through a great struggle at the start of treatment. She later stated in her autobiography that the time she spent in the hospital changed her life. However, after leaving treatment, her substance abuse continued into the 1980s, after she developed a relationship with a man who was also using drugs. In 1988, at the age of 50, she entered the Betty Ford Center, in Palm Springs, California, for treatment. In 2010, she received treatment for a dependency on painkillers.

Etta James was hospitalized in January 2010 to treat an infection caused by MRSA. During her hospitalization, her son Donto revealed that James was diagnosed with Alzheimer's disease in 2009, and attributed her previous comments about Beyoncé Knowles to "drug induced dementia". On January 14, 2011 it was announced that James had been diagnosed with leukemia and was undergoing treatment. In May she was hospitalized with a urinary tract infection and the blood infection sepsis.

James has two sons, Donto and Sametto. Both started performing with their mother in 2003, Donto on drums and Sametto on bass guitar.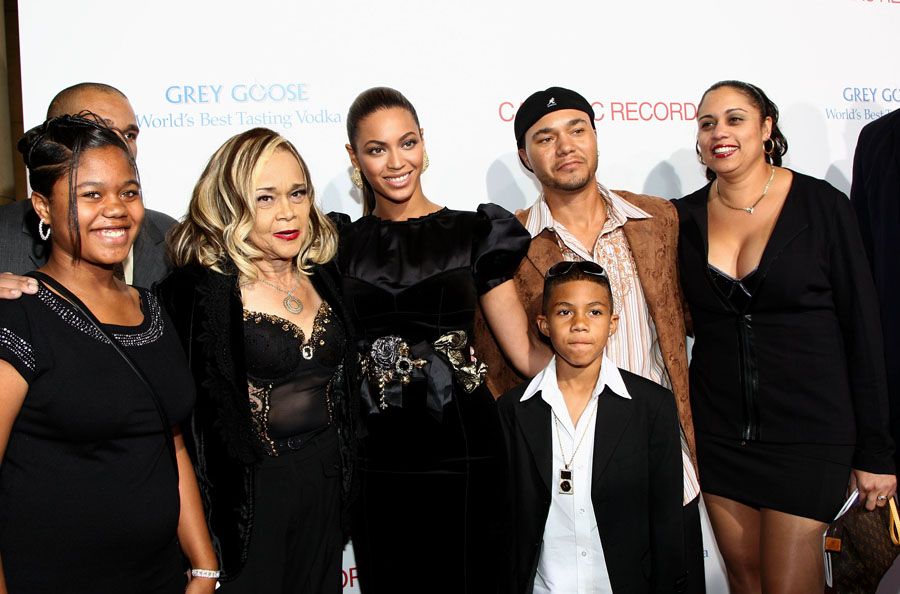 With Her Family and Beyonce at the Cadillac Records Premiere


Since 1989, Etta James has received over 30 awards and recognitions from eight different organizations, including the Rock and Roll Hall of Fame and Museum, and the National Academy of Recording Arts and Sciences.

In 1989, the newly formed Rhythm and Blues Foundation included James in their first Pioneer Awards for artists whose "lifelong contributions have been instrumental in the development of Rhythm & Blues music". The following year, 1990, she received an NAACP Image Award, which is given for "outstanding achievements and performances of people of color in the arts", an award she cherished as it "was coming from my own people".

• 1993, Rock and Roll Hall of Fame
• 2001, Rockabilly Hall of Fame
• 2003, Hollywood Chamber of Commerce Hollywood Walk of Fame, star at 7080 Hollywood Blvd, and Broadcast Music, Inc. (BMI) Lifetime Achievement Award
• 2006, Billboard R&B Founders Award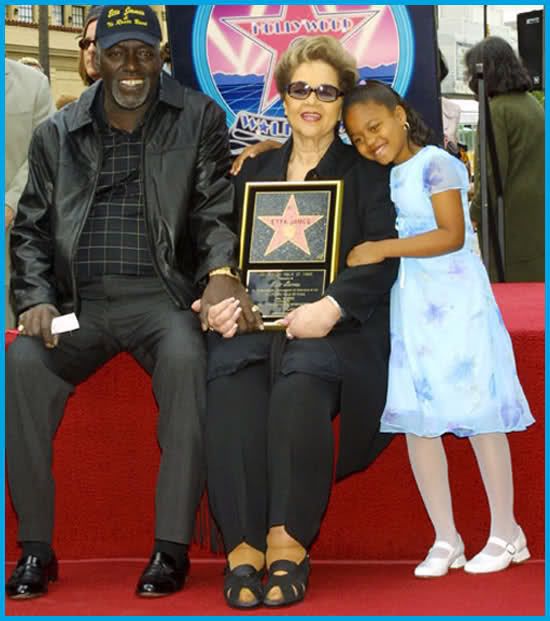 Blues singer Etta James sits with her husband Artist Mills and grand-daughter as she is honored with the 2,223rd star on the Hollywood Walk of Fame on April 18, 2003.

Grammys

Etta James has received six Grammy Awards. Her first was in 1994, when she was awarded Best Jazz Vocal Performance for the album Mystery Lady, which consisted of covers of Billie Holiday songs. Two other albums have also won awards, Let's Roll (Best Contemporary Blues Album) in 2003, and Blues To The Bone (Best Traditional Blues Album) in 2004. Two of her early songs have been given Grammy Hall of Fame Awards for "qualitative or historical significance": "At Last", in 1999, and "The Wallflower (Dance with Me, Henry)" in 2008. In 2003, she was given the Grammy Lifetime Achievement Award.

The members of the Blues Foundation, a non-profit organization set up in Memphis, Tennessee to foster the blues and its heritage, have nominated James for a Blues Music Award nearly every year since its founding in 1980; and she has received some form of Blues Female Artist of the Year award 14 times since 1989, continuously from 1999 to 2007. In addition, the albums Life, Love, & The Blues (1999), Burnin' Down The House (2003), and Let's Roll (2004) were awarded Soul/Blues Album of the Year, and in 2001 she was inducted into the Blues Hall of Fame.

Rhythm and blues legend Etta James has announced that her new album The Dreamer, released yesterday (November 8, 2011) through Verve Forecast, will be her final LP After 50-plus years of hits. The Dreamer is her first release in 5 years and features James' covers of Otis Redding's "Coffee & Cigarettes"; Ray Charles' "In the Evening" and Guns 'n' Roses "Welcome to the Jungle". The timing of James' retirement announcement may be a result of her health troubles (she was diagnosed with leukemia earlier this year) but she made no mention of them in her public statements, saying only: I wish to thank all my fans who have shown me love and support over all these years. I love you all.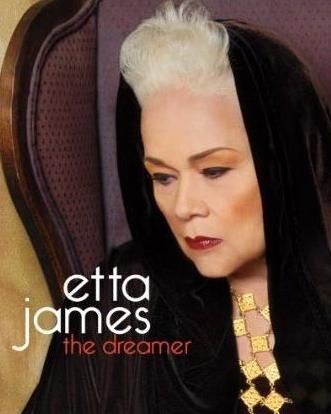 Etta James – The Dreamer Tracklisting:

1. Groove Me (King Floyd)
2. Champagne and Wine (Otis Redding/Roy Johnson/Alan Walden)
3. Dreamer (Jerry Zaremba)
4. Welcome To The Jungle (William Rose/Saul Hudson)
5. Misty Blue (Bob Montgomery)
6. Boondocks (Karen Fairchild/Wayne Kirkpatrick/Kimberly Roads/Phillip Sweet/Jimi Westbrook)
7. Cigarettes and Coffee (Jerry Butler/Jay Walker/Eddie Thomas)
8. In The Evening (Ray Charles)
9. Too Tired (Maxwell Dixon/Sam Ling/Johnny Watson)
10. That's The Chance You've Got to Take (Johnny Watson)
11. Let Me Down Easy (James Milton Campbell Jr.)
Produced by: Etta James, Donto James, Josh Sklair, Sametto James
[youtube]YApNirMC9gM[/youtube]
[youtube]OyhC3Y68Ny8[/youtube]