There are many bluesmen that had a profound effect on the development of rock and roll. I have chose two of the most prominent as the focus of this tidbit. Some of the others are also mentioned in The Blues tidibit posted earlier. ~ DITHOT
Pg. 158 "We walked into Chess studios, and there's this guy in black overalls painting the ceiling. And it's Muddy Waters, and he's got whitewash streaming down his face and he's on top of a ladder. Marshall Chess says, 'Oh, we never had him painting.' but Marshall was a boy then; he was working in the basement. And also Bill Wyman told me he actually remembers Muddy Waters taking our amplifiers from the car into the studio. Whether he was being a nice guy or he wasn't selling records then, I know what the Chess brothers were bloody well like--if you want to stay on the payroll, get to work. Actually meeting your heroes, your idols, the weirdest thing is that most of them are so humble, and very encouraging. 'Play that lick again,' and you realize you're sitting with Muddy Waters. And of course I got to know him. Over many years I frequently stayed at his house. In those early trips I think it was Howlin' Wolf's house I stayed at one night, but Muddy was there. Sitting in the South Side of Chicago with these two greats. And family life, loads of kids and relatives walking in and out. Willie Dixon's there..."
Muddy Waters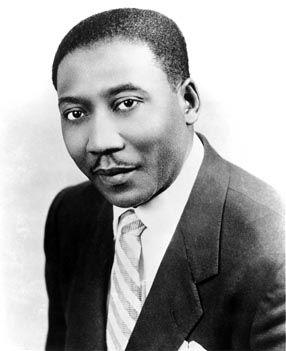 Anyone who's followed the course of modern popular music is aware of the vast influence exerted on its development by the large numbers of blues artists who collectively shaped and defined the approach to amplified music in the late 1940s and early '50s. Chicago was the pivotal point for the development and dissemination of the modern blues and virtually everything else has flowed, in one way or another, from this rich source.

The revolution began inauspiciously enough in 1948 with the release of a 78-rpm single by a singer-guitarist called Muddy Waters. Coupled on Aristocrat 1305 were a pair of traditional Mississippi Delta-styled pieces "I Cant Be Satisfied" and "I Feel Like Going Home," and on them Waters' dark, majestic singing. Waters' use of amplification gave his guitar playing a new, powerful, striking edge and sonority that introduced to traditional music a sound its listeners found very exciting, comfortably familiar yet strangely compelling and, above all, immensely powerful, urgent.

[youtube]oSF-T5gwdxU[/youtube]


[youtube]0EoDHWqPhbU[/youtube]


From the start it was he who dominated the music, who led the way-in style, sound, repertoire, instrumentation, in every way-first as a greatly popular club performer from the mid-1940s on and, a few years later, as the most influential recording artist in the new amplified blues idiom. In the years 1948-55 he put forth for definition the fundamental approaches and usages of modern blues in a remarkable series of ground-breaking and, as time has shown, classic records. In the years since, the style Waters delineated has been extended, fragmented, elaborated and otherwise commercialized, but the fundamental earthy, vital, powerful sound of the postwar blues as defined by Muddy and his bandsmen has yet to be excelled-or even equaled, come to that. It's no accident The Rolling Stones chose their name from one of Waters' finest early recordings the choice was merely prophetic, for Muddy and his magnificent bedrock music continue to resonate as thrillingly and powerfully through the music of today as they did back in the late '40s and early '50s when we first heard them.

He was born McKinley Morganfield-Muddy Waters is a nickname given him in childhood-in the tiny hamlet of Rolling Fork, Mississippi, on April 4, 1915, but from the age of three, when his mother died, was raised by his maternal grandmother in Clarksdale, a small town one hundred miles to the north.
It is scarcely surprising then that the Delta region has nurtured a tradition of blues singing and playing that reflects the harsh, brutal life there, a music shot through with all the agonized tension, bitterness, stark power and raw passion of life lived at or near the brink of despair. Poised between life and death, the Delta bluesman gave vent to his terror, frustration, rage and passionate humanity in a music that was taut with dark, brooding force and spellbinding intensity that was jagged, harsh, raw as an open wound and profoundly, inexorably, moving. The great Delta blues musicians-Charley Patton, Son House, Tommy Johnson and, especially in Waters' case, the brilliant, tortured Robert Johnson-sang with a naked force, majesty and total conviction that make their music timeless and universal in its power to touch and move us deeply.

Growing to manhood there, in the very heart of the region that had spawned this magnificent music, Waters was drawn early to its stark, telling, expressive power. He had been working as a farm laborer for several years when at thirteen he took up the harmonica, the instrument on which many blues performers first master the music's rudiments. Four years later he made the switch to guitar. "You see, I was digging Son House and Robert Johnson." The two were the undisputed masters of the region's characteristic "bottleneck" style of guitar accompaniment. With this technique the Delta bluesman could utilize the guitar as a perfect extension of his voice, the sliding bottleneck matching the dips, slurs, sliding notes and all the tonal ambiguity of the voice as it is used in singing the blues.
Within a year, Waters recalled, he had mastered the bottleneck style and the jagged, pulsating rhythms of Delta guitar. He had learned to sing powerfully and expressively in the tightly constricted, pain-filled manner that characterized the best Delta singers. By the time a team of Library of Congress field collectors headed by Alan Lomax visited and recorded Waters for the Library's folksong archives in 1941 (they were looking for Robert Johnson at the time, unaware of his death three years earlier), returning to record him further the following year, he had had several years' local performing experience behind him.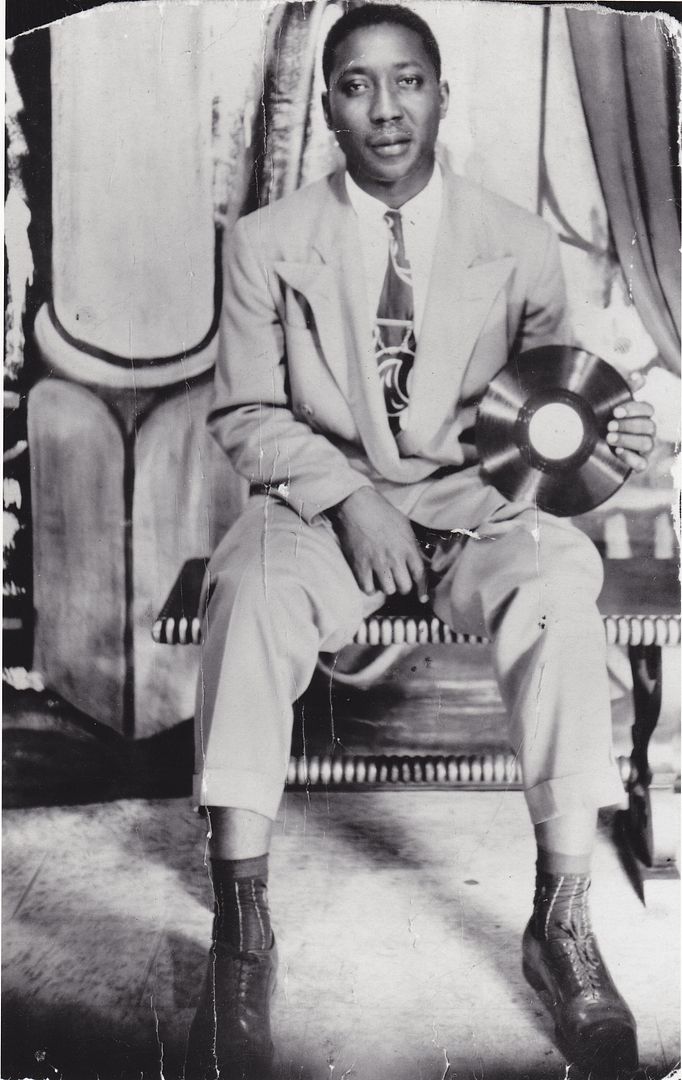 Muddy Waters in 1941, holding one of his Library of Congress 78s.

Providing the musical impetus for dancers at rough-and-tumble back country dances, in juke joints, and at picnics, house parties and other rural entertainments had sharpened the young bluesman's vocal and instrumental abilities to a keen edge. The recordings show the strikingly distinctive power of the young Waters, both as singer and master of Delta bottleneck guitar.
The following year Muddy put the Delta behind him forever. He moved to Chicago in 1943, and never looked back. But it was not as easy in the Windy City as the young bluesman had imagined. It was the middle of the war and, though times were flush and there was a great deal of money to be earned in the defense industries, the winds of change were blowing uncertainly through the music world.

Spearheading the new blues was Waters. He had persevered with his music. After several years of playing to slowly increasing audiences, first at house parties and later in small taverns dotted throughout Chicago's huge, sprawling South and West Side black-belt slums, he had begun to record. Ironically enough, it was for Columbia Records that he had made his first recordings as a Chicago bluesman. Unfortunately, the recordings were not issued. Working as a truck driver, Waters had managed to persuade the operators of Aristocrat-later Chess-Records, a small, independent Chicago firm, to record him.

After several exploratory recordings made in the company of pianist Sunnyland Slim and bassist Ernest "Big" Crawford which made absolutely no impression on the record-buying public, Waters suddenly scored with the single "I Can't Be Satisfied/I Feel Like Going Home." And it is with this record that the history of the modern Chicago blues properly begins. Over the next few years, Waters gathered around him a group of like-minded, country-reared musicians with whom he proceeded to make blues history.

Over the surging rhythmic momentum his group developed so effortlessly, Waters' dark-hued voice chanted the Mississippi blues of his boyhood. In his singing could be heard echoes of the great Delta singers he so admired. Robert Johnson's music, especially, is at the root of so many of Waters' early commercial recordings. But even if the source of the music is not specifically Johnson, it is ultimately based in the traditional blues of his native Mississippi Delta, always the linchpin of Waters' approach to music, as attested by "Rollin' Stone" and "Still A Fool" (both remarkable reworkings of the Delta standard "Catfish Blues"), "Standing Around Crying," "Rollin' And Tumblin'," "Honey Bee," among many others.

[youtube]4T2hygHu8CI[/youtube]


[youtube]x6Q2uTqB3lM[/youtube]


Following his earliest recordings, made primarily of traditional Mississippi blues staples and his adaptations of them, Muddy slowly broadened the traditional base of his music to incorporate new instrumental sounds and textures. Memorable among these early efforts were the remarkable trio recordings with Little Walter on harmonica and Crawford on bass in support of his incisive amplified bottleneck guitar: "Louisiana Blues," and "Long Distance Call," dating from 1950 or early '51 are justly praised masterpieces of the postwar blues.

[youtube]dhFfJOWPzBQ[/youtube]


[youtube]Z1gpDcc3FBI[/youtube]


Waters' regular second guitarist during this period was the empathetic, almost telepathic Jimmy Rogers whose deft, rhythmically unerring playing was unparalleled in the modern blues. A member of Waters' working band from the late 1940s, he was not to make his appearance on a Waters record until the end of 1951, the same time pianist Otis Spann was added to the group's lineup for live performances. With him on board, the modern blues band format and sound was fully settled, documented on such Waters band performances as "I Just Want To Make Love To You," "Hoochie Coochie Man" and "I'm Ready" (1954), "Just To Be With You" (1956) and a host of others.


[youtube]fQ4NFsw4bOU[/youtube]


With the ensemble finally settled, the final element was added in the form of Willie Dixon the veteran bassist whose abilities as a songwriter of proven talent, versatility and audience-pleasing cleverness enabled Waters to achieve even wider success through the many songs he wrote specifically for, and in some cases helped produce for the singer-guitarist and his crack ensemble. From the middle 1950s Waters' songwriting became almost wholly urban in character, as for example "She's Nineteen Years Old," "Walkin' through The Park," "You Can't Lose What You Ain't Never Had" and the anthemic "Got My Mojo Working," among others.


[youtube]FhTCYqJsfqs[/youtube]

All through the 1950s Waters solidified and extended his initial success with a series of recordings, many of them absolutely brilliant and none less than satisfying, that firmly established his approach as the dominant postwar blues style. Countless groups emulated its brusque, rude force and thrilling sonorities though few were able to match the peerless ensemble integration it attained so consistently and effortlessly. Members of Waters' various bands-guitarists Jimmy Rogers, Sammy Lawhorn and Luther Johnson, harmonica players Little Walter, Junior Wells and James Cotton, pianists Otis Spann and Pinetop Perkins-left to strike out with bands of their own, spreading the Waters gospel further. Later generations of bluesmen took Waters' approach as their birthright: Buddy Guy, Magic Sam, Otis Rush and scores of others-have all been in Waters' debt.

Four decades and more later, the blues of postwar Chicago remain the standard bearers, the yardstick by which all others have been and continue to be measured. Waters, his cohorts and immediate followers had limned definitively the contours of the style, and it was they who extended and reworked the idiom, bringing it to its highest levels. The stage was set for the music's next development, rock-and-roll and its offshoots and permutations.

As the 1950s gave way to the '60s, blues of the direct, yeasty sort Waters and his bandsmen performed so tellingly became ever less relevant to black listeners who increasingly involved themselves with soul music and its offshoots, the more urbane blues styles of B.B. King and his disciples, and various forms of modern black dance music.

By this time, however, Waters and other blues performers of his generation had been discovered and taken up by a new audience-young, white and middle-class that had been born of the folk music revival of the late 1950s and swelled even further a few years later by the British blues boom. The bars, taverns and dancehalls of the chitlin' circuit in which he had performed for black dancers and listeners in the previous decade soon had given way to college auditoriums, folksong, blues and jazz clubs and festival stages, both here and abroad, increasing international touring, television appearances and wide acceptance by the rock community, which accorded him the respectful adulation given a founding figure. His young white listeners gained the beauty and majesty of his music.

Through all this his mentors at Chess Records sought to keep pace with the changing tides in popular music, in response to which they placed Waters in a number of recording contexts they felt would broaden his acceptance even further. The most sensitive and, happily, one of the best received of these productions was the 2-LP set "Fathers And Sons," which paid homage to Waters and his achievements through the sponsorship and participation of several young musicians who had learned directly from him, repaying the favor by using their celebrity to focus attention on him-the brilliant young harmonica player Paul Butterfield and guitarist Michael Bloomfield.

[youtube]5gweSYEWZ7w[/youtube]



[youtube]uDyjtNwblrg[/youtube]


In 1977, his long association with Chess at an end, he signed with Blue Sky Records, a label operated by another of his young proteges, the guitarist and singer Johnny Winter, and over the next several years produced four spirited albums under Winter's sympathetic guidance.

[youtube]-N2cJoQpJZQ[/youtube]

In 1982, declining health dramatically curtailed Muddy's performance schedule. Muddy Waters' last public performance took place when he sat in with Eric Clapton's band at a Clapton concert in Florida in autumn of 1982.

[youtube]foZfNfyLgaI[/youtube]

Waters performed almost uninterruptedly, invariably giving of his best and often, when circumstances conspired to allow it, setting the night on fire with the strength, passion and conviction that only he could muster. He carried his message to countless listeners, first in Chicago, then all the rest of the U.S. and finally, the world. When he died quietly in his sleep on April 30, 1983, in his home in suburban Westmont Illinois, America lost one of the greatest, most influential and enduringly important musicians of the century, one who had reshaped the course of the blues, set it on a new path and, through the influence he exerted on so many other who followed in his trailblazing wake, completely altered the sound, substance and very character of all modern popular music.

-Pete Welding, excerpted from "Gone to Mainstreet," Bluesland, E.P. Dutton, 1992

Source:
muddywaters.com
Howlin' Wolf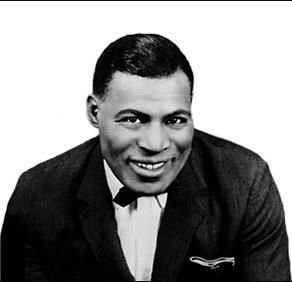 Chester Arthur Burnett has probably had more impact worldwide than the 19th-century American president after whom he was named. With a musical influence that extends from the rockabilly singers of the 1950s and the classic rock stars of the 1960s to the grunge groups of the 1990s and the punk-blues bands of the 21st century, plus a legion of imitators to rival Elvis, he was one of the greatest and most influential blues singers ever.

Chester Burnett was born to Leon "Dock" Burnett and Gertrude Jones on June 10, 1910, in White Station, Mississippi, a tiny railroad stop between Aberdeen and West Point in the Mississippi hill country, many miles away from the Delta. Fascinated by music as a boy, he would often beat on pans with a stick and imitate the whistle of the railroad trains that ran nearby. He also sang in the choir at the White Station Baptist church, where Will Young, his stern, unforgiving great-uncle preached. When his parents separated, his father moved to the Delta, and his mother left Chester with his uncle Will, who treated him harshly. One childhood friend said Will Young was "the meanest man between here and hell.

Wolf's relationship with his mother was also troubled. Gertrude spent much of her adult life as a street singer, eking out a living by selling hand-written gospel songs for pennies to passersby. She disowned her son Chester, claiming he played "the Devil's music." Wolf's wariness can be traced to his bleak childhood.

When he was 13, Chester ran away from Will Young to the Delta to rejoin his father, half-sister, and step-siblings, who lived on the Young and Morrow plantation near Ruleville. There, Chester became fascinated by local blues musicians, especially the Delta's first great blues star, Charley Patton, who lived on the nearby Dockery Plantation. When his father bought him his first guitar in January 1928, he convinced Patton to give him guitar lessons.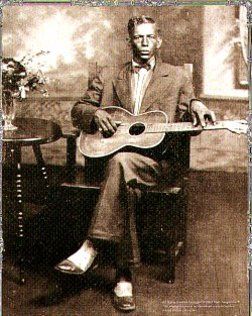 Charlie Patton

He later took impromptu harmonica lessons from Sonny Boy Williamson II (Rice Miller), who was romancing his step-sister, Mary. He learned to sing by listening to records by his idols "Blind" Lemon Jefferson, Tommy Johnson, the Mississippi Sheiks, Jimmie "the Singing Brakeman" Rodgers, Leroy Carr, Lonnie Johnson, Tampa Red, and Blind Blake. He even affected the clothes and look of some of his musical idols. For awhile, he played music while wearing tiny wire-rim glasses and a dark suit like the only known photo of Lemon Jefferson. And when he wasn't working on his father's farm, he traveled the Delta with other musicians such as Sonnyboy, Robert Johnson, Patton, Son House, and Willie Brown. (DITHOT note: For more information on some of these great bluesmen, see out tidbit, The Blues.)




Blind Lemon Jefferson


From the start, Chester's voice was startling—huge and raw like Charlie Patton's, and even more powerful. He learned to play guitar and blues harp simultaneously, using a rack-mounted harp. His stage presence was absolutely feral, exaggerated by his physical size—he stood 6' 3" tall, weighed 275 lbs late in life, and wore size 16 shoes. John Shines, who also traveled with Robert Johnson, said, "I was afraid of the Wolf, like you would be of some wild animal....It was the SOUND he was giving off!"

Drafted in 1941, Wolf went into the Army Signal Corps and spent his time in the service mostly in the Pacific Northwest at Fort Lewis, Washington and Camp Adair, Oregon. He suffered a nervous breakdown in 1943 and was discharged from the Army, and soon moved with his girlfriend to a house in Lebanon, Tennessee. In 1945, his girlfriend also suffered a nervous breakdown and was institutionalized. Wolf left Tennessee and returned to playing music, and helping his father on his farm during the spring and fall. The rest of the year, Wolf was traveling through the South, playing with Delta bluesmen such as Willie Brown and Son House.

In 1948, Wolf moved to West Memphis, Arkansas, where he put together a band that included harmonica players James Cotton and Junior Parker and guitarists Pat Hare, Matt "Guitar" Murphy, and Willie Johnson. He also got a spot on radio station KWEM, playing blues and endorsing farm gear.
In 1951, Wolf came to the attention of a young Memphis record producer, Sam Phillips, who took him into the studio and recorded "Moanin' at Midnight" and "How Many More Years," and leased them to Chess Records. Released in 1952, they made it to the top 10 on Billboard's R&B charts. Wolf cut other songs that Phillips farmed out both to Chess and RPM. Chess eventually won the fight for Wolf, who moved to Chicago in 1953 and called the city home for the rest of his life.

[youtube]mQusgL4X0Ro[/youtube]


Phillips, who certainly recognized musical talent (he later "discovered" Elvis Presley, Carl Perkins, Jerry Lee Lewis, Johnny Cash, and Charlie Rich), said that Wolf was his greatest discovery and losing Wolf to Chicago was his biggest career disappointment.

"Chester Burnett had such a soulful sound that even though his words were always good blues words, that man didn't have to say a sound. Just like his song 'Moanin' at Midnight.'…When it came out, it was as if everything just stopped, everything that was going on. Time stopped. Everything stopped. And you heard the Wolf.

"Had the young people truly got to hear him more, had he played on more programs listened to young people, who knows? Had this guy gotten that break, the kids would have absolutely gone crazy. He would have been one of the all-time music heroes. I mean that."

As it was, Wolf wrote and recorded songs for Chess that became blues standards: "Smokestack Lightning," "Killing Floor," and many others.
He was inspired to write Smokestack Lighting by watching the smoke come out of trains as they passed at night (i.e, "smokestack lightning"). It is now in the Grammy Hall of Fame.

Chess songwriter Willie Dixon also wrote classic blues songs for Wolf such as "Spoonful," "Little Red Rooster," "Evil," "Back Door Man," and "I Ain't Superstitious."

[youtube]s0aIjyX7vwI[/youtube]


[youtube]aIkwAoWqE6E[/youtube]



Wolf's great rival for Chicago blues supremacy was his sometime friend, Muddy Waters. Their rivalry continued through the 1960s, aggravated by Waters' temporary theft of Wolf's guitarist, Hubert Sumlin. Like Waters, Wolf was an ambitious man. Their competition, though friendlier than most fans thought, forced both to struggle to be the best in blues.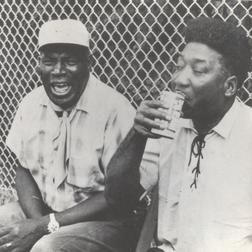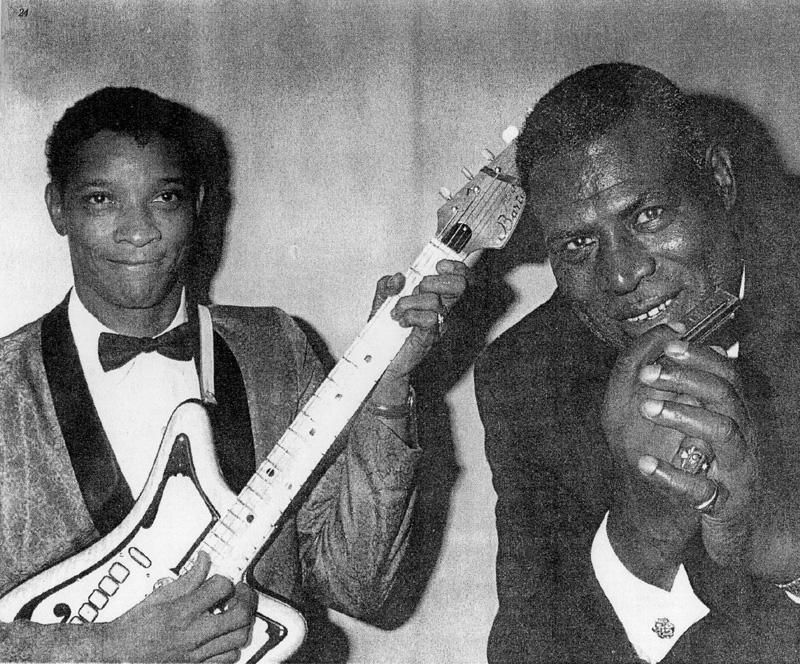 Hubert played for 25 years with the Howlin' Wolf Band. His distinctive sound shaped the songs made famous by the Wolf including Smokestack Lightnin', Killing Floor, and Sitting on Top of the World. After the death of Wolf in 1976, Hubert had to re-invent himself as an instrumentalist and as a bandleader.

Several musicians who played with both Muddy and Wolf say Wolf was a more professional band leader. Wolf paid his people on time and withheld unemployment insurance and even Social Security, which some of his band members are drawing today. Wolf also stood up for his band and wouldn't be taken advantage of. Jimmy Rogers, who played for years in Muddy's band, said, "Wolf was better at managing a bunch of people than Muddy or anybody else. Muddy would go along with the Chess company. [But] Wolf would speak up for himself."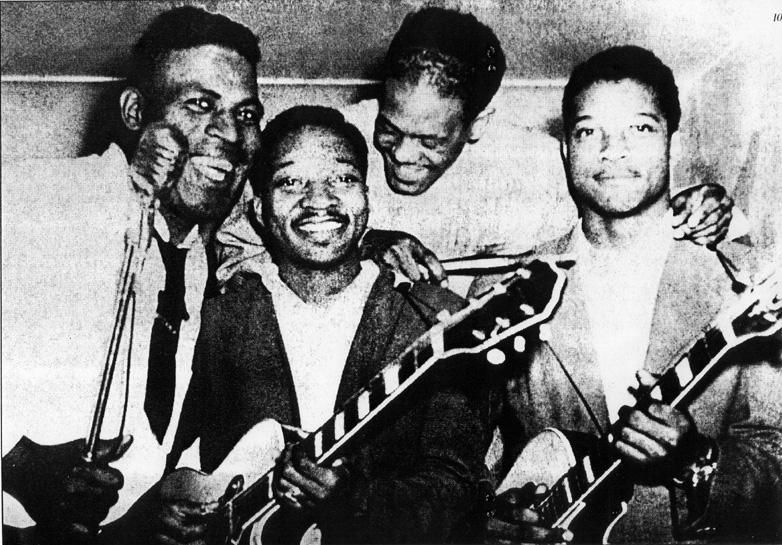 left to right: Wolf, guitarist Jody Williams, drummer Earl Phillips, guitarist Hubert Sumlin

[youtube]6S-kvuOtUOA[/youtube]


In his later years, Wolf continued to perform with a manic intensity that would've exhausted a man half his age, often in small clubs that other well-known bluesmen had already abandoned. Wolf said simply, "I sing for the people."

In 1964, Wolf also married his long-time sweetheart, Lillie Handley, whom he had met in 1957 at Silvio's nightclub in Chicago. Wolf called Lillie "a flower from the first day I met her," and he doted on her two daughters, Bettye Jean and Barbara. Despite his wild antics onstage, Wolf was a responsible, middle-class family man offstage—honest, hardworking, and upstanding to a fault. He hunted and fished, owned farmland in Arkansas, volunteered with the local fire department, and was a proud member of the local chapter of the Masons.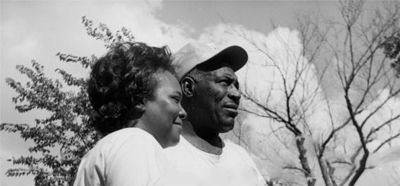 Wolf's collaborator on many of his greatest songs was guitar wizard Hubert Sumlin, who continues to play today. Hubert plays electric guitar with his bare fingers—an oddity for a Chicago bluesman—and his eccentric, slashing style made him a favorite of Eric Clapton, Jimmy Page, Stevie Ray Vaughan, Jimi Hendrix, Peter Green, and many other guitarists from the 1960s onward.

During the 1960s, Wolf and Hubert continued to record sizzling blues that anticipated blues-rock—classic songs such as "Commit a Crime," "Hidden Charms," and "Love Me, Darlin'" In 1964, he toured Europe, including the U.K. and even Eastern Europe, with the American Blues Festival. In 1965, he appeared on the American television show "Shindig" with the Rolling Stones. In 1970 he recorded The London Howlin' Wolf Sessions in England with Eric Clapton, members of the Rolling Stones, and other British rock stars. It was his best-selling album, reaching #79 on the pop charts.

[youtube]NIcIsVKmmRY[/youtube]


[youtube]AEUEx8olggw[/youtube]

Wang Dang Doodle by Willie Dixon
From "The London Howlin' Wolf Sessions" - 1970
Personnel: Chester Burnett aka Howlin'Wolf - Eric Clapton - Steve Winwood -Charlie Watts - Bill Wyman


Not bad for a 60-year-old man—a very ill one. In the late 1960s and 1970s, Wolf suffered several heart attacks, and his kidneys began to fail him. For the rest of his life, he received dialysis treatments every three days, administered by Lillie. Despite his failing health, Howlin' Wolf stoically continued to record and perform. In 1972 he recorded a live album at a Chicago club, "Live and Cookin' at Alice's Revisited." In 1973, he cut his last studio album, "Back Door Wolf" which included the incendiary "Coon on the Moon," the autobiographical "Moving," and "Can't Stay Here," which harked back to Charley Patton.

[youtube]EusDLX2c2Ds[/youtube]


Wolf's last performance was in November 1975 at the Chicago Amphitheater. On a bill with B.B. King, Albert King, O. V. Wright, Luther Allison, and many other great bluesmen, Wolf gave a heroic performance, rising almost literally from his deathbed to recreate many of his old songs and performing some of his old antics such as crawling across the stage during the song "Crawling King Snake." The crowd went wild and gave him a five-minute standing ovation. When he got offstage, a team of paramedics where called in to revive him. Two months later he was dead, after his heart gave out during an operation. He was buried in Hines, IL.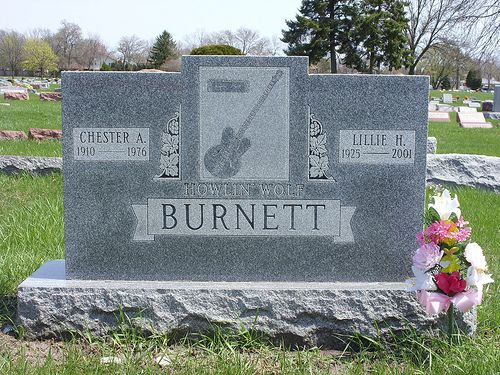 Wolf was inducted into the Blues Foundation's Hall of Fame in 1980 and the Rock & Roll Hall of Fame in 1991. There will never be another Howlin' Wolf. His biographers, Jim Segrest and Mark Hoffman, believe he was the most exciting singer and performer in the history of blues music. Many blues experts we've talked with agree with that assessment. As one blues critic put it, "If you want to know what stage presence is, just point at Howlin' Wolf and divide by ten!"

Source:
howlinwolf.com

[youtube]OQ654Lg6m8k[/youtube]