Gram Parsons and Emmylou Harris 1970-1972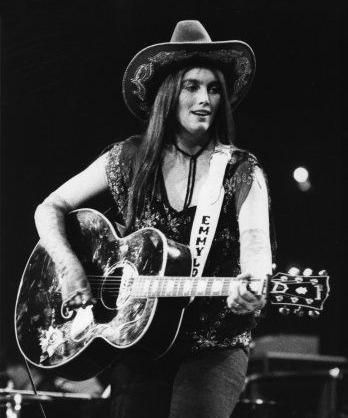 The Lost Album

In the summer of 1970, Gram Parsons fell in with Terry Melcher. Like Parsons, Melcher was a charismatic young guy with a major self-destructive streak and a ready supply of money with which to indulge it. The two spent much of their time together, getting high and fiddling with songs. In June 1970, Parsons contributed faint backing vocals to "All the Things" on the Byrds' (Untitled), (which Melcher produced). (Later that year he contributed to LPs by several friends.)

That summer, Melcher pitched a solo Parsons album to Jerry Moss of A&M, with Melcher as producer. Despite A&M's history of trouble with Parsons and the Flying Burrito Brothers, Moss bit. In retrospect, the sessions seem promising. With a first-rate group of musicians that included guitarists Clarence White and Ry Cooder, and pianist Earl "Les" Ball, Parsons recorded ten tracks, most of them covers.

Before long, Parsons's abuse of cocaine, downers and booze became too much even for Melcher. Frustrated at the lack of progress on the project, Melcher abandoned the album, and A&M pulled the plug on it. In October, Parsons signed out the master tapes for these sessions; they have not been seen or heard since.

Up and Down with the Rolling Stones

Luckily, Parsons had an ace-in-the-hole, or so he believed. Keith Richards had been receptive to the idea of producing a Parsons album for the band's new label, Rolling Stones Records. With his young girlfriend Gretchen Burrell, Parsons moved to London. Parsons spent most of his time with Richards, listening to country music, playing songs together, and getting high. By this time both musicians were using heroin.

When the Stones mounted a farewell tour of England in early 1971, Parsons went along; when the Stones became tax exiles and moved to the Riviera, Parsons followed. Richards rented an estate called Nellcôte in Villefranche, a coastal town between Nice and Monaco, and Parsons was his houseguest for weeks on end. In order to accommodate Richards's increasing heroin addiction, the Stones set up a recording studio in the basement of Nellcôte and used it for all the sessions that would become Exile on Main Street (Rolling Stones, 1972).




The Parsons influence on Exile seems more pronounced than on previous Stones albums. "Sweet Virginia," "Torn and Frayed," even "Tumbling Dice" show the influence of the country music Parsons had been playing for Richards. Associates of Parsons like saxman Bobby Keys (one of the original original Burritos) and Al Perkins appear on the LP. And although he isn't credited, Parsons later claimed to have contributed backing vocals to "Sweet Virginia." (The backing vocals aren't distinct enough to say for sure if he's right.) Exile on Main Street remains the Rolling Stones' finest hour. Keith Richards gives Parsons a small share of the credit: the country-influenced songs "wouldn't have been around if it weren't for Gram."

[youtube]8I48TGYnVUY[/youtube]


[youtube]LlczEy9-aZM[/youtube]


Notwithstanding any positive musical influence he may have exerted and the fact that he paid for his own drugs, Parsons wore out his welcome after several weeks. Jagger had become jealous of the friendship between Parsons and Richards, but the real problem was Parsons's intake of drugs and alcohol. His excesses made him more trouble than he was worth. Having severely tested the limits of the Stones' hospitality, he and Gretchen Burrell returned to the States -- no closer to recording a solo LP for Rolling Stones Records than when he left.

Soon after their return, the two were married in New Orleans, where step-father Bob Parsons hosted the small ceremony at his home. The wedding was nothing like the grandiose Hank Williams-style nuptials Parsons had planned with Nancy Ross.

In the fall of 1971, Parsons called Chris Hillman, still with the Flying Burrito Brothers. The two arranged for Parsons to appear with the Burritos at a concert in College Park, Maryland. Hillman also insisted that while Parsons was in the area, he should go check out a woman folksinger that Rick Roberts and Kenny Wertz had discovered in a Washington D.C. club. Hillman thought she would make a great duet partner with Parsons. Her name was Emmylou Harris.

Gram Parsons & Emmylou Harris

Parsons and his new wife went to check out Harris at a tiny club called Clyde's in D.C. Only three other people were there to see her, and her repertoire was mostly folk music with only a hint of country. Still, Parsons was immediately impressed by the beauty of her voice. He joined her for the second set, then they repaired to a friend's house and he sang with her some more.

"Chris Hillman was so enthusiastic when he told me about Emmylou that I just had to go and see her... and I was knocked out by her singing. I wanted to see just how good she was, how well she picked up country phrasing and feeling, so after her set... I introduced myself, and we sang one of the hardest country duets I know -- 'That's All It Took.' Emmy sang it like she was falling off a log." As the night ended, he assured her he wanted her to sing on his solo album, which his friend Keith Richards would produce.

Parsons went back to Los Angeles. The first thing he did was line up a manager: Eddie Tickner. Tickner had managed the Burritos, though his tenure began only a few months before Parsons got himself fired. Still, he had a reputation as an honest manager and was well-connected in the music business. Tickner checked up on the possibility of recording for Rolling Stones Records and soon concluded that it was unlikely to happen. He got Parsons an interview with Mo Ostin of Warner/Reprise Records, who had tried to sign the Burritos back in '68; soon Parsons had a contract with Reprise.

GP

Tickner's attorney also worked for one of Parsons's idols, Merle Haggard. Parsons stayed a few days at Haggard's Bakersfield home. After they got to know each other a bit, Haggard agreed to produce a Gram Parsons solo album. Almost immediately, problems arose: Haggard's wife left him. Later Parsons also spoke of their different styles of working. Whatever the reason, Haggard did not produce the album. Instead, Parsons hired Haggard's engineer, Hugh Davies, to serve in the same capacity for his album. As producer, Parsons brought in a friend from England, Rick Grech.

Almost a year after first meeting her, Parsons finally sent a plane ticket to Emmylou Harris. He likewise sent for his old pal Barry Tashian, leader of the Remains and another of the original Burritos. For the rest of his backing group, Parsons wanted Elvis Presley's band -- he had been a great fan of Elvis in his teens, and like many, rediscovered the King through his 1968 comeback special. Tickner got in touch with Glen D. Hardin, the keyboardist and music director of Presley's Las Vegas TCB Band. Hardin and the other Presley sidemen did sessions often, so Parsons was able to sign him up, along with drummer Ronnie Tutt, and guitar whiz James Burton. Parsons, Harris, Tashian and the three Presley musicians formed the core of the band on GP (Reprise, 1973), though several other musicians also appear, including post-Parsons Flying Burrito Brothers Al Perkins, Byron Berline and Alan Munde.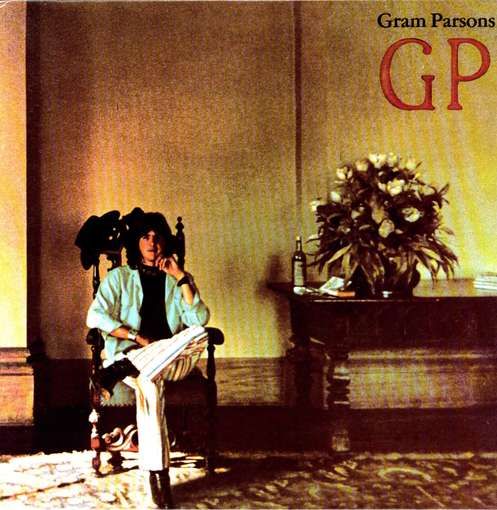 The sessions took place in September and October of 1972, and they went well, with Parsons on good behavior so as not to embarrass himself in front of Elvis's band. He had managed to hire such great musicians that they needed little guidance from him: Emmylou Harris mostly worked out her own harmonies by ear, and Hardin and the band arranged most of the tracks spontaneously. Rick Grech was put out of commission by a kidney stone on the first day of recording, so engineer Hugh Davies and Parsons did most of the production.

The album was a return to form for Parsons. Emmylou Harris's crystalline harmonies perfectly complemented the heartfelt but sometimes wobbly tenor of Parsons. The band found a sound that hearkened back to the late '50s, when artists like Elvis Presley, Buddy Holly, Johnny Cash and the Everly Brothers routinely crossed the border between country and rock and roll. Despite the quality of the album, the enthusiastic reviews from many critics, and the huge success of such Parsons-influenced acts as the Eagles and Poco in the two years since Burrito Deluxe (A&M, 1970), GP was a commercial failure. Two singles were released, "She" and "Cry One More Time," to indifference from both rock and country audiences.

Gram Parsons & The Fallen Angels 1972-1973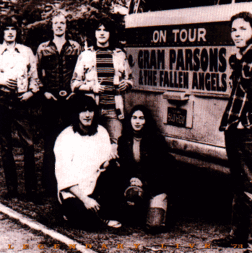 To promote his first album with Emmylou Harris, GP (Reprise, 1973), Gram Parsons assembled the group that came to be known as "The Fallen Angels." The Fallen Angels Tour didn't win many new fans, but it did become the stuff of legend among Parsons buffs. Parsons had to use a new band, since the Elvis Presley sidemen who played on the LP were too expensive for a tour. Barry Tashian declined to come along, but his old bandmate in the Remains, N.D. Smart, joined as drummer. (Jon Corneal filled in until Smart arrived from the East.) Emmylou Harris suggested her former accompanist, Gerry Mule, who became the tour's lead guitarist. Two Nashville session men filled out the roster: bassist Kyle Tullis and steel guitarist Neil Flanz. The rehearsals took place at Phil Kaufman's home and quickly degenerated into parties.

The band's retinue included Gretchen Parsons, self-styled "executive nanny" Kaufman, Kaufman's girlfriend Kathy Miles, and an ex-marine tour bus driver known as "Leadfoot Lance." The final member in the cast of characters joined at the farewell bash: Michael Martin, boyfriend of Kaufman's friend Dale McElroy, decided on the spur of the moment to hop on the tour bus. He became Parsons's valet and, in short order, a close friend.

The first stop was Boulder, Colorado, where the Angels were booked for three-night-stand. On the first night, a wasted Parsons led his unprepared band through a ramshackle set. Richie Furay, an old friend of Parsons, sat in the audience, dismayed by the band's unprofessionalism. No less concerned was Emmylou Harris. When manager Eddie Tickner got wind of the show, he threatened to abort the whole tour. Parsons swore he'd make some changes. He agreed to lay off drugs for the duration of the tour (at least during showtime) and rehearsed the band.

Things improved steadily as the tour progressed. The Fallen Angels played to 2,000 in Austin's premier club. The band had worked out careful arrangements for about a dozen tunes by then, and according to Emmylou Harris, they "completely blew the roof off the top of the Armadillo World Headquarters." During a four-night-stand in Houston, the Angels attracted a growing crowd of hardcore fans who called themselves "The Sin City Boys." To their delight, Parsons, Harris and guest Linda Ronstadt did an impromptu version of the song at the third show. On the last night, Rondstadt and Neil Young joined the band on stage.

The Chicago Tribune lauded the Fallen Angels' next show at the Quiet Knight. After a show at the Smiling Dog in Cleveland, the group continued east to New York. There they played to a full house at Max's Kansas City, since the late '60s a locus of New York's underground community.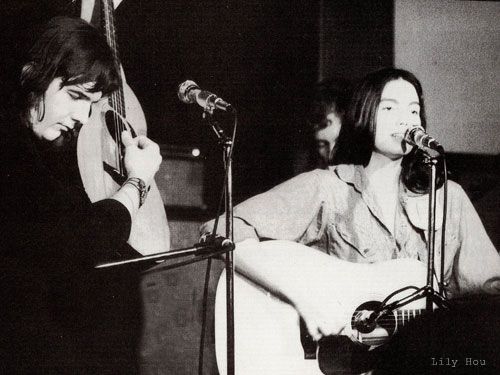 Above: At Max's Kansas City


The Fallen Angels played several more gigs at the Bijou in Philadelphia and Oliver's in Boston. By the end of the tour, the band was together, but Gram and Gretchen Parsons had grown farther apart. She was jealous of Emmylou Harris, though Harris and those on the tour insist that her relationship with Parsons was platonic, or at least, not physical. Gretchen was also upset about her husband's drug intake, and using various substances herself. The two fought constantly. Phil Kaufman, whom she disliked, sent her back to LA before the end of the tour. The band's last "performance" was an appearance on a dance party TV show, and on that lip-synched note, the Fallen Angels tour came to an end. Sales of GP showed no increase.

Emmylou Harris, whose own intake was limited to the occasional margarita, is probably the best situated to deliver the last word on the tour:

"We set out to play country music and some rock & roll in the better hippie honky tonks of the nation (some didn't know they were honky tonks till Gram brought it to their attention).... The crowds were there. The rooms were small, but the energy generated was of a special intensity. It may not have been as audible in Chicago as it was in Austin, but it was always there. And they came to see this young man and to hear the voice that would break and crack but rise pure and beautiful and full with sweetness and pain. That tour didn't exactly break any box office records, but there are people who will remember..."

(DITHOT note: Below is rare footage of Gram and Emmylou together on this part of the tour. They were recorded in Texas but I don't know if it was Austin or Houston.)


[youtube]6koAGZYyL_w[/youtube]


[youtube]yjsL1OTHv7U[/youtube]

Farther Along

After the Fallen Angels Tour, Gram and Gretchen Parsons vacationed with Bob and Bonnie Parsons on a sailboat in the West Indies in the hope of patching up their shaky marriage. Bob Parsons, who died of alcohol-related illness a few months later and perhaps hoped to clear his conscience, dropped a bombshell on his stepson: he admitted that while Avis Parsons was hospitalized because of her drinking problem, he smuggled little bottles of airline vodka into her room. He admitted mixing her one last martini, which apparently contributed to her death immediately thereafter. Gretchen Parsons later claimed that her husband was "never the same, ever," after hearing his stepfather's confession. Soon after, Gram Parsons began having strange seizures, which his wife attributed to this trauma. Sometimes his speech slowed; other times he passed out. He spent several days at a hospital in Burbank after one episode, after which he seemed to improve.

In June of '73, he and Emmylou Harris reunited for a country rock road show organized by Warner Bros. During the course of this tour, Parsons renewed his friendship with Clarence White, whom he had known at least since the recording of Sweetheart in 1968. But on July 14, after a gig with the Colonels in southern California, Clarence White was struck and killed by a drunk driver as he was loading equipment into his car.

The funeral was held on July 19, 1973 at a Catholic church in Palmdale, California. Parsons, drunk and extremely distraught, didn't enter the church for the official services, but waited outside and rejoined the mourners as they headed out to the gravesite. After the priest performed the burial rites, he and Bernie Leadon began to sing "Farther Along." Soon many of the mourners joined in on the country gospel standard, which both the Byrds and the Flying Burrito Brothers had recorded. Clarence White's standout track on the last Byrds album became his own epitaph. Roland White expressed his thanks to Leadon and Parsons for the farewell hymn.

Those present at the funeral described Parsons as being very depressed. According to Chris Ethridge, Parsons told Phil Kaufman, "Phil, if this happens to me, I don't want them doing this to me. You can take me out to the desert and burn me. I want to go out in a cloud of smoke."*

Parsons almost went out in a cloud of smoke only a few days later, when his Laurel Canyon home burned down. He and Gretchen escaped with only mild smoke inhalation. They lived with her parents for a while, but soon after they separated. Parsons moved in with Phil Kaufman, where he lived while sessions began on his second album for Reprise.

Grievous Angel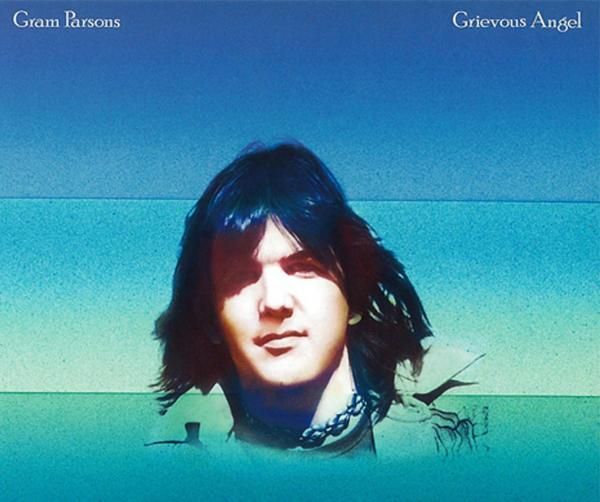 The line-up for Grievous Angel (Reprise, 1974) was similar to the previous album's: Parsons and Harris on vocals, backed by the Presley sidemen. Rounding out the roster were old friends Bernie Leadon, Byron Berline and N.D. Smart, and new friend Linda Rondstadt. Engineer and de facto producer was once again Hugh Davies. Despite the dearth of new material, Grievous Angel (Reprise, 1974) was even better than its predecessor. The singing and playing were more confident. The uptempo songs provided a break from the balladry this time out, and the "live" medley (recorded in the studio with friends adding crowd noise) succeeded in catching some of the excitement of the Fallen Angels' better nights.

Even the outtakes were great. Three of these were issued on Sleepless Nights (A&M, 1976). "The Angels Rejoiced Last Night" was a beautiful ballad by the Louvin Brothers; "Brand New Heartache" and "Sleepless Nights" were another pair of Everly Brothers songs penned by Felice and Boudleaux Bryant.

[youtube]svtq-BQ78ZQ[/youtube]


Parsons told his sister that the new album was "a lot more like what I wanted to accomplish." All parties involved were pleased with the outcome. This time out, Parsons planned for a real tour to promote the album. It would begin in October. He also had his attorney draw up divorce papers to serve on Gretchen. Elated with all he had accomplished and edgy about initiating the divorce, Parsons decided to take a vacation at one of his favorite spots: Joshua Tree Memorial Park.

The Strange Death of Gram Parsons 1973

Since the events of that day are the subject of so many myths, mistakes, and mysteries, better to describe frankly those events (as best as they can ever be known now) than to have people believing the even wilder gossip they pick up on the street.

Joshua Tree




Anita Pallenberg, Keith Richards and Gram Parsons on an earlier trip to Joshua Tree © Michael Cooper


Gram Parsons had been hanging out at the Joshua Tree National Monument for several years -- he went there regularly, with Chris Hillman when they were bandmates, and later with Keith Richards, to get high, commune with the cactus, and watch the sky for UFOs. He reserved two rooms at the nearby Joshua Tree Inn, a modest cinder-block motel whose owners had come to know Parsons after several visits. Along with Parsons on this trip were his "valet" and chum, Michael Martin; Martin's girlfriend Dale McElroy (no fan of Gram Parsons); and an old friend from his high school days in Florida named Margaret Fisher.

The events of that trip have been recounted by Dale McElroy, who told her story to Ben Fong-Torres when he was writing Hickory Wind, then retold it in her own words in Phil Kaufman's 1993 bio. Other accounts differ, but hers seems the most reliable.

The foursome arrived Monday, September 17, 1973. That day they indulged sufficiently that Martin returned to Los Angeles the next morning to score more marijuana -- even though Martin theoretically went along on the trip so he could look after Parsons. Parsons dragged the women out to the airport for lunch, throughout which he drank Jack Daniels non-stop. When they returned from lunch, McElroy excused herself -- she couldn't drink because she was recovering from hepatitis, and she wasn't having any fun watching Parsons drink.

Meanwhile, Parsons scored some heroin in town and then topped it off with morphine he acquired from a drug connection, who was staying at the Inn. Several hours later, a wasted Fisher showed up at McElroy's door in a frantic state. Parsons had overdosed, she said. They grabbed some ice and went to Room 1, where he was passed out on the floor, blue. There Fisher revived him with an ice cube suppository -- an old street remedy for overdoses. When McElroy left the two alone again, he was walking around the room, seemingly recovered.

After another hour or so, at about 10:00, Fisher returned to McElroy's room and asked her to sit with the sleeping Parsons while she went out to get some dinner. McElroy grabbed a book and went to Parsons's room -- Room 8. After a few minutes, she realized that his breathing had gone from normal to labored. McElroy had no experience with drug overdoses and no training in CPR. Believing (incorrectly) that there were no other people in the hotel, she never called out for help. Instead she tried to get him breathing again by pumping his back and his chest and giving him mouth-to-mouth. "I tried to figure out whether to stay and keep him breathing or leave and get some help.... I figured if I left, he might die."

After about a half hour of futile pumping and pushing, McElroy realized that Parsons was probably beyond help. At this point Margaret Fisher returned, then left to call an ambulance. The rescue crew arrived quickly, but concluded that CPR would not be successful. They got Parsons to the nearby Hi-Desert Memorial Hospital in Yucca Valley by 12:15 AM. The doctors there found no pulse and, after trying unsuccessfully to restart his heart, declared him dead at 12:30 AM, Wednesday, September 19, 1973.

The press were told that Parsons had died of natural causes, but after performing an autopsy, the coroner listed the cause of death as "drug toxicity, days, due to multiple drug use, weeks."* A blood test showed a blood alcohol level of 0.21% -- high, but nowhere near fatal standing alone. No morphine showed in the blood test, though it did turn up in more than trace amounts in urine and liver tests. The urinalysis also revealed traces of cocaine and barbiturates. Since substances may accumulate in the body over a long time, it's unclear from the urine and liver tests whether Parsons used morphine, cocaine or barbiturates that day.

Fisher and McElroy were questioned by the police at the hospital. McElroy called Phil Kaufman in Los Angeles, who persuaded the sheriff that he could answer all their questions as soon as he arrived. The sheriff then permitted Fisher and McElroy to stay at the motel until Kaufman arrived. When Kaufman got to the hotel, the women gave him Parsons's drugs, which they had gathered up before the ambulance and police arrived.* Kaufman took the drugs and hid them in the desert, then called the police station. He promised the police he would bring McElroy and Fisher in for further questioning, then piled them in his car and drove them straight back to LA, where he hid them out for a few days. The Joshua Tree police never sought out the two women.

Both Margaret Fisher and Alan Barbary, the son of the hotel owners, told conflicting versions of that night's events, which added to the confusion and exaggeration that soon surrounded the death of Gram Parsons.

Safe at Home

When the news of his stepson's death reached Bob Parsons, he immediately realized that his own interests would be best served by having the body buried in Louisiana, where the senior Parsons lived. Parsons knew that under Louisiana's Napoleonic code, his adopted son's estate would pass in its entirety to the nearest living male -- Bob Parsons -- notwithstanding any will provisions to the contrary. But the code would only apply if Bob Parsons could prove that Gram Parsons had been a resident of Louisiana. Burying the younger Parsons in New Orleans would bolster the tenuous arguments for Louisiana residency. Bob Parsons booked a flight to LA to claim the body. At stake was his stepson's share of the dwindling but still substantial Snively fortune.

When Phil Kaufman learned of the plan to bury his friend in New Orleans, he became distraught. He knew that Parsons had no connection whatsoever to that city. He knew that Parsons had little use for his stepfather, and would not have wanted any of his estate to pass to him. He knew that Parsons had not wanted a long, depressing, religious service with family and friends. Most of all he knew he had made a pact with Parsons, at the funeral of Clarence White: whoever died first, "the survivor would take the other guy's body out to Joshua Tree, have a few drinks and burn it."

After a day of vodka-enhanced self-recriminations, Kaufman decided he had to try to make good on his promise. Thus began one of the most unforgettable episodes of what hackers call "social engineering." For the full story, check out Kaufman's biography, Road Mangler Deluxe, which describes the whole episode in Kaufman's own inimitable fashion. What follows is only a taste of Kaufman's tale.

Kaufman called the funeral parlor in the town of Joshua Tree and managed to learn that the body would be driven to LAX and then flown on Continental to New Orleans. He called the airline's mortuary service and found out that the body would arrive that evening. Kaufman recruited Michael Martin, who knew about the pact, and commandeered a hearse of Dale McElroy's, which she and Martin used for camping trips. It had no license plates and several broken windows, but it would do. They tried on suits, but decided they looked so ridiculous that they changed into their tour clothes -- Levi's, cowboy boots, cowboy hats, and jackets with the legend "Sin City" stitched on the back. They loaded the hearse up with beer and Jack Daniels and headed for LAX.

Kaufman and Martin arrived at the loading dock just as a flatbed truck rolled up with the Parsons casket. A drunken Kaufman somehow persuaded an airline employee that the Parsons family had changed its plans and wanted to ship the body privately on a chartered flight.

While Kaufman was in the hangar office, signing the paperwork with a phony name, a policeman pulled up, blocking the hangar door. Kaufman was sure his operation would be shut down, but the officer didn't do anything -- he just sat there. So Kaufman walked out to him, waved his copies of the paperwork, and said, "Hey, can you move that car?" The officer apologized, moved the car, and then, remarkably, helped Kaufman load the casket onto a gurney and into the back of the unlicensed, liquor-filled hearse.

Martin, also liquor-filled, got in the hearse and headed out of the hangar, only to run into the wall on his way out. The officer observed all this, and commented ruefully, "I wouldn't want to be in your shoes now." Then he left, and the two drunk bodysnatchers departed the airport with the body of their friend. They stopped at a gas station and filled a gas can with high test ("I didn't want him to ping," Kaufman says.) Then they headed back for Joshua Tree.

They reached the Monument and drove until they were too drunk to drive any farther. There, near the Cap Rock, a landmark geological formation, they unloaded their friend's coffin. Then Kaufman saw car lights in the distance and concluded the police were coming. He quickly doused his friend with fuel and lit him. The two watched as a giant fireball rose from the coffin, sucking his ashes into the desert night. Then they abandoned the charred remains and headed for LA.

After a trip home filled with close calls, Kaufman and Martin laid low. The morning after their return, the papers were full of the story of the rock star's hijacked and burnt corpse, playing up baseless speculation by local police that the amateur cremation may have been "ritualistic."

Kaufman knew the police were looking for him, so after a few weeks, he and Martin just turned themselves in. They appeared in West L.A. Municipal Court on Parsons's 27th birthday -- November 5, 1973. Since a corpse has no intrinsic value, the two were charged with misdemeanor theft for stealing the coffin and given a slap on the wrist: $708 in damages for the coffin, and a $300 fine for each of the bodysnatchers. Kaufman has surely made that amount back just dining out on the story -- his misadventures have been legendary in rock and country music circles ever since.

The aftermath of the court's sentence was as unlikely as the events leading up to it. Kaufman threw himself a party to raise the fine money -- Kaufman's Koffin Kaper Koncert. They pasted beer bottles with some homemade labels featuring a bad likeness of Parsons and the legend, "Gram Pilsner: A stiff drink for what ales you." Dr. Demento served as deejay, and live music was provided by Bobby "Boris" Pickett and the Crypt Kickers of "Monster Mash" fame and a young band being managed by Tickner and Kaufman at the time, Jonathan Richman and the Modern Lovers. Despite the gruesome streak running through the party, it was a memorable wake for their friend.

On the other side of the country, some other friends mourned Parsons in a somewhat quieter fashion. Emmylou Harris met with John Nuese, Bill Keith, and Holly and Barry Tashian for a quiet weekend at the Tashians' cottage in Connecticut, where they listened for the first time to finished versions of the sessions from Grievous Angel (Reprise, 1974).


We'll Sweep Out the Ashes in the Morning

Gram Parsons left more than his share of loose ends.

Bob Parsons had the charred remains of his stepson shipped to New Orleans, where, after a small service with family only, he was buried in The Garden of Memories, an unimpressive cemetery on a highway near the airport. A bronze plaque marks the gravesite; it reads "God's Own Singer." Although Bob Parsons succeeded in getting the body to Louisiana, his scheme to seize control of the Snively fortune was nevertheless thwarted by a Florida court. About a year later, Bob Parsons died of an alcohol-related illness. He never made a dime off of Gram Parsons.

When Parsons left for Joshua Tree, he believed he had initiated divorce proceedings against Gretchen. As it turned out, this was not the case. Kaufman had the papers to serve on her but hadn't yet done so by the time Parsons died. Along with Gretchen Parsons, his daughter Polly, his sister Avis, and his half-sister Diane all received some money from his estate as well.

Reprise finally released Grievous Angel (Reprise, 1974) in January of 1974 to rave reviews. Yet, despite the notoriety resulting from the death of Parsons, the LP peaked at a disappointing #195 on the album chart.

Despite his lack of commercial success, Gram Parsons acquired a small but fervent following. These fans paid for a plaque that was placed near the Cap Rock, with the words "Safe At Home."

You're Still On My Mind

Twenty-two years after the death of Gram Parsons, his music is still very much with us. His major releases, from Safe at Home (LHI, 1968) to Grievous Angel, are currently available in the States, at least on import, as are compilations such as Farther Along (A&M, 1988) and Out of the Blue (A&M UK, 1996). Cosmic American Music (Magnum America, 1995) featured rehearsal tapes for GP, while Live 1973 (Sierra, 1994) offered a live performance by the Fallen Angels.

Cosmic American Music also lives on in the music of others, from Emmylou Harris to Country Gazette to the Eagles, from Elvis Costello to Tom Petty to the Long Ryders, from the Mekons to the Jayhawks to Uncle Tupelo. Today there is an explosion of country-influenced rock, as chronicled in the magazine No Depression, among other places. It's clear now that Gram Parsons and his music will not be forgotten.

Know More About It

Nearly all of the Gram Parsons catalog is available through Sierra Records. Sierra is currently preparing for the release of a Gram Parsons CD called The Early Years, which will feature the tracks from the earlier Shilos release, plus nine solo tracks recorded in New York with Dick Weissman, and concluding with the four early single sides by International Submarine Band. Sierra also specializes in the work of Clarence White, Gene Clark, and Gene Parsons. Anyone interested in these artists should check out their website (temporarily offline as this is written but due back soon) at http://www.sierra-records.com" onclick="window.open(this.href);return false;" onclick="window.open(this.href);return false;. You can also write for the Sierra catalog at the following address:

Sierra Records
P.O. Box 5853
Pasadena, California 91117-0853

(DITHOT Note: The website is now online and the box set of Gram Parson's early work is for sale.)

[youtube]BtSw3CR1Xmo[/youtube]

Source: ebni.com