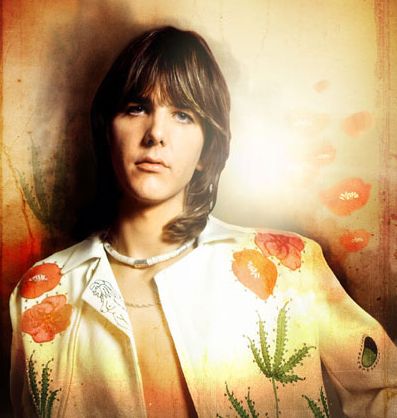 GRAM PARSONS



The Early Years: 1960-1965

The level of detail in this profile is possible only because of two fine books. Both are essential reading for anyone who wants to learn more about Gram Parsons; together these books cover his story in much more detail than is possible here. The first, by Ben Fong-Torres, is a thoroughly researched and crisply written biography called Hickory Wind: The Life and Times of Gram Parsons (New York: Pocket Books, 1991). The second is Gram Parsons: A Music Biography (Pasadena, CA: Sierra Books, 1994) (3d Edition) by Sid Griffin, a Parsons authority. Griffin is a musician who has played his own brand of Cosmic American Music with the Long Ryders and the Coal Porters. His book is a compendium of essays and interviews with key figures from the life of Gram Parsons, including John Nuese, Chris Hillman, and Emmylou Harris. As such, it is a perfect compliment to the Fong-Torres bio. Follow the links for each of the titles for further information on each of these books.

Gram Parsons had many gifts: his ground-breaking artistic vision, his infectious enthusiasm, and his undeniable musical talent. But his tragically short life was punctuated from the start by drink, drugs, and death. Parsons came from a family of wealthy Southerners with a weakness for alcohol and a history of mental instability. As Chris Hillman has observed, they could have come straight out of Tennessee Williams. Gram Parsons struggled with that legacy and lost. He didn't live to see how profoundly his music and ideas would influence both rock and country music.

The Connors of Waycross

Parsons was born Ingram Cecil Connor III in Waycross, Georgia on November 5, 1946. His mother Avis came from the prosperous Snively family, whose orange groves made them millions by the mid '50s, when Snively Groves was the largest shipper of fresh fruit in Florida. The Snivelys later owned an interest in Cypress Gardens, the popular tourist attraction built on part of the Snivelys' land in Winter Haven, Florida.

His father, Cecil "Coon Dog" Connor, Jr., was the son of a wealthy salesman from Columbia, Tennessee. During World War Two, Coon Dog Connor was a major in the Army Air Force and flew over fifty combat missions. By 1946 he was running a box-making factory in Waycross, Georgia, owned by his new in-laws, the Snivelys. The Connors lived in a comfortable home in the nicest section of town.

By age nine, Gram Connor was taking piano lessons and listening to country music. By 1956, early rock and roll had captured his interest. He was partial to Jerry Lee Lewis, Buddy Holly and Carl Perkins, but nobody made a greater impression on him than Elvis Presley. The nine-year-old fan saw Elvis perform in Waycross in February 1956, when he opened for Little Jimmie Dickens -- only weeks before "Heartbreak Hotel" made Presley a star. He got Elvis's autograph, and soon was lip-synching Elvis numbers on his front stoop for the neighborhood kids. Those young friends remember Gram Connor as smart, charismatic, and prone to spinning wild tales.

The next year Avis Connor sent her son to the Bolles School, a military prep school in Jacksonville, Florida. His stay was interrupted when his father killed himself with a .38 caliber bullet to the head in December of 1958. Coon Dog Connor had grown to feel trapped in his job with the Snively family business, and perhaps in his marriage as well. His son was seriously shaken; within a few months, he was kicked out of Bolles because of disciplinary problems.

He returned to Winter Haven, where his mother had married Robert Ellis Parsons, described by sources of Fong-Torres as a transparent fortune hunter.* Bob Parsons immediately adopted Gram Connor and his little sister Avis as his own children, which his wife's family regarded as part of an effort to get hold of the Snively fortune.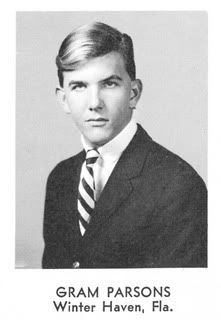 Gram Parsons, by 1959 a thirteen-year-old ladykiller, became more interested in music. Elvis's career was in eclipse, and Philadelphia pretty boys like Bobby Vee and Bobby Vinton dominated radio. Parsons had no use for the American Bandstand brigade; he still preferred the first-generation rockers and the R&B bands that toured the Southern frat-party circuit.

The Pacers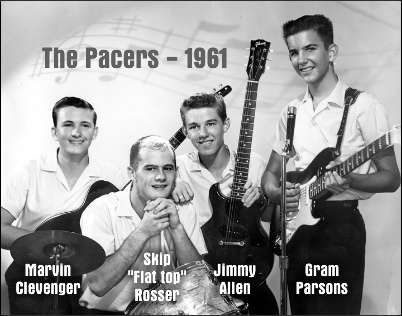 In 1960, the eighth-grade Parsons joined his first band, the Pacers. He was the lead singer; the others were older guys from Winter Haven High. The Pacers covered Elvis songs to the delight of the local high school girls. After a year with the clean-cut Pacers, Gram defected to a rival local band that had several promising musicians.

The Legends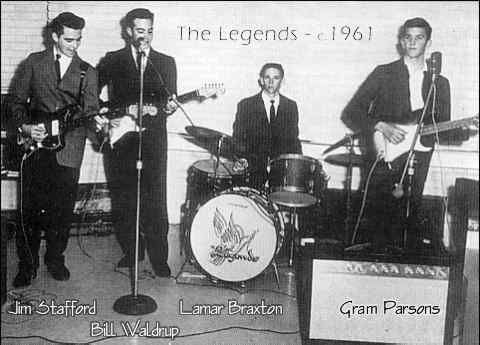 Parsons became the lead singer for the Legends, another rock and roll cover band. Other members included Jim Carlton on upright bass, Lamar Braxton on drums, and future hitmaker Jim Stafford on lead guitar. The Legends covered Ray Charles and Chuck Berry, Little Richard and the Everly Brothers, Duane Eddy and the Ventures. It was a loose aggregation; later members included Jon Corneal on drums, Jesse Chambers on guitar, and Kent LaVoie, who also achieved fame in the early '70s as Lobo. The Legends earned a decent living for a high school band, playing gigs in Winter Haven and around Florida. They even earned a regular slot on a local TV dance show.

By 1962, Parsons had involved himself in several musical side projects while still a member of the Legends. He sometimes sat in on keyboards with Kent LaVoie's full-time band, the Rumors. As the folk music boom filtered onto the charts, Parsons also started dabbling in that genre. Occasionally he would play solo gigs with an acoustic guitar. With Legends bassist Jim Carlton, he worked up a folk and comedy duo in the style of the Smothers Brothers. Next, Parsons put together the Village Vanguards, a folk trio patterned after Peter, Paul & Mary that featured Parsons, his girlfriend Patti Johnson, and his friend Dick McNeer. For the most part, the Vanguards played during intermissions at shows by the Legends.

Meanwhile, Avis Parsons had given birth to a daughter by her new husband, but before long Bob Parsons was spending an unseemly amount of time with their 18-year-old babysitter. Avis Parsons in turn became increasingly dependent on alcohol and on the pharmacopoeia she had accumulated with the help of a neighboring doctor. Gram Parsons began to sample from her medicine cabinet as well.

With music, girls and pills to distract him from his schoolwork, he failed his junior year at Winter Haven High. Patti Johnson's father prevented an attempted elopement with Parsons that summer, incidentally putting an end to the Vanguards. Family friends pulled strings, and in fall of 1963, Parsons returned to the Bolles School, now a college prep school with no military ties, to repeat his junior year. Without Parsons, the Legends dissolved.

The Shilos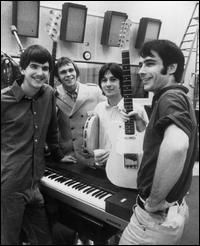 Greenville, South Carolina was the home of Buddy Freeman, an old family friend who began to manage Parsons. Freeman had no prior music experience but threw himself into the job with enthusiasm. As a result, the young singer developed a following in Greenville. In 1963, Parsons played a teen music show there on local television. An area deejay saw the program and asked Parsons to judge a talent contest and sing a couple numbers.

Before the show, Parsons met two-thirds of a singing trio from the area called the Shilos. They discovered a mutual appreciation for the Journeymen and ran through one of their songs backstage. The resulting harmony impressed them all. The next night Parsons chose the Shilos as the winners of the contest and the prize money, after which the group joined him onstage to perform. (Remarkably, none of the other contestants protested.)

Before long, the 17-year-old Gram Parsons was a member of the Shilos. The other members -- Paul Surratt, Joe Kelly, and George Wrigley -- were also in high school, but the addition of Parsons and the hustling of Freeman led to impressive success for the band. The Shilos played dances, coffee houses, colleges, and TV shows; in time they commanded several hundred dollars per performance.

In the summer of 1964, the Shilos spent a month a New York City. They played often at the small Café Rafio, but also performed at more prestigious venues like the Bitter End and Café Wha. They managed to ingratiate themselves with their idols the Journeymen, so much so that Dick Weissman and Parsons recorded some tracks together -- tracks which are now, sadly, lost. John Phillips even brought the Shilos to the office of Albert Grossman, Bob Dylan's manager. A Grossman underling was intrigued, but balked when he learned the Shilos were all too young to sign a contract.

The Shilos returned South. In March of 1965, they recorded nine tracks at the radio station of Bob Jones University, a Greenville religious college (which became famous in the '80s for refusing to integrate). These tracks surfaced many years later on Gram Parsons: The Early Years, Volume I (1963-1965) (Sierra, 1979). Among the songs were two by Journeyman Dick Weissman, and most interestingly, a version of Pete Seeger's "Bells of Rhymney" that predates the Byrds' version by several months.

The record shows a young group very much fixated on the sound of the Journeymen and the Kingston Trio. But by early 1965, that form of folk music was being drowned out by Beatlemania -- and soon it would be displaced by the folk rock of Dylan and the Byrds. Not surprisingly, the group's attempts to generate record company interest in the demo proved fruitless.

Parsons's high school graduation arrived in June of '65. That same morning he learned that his mother had died of alcohol poisoning after a period of hospitalization. Aside from her husband's conduct, Avis Parsons had other troubles: she had been embroiled in a bitter internecine legal struggle over her brother's management of the Snively businesses -- a struggle that helped cause the loss of the entire family fortune by 1974. These emotional strains worsened her substance abuse so much that her death was no surprise to the family.

Bob Parsons soon moved to Florida and married the family's babysitter, though she was only a few years older than the teenaged Gram. Despite considerable strain in their relations, Bob Parsons helped his step-son wangle a draft deferment (on the grounds that he was supposedly 4-F), and encouraged him to apply to Harvard.

"I did a back-dive into Harvard," Parsons said in a 1972 Warner/Reprise PR bio. "They were looking to break out of their traditional mold of choosing students, and I was way out of the traditional mold." His grades and test scores were unimpressive, so his own assessment seems plausible: "I guess they figured they had enough class presidents and maybe they needed a few beatniks." The young singer arrived in Cambridge in the fall of '65.

The International Submarine Band
1965-1967

Gram Parsons & the Like

Cambridge, Massachusetts had been a center of folk music activity throughout the late '50s and early '60s. Coffee house folkies, jug band outfits, bluegrass combos (including the Kentucky Colonels) and blues musicians played to enthusiastic and knowledgeable listeners, many of them students. That scene had peaked before Parsons arrived, though. The British Invasion had caught the ears of the public -- and of many of the musicians. The success of the Byrds the previous spring inspired several of these artists to plug in and head west.

Parsons wasted no time finding other musicians to play with. His first group was called the Like; its members were students at the Berklee School of Music and not a very good match for a folksinger like Parsons. Around the same time, he met John Nuese, a guitarist with a local group, the Trolls.

Nuese was a serious fan of country music, and his enthusiasm seems to have rekindled Parsons' interest in the country music he heard during his youth. Many people claim to have turned Parsons on to country music, but Nuese's claim seems justified, given the shift in Parsons's musical interests around this time. And Parsons confirmed his account in a 1972 bio for Warner Bros.: "...the guys in the ISB were important; they always had their ears open and they actually reintroduced me to country music after I'd forgotten about it for ten years." Gram Parsons and the Like played an eclectic combination of country, folk, early rock and R&B.

The International Submarine Band v. 1.0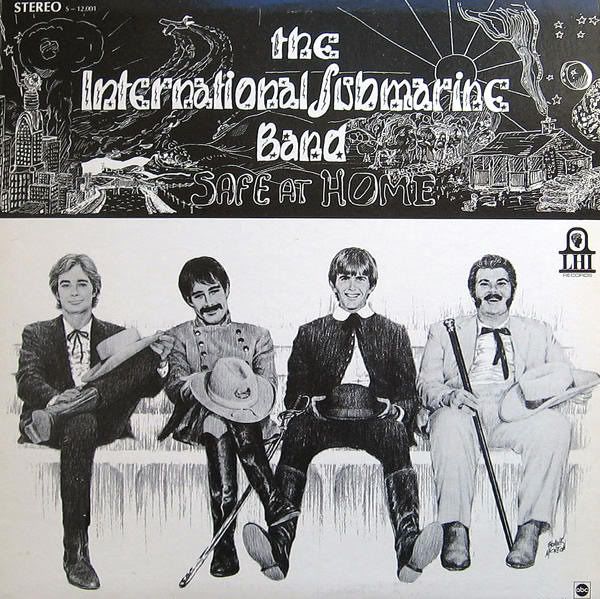 Around this time, Parsons befriended Brandon de Wilde, a former child film star who was looking to get into music. De Wilde had a surprisingly good voice -- indeed, Nuese later claimed that de Wilde sang harmony with Parsons better than anyone besides Emmylou Harris. De Wilde left Boston for New York to work on his music career. He quickly lined up a recording session and asked the band to come down to New York and back him on the session.

When they arrived, they decided their odds looked better in New York and decided to stick around. Parsons dropped out of Harvard after four months, having spent most of his energy on music and LSD instead of school. Snow was out of the picture, but the others rented a house in the Bronx with money from the Parsons trust fund, and renamed themselves the International Submarine Band. The name came from an old Our Gang comedy in which the kids auditioned for a radio program and called themselves "The International Silver String Submarine Band." Inspired by the genre-bending efforts of Ray Charles and Buck Owens, the ISB explored country, rock, and R&B.

The band played out, toured a bit, and shopped its demos. In April of '66, they landed a job that resulted in their first single, a cheesy instrumental called "The Russians Are Coming, The Russians Are Coming." The song was composed by Johnny Mandel for the Norman Jewison farce of the same name. The B-side was more in character -- a rocking version of a Buck Owens song called "Truck Driving Man." The single came out on the small label Ascot and promptly disappeared.

[youtube]Dibszk9csTs[/youtube]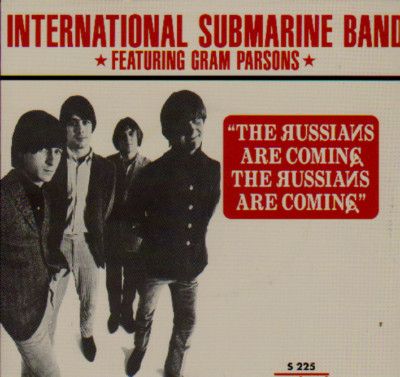 A few months later, Columbia agreed to release a second single. This time, the result was more promising. "Sum Up Broke," the A-side, was a rocker with words by Parsons and music by Nuese. The flip, "One Day Week," was a more countrified number by Parsons. The band's luck was no better with the Columbia single.


In November of '66, Parsons took a trip to Los Angeles to visit Brandon de Wilde, who was working on a film there. Through de Wilde, Parsons met a beautiful young woman named Nancy Ross who was living with David Crosby -- until Parsons swept her off her feet and back to New York.

Upon his return to the Bronx, Parsons immediately began to advocate that the band head out to LA. They didn't need much persuading -- the consensus was they had exhausted their opportunities in New York City. LA had a thriving rock music scene -- the Beach Boys, the Byrds, Buffalo Springfield, the Turtles, Love, the Doors, and so on. But California was the home to a fertile country music industry as well, thanks to the steady influx of Southerners and Dust Bowl refugees since the Depression. Bakersfield in particular had become a recording center for those who liked their country music grittier than the candyfloss then dominant in Nashville -- artists like Buck Owens and Merle Haggard. Parsons found a house for the band in Laurel Canyon, and an apartment for himself and Nancy Ross on Sweetzer Avenue.

Through de Wilde the band met Peter Fonda, who took a liking to Parsons. Fonda got the band a job on a psychedelics-ploitation film he was making for Roger Corman called The Trip. The Submarine Band appears in the film, performing in a nightclub. In connection with the film, the band went into the studio, with South African trumpeter Hugh Masekela producing, and recorded a Chuck Berry-styled rocker called "Lazy Days."

Unfortunately for the band, someone in charge decided (with some justification) that the ISB's music wasn't particularly lysergic, so "Lazy Days" was never released, and the nightclub scene was overdubbed with the music of the Electric Flag.

The Sub Band played out on occasion, but not often enough for some of the members. To compound their frustration, Parsons had taken to playing at honky-tonks around LA, sometimes solo and sometimes as a duo with his friend Bob Buchanan. These disagreements came to a head in May '67 when Parsons announced that he wanted the band to cut back on the rock and R&B and concentrate more on country. Country fan Nuese agreed with this agenda and stuck with Parsons, but bassist Ian Dunlop and drummer Mickey Gauvin took the opportunity to form their own band.

Dunlop and Gauvin had been hanging out with Barry Tashian and Billy Briggs of the Remains , who had followed the Sub Band west. This foursome and an amorphous line-up of musical friends and sympathizers performed country, rock and soul around Los Angeles under the name the Flying Burrito Brothers. The original Burritos deliberately eschewed the music industry -- they didn't want to get signed, they didn't want to have hits, they just wanted to play the music they liked. The ISB split was fairly amicable; Parsons actually played with the Burritos during their first gig and occasionally thereafter.

The International Submarine Band v. 2.0

Ironically, the fission of the Sub Band occurred just days before their big break. The band's manager had invited a friend over to watch rehearsals. The friend was a would-be record producer named Suzi Jane Hokom, the girlfriend of impresario Lee Hazlewood and an employee of his record company, LHI Records. Within days, the International Submarine Band -- now just Parsons and Nuese -- had an album contract with LHI.

The pair needed to get a band together to record the album. Parsons contacted one of his old drummers from the Legends, Jon Corneal. Corneal had been making a good living as a session drummer in Nashville, but he agreed to come west and join the ISB. Session musicians were hired to augment this threesome.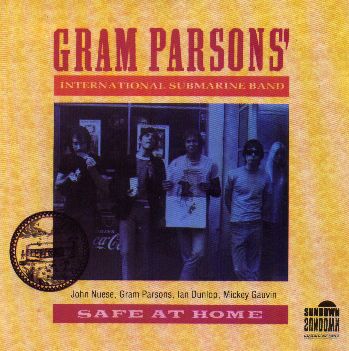 The band's album, Safe at Home (LHI, 1968), was recorded in November '67. (Some sources also say that Glen Campbell sang backing vocals as well.) Another pair of Parsons originals were recorded, "Do You Know How It Feels To Be Lonesome" and "Strong Boy," along with six covers that showed where the band's influences were (among them the standard "Satisfied Mind," which had been covered by the Byrds on Turn! Turn! Turn!). The album was finished in December of '67, but it sat in the can during several months of legal wrangling caused by the next career move of Gram Parsons

[youtube]-Xnp20QcH0s[/youtube]


The Byrds: 1968 The Byrds v. 4.0


[youtube]7lIln1ueAzw[/youtube]


At the beginning of 1968, the Byrds were down to two members: Roger McGuinn and Chris Hillman. The recording of Notorious Byrd Brothers in late 1967 had been harrowing. David Crosby had been sacked during recording, and drummer Michael Clarke had been fired just after the sessions ended. The two brought in Hillman's cousin Kevin Kelley as drummer and toured the college circuit as a trio. Before long they realized they could not get the Byrdsy sound they wanted without a fourth member.

At this point, Parsons and the Byrds shared the same manager, Larry Spector, whom both had met through Peter Fonda. Hillman was aware of Parsons, the International Submarine Band, and the original Flying Burrito Brothers (who inspired the title "Notorious Byrd Brothers." An encounter between Hillman and Parsons at a local bank resulted in an invitation to try out for the Byrds.

McGuinn's vision of the next Byrds LP was a double album spanning the history of American music, starting with old time string band music, through country, bluegrass, rock and jazz rock and ending with the synthesized "space music" McGuinn saw as the future of rock. McGuinn has said many times that he was looking for a keyboardist that could handle some jazz, and that Parsons faked his way through a few bluesy piano riffs. Hillman recalls only that the band needed a tenor voice who could play rhythm guitar. In any event, it's safe to say that when they hired Parsons in late February of '68, neither McGuinn nor Hillman knew just how radically it would alter the band's musical direction.

[youtube]_ofYCG_OR0k[/youtube]

Fom the Gandulf Hennig film FALLEN ANGEL


That's exactly what happened, though, when Hillman and Parsons began to explore their mutual and abiding love for country music. Before long, even McGuinn was swept up in their enthusiasm. The result was a week of recording in Nashville, an appearance on the Grand Ole Opry, and ultimately (after Columbia nixed the double album) a single album of country rock utterly different than anything the Byrds had ever released before:

Sweetheart of the Rodeo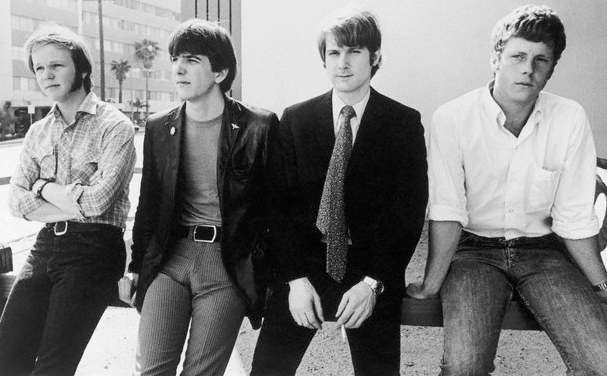 Sweetheart of The Rodeo lineup: Kelley, Parsons, McGuinn, & Hillman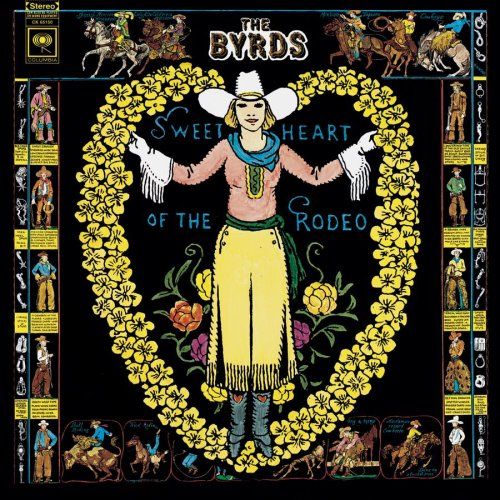 The role of Gram Parsons in the Byrds, was, for better and for worse, troublemaker. He and his co-conspirator Chris Hillman very nearly hijacked a top-rank rock band and bent it to their own artistic ends. This sort of troublemaking resulted in a great album, on which the band integrated hardcore country and even a touch of soul music into their sound. But Parsons stirred up other trouble as well -- agitating for a full-time steel player, pushing for a higher salary, and even, at one point, requesting individual billing. He caused so much trouble of this kind that even Hillman was aggravated with him by summer, although at one point he and Parsons had apparently considered either ousting McGuinn from the group or starting their own new band together.

Unfortunately, Parsons also brought the Byrds legal troubles. Lee Hazlewood was not happy with Parsons for abandoning the International Submarine Band even before the release of their album. He informed CBS that Parsons was under contract to LHI. Before the legal dispute was settled, several of Parsons's lead vocals were rerecorded by McGuinn. As part of the settlement, Hazlewood retained all rights to the Sub Band's name and music. Between the departure of Parsons and the loss of their name, the rump Sub Band had little choice but to disband, only weeks before the long-delayed release of their LP in April of '68.

During the band's European tour in May '68, in London, Mick Jagger and Keith Richards, who knew McGuinn and Hillman from earlier tours together, entertained the band. Parsons was quite taken with their hosts, and privately spoke to them about the tour of South Africa scheduled for July. In July, the Byrds returned to England for a charity concert at the Royal Albert Hall, after which they were to leave for South Africa. The night before their departure, Parsons announced he would not be going along because of South Africa's racial policies. In response, McGuinn and Hillman fired him from the band.

None of his friends or associates believed that anti-apartheid sentiment was the real reason Parsons quit, perhaps because of his history of stretching the truth. Hillman, who was furious with Parsons for leaving the band in such a jam, believed that he just wanted to hang out with the Rolling Stones. Byrds roadie Carlos Bernal, who subbed for Parsons on the South African tour, thought that Parsons quit the band because "he couldn't have things just exactly how he wanted them.... He wanted a steel guitar to do a lot of his tunes. He wanted a lot of things the band wasn't prepared to jump into overnight."

The most charitable theory was that this was an early manifestation of his fear of flying, triggered by the thought of the long flight from London to Johannesburg via the Canary Islands. Hillman also thinks this may have been a contributing factor. In any event, Parsons retreated to Redlands, the country estate of Keith Richards. There the two got to know each other, while Parsons enthused to Richards and Jagger about his favorite country records.

After the Byrds

Back home, Nancy Ross had recently given birth to a daughter, Polly Parsons. Parsons had planned a large wedding -- a Hank Williams-style media event -- and commissioned a $1,000 wedding dress from Nudie's Rodeo Tailors. Despite, or perhaps because of, the birth of their child, Parsons and Ross had drifted apart. The dress was never used, though it was immortalized years later in the Parsons song "$1,000 Wedding."

In the late summer of '68, Richards and Parsons rejoined Jagger in Los Angeles, where the Rolling Stones were mixing Beggars' Banquet (Abkco, 1968). Jagger had hired a charismatic ex-con named Phil Kaufman to be his "executive nanny." Kaufman, who would become a close friend of Parsons before long, remembers him giving "country music lessons" to the curious Stones during their '68 visit:

"Gram was teaching the Rolling Stones country music.... Quite often we'd just sit around the house -- Gram, Mick, Keith and I. They had been to Ace Records and bought every country album they could find: George Jones, Merle Haggard, Dave Dudley, Ernest Tubb -- you name it. Gram would say, 'Here is an example of this,' and he'd tell me which record he wanted and I'd play the record. They'd listen to it, tap their toes to it, listen to the chords and then Gram had me play George Jones, etc... That was what Gram was doing. I recorded Gram and Keith singing together, but sadly those tapes are long gone."

Before long, Richards and Jagger returned home, and Parsons went back to organizing the long-haired country band he had been planning.

THE FLYING BURRITO BROTHERS
1967 - 1969

The history of the Flying Burrito Brothers is long and checkered. The definitive line-up began with two ex-Byrds, Gram Parsons and Chris Hillman, and soon added a third, Michael Clarke. Both Gene Clark and David Crosby guested on recordings by the Burritos. Gene Parsons and Skip Battin would play with subsequent incarnations of the group. Indeed, the band went through a ridiculous number of iterations over the years, many of which had only the most tenuous of connections to the definitive Parsons-Hillman line-up. Ironically, even Gram Parsons had a fairly flimsy claim on the name when he took it over from a group of his former bandmates in 1968.

The Flying Burrito Brothers v. 1.0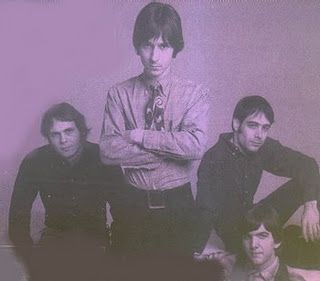 With John Nuese (guitar), Ian Dunlop (bass) and Mickey Gauvin (drums)

The first version of the Burritos formed after bassist Ian Dunlop and drummer Mickey Gauvin left the International Submarine Band in spring of 1967. Dunlop and Gauvin began playing their blend of styles at clubs around LA with a shifting group of musicians as the Flying Burrito Brothers. (Dunlop came up with the name.) Other original Burritos include guitarist and vocalist Barry Tashian and keyboardist Billy Briggs, late of Boston's legendary group, the Remains; horn player Junior Markham and saxman Bobby Keys (who played with Leon Russell and later backed Delaney & Bonnie, Joe Cocker, and the Rolling Stones). Parsons actually played at their debut gig, and from time to time thereafter. The roster was flexible, featuring any number of friends and fellow-travelers, including Russell and Jesse Ed Davis. The original Burritos deliberately eschewed the music industry -- they didn't want to get signed, they didn't want to have hits, they just wanted to play the music they liked. In fact, when they were recognized by fans on the streets of LA in mid-'68, they concluded that they were becoming too well-known and moved the core of the band to New York City. They continued to play under the Burrito name out East, even after Parsons adopted the name for his new group

The Flying Burrito Brothers v. 2.0 and 2.1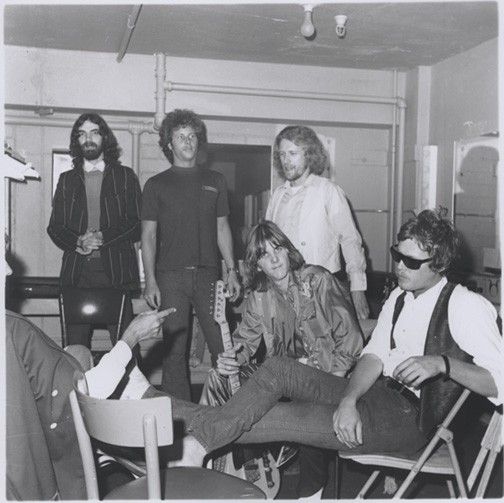 The Flying Burrito Brothers backstage at the Avalon Ballroom (San Francisco) April 6, 1969
Gram Parsons - vocals, guitar, organ, Chris Hillman - vocals, guitar, mandolin, Sneaky Pete Kleinow - pedal steel guitar, Chris Etheridge - bass, Michael Clarke - drums


[youtube]oEVLqvzHLOw[/youtube]


During the brief tenure of Gram Parsons in the Byrds, he and Chris Hillman discussed forming a band that would play country music with a rock 'n' roll attitude. They even recorded a few sessions with Clarence White, Gene Parsons, and Gib Guilbeau in what Gene Parsons called a "prototype Burrito Brothers."* Before any decision could be made, Parsons had quit the band and become persona non grata with Hillman. "I was ready to murder him," said Hillman. Meanwhile, White and Gene Parsons had become Byrds.

Once Hillman quit the Byrds, Parsons, back from London, looked him up. Before long they had reconciled their differences, and revived their plans to form a country band. Parsons had already lined up a bassist in Chris Ethridge, who had been in the second version of the International Submarine Band and played on the LP. They called Clarence White and Gene Parsons to offer them jobs, but both decided they liked their odds better with the Byrds. Instead, they brought in Sneaky Pete Kleinow on steel guitar. Kleinow was a known quantity: he had played steel behind the Sweetheart Byrds at a few live gigs in early '68. The band went without a regular drummer.

They decided to borrow the name of Ian Dunlop's band, by this time relocated to New York: the Flying Burrito Brothers. Parsons and Hillman got a house in the San Fernando Valley and dubbed it "Burrito Manor." In 1985, Hillman recalled it as a fruitful period for the two:

"To this day the most productive time I've ever had, including all the bands I was ever in, the most productive time was living with [Parsons] in Reseda in 1968 when I was getting a divorce and so was he and we shared a house and we were putting the Burritos together then. We didn't have a drummer, we had Chris Ethridge and Sneaky Pete. We woke up in the morning and we would write every morning.... It was a great time. To this day I've never peaked like that working with other people."

The two wrote some of the most memorable tunes of both their careers during this period, including "Christine's Tune (Devil in Disguise)," "Wheels," "Juanita," and "Sin City," Hillman's jab at Byrds manager Larry Spector. Parsons also fleshed out a pair of Ethridge's melodies into "Hot Burrito #1" (aka "I'm Your Toy") and "Hot Burrito #2." The Burritos quickly landed a recording contract with A&M and by the end of 1968 were at work on their first album, The Gilded Palace of Sin (A&M, 1969). All the above songs, plus a couple of soul covers, "Dark End of the Street" and "Do Right Woman" (featuring an uncredited David Crosby on high harmony), and a Parsons number from the Submarine Band days, "Do You Know How It Feels," were recorded in late 1968. ISB drummer Jon Corneal played on half the songs and three different session drummers handled the rest.

[youtube]BITiY8M_oDo[/youtube]


Ever conscious of appearances, Parsons took the group to Nudie's Rodeo Tailors for some flashy sequined suits of the type some country musicians favored -- of course, no other country musician had a Nudie suit embroidered with the marijuana leaves, pills and naked ladies that festooned Parsons's jacket. The band were captured in their new cosmic country duds on the cover of the first album, shot in the Mojave Desert. Gilded Palace was released in early '69 to critical acclaim and indifference from the public. The LP wheezed up to #164 on the US chart.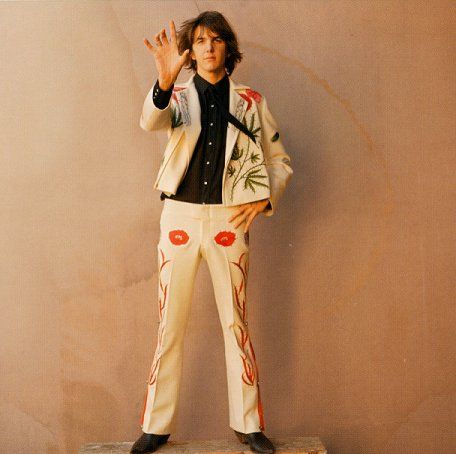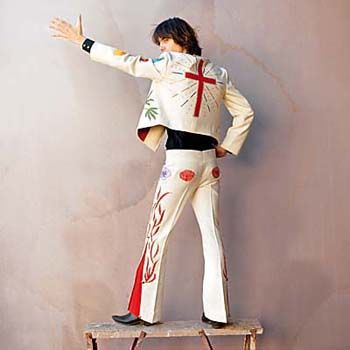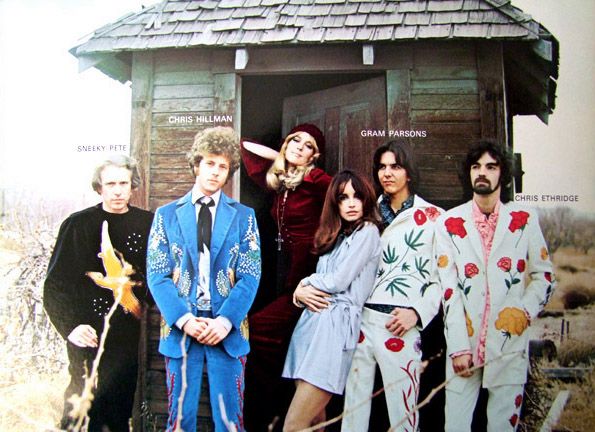 1969 - 1970 The Flying Burrito Brothers v. 2.2

In the first of a series of round robin exchanges, the Burritos hired ex-Byrd Michael Clarke away from Dillard & Clark and headed out on a national tour by train. (Parsons, like Gene Clark, had a fear of flying.) The tour was characterized more by poker and pot-smoking than by practice or professionalism, though it did yield the idea for their next single, "The Train Song." At the request of Parsons, A&M hired R&B pioneer Larry Williams to produce the single. Clarence White and Leon Russell took part in the sessions, yet despite all the talent present, the result was underwhelming. The single was released in July 1969, and disappeared. The song never made a regular Burritos LP, but it was on the compilation Close Up the Honky Tonks (A&M, 1974).


The Flying Burrito Brothers v. 2.3

As 1969 wore on, the Burritos came apart. Chris Ethridge left in the fall, so Hillman moved over to bass and Bernie Leadon, also late of Dillard & Clark, joined up on guitar. Parsons seemed less interested in working with his own band than on hanging out with the Rolling Stones, in town for several months to mix Let It Bleed (London, 1969). Hillman said of this period, "After that brief initial burst, Gram and I just couldn't seem to hook up again.... Burrito Deluxe [(A&M, 1970)] was written and recorded without any of the feeling or intensity of the first album, and it seemed that we were walking on different roads."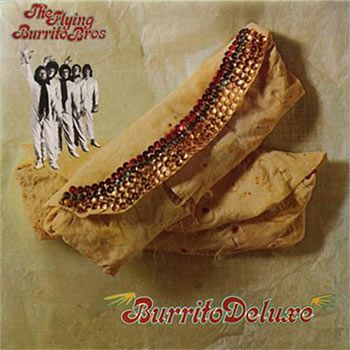 Hillman recalled the root of Parsons', and the band's, problem: "He was getting into a lot of drugs and -- well, you know the story.... He just went headlong in the direction of physical abuse and it was an area where I just couldn't help him at all. There was nothing that any of us could do. I think his major failing, as far as being a member of the group was concerned, was that he lacked the sense of professionalism, discipline, reliability and responsibility which you must have if you work with others."

At Hillman's suggestion, the band hired Jim Dickson to produce their next album but due to Parsons's lack of interest, the band had no material. Despite a few bright moments, the album was a disappointment to all involved -- including A&M, who had already lost a small fortune on the band. Predicting an even worse showing for the second album, the label withheld the release. Meanwhile, Parsons's increasing fear of flight limited the group to local appearances. Nevertheless, when the Rolling Stones announced in November they would headline a free music festival in San Francisco, Parsons successfully wheedled them into giving the Burritos a slot in the lineup. The Burritos' appearance at Altamont was uneventful, despite the many disasters that plagued the show and arguably ended the age of Aquarius.

With A&M still sitting on the second album, Jim Dickson hustled the Burritos into Hollywood's new Sound Factory to record some classic country songs. Recollections differ on whether these tracks were intended as sessions or merely rehearsals; the haphazard character of many of them suggest the latter. Most of these half-finished songs saw release on Sleepless Nights (A&M, 1976). The band never finished the tracks properly, and in May, A&M finally released Burrito Deluxe (A&M, 1970). It sunk without a trace.

Around the same time, Parsons injured himself severely while riding his poorly-maintained Harley with head Papa John Phillips. After a few weeks in the hospital, he went out with the Burritos again, seemingly determined to get himself kicked out of the band through contrariness and indiscipline. In this he was successful; by June, the Burritos were a four-man band.
Source: ebni.com
Tomorrow...Emmylou Harris and the strange death of Gram Parsons