The Three Tenors


The idea for the Three Tenors came from Mario Dradi, an Italian manager and producer. Dradi's idea was to create a group of tenors for a concert and donate a portion of the proceeds to Jose Carreras' foundation after his successful treatment of leukemia. Jose Carreras, along with his two friends Placido Domingo and Luciano Pavarotti, agreed to perform as the Three Tenors. Dradi's idea came to fruition on July 7, 1990, the day before the FIFA World Cup in Rome. The concert was watched by over 800 million viewers, and was so well received that when a recording of the concert was released, it became the biggest selling classical album in history. The album, Carreras - Domingo - Pavarotti: the Three Tenors in Concert, actually set a Guinness World Record. Because of the trio's instant success, they performed at the following three FIFA World Cups: Los Angeles in 1994, Paris in 1998, and Yokohama in 2002. The tremendous success of the Three Tenors was due largely in part to their incredible voices, down-to-earth, likable personalities, and song selections. The trio would regularly perform classic and well-known operatic arias, as well as popular Broadway show tunes, that even the most novice classical music listener could love and appreciate. The group's signature songs included "Nessun dorma" from Puccini's opera Turandot (always sung by Pavarotti) and the ballad "O Sole Mio" (which all three tenors typically sang together).

https://www.youtube.com/watch?v=Pdiq72m_FOM
[youtube]Pdiq72m_FOM [/youtube]

The Three Tenors phenomenon was applauded by many for introducing opera to a wider audience, but some opera purists rebuked them, saying opera was not music for millions (of people). Some critics believe that the presentation of opera in stadiums such as Wembley, with heavy amps, contributes little to the understanding and appreciation of opera as a Gesamtkunstwerk (complete art work) as Wagner conceived it. "I understand the complaints of the purists," Domingo told an interviewer in 1998. "But I do not want the purists to go to the Three Tenors."
Jose Carreras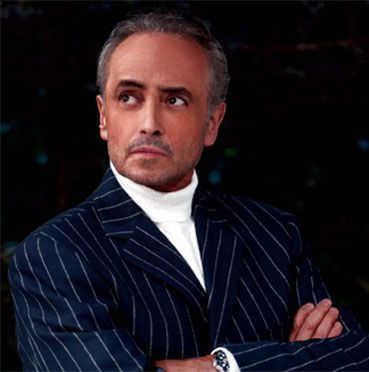 https://www.youtube.com/watch?v=LPVo4I0qflo

Josep Maria Carreras i Coll, born 5 December 1946), better known as José Carreras, is a Catalan Spanish tenor particularly known for his performances in the operas of Verdi and Puccini. Born in Barcelona, he made his debut on the opera stage at the age of 11 as Trujamán in Manuel de Falla's El retablo de Maese Pedro and went on to a career that encompassed over 60 roles on the stages of the world's leading opera houses and in the recording studio.

He gained fame with a wider audience as one of The Three Tenors along with Plácido Domingo and Luciano Pavarotti in a series of mass concerts that began in 1990 and continued until 2003. Carreras is also known for his humanitarian work as the president of the José Carreras International Leukaemia Foundation (La Fundació Internacional Josep Carreras per a la Lluita contra la Leucèmia), which he established following his own recovery from the disease in 1988.

He showed an early talent for music and particularly singing, which intensified at the age of 6 when he saw Mario Lanza in The Great Caruso. The story recounted in his autobiography and numerous interviews is that after seeing the film, Carreras sang the arias incessantly to his family, especially 'La donna è mobile', often locking himself in the family's bathroom when they became exasperated with his impromptu concerts. At that point, his parents, with the encouragement of his grandfather Salvador Coll, an amateur baritone, found the money for music lessons for him.

At the age of 8, he also gave his first public performance, singing 'La donna è Mobile' accompanied by Magda Prunera on the piano, on Spanish National Radio. On 3 January 1958, at the age of 11, he made his debut in Barcelona's great opera house, the Gran Teatre del Liceu, singing the boy soprano role of Trujamán in Manuel de Falla's El retablo de Maese Pedro. A few months later, he sang for the last time as a boy soprano at the Liceu in the second act of La Bohème.




During the 1970s Carreras's career progressed rapidly. In late 1971, he won first prize in Parma's prestigious Voci Verdiane competition which led to his Italian debut as Rodolfo in La bohème at the Teatro Regio di Parma on 12 January 1972. Later that year he made his American debut as Pinkerton in Madama Butterfly with the New York City Opera. Other major house debuts followed and by the age of 28, he had already sung the tenor lead in 24 different operas in both Europe and North America, and had an exclusive recording contract with Philips, which resulted in valuable recordings of several less often performed Verdi operas.

The 1980s saw Carreras occasionally moving outside the strictly operatic repertoire, at least in the recording studio, with recitals of songs from zarzuela, musicals, and operettas. He also made full-length recordings of two musicals – West Side Story (1985) and South Pacific (1986) – both with Kiri Te Kanawa as his co-star. Although many of Carreras's stage performances are available on video, he also ventured into film. In 1986, he portrayed the 19th century Spanish tenor Julián Gayarre in Romanza Final (The Final Romance) and in 1987, he started working on a film version of La bohème directed by Luigi Comencini.

https://www.youtube.com/watch?v=RQR9plC4FJ8

It was during the filming of La bohème in Paris that he was found to be suffering from acute lymphoblastic leukemia and given a 1 in 10 chance of survival. However, he recovered from the disease after undergoing a grueling treatment involving chemotherapy, radiation therapy and an autologous bone marrow transplant at the Fred Hutchinson Cancer Research Center in Seattle. Following his recovery, he gradually returned to both the operatic and the concert stage.

The 1990s continued to see Carreras performing on the operatic stage in Carmen and Fedora and making role debuts in Samson et Dalila (Peralada, 1990), Verdi's Stiffelio (London, 1993), and Wolf-Ferrari's Sly (Zurich, 1998). However, his opera performances became less frequent as he increasingly devoted himself to concerts and recitals. His final performance in a fully-staged opera was on 12 July 2002 in Tokyo, where he reprised the title role in Sly, while his final operatic performances at the Gran Teatre del Liceu, the opera house where his career began, were in Samson et Dalila (March 2001).

In 1990 the first Three Tenors concert, took place in the Baths of Caracalla in Rome on the eve of the 1990 FIFA World Cup finals. It was originally conceived to raise money for Carreras's leukemia foundation and as a way for his colleagues, Plácido Domingo and Luciano Pavarotti, to welcome their "little brother" back to the world of opera. However, it and the subsequent Three Tenors concerts brought Carreras a fame that went far beyond the opera house.[10] It is estimated that over a billion people around the world watched the television broadcast of the 1994 Three Tenors concert in Los Angeles. By 1999, the CD from the first Three Tenors concert in Rome had sold an estimated 13 million copies, making it the best-selling classical recording of all time. The early 1990s also saw Carreras serving as the Musical Director for the opening and closing ceremonies of 1992 Barcelona Olympic Games, and performing in a worldwide concert tour in tribute to his first singing hero, Mario Lanza.
Placido Domingo


https://www.youtube.com/watch?v=6R0iaRcUqDI

Placido Domingo was born in the Barrio de Salamanca section of Madrid on January 21, 1941. His mother's family was Basque, and his father's half Catalan and half Aragonese. His parents, both active in music, were undoubtedly responsible for nurturing Domingo's musical abilities. His father had played the violin in opera and zarzuela orchestras and had sung baritone roles in zarzuelas. (Zarzuela is the Spanish equivalent of the Viennese operetta--a popular theatrical genre that mixes musical numbers with spoken dialogue. Its customary nationalistic plot may be serious or comic and usually involves scenes from everyday life.) What seems to have been a promising career, including a few recordings, was cut short when he damaged his voice by singing with a cold.

Domingo's mother was a professional singer who had made her debut at the Teatro Liceo in Barcelona, Spain's most important opera house. Her interest in zarzuela led to a performance in Federico Morena Torroba's Sor Navarra, where she had met her future husband. In 1946 Moreno Torroba formed a zarzuela company that included Domingo's parents and that eventually travelled to Mexico. Attracted to the country, Domingo's parents stayed and established their own company in Mexico City.

Domingo recalled that he was often pressed into service when the company needed a child. He began studying the piano shortly after the family moved to Mexico City, first privately and later at the National Conservatory. His interest in conducting also stemmed from these early years. At the impulsive age of 16 he met and married a fellow piano student, whom he does not name in his autobiography. A son was born within the year, and shortly thereafter the couple separated.

Domingo's first professional engagement was as accompanist to his mother in a concert at Mérida, Yucatan, in 1957. Immediately following this he joined his parents' zarzuela company, singing baritone roles and working with other singers as accompanist. His early career also included productions of My Fair Lady, in which he sang the role of the drunkard and was assistant conductor and assistant coach. The group gave 185 performances without interruption. Following this he served similarly in a production of Lehar's The Merry Widow as either Camille or Danilo.

Domingo auditioned for the National Opera (Mexico) in 1959 with several baritone arias, but was then asked to sight-read something in the tenor range. On the strength of the latter he received a contract as a tenor comprimario (singer of secondary roles) and as a coach for other singers. His first role was as Borsa in Verdi's Rigoletto. Other musical activities of the period included playing piano for a ballet company--no doubt to supplement his income--and running a program on Mexico's newly founded cultural television. This consisted of excerpts from zarzuelas, operettas, operas, and musical comedies, all to Domingo's piano accompaniment. A little later he played small parts on another program dedicated to the theater. Among the plays performed were those of Garcia Lorca, Pirandello, and Chekhov.

The number of his opera appearances, mostly in Monterrey (Mexico) and Mexico City, increased steadily from 1960 to 1961, and in November 1961 he made his American debut as Arturo in Donizetti's Lucia di Lammermoor with the Dallas Civic Orchestra, Joan Sutherland appearing in the title role. One year later, in Fort Worth, he sang Edgardo in the same opera, with Lily Pons singing the last Lucia of her career. Also in 1962 he married the former Marta Ornelas, whom he had met at the conservatory and who eventually sacrificed a promising career for his. She was voted the best Mexican singer of the year 1962.

Before their marriage they, along with baritone Franco Iglesias, formed a chamber opera company that toured Mexico, performing Wolf-Ferrari's Il segreto di Susanna, Menotti's The Telephone, and various duets and trios, with Domingo accompanying at the piano. At the very end of 1962 the threesome signed a six month contract with the Hebrew National Opera in Tel Aviv, which proved such good experience that they extended their stay to two and one half years. Multi-lingual productions of operas were common for the international cast gathered there. A performance of La Traviata, for instance, included a baritone singing in Hungarian, a soprano in German, a tenor in Italian, and the chorus in Hebrew. Domingo credits this cosmopolitan group for improving his abilities in several languages.

After leaving Tel Aviv in June 1965, Domingo auditioned successfully for the New York City Opera. His New York debut was scheduled for October 21, 1965, as Don Jose in Bizet's Carmen, but occurred on the 17th when he was asked to fill in for an ailing tenor in Puccini's Madame Butterfly . In February of the following year he sang the title role in the North American premiere of Alberto Ginastera's Don Rodrigo, an event that also marked the opening of the City Opera's new home at Lincoln Center. Don Rodrigo remained the only modernist work in Domingo's repertoire. Although he had sung in open air performances by the Metropolitan Opera of Mascagni's Cavalleria Rusticana and Leoncavallo's Pagliacci in 1966, his official Met debut came on September 25, 1968, when he substituted for an indisposed Franco Corelli in Cilèa's Adrianna Lecouveur a week before his scheduled appearance.

Other important debuts were as follows: January 1965 at the Teatro Liceo, Barcelona, in three short operas by little-known Mexican composers; December 1969 in the title role of Verdi's Ernani; and December 1971 as Cavaradossi in Puccini's Tosca, his most frequently performed role. In 1980 Federico Moreno Torroba completed an opera, El Poeta, for Domingo, who sang the world premiere in June of that year. Both Domingo and the critics agreed that, although the straightforward, tonal score contained many attractive passages, the libretto was too weak to support it.

Although Domingo's repertoire concentrated mainly on the 19th century Italian and French masters, his range was considerably wider. In addition to his zarzuela roots and brief excursion into the modernism of Don Rodrigo, he went back as far as Rameau (Hippolyte) and Mozart (Don Giovanni) and touched on Wagner (Lohengrin, Hans Sachs). He also released two popular albums, one with the late American popular singer John Denver, "Perhaps Love" and later "My Life for a Song." Domingo appeared in commercial film productions of Mascagni's Cavalleria Rusticana, Leoncavallo's Pagliacci, and Verdi's La Traviata (1983), all directed by Franco Zeffirelli, and Bizet's Carmen (1984), directed by Francesco Rosi.

Domingo actively pursued conducting opportunities during much of his career. In 1972 "Domingo Conducts Milnes! Milnes Conducts Domingo!" with the New Philharmonia Orchestra of London was released. Later he conducted a New York City Opera production of La Traviata during the 1973-1974 season and a Covent Garden production of Die Fledermaus at the end of 1983.

Domingo's willingness to explore new musical territories led to Perhaps Love, his album of duets with the late singer John Denver in 1981. Although critics were not especially pleased, the album achieved gold status in record sales. During the nineties, Domingo achieved even greater mainstream commercial success on his Three Tenors collaborations with Jose Carreras and Luciano Pavarotti. The trio first performed together in celebration of the 1990 World Cup Championship in Rome. In 1994 their Dodger Stadium concert in Los Angeles, which was viewed on television by 1.3 billion people and sold more than 10 million CDs and videos, was billed as the most-seen and most-heard serious music event of all time. New York magazine called Domingo a "phenomenon, perhaps the most compulsive overachiever the world of opera has ever known." The singer's immense popularity allowed him to raise millions of dollars through special benefit concerts in order to help the victims of the 1985 Mexican earthquake disaster, in which he personally lost four relatives. At the same time his Three Tenors collaborations introduced millions of new fans to the music of opera. In 1996 Domingo became the artistic director of the Washington Opera while simultaneously launching The Three Tenors World Tour which visited four continents and continued through 1997.

In 1989, Domingo performed a duet with his Muppet counterpart, Placido Flamingo, in the TV special Sesame Street: 20 and Still Counting.




On December 3, 2000, Domingo received a Kennedy Center Honor from U.S. President Bill Clinton. Domingo was praised for his efforts to expand the audience for opera and to help those less fortunate around the world. On September 20, 2010, Domingo announced that he will renew his contract as General Director of the Los Angeles Opera through 2013.
Luciano Pavarotti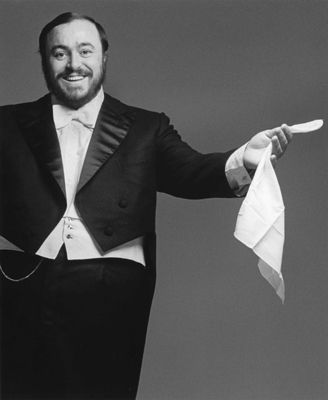 https://www.youtube.com/watch?v=RdTBml4oOZ8


Tenor. Luciano Pavarotti, known for his larger-than-life showmanship that helped expand the popularity of opera, was born on October 12, 1935 on the outskirts of Modena in north-central Italy, the son of a baker and an amateur singer. While he spoke fondly of his childhood, the family was crowded into a two-room apartment. And by 1943, World War II had forced the family into a rented single room in the countryside.

Pavarotti wanted to be a soccer star, but found himself enjoying his father's recordings, featuring the popular tenors of the day such as ;Bjoerling, Tito Schipa, and his favorite, Giuseppe Di Stefano. At around the age of nine he began singing with his father in a small local church choir. He also studied singing with childhood friend Mirella Freni, who later became a star soprano.
At age 20, Pavarotti traveled with a chorus from his hometown to an international music competition in Wales. The group won first place.

Pavarotti abandoned a career in school-teaching to dedicate his life to singing. He won the international competition at the Teatro Reggio Emilia in 1961, making his operatic debut there as Rodolfo in La Bohème on April 29.
Pavarotti made his international debut in 1963 when he stepped in for tenor Giuseppe Di Stefano in the role of 'Rodolfo' at the Royal Opera House in London. He took part in the La Scala tour of Europe in 1963–64. His American debut in February 1965 in the Miami production of Donizetti's "Lucia di Lammermoor" also launched his legendary partnership with Australian soprano Joan Sutherland.

It was with Sutherland that Pavarotti took London's Covent Garden and the New York Metropolitan Opera by storm in 1972 with a sparkling production of a Donizetti favorite, "La Fille du Regiment". His voice and performance were very much in the powerful style of the traditional Italian tenor. He became internationally known as a concert performer, and achieved a large popular following through his recordings and television appearances. He appeared in the film Yes, Giorgio in 1982, and published a volume of autobiography the same year.

His participation in the "Three Tenors" (with Placido Domingo and Jose Carreras) was hugely successful and credited with bringing classical music to the masses at a level never seen before. Pavarotti also shared the stage with rock stars including U2's lead singer Bono and Eric Clapton, and even pop stars like Celine Dion and the Spice Girls. He and Bono collected humanitarian aid during the Bosnia war. And Pavarotti worked with the late Diana, Princess of Wales, to raise money to ban land mines worldwide.
In 2005, he was granted the freedom of the city of London and also received a Red Cross Award for Services to Humanity. Pavrotti performed "Nessun Dorma" during his last major performance, at the opening of the Winter Olympics in Turin, Italy, in February 2006.

On 6 September 2007, he died at home in Modena from pancreatic cancer, at the age of 71.
The Ring Cycle



Der Ring des Nibelungen (The Ring of the Nibelung) is a cycle of four epic operas or (to use the composer's preferred term) 'dramas' by the German composer Richard Wagner (1813–83). The works are based loosely on characters from the Norse sagas and the Nibelungenlied. The four dramas, which the composer described as a trilogy with a Vorabend ('preliminary evening'), are often referred to as the Ring Cycle, "Wagner's Ring", or simply The Ring.

[youtube]bhdVNvd7yKo[/youtube]

Wagner wrote the libretto and music over the course of about twenty-six years, from 1848 to 1874. The four operas that constitute the Ring cycle are, in the order of the imagined events they portray:

• Das Rheingold (The Rhine Gold)
• Die Walküre (The Valkyrie)
• Siegfried
• Götterdämmerung (The Twilight of the Gods)

Although individual operas are performed as works in their own right, Wagner intended them to be a coherent whole, performed in a series.

The Ring Cycle grew and grew out of a single idea. Wagner originally wanted to write a single opera called "The Death of Siegfried". He got the inspiration for this from Norse mythology and an ancient German epic called the "Nibelunglied".

He found that the story was getting too complex, however, and decided he need to add another opera in front to explain what was going on. But the same thing happened again, and he ended up adding two more operas in front of the first two (to explain the explanation). The result was the text of the four-opera Ring Cycle.

It took Wagner about 21 years after that to finish composing all the music for Der Ring des Nibelungen. Wagner envisioned a special opera house created especially to perform the Ring Cycle. He eventually designed and constructed the Bayreuth Festspielhaus, where the full Ring Cycle was premiered on August 13, 1876. It is an opera house north of Bayreuth, Germany, dedicated solely to the performance of operas by the 19th-century German composer Richard Wagner. It is the venue for the annual Bayreuth Festival, for which it was specifically conceived and built.




King Ludwig of Bavaria ordered the first two operas of the Ring Cycle (Das Rheingold and Die Walkure) to be performed before Wagner had finished the other two. Wagner really didn't want this to happen, but the King's word was final so Wagner kept it a secret when he finished Siegfried (no.3).

The Plot

Das Rheingold (The Rhinegold)

The three Rhinemaidens are playing in the Rhine. Alberich (a dwarf, the Nibelung of the title) lusts after them, but they reject him.
Alberich is pretty angry, so he gives up on love altogether and steals the Rhinemaidens gold, planning to use it to create an all powerful ring and dominate the world.

Later, Wotan (the leader of the gods) descends to earth and kidnaps Alberich and the ring, to pay off two giants (Fasolt and Fafner) who built the gods' shiny new castle Valhalla. I guess it's one way to pay the mortgage...
Alberich puts a curse on the ring which dooms whoever it touches. The giants fight over it, and Fafner kills Fasolt. The gods then enter their new golden castle across a rainbow bridge in a spectacular finale, while the Rhinemaidens below lament the stolen gold. I really like this last scene.


Die Walkure (The Valkyrie)

Siegmund (Wotan's son) is running from pursuers, weaponless. He stumbles into a house where Sieglinde and Hunding (a hunter) live. Hunding realizes that Siegmund is the man he was after, and tells him they must fight in the morning.

Sieglinde, desperate, gives Hunding a sleeping potion and urges Siegmund to escape. The pair realize they are twins (Sieglinde is Wotan's daughter). Siegmund pulls an ancient sword out of the tree in the house, and claims Sieglinde as his bride.

Wotan asks the Valkyrie Brunnhilde to protect Siegmund in the fight. Wotan's wife Fricka (goddess of all things marriage) appears and tells him he has to protect Hunding instead, otherwise his power will go.

Wotan gets really frustrated, and sullenly tells Brunnhilde she has to protect Hunding instead.

Brunnhilde meets Siegmund and is impressed by his bravery. She decides to help him instead and disobey Wotan. Hunding and Siegmund fight, but Wotan appears and breaks Siegmund's sword. Hunding then slays Siegmund. Brunnhilde escapes with Sieglinde and the broken sword.

Wotan then punishes Brunnhilde by putting her in a deep sleep surrounded by fire, to be the bride of whomever wakes her.

Siegfried

At the beginning of the third opera in Wagner's Ring Cycle, the dwarf Mime (Alberich's brother) has raised Siegfried (Siegmund and Sieglinde's son) for 20 years in a cave in a forest.

A mysterious Wanderer (just Wotan in disguise) arrives and plays a game of riddles with Mime. He then tricks the dwarf into planning to Siegfried to kill Fafner the giant, who's transformed into a dragon and is guarding a mountain of treasure.

Mime persuades Siegfried to fight the dragon, and plans to poison Siegfried after he's won.

Before the fight, Siegfried befriends a little forest bird. He tries to talk to it by making his own flute, but it doesn't work.

Siegfried encounters the dragon Fafner and kills him in a fun battle scene. When pulling out his sword from Fafner's body, he accidentally tastes the dragon's blood. This magically makes him able to talk to and understand the forest bird.

The bird warns him about Mime, and tells him about a beautiful woman high up on the rocks. Siegfried kills Mime and heads for the woman.

He finds Brunnhilde, and wakes her with a kiss. The opera ends with their massive love duet.

Gotterdammerung (Twilight of the Gods)

The last opera in Wagner's Ring Cycle begins exactly where the last one left off. The lovers, now more mature, sing about their love, then separate. Siegfried sails down the river Rhine in a scene with some amazing Wagnerian water music.

He reaches the Gibichung's hall. There he meets Gunther, his sister Gutrune, and Hagen (Alberich's son). Hagen wants the ring, so he tricks Siegfried into drinking a love potion which makes him fall in love with Gutrune.

Siegfried now returns to Brunnhilde, using the Tarnhelmet to disguise himself as Gunther. He forces Brunnhilde to return to the Gibichung's hall and marry Gunther, so that Siegfried can marry Gunther's sister Gutrune.

During the wedding, Brunnhilde realises that she has been betrayed by Siegfried, and is bent on vengeance. She tells Gunther that Siegfried was already married to her. Then she tells Hagen that Siegfried has a weak point on his back (since he would never turn and run from an enemy).

Hagen arranges a hunting party and stabs Siegfried in the back with his spear. Here is where things get a bit crazy...

Hagen kills Gunther after they fight about who gets the ring. Brunnhilde realizes that she and Siegfried were both tricked. She sets fire to Siegfried's funeral pyre, mounts her horse, and leaps into the raging flames.

The Rhine river overflows while Valhalla bursts into flames.Hagen jumps into the Rhine after the ring, but the Rhinemaidens drown him and get the ring back. The End

The Music

Wagner's Ring Cycle has a reputation of being BIG! It's where the clichéd image of the fat opera singer with a horned helmet comes from. It's true that singers need superhuman amounts of power and stamina to perform the cycle, but that image isn't really true.




Wagner's huge orchestra allows him to create a really wide range of orchestral colors, as well as make the music staggeringly heavy and rich. There are hundreds of different shades, moods, and feelings which Wagner creates in the Ring Cycle just using various combinations of instruments. Somehow he also evokes images of the action through the orchestra. For example, in the forging scene in Siegfried, the music seems to be fire, steam, metal, and hard toil.

J. R. R. Tolkien's The Lord of the Rings appears to borrow some elements from Der Ring des Nibelungen; however, Tolkien himself denied that he had been inspired by Wagner's work, saying that "Both rings were round, and there the resemblance ceases." Some similarities arise because Tolkien and Wagner both drew upon the same source material for inspiration, including the Völsungasaga and the Poetic Edda. However, several researchers posit that both authors draw upon many of the same sources but Tolkien was indebted to some of the original developments, insights and artistic uses made of those in Wagner, such as that the ring gives its owner mastery of the world, the ring's inherently evil nature, its consequent corrupting influence upon the minds and wills of its possessors, and the necessity for its destruction so that the world can be redeemed.
Tosca



[youtube]Gj4MJ0pKp9E[/youtube]

Tosca is the only opera that can be tied to an exact date, time, and place. It is set at a critical time in the military campaigns of the French general (and later Emperor) Napoleon Bonaparte.

During the late 1700s, the invasion of Italy by Napoleon and his French armies resulted in the expulsion of the old dynastic rulers, including the Pope. Radical French republics or states were set up in northern Italy and in Naples. The city of Rome became the Roman Republic (of which, in TOSCA, Angelotti was a former consul).

While Napoleon was in Egypt in 1799, an Austrian-Russian army defeated the French republics in Italy. Maria Carolina of Austria, the wife of the defeated King of Naples, Ferdinando IV, and sister of Marie Antoinette, inspired the Austrian reactionary party. Maria Carolina assumed the regency and began to "clean house" — eliminating thousands of republicans and liberals and anyone who had supported French rule. In the spring of 1800, Napoleon and his forces crossed over the Alps and moved to the town of Marengo in northwestern Italy. Here they were met by Austrian forces commanded by General Melas on June 14, 1800. Napoleon believed that the attack by the Austrian force was a diversion and he ordered General Desaix to continue searching for the main Austrian Force in the south. By noon, however, with his forces falling back, Napoleon began to realize that he was losing to an all-out attack.

Act One of Tosca reflects this moment. The Sacristan announces the news of the apparent victory of the imperial forces over Napoleon. The act ends with a "Te Deum" to celebrate the triumph, and Tosca will sing that evening for the Queen herself. But the Battle of Marengo was not over. Napoleon sent a request for help to General Desaix who, returning with his troops, and at the cost of his own life, helped turn defeat into glory. During the second act of the opera, news arrives of the defeat of the monarchy. Mario's excitedly proclamation of "Victory" further angers Scarpia, who as chief of police for the monarchy, orders Mario to be dragged off to prison.

This dramatic scene reflects the divided sentiments of the people of Rome, torn between their loyalty to the crown and hopes for new freedoms under Napoleon. By the end of the opera, with Napoleon's victory secure, it seems as though Mario and Angelotti will have posthumous revenge. Napoleon, however, decided to compromise with Italy's traditional rulers. The newly elected Pope, Pius VII, regained control of the Papal States.

By coincidence, the world premiere of TOSCA took place almost exactly 100 years after the historical events which form its background.

Each scene in TOSCA takes place at locations that still exist in Rome today. Act I takes place in the church of Sant' Andrea della Valle,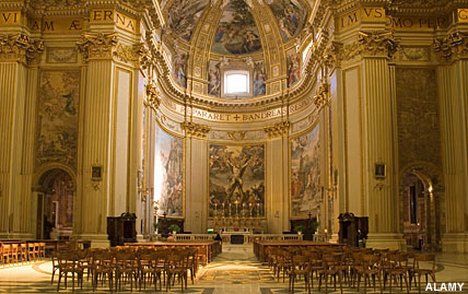 The interior of the church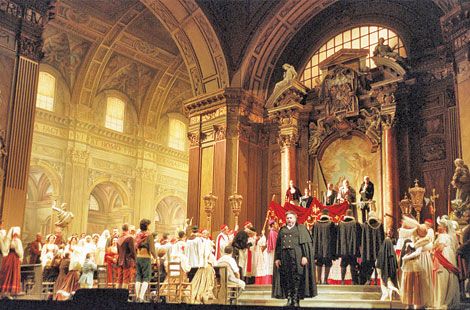 A staging by the Metropolitan Opera of New York in 1999

Act II at the Farnese Palace,




and Act III on the roof of the Castel Sant'Angelo (Castle of the Holy Angel, so-named because of the large statue added to its roof.)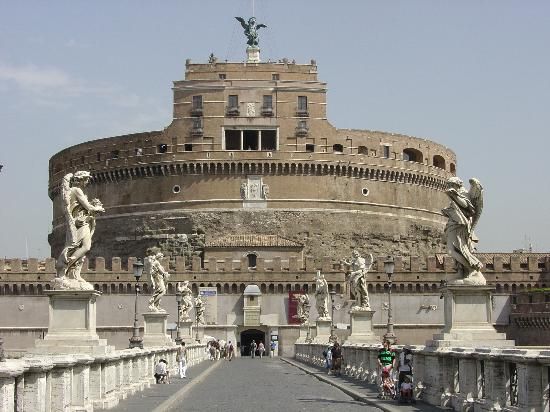 This castle was built by Roman Emperor Hadrian who reigned from A.D. 117 until his death in A.D. 138. Hadrian had this monument built to be his tomb. It was the largest and grandest of all Roman tombs.

Throughout the centuries, Castel Sant'Angelo has had various uses. It has been a fortress, a castle, the home of popes, and even a prison — which is how it is portrayed in Tosca. Although the castle has been battered in sieges, shaken by earthquakes, often flooded by the overflowing Tiber River along which it is built, and frequently changed by man, it stands as a wonderful monument to the historical glories of the past.

Plot Summary:

ACT I. Cesare Angelotti, an escaped political prisoner, rushes into the church of Sant' Andrea della Valle to hide in the Attavanti chapel. As he vanishes, an old Sacristan shuffles in, praying at the sound of the Angelus. Mario Cavaradossi enters to work on his portrait of Mary Magdalene - inspired by the Marchesa Attavanti (Angelotti's sister), whom he has seen but does not know. Taking out a miniature of the singer Floria Tosca, he compares her raven beauty with that of the blonde Magdalene ("Recondita armonia"). The Sacristan grumbles disapproval and leaves. Angelotti ventures out and is recognized by his friend and fellow liberal Mario, who gives him food and hurries him back into the chapel as Tosca is heard calling outside. Forever suspicious, she jealously questions him, then prays, and reminds him of their rendezvous that evening at his villa ("Non la sospiri la nostra casetta?"). Suddenly recognizing the Marchesa Attavanti in the painting, she explodes with renewed suspicions, but he reassures her ("Qual' occhio al mondo"). When she has gone, Mario summons Angelotti from the chapel; a cannon signals that the police have discovered the escape, so the two flee to Mario's villa. Meanwhile, the Sacristan returns with choirboys who are to sing in a Te Deum that day. Their excitement is silenced by the entrance of Baron Scarpia, chief of the secret police, in search of Angelotti. When Tosca comes back to her lover, Scarpia shows her a fan with the Attavanti crest, which he has just found. Thinking Mario faithless, Tosca tearfully vows vengeance and leaves as the church fills with worshipers. Scarpia, sending his men to follow her to Angelotti, schemes to get the diva in his power ("Va, Tosca!").

ACT II. In the Farnese Palace, Scarpia anticipates the sadistic pleasure of bending Tosca to his will ("Ha più forte sapore"). The spy Spoletta arrives, not having found Angelotti; to placate the baron he brings in Mario, who is interrogated while Tosca is heard singing a cantata at a royal gala downstairs. She enters just as her lover is being taken to an adjoining room: his arrogant silence is to be broken under torture. Unnerved by Scarpia's questioning and the sound of Mario's screams, she reveals Angelotti's hiding place. Mario is carried in; realizing what has happened, he turns on Tosca, but the officer Sciarrone rushes in to announce that Napoleon has won the Battle of Marengo, a defeat for Scarpia's side. Mario shouts his defiance of tyranny ("Vittoria!") and is dragged to prison. Scarpia, resuming his supper, suggests that Tosca yield herself to him in exchange for her lover's life. Fighting off his embraces, she protests her fate to God, having dedicated her life to art and love ("Vissi d'arte"). Scarpia again insists, but Spoletta interrupts: faced with capture, Angelotti has killed himself. Tosca, forced to give in or lose her lover, agrees to Scarpia's proposition. The baron pretends to order a mock execution for the prisoner, after which he is to be freed; Spoletta leaves. No sooner has Scarpia written a safe-conduct for the lovers than Tosca snatches a knife from the table and kills him. Wrenching the document from his stiffening fingers and placing candles at his head and a crucifix on his chest, she slips from the room.

ACT III. The voice of a shepherd boy is heard as church bells toll the dawn. Mario awaits execution at the Castel Sant'Angelo; he bribes the jailer to convey a farewell note to Tosca. Writing it, overcome with memories of love, he gives way to despair ("E lucevan le stelle"). Suddenly Tosca runs in, filled with the story of her recent adventures. Mario caresses the hands that committed murder for his sake ("O dolci mani"), and the two hail their future. As the firing squad appears, the diva coaches Mario on how to fake his death convincingly; the soldiers fire and depart. Tosca urges Mario to hurry, but when he fails to move, she discovers that Scarpia's treachery has transcended the grave: the bullets were real. When Spoletta rushes in to arrest Tosca for Scarpia's murder, she cries to Scarpia to meet her before God, then leaps to her death.