ALICE IN WONDERLAND: THROUGH THE LOOKING GLASS begins production
Disney's "Alice In Wonderland: Through the Looking Glass" begins principal photography this week, featuring an award-winning production team and all-star ensemble cast, including Johnny Depp, Anne Hathaway, Mia Wasikowska, Helena Bonham Carter and Sacha Baron Cohen. James Bobin ("The Muppets," "Muppets Most Wanted") helms the film, which revisits Lewis Carroll's beloved stories with an all-new new tale that travels back to Underland—and back in Time. "Alice In Wonderland: Through the Looking Glass" is produced by Joe Roth ("Maleficent," "Alice in Wonderland"), Jennifer Todd ("Alice In Wonderland," "Memento"), Suzanne Todd ("Alice In Wonderland," "Memento") and Tim Burton ("Alice in Wonderland," "Frankenweenie"). John G. Scotti ("Muppets Most Wanted," "The Muppets") is the executive producer; Linda Woolverton ("Maleficent," "Alice In Wonderland," "Beauty and the Beast") penned the screenplay. Shooting on location and at Shepperton Studios in England, the film is slated for release on May 27, 2016.

The all-star ensemble cast includes:
Johnny Depp ("Pirates of the Caribbean" films, "Alice In Wonderland," "Mortdecai," "Black Mass") returns to the big screen as the Mad Hatter—Hatter Tarrant Hightopp.
Anne Hathaway ("Les Misérables," "The Devil Wears Prada," "Alice In Wonderland," "Rachel's Getting Married") portrays the White Queen—Mirana.
Mia Wasikowska ("Tracks," "Jane Eyre" and "Alice In Wonderland") once again appears as Alice Kingsleigh, who's on a quest to help the Mad Hatter.
Helena Bonham Carter ("Cinderella," "Les Misérables," "Alice In Wonderland") returns as the Red Queen—Iracebeth.
Rhys Ifans ("Harry Potter and the Deathly Hallows: Part I," "Nanny McPhee Returns," "The Amazing Spider-Man") fills the shoes of Zanik Hightopp, the Mad Hatter's father.
Matt Lucas ("The Labrynth," "Alice In Wonderland") returns to the revelry in a dual role as Tweedledee and Tweedledum.
Ed Speleers (TV's "Downton Abbey," "Eragon") portrays James Harcourt in the film.
And Sacha Baron Cohen ("Hugo," "Les Misérables") was called on to bring Time to the big screen.
"Alice In Wonderland: Through the Looking Glass" also boasts an extraordinary voice cast.
Stephen Fry ("24: Live Another Day," "The Hobbit: The Desolation of Smaug," "Sherlock Holmes: A Game of Shadows," "Alice In Wonderland") is back as the voice of the Cheshire Cat.
Toby Jones ("The Hunger Games: Catching Fire," "Infamous," "The Girl") provides the voice of Wilkins.
Alan Rickman ("Harry Potter" film series, "Alice In Wonderland," director/actor/co-writer "A Little Chaos") returns as the voice of the Blue Caterpillar.
Michael Sheen ("The Twilight Saga: Breaking Dawn" Parts 1 & 2, "Alice In Wonderland," "The Queen," "Frost Nixon") once again serves as the voice of the White Rabbit.
Timothy Spall ("Mr. Turner," "The Kings Speech," "Harry Potter," "Alice In Wonderland") returns to voice Bayard.
BAFTA-winning actor, writer and comedian Paul Whitehouse (BBC's "Harry and Paul's Story of the 2s" and "The Fast Show";"Alice In Wonderland," "Corpse Bride") is back as the March Hare.
Barbara Windsor ("Carry On," "EastEnders," "Alice In Wonderland") provides the voice of Dormouse again.
The film welcomes back several key members of the "Alice In Wonderland" team, including award-winning composer Danny Elfman ("Fifty Shades of Grey," "Big Eyes," Silver Linings Playbook"), three-time Oscar-winning costume designer Colleen Atwood ("Memoirs of a Geisha," "Chicago"), who won Oscar, BAFTA and Satellite awards, among others, for her work on "Alice In Wonderland," and five-time Oscar-winning VFX supervisor Ken Ralston ("Forrest Gump," "Star Wars Episode VI: Return of the Jedi"), who won a Satellite Award for best visual effects for "Alice In Wonderland."

Bobin's award-winning production team also includes Oscar-winning production designer Dan Hennah ("King Kong," "The Hobbit" trilogy, "The Lord of the Rings" trilogy, Oscar for "The Lord of the Rings: The Return of the King"), and Stuart Dryburgh ("The Secret Life of Walter Mitty," "Bridget Jones' Diary," Oscar nomination for "The Piano") as director of photography. The film welcomes Oscar-winning make-up and hair designer Peter King ("Lord of the Rings: Return of the King," Oscar nominee for "The Hobbit: An Unexpected Journey"), and Oscar winner Neil Corbould ("Gravity," "Gladiator") is special effects supervisor. Andrew Weisblum ("Noah," Oscar nominee "Black Swan") is editor.

August 4th, 2014 by Theresa
Disney releases the first teaser trailer for INTO THE WOODS
Disney released the first teaser trailer for Into the Woods today. The trailer is definitely a 'teaser,' as it only gives us a tiny glimpse of Johnny as the Wolf.

From Disney's Into the Woods website:
Into the Woods is a modern twist on the beloved Brothers Grimm fairy tales, intertwining the plots of a few choice stories and exploring the consequences of the characters' wishes and quests. This humorous and heartfelt musical follows the classic tales of Cinderella (Anna Kendrick), Little Red Riding Hood (Lilla Crawford), Jack and the Beanstalk (Daniel Huttlestone), and Rapunzel (MacKenzie Mauzy) – all tied together by an original story involving a baker and his wife (James Corden & Emily Blunt), their wish to begin a family and their interaction with the witch (Meryl Streep) who has put a curse on them. Rob Marshall, the talented filmmaker behind the Academy Award-winning musical "Chicago" and Disney's "Pirates of the Caribbean: On Stranger Tides," helms the film, which is based on the Tony-winning original musical by James Lapine, who also penned the screenplay, and legendary composer Stephen Sondheim, who provides the music and lyrics – including an all-new song for the big-screen adaptation. Produced by Marshall, John DeLuca, "Wicked" producer Marc Platt and Callum McDougall, Into the Woods hits theaters December 25, 2014.

The Zone thanks pinkpalace for sharing the video.

July 31st, 2014 by Theresa
Johnny Depp Appears in Paul McCartney's New Video, "Queenie Eye"
October 24 marked the release of Paul McCartney's second video from his new album, aptly named "New." Titled "Queenie Eye," after a children's game, Paul enlisted the assistance of a large group of pals—including Johnny Depp—to appear in the video. A larger picture of Johnny and Paul is available HERE.

Johnny was thrilled to be part of the video. "Being in that room—and especially being in that room with Paul—is uh, yeah, it's quite a rush because that's the room that changed the world. To have a collection of masterpieces under your belt and the fact that he has been doing it for as long as he's been doing it . . . it's always new, it's always new for him. He still gets excited about it. He's still curious. There's one, you know . . . there's only one of him."

Enjoy watching Paul McCartney's "Queenie Eye."

The Zone thanks taba for sharing the video.

October 24th, 2013 by Theresa
MORTDECAI begins filming!
Principal photography began today, October 21, on Johnny Depp's new movie, Mortdecai.

The press release from Lionsgate and Oddlot Entertainment reads: "Lionsgate and OddLot Entertainment announced today that principal photography has begun in London on the action comedy Mortdecai. Based on the popular three-novel anthology by Kyril Bonfiglioli, which has amassed a significant cult following, the film features an all-star cast including Johnny Depp, Gwyneth Paltrow, Ewan McGregor, Paul Bettany and Olivia Munn. Guy Burnet, Michael Byrne, Michael Culkin, Jonny Pasvolsky, Ulrich Thomsen, and Paul Whitehouse have also joined the cast of the film which David Koepp is directing from a script written by Eric Aronson. Andrew Lazar, Johnny Depp, Christi Dembrowski and OddLot's Gigi Pritzker are producing the project.

"Lionsgate Motion Picture Group Co-Chairs Rob Friedman and Patrick Wachsberger said, 'Kyril created a rich, immersive world with fresh characters, and we are thrilled to bring his beloved story to life with our friends and partners at OddLot. With David Koepp at the helm and a brilliant all-star cast, Mortdecai will captivate audiences and keep them on the edge of their seats.'"

The story line for the movie looks to be a good one: terrorists, stolen paintings, hidden Nazi gold, and of course, the debonair and roguish Johnny Depp.  Good luck and smooth sailing to everyone involved with the production. We'll be waiting anxiously for this gem to be released in 2014!

October 21st, 2013 by Theresa
Johnny Depp Makes a Surprise Appearance at the BFI London Film Fest Awards Ceremony
Saturday night, October 19th, a newly blonde Johnny surprised his friend Sir Christopher Lee by appearing on stage to present Sir Christopher the British Film Institute Fellowship award for his long and illustrious film career.

In his presentation, Johnny said: "It is my great honor to bestow this award to a very great man. He's inspired me like he has so many, he's fascinated me like he has so many.

"He's been a wonderful individual and over the years I've had the pleasure of working with him and it has been a childhood dream come true. But as great as it is to work with him, that pleasure doesn't compare with getting to know him and being able to count him as a true friend.

"A national treasure and a genuine artist. I love you!"

A visibly moved Sir Christopher accepted the award by first addressing Johnny: "I don't know what to say. I didn't know you were going to be here and it's a very emotional moment for me as you can probably hear. I must try and pull myself together."

A little later in his acceptance speech, Sir Christopher again spoke about Johnny's surprise appearance.

"Somebody told me Johnny wouldn't be able to come tonight as he was somewhere else in Europe.

"I can't thank you enough.

"He means an enormous amount to me. He is one of very few young actors on screen today who's truly a star. I don't think he likes that expression very much but I'm sure he knows what I mean. Everything he does has a meaning. He's a joy to work with, an actor's dream and certainly a director's dream. I could go on a long time but I'd probably embarrass him.

"I cannot thank you enough for coming here and giving me this award. It's a great joy to me."

Congratulations to Sir Christopher on this impressive honor!

To see a larger image of Johnny and Sir Christopher together, click HERE.

October 19th, 2013 by Theresa
INTO THE WOODS is underway! Cast members gather in the UK for Sondheim musical film
Thank goodness for Twitter! Young Daniel Huttlestone, who played Gavroche in last year's Les Miserables and will be playing Jack (of beanstalk fame) in Rob Marshall's film of the Stephen Sondheim fairy-tale musical Into the Woods, tweeted this on Sunday: "Start INTO THE WOODS tomorrow. So exciting !! Get to meet Johnny Depp, Meryl Streep, James Cordon ect …. Can't wait !!!!!!" Huttlestone's follow-up tweet today confirmed that the cast had reported for duty and was hard at work: "Rehearsing at the moment. Going really cool !! Singing with James Corden, Meryl Streep and Johnny Depp !! So exciting!!" He also posted a picture of himself with Corden, who plays the Baker, on his Facebook page HERE. Looks like they're having fun!

Johnny Depp is playing the Wolf in the Disney production, in an ensemble that also includes Meryl Streep as The Witch, James Corden as The Baker, Emily Blunt as The Baker's Wife, Anna Kendrick as Cinderella, Chris Pine as Cinderella's Prince, Billy Magnussen as Rapunzel's Prince, Mackenzie Mauzy as Rapunzel, Lucy Punch as Lucinda, Tammy Blanchard as Florinda, Christine Baranski as Cinderella's Stepmother and Tracey Ullman as Jack's Mother. Best wishes to all as they begin their work!

The Zone thanks emma for sharing the news; you can read more about Into the Woods on the Zone's News & Views forum.

August 5th, 2013 by Part-Time Poet
Executive producer credit on THE LONE RANGER was "a beautiful gesture from Jerry Bruckheimer," Johnny Depp tells UK press
Producer Jerry Bruckheimer, director Gore Verbinski, and actors Johnny Depp, Armie Hammer, Ruth Wilson, Tom Wilkinson, and Harry Treadaway met the British press to promote The Lone Ranger on Monday, July 22. While some of the questions trod familiar ground, journalists did venture into fresh territory, as when one reporter asked Johnny about the impact of his role as one of The Lone Ranger's executive producers.

Q: Johnny, you are Executive Producer on this. I wondered what sort of benefits that brought you in terms of decision-making? And Jerry and Gore, how did that affect your relationship with Johnny?

JERRY BRUCKHEIMER: Well, I think he got to the craft service line ahead of everybody else. (Laughter) So I think that worked for him.

JOHNNY DEPP: Yeah. And I got a chair. (More laughter) And a trailer. Coffee, occasionally. (He chuckles, and then grows serious.) You know, the executive producer credit was a beautiful gesture from Jerry, just out of the kindness of his heart, to hand me that title. Primarily because we were all in it from the very beginning. As I said before, from the very seed of the project, we were all in there, in all the script meetings and whatnot, and that, for me, was plenty — that was beautiful, to be welcomed into that part of the process. But then for Jerry to give me that title was . . . yeah, that was quite a shock. So basically, what I'm saying is, I didn't do anything.

JERRY BRUCKHEIMER: That's not quite right, because it wasn't an honorary thing. It was something that . . . he [Johnny] brings so much creativity to the process, and to have him in, in the script meetings early on, conceptualizing the character — his character and other characters — it helps us so much, because he's got such a wealth of creative knowledge that he puts layers on the script and the story. It was a pleasure to bring him in really early, and creatively it was fantastic for the movie.

The Zone thanks Theresa for sharing video of the UK press conference; a larger photo of Jerry, Johnny and Gore is available HERE. You can read more about The Lone Ranger on the Zone's News & Views forum.

July 26th, 2013 by Part-Time Poet
Gwyneth Paltrow and Ewan McGregor in talks to join Johnny Depp in MORTDECAI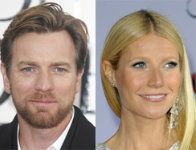 Gwyneth Paltrow and Ewan McGregor are in talks to join Johnny Depp in the crime caper Mortdecai, which will be directed by David Koepp. Variety reports that Lionsgate is "fast-tracking the project with a high-profile team." According to Variety, Mortdecai will go into production late this fall, after Johnny finishes Rob Marshall's musical Into the Woods. Paltrow, an Oscar-winner for Shakespeare in Love, was most recently seen playing Pepper Potts in Iron Man 3; McGregor will be seen in August: Osage County (with Julia Roberts and Meryl Streep) this fall.

Mortdecai is based on a series of books by Kyril Bonfiglioli. Roguish art dealer Charles Mortdecai is in a race to recover a stolen painting rumored to contain the code to a lost bank account filled with Nazi gold.

Andrew Lazar is producing Mortdecai with Infinitum Nihil's team of Johnny and Christi Dembrowski.

You can read more about Mortdecai on the Zone's News & Views forum. The Variety article is available HERE.

July 24th, 2013 by Part-Time Poet
"Tonto is a lone wolf"–Johnny Depp discusses THE LONE RANGER and its critics with the BBC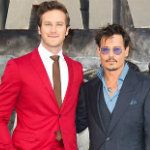 In a video interview with the BBC at the London premiere of The Lone Ranger, Johnny Depp responded to critics who assert that his Tonto is "another quirky character like Captain Jack Sparrow" — in other words, just Captain Jack on dry land. "There are a lot of differences between Captain Jack and Tonto," Johnny said. "Captain Jack needs other people to manipulate to get what he wants. He couldn't — he wouldn't work on his own. Tonto is sort of a lone wolf. If there are any similarities at all, I suppose it's just because it's born out of my head."

Asked if he was "disappointed" in the film's performance at the U.S. box office, which "hasn't lived up to many people's expectations," Johnny replied, "No, because I don't have no expectations . . . but other people do. I think critics were especially upset that it didn't really tank. I think they were hoping it would really take a dive." The Lone Ranger has currently earned more than $81 million in North America and almost $150 million worldwide.

The Zone thanks emma for sharing the BBC interview; you can read more about The Lone Ranger's London premiere on the Zone's News & Views forum.

July 22nd, 2013 by Part-Time Poet
THE LONE RANGER premieres in London–new photos of Johnny!
When Disney Movies UK tweeted yesterday, "Johnny Depp & the stars of #TheLoneRanger arrive on the red carpet from 5.30pm tomorrow for the UK premiere @ODEONCinemas Leicester Square," we didn't realize that "the stars" would include the scene-stealing white horse who plays Silver, or that the "red carpet" would actually be white! But Silver, sporting a spiffy silver-trimmed saddle, stood proudly in Leicester Square and posed for pictures with Johnny Depp and Armie Hammer. Johnny wore a charcoal gray three-piece suit with a blue shirt, and Armie wore a two-piece red suit with a white shirt and dark red tie. Photos from the London premiere are available HERE.

Many thanks to humiliatedgrape and our friends at johnnydepp.ru for sharing photos; you can read more about the London premiere of The Lone Ranger on the Zone's News & Views forum and Pit General Discussion forum.

July 21st, 2013 by Part-Time Poet
The Johnny Depp Zone's original content is copyright 2001-2016 by Theresa, Natalie and Rosemary. Original HTML and graphic design is copyright 2004 by Maria, updated by Andre. This fansite has no official affiliation with Johnny Depp, his family or management. No copyright infringement is intended: images and articles are used without permission and are copyright of their respective owners.