New trailer for THE LONE RANGER released–see it here!
Disney unveiled a new, action-packed trailer for The Lone Ranger today:


The Lone Ranger is produced by Jerry Bruckheimer and directed by Oscar-winner Gore Verbinski, with cinematography by Bojan Bazelli. The film also stars Helena Bonham Carter, Tom Wilkinson, Ruth Wilson, William Fichtner, Barry Pepper, James Frain and James Badge Dale. The Lone Ranger opens in U.S. theaters on July 3rd.

The Zone thanks Theresa for sharing the trailer; you can read much more about The Lone Ranger on the Zone's News & Views forum.

May 21st, 2013 by Part-Time Poet
Emily Blunt to join Johnny Depp and Meryl Streep in Disney's INTO THE WOODS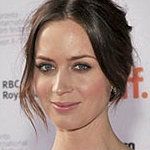 Seems like Rob Marshall has found the Baker's Wife for his upcoming film of Stephen Sondheim's Into the Woods . . . and it's Emily Blunt! Variety reports that Ms. Blunt is "finalizing a deal" to join the Disney film, where she will reunite with her The Devil Wears Prada co-star, Meryl Streep, who will be playing the Witch. The musical's storyline follows the Baker (Tony-winner James Corden) and his wife (Blunt) as they venture into the woods to confront the witch (Streep) responsible for putting a family curse on the childless couple.

Other actors who may be joining the cast include Chris Pine and Jake Gyllenhaal, as self-absorbed, competitive brother-princes who are the love interests of Cinderella and Rapunzel, and The Good Wife's Christine Baranski, who is in talks to play Cinderella's nasty stepmother. With Johnny Depp appearing as the Wolf, this cast is dazzling!

The Zone thanks Lou Lou 63 for sharing the news; you can read more about Into the Woods on the Zone's News & Views forum.

May 17th, 2013 by Part-Time Poet
Johnny Depp gets a BLACK MASS co-star–THE GREAT GATSBY's Joel Edgerton
The Great Gatsby's Joel Edgerton will play the FBI agent who lures Boston gangster Whitey Bulger (played by Johnny Depp) into becoming an FBI informant in Barry Levinson's upcoming drama Black Mass. Edgerton will play John Connolly, a childhood friend of Whitey Bulger, who is able to use their bond to persuade Bulger to help the FBI take down a rival Mafia family. However, Connolly later turns on Bulger and prosecutes him, too.

Filming of Black Mass will begin later this year; the film is due in theaters in 2014. Oscar-winner Barry Levinson (Rain Man) will direct, with Brian Oliver, Tyler Thompson, Nigel Sinclair, Tobin Armbrust, John Lesher and Infinitum Nihil's Christi Dembrowski producing.

The Zone thanks Lou Lou 63 and Emma for breaking the news; you can read more about Black Mass on the Zone's News & Views forum.

May 16th, 2013 by Part-Time Poet
INTO THE WOODS cast update–Jake Gyllenhaal and Chris Pine may play singing princes
Rob Marshall's upcoming film of Stephen Sondheim's award-winning musical Into the Woods is attracting plenty of talent: Johnny Depp (as the Wolf), Meryl Streep (as the Witch) and James Corden (as the Baker) are already on board, and now Jake Gyllenhaal and Chris Pine are in discussions to join the cast. According to the Hollywood Reporter, Gyllenhaal and Pine "would play the musical's two princes, Cinderella's Prince and Rapunzel's Prince, brothers who are pompous and self-absorbed." Neither Gyllenhaal nor Pine has sung on-screen before, but "the two actors met and even sang for director Rob Marshall for their respective parts and are expected to receive offers to join the star-studded cast." Fantastic!

The Zone thanks FANtasticJD for sharing the news; you can read more about Into the Woods on the Zone's News & Views forum. The Hollywood Reporter article is available HERE.

May 15th, 2013 by Part-Time Poet
TRANSCENDENCE, starring Johnny Depp, shifts filming to New Mexico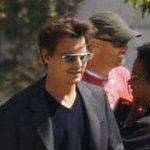 After filming in the Los Angeles area on Saturday and Sunday, Wally Pfister's Transcendence moved on to Albuquerque, New Mexico to continue production. A New Mexico Film Office news release has confirmed that Transcendence will be shooting through the end of July "in and around Albuquerque" and will employ more than 2,650 New Mexicans as crew members or actors. New Mexico Film Office spokesperson Angela Heisel confirmed to a local reporter that some filming will take place in Belen, New Mexico, which should be good news for local entrepreneurs. Business will be booming!

Meanwhile, the blogs and Twitter feeds of folks who got to work on Transcendence during its Los Angeles shoot have lit up with praise for Johnny Depp. Sagiv Karpel commented, "I got to work with Johnny Depp today, and… WOW. Not only is he a freakin' brilliant actor, he is also ridiculously funny, sweet, charming, humble, and kind. Cheers to being very pleasantly surprised!" And Jennifer Beatty tweeted, "Working with Johnny Depp this week has been so inspiring. What a truly kind and humble man. Just another day in Paradise."

The Zone thanks Emma for sharing the news; you can read more about Transcendence on the Zone's News & Views forum.

May 14th, 2013 by Part-Time Poet
Johnny Depp goes INTO THE WOODS with Meryl Streep and Tony-winner James Corden
Johnny Depp will get his wolf on for Rob Marshall's upcoming film of Stephen Sondheim's award-winning fairy-tale themed musical Into the Woods! A Disney casting notice officially confirms that Johnny will play the Wolf, too-many-awards-to-count Meryl Streep will play the Witch, and British actor James Corden will play the leading male role of the Baker. Corden won a Tony last year for his work in Broadway's One Man, Two Guvnors. The plum role of the Baker's Wife is yet to be cast, although Disney favorite Amy Adams is rumored to be under consideration.

Rob Marshall, who previously directed Johnny in Pirates of the Caribbean: On Stranger Tides and directed the Oscar-winning musical Chicago, will begin filming Into the Woods in London in September.

The Zone thanks Emma, humiliatedgrape, and suedlib for sharing the news. You can read more about Into the Woods on the Zone's News & Views forum; a Hollywood Reporter article confirming the casting is available HERE.

May 11th, 2013 by Part-Time Poet
Johnny Depp films TRANSCENDENCE at California State University, Northridge–new photos!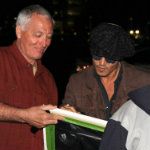 Wally Pfister's sci-fi drama Transcendence filmed on the campus of California State University, Northridge this week; the CSUN newspaper, the Daily Sundial, reported that Johnny Depp and Morgan Freeman had been seen there. Johnny, accompanied by security chief Jerry Judge, found time to sign autographs for well-wishers after a long day of filming; photos are available HERE. The Zone thanks Evochka for sharing the photos.

In other Transcendence news, the acting ensemble gained a new member today as Josh Stewart joined the cast. Stewart is another veteran of Chrisopher Nolan's Batman franchise, having played played one of Bane's main henchmen in The Dark Knight Rises. The Zone thanks Theresa for breaking the news; you can read more about Transcendence on the Zone's News & Views forum.

May 10th, 2013 by Part-Time Poet
New names on the shortlist of potential directors for PIRATES OF THE CARIBBEAN 5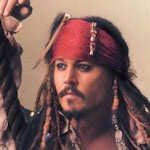 Now that producer Jerry Bruckheimer has The Lone Ranger ready to ride into theaters in July, he and Disney need to choose a director for Pirates of the Caribbean 5, which is scheduled for release on July 10, 2015 and will once again star Johnny Depp as Captain Jack Sparrow. According to Deadline.com, there are three leading candidates receiving consideration to direct the 5th installment: Fredrik Bond, who recently directed the Shia LaBeouf-starring action comedy The Necessary Death Of Charlie Countryman; Joachim Rønning and Espen Sandberg, directors of last year's Oscar-nominated adventure film Kon-Tiki; and Rupert Sanders, best known for Snow White and the Huntsman.

"Given the names here, they're clearly looking to inject fresh creative energy to the mix," Deadline's Mike Fleming suggests. He adds that "no offer has been made yet" but he expects the choice of director to "be locked within the next few weeks." We'll keep a sharp eye!

You can read more about Pirates of the Caribbean 5 on the Zone's News & Views forum. The Deadline.com article is available HERE.

May 9th, 2013 by Part-Time Poet
TV ALERT–Richard D. Zanuck documentary airs on Turner Classic Movies tonight

The long-awaited documentary on producer Richard D. Zanuck's amazing career, Don't Say No Until I Finish Talking: The Story of Richard D. Zanuck, premieres on Turner Classic Movies tonight, Wednesday, May 8, at 8 p.m. EDT. We heard last year, after Mr. Zanuck's death, that Johnny had contributed an interview for the documentary. Mr. Zanuck produced several films starring Johnny Depp and directed by Tim Burton: Charlie and the Chocolate Factory; Sweeney Todd: The Demon Barber of Fleet Street; Alice in Wonderland; and Dark Shadows.

After the documentary, TCM will air Driving Miss Daisy, one of Zanuck's Oscar-winning Best Pictures, followed by a re-airing of Don't Say No Until I Finish Talking (at 11:30 EDT/8:30 PDT).

May 8th, 2013 by Part-Time Poet
Johnny Depp mourns the death of special effects wizard Ray Harryhausen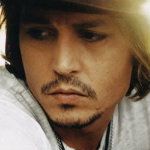 The death of special effects pioneer Ray Harryhausen yesterday at age 92 brought an outpouring of mingled affection and grief from the film community. Johnny Depp was one of the luminaries contacted by Entertainment Weekly's Geoff Boucher yesterday and asked to comment on Harryhausen's passing. Johnny responded, "There isn't anything I can say about Ray Harryhausen that hasn't been said throughout his brilliant life, suffice to salute that Ray was a band-apart, and will be forever loved for his unique genius, and rightly so. It was an honor to have spent time with him. My thoughts are with his loved ones."

Harryhausen's brilliant stop-motion animation created dinosaurs and monsters for The 7th Voyage of Sinbad, Jason and the Argonauts, One Million Years B.C., The Golden Voyage of Sinbad, Sinbad and the Eye of the Tiger, and Clash of the Titans (1981 version). His imagination and painstaking craft continues to inspire new generations of fantasy, sci-fi and horror filmmakers to bring their dreams to life.

The Zone thanks Emma for sharing Johnny's interview; you can read more about Ray Harryhausen's death on the Zone's Pit General Discussion forum.

May 8th, 2013 by Part-Time Poet
New Johnny Depp interview in OK!MAGAZINE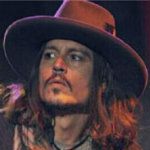 The May 14 issue of OK! Magazine features a brief Q & A with Johnny Depp conducted during his recent appearance in Las Vegas for CinemaCon. Most of the questions relate to the filming of The Lone Ranger and Johnny's role as Tonto, but the interviewer also inquires about Johnny's other professional interests:

Q: You've tried your hand a directing before with The Brave, where you also played a Native American — any plans to to get behind the camera again?

JD: Yeah, actually I have been working on a film for about the last four years or so. And we've just completed the filming part — and it's a documentary on Keith Richards.

Q: Will it be similar to the Rolling Stones movie?

JD: Most definitely not [laughs].

Q: You're playing music on stage more and more — where is music standing for you in your career right now?

JD: Music has always been my first love. It's what I did since I was a kid and I've never stopped. I was making films and things like that, so it wasn't like I was searching for a second career as a musician again, but one thing lead to another. I was asked to go up on stage with someone, and then some other people saw me on stage and said, "Wow, you can actually play the guitar."

The Zone thanks Emma for sharing the interview; you can read more on the Zone's News & Views forum.

May 7th, 2013 by Part-Time Poet
"Beautiful and very unusual and exciting"–Rebecca Hall talks about TRANSCENDENCE
As Johnny Depp films Wally Pfister's Transcendence this week, his co-star Rebecca Hall, who plays Evelyn, is doing double-duty: she's also promoting the blockbuster Iron Man 3, in which she plays Maya Hansen. In a recent interview with the Los Angeles Times, Ms. Hall said this when asked what was "next" on her busy schedule: "Funnily enough, I'm about to go and start another science-fiction film. Not anywhere in this territory at all," Hall said, referring to Iron Man 3. "I mean, it couldn't be further away from this kind of film, but it's a proper movie with Johnny Depp. It's called Transcendence."

And what did Rebecca Hall have to say about this new venture? "It's really great. I love the script. And Wally Pfister's directing it, who's Chris Nolan's [director of photography], and Chris Nolan's producing it." Any plot details? "It's beautiful and very unusual and exciting, but that's all I'm going to say about it for now." Sounds good — and tantalizing . . . .

The Zone thanks Snoopy Dances for sharing the news; you can read more about Transcendence on the Zone's News & Views forum. The full (and delightful) interview with Rebecca Hall is available HERE.

May 4th, 2013 by Part-Time Poet
Announcing the Zone's 2013 Birthday Project to benefit Project Pueblo!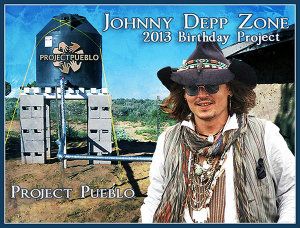 One of the Zone's most cherished traditions is our annual birthday gift for Johnny, called the Birthday Project. Each year we choose a charity which is connected to Johnny's philanthropic interests, pool our modest contributions, and make a Zone donation to a worthy cause in his honor, as a way of celebrating and thanking Johnny for all the joy he has given us over the year. For this year's project, we are partnering once again with Project Pueblo to bring water systems to Navajo families.

We had such a marvelous experience with Project Pueblo last year that we wanted to support them again. We were able to follow the Project Pueblo volunteers as they traveled to the Navajo reservation to install "Johnny Depp water systems" for several families. Our hearts were deeply moved when we saw the beautiful smiles of our Navajo friends as they used their new sinks for the first time.

But there are still many families who need our help, so we ask you to contribute generously to Project Pueblo in honor of Johnny Depp.

Project Pueblo, our charity partner, is a 100% student and volunteer-led 501(c)3 nonprofit organization that conducts short-term, low-cost service trips to impoverished areas while raising money and awareness for relevant projects and issues. Project Pueblo is currently focusing on improving living conditions for the Navajo people in the area known as the former Bennett Freeze, a 2 million acre region within the Navajo Indian reservation of 8000+ families where only 25% have adequate shelter, only 10% have running water, and only 3% have electricity. In addition, this area heavily suffers from issues relating to uranium contamination stemming from mining during the Cold War. Project Pueblo partners with various organizations including Forgotten People, a grassroots, community-based Navajo nonprofit organization that has been fighting injustice and poverty for over 20 years.

To donate by Paypal, please use this yellow "Donate" button to link to our 2013 Birthday Project Paypal account:




If you prefer to donate by check,

CLICK HERE

to visit the Johnny Depp Zone's Birthday Project forum for the mailing address.

We will be accepting donations through Johnny's birthday, June 9, 2013. Please join us in saying "Thank you" and "Happy Birthday" to Johnny Depp. Your donation can bring comfort and support to the Navajo people: a gift of clean water is a gift of life itself.

May 1st, 2013 by Part-Time Poet
Johnny Depp arrives on set to film TRANSCENDENCE–new photos!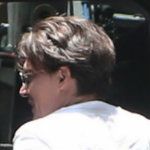 Johnny Depp reported for work on Wally Pfister's Transcendence today, and photographers captured him walking from his SUV to his trailer. In the spirit of celebration that always permeates the Zone when Johnny is making a film, we are happy to share a small gallery of pictures taken around the set today, including one of leading lady Rebecca Hall. If Johnny looks a bit different, it's not just because he has cut his hair; the familiar tattoos on his arms are covered by makeup here. Zoners will recognize Johnny's security chief Jerry Judge standing behind Johnny in one photo. Photos are available HERE.

The Zone thanks Chocolat and Emma for sharing pictures; you can read more about Transcendence on the Zone's News & Views forum. More photos are available at Just Jared HERE.

April 29th, 2013 by Part-Time Poet
Johnny Depp attends Rolling Stones concert in Los Angeles–new photos!
The photo at left shows Johnny Depp inside his SUV as he left the Rolling Stones concert in Los Angeles on Saturday night. The Stones played a warm-up gig for their upcoming tour at the Echoplex in Hollywood, a relatively intimate venue that holds only 700 patrons. Tickets for the surprise show were awarded by lottery, although presumably the high-profile celebrities in attendance didn't need to win their way inside. Johnny was accompanied by his Rum Diary co-star Amber Heard (the woman in the red jacket) and security chief Jerry Judge. Photos are available HERE. The Zone thanks Evochka and Aida for sharing photos.

April 28th, 2013 by Part-Time Poet
| | |
| --- | --- |
| | The Johnny Depp Zone's original content is copyright 2001-2013 by Natalie, and Rosemary. HTML and graphic design is copyright 2004 by Maria. This fansite has no official affiliation with Johnny Depp, his family or management. No copyright infringement is intended: images and articles are used without permission and are copyright of their respective owners. FAQ. |